KFT VIBES
Korn Ferry Tour graduates returning to the PGA Tour next season suddenly feel like lottery winners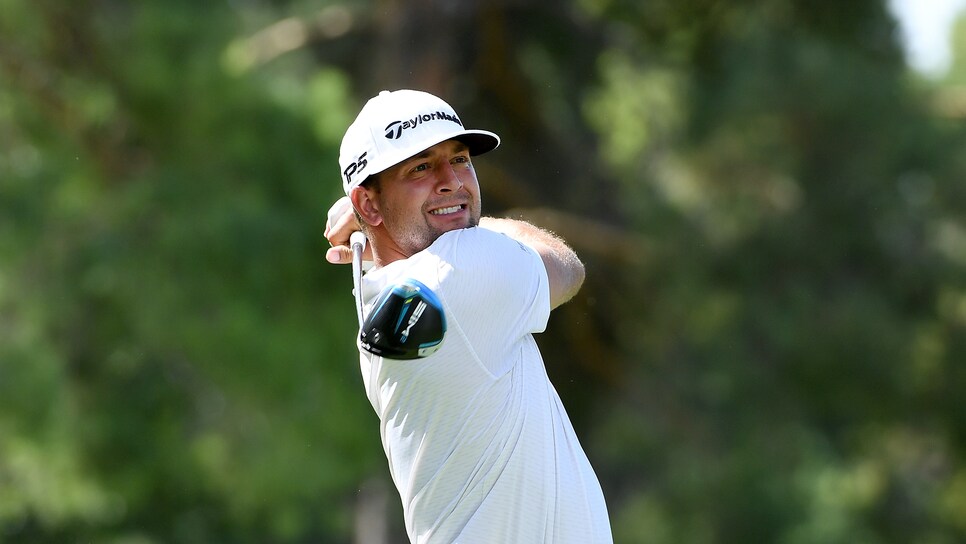 Taylor Montgomery was disappointed not to earn a PGA Tour card last season, but he's wrapped on up this year and will have $500,000 in his bank account thanks to commissioner Jay Monahan's announcement Wednesday at the Tour Championship.
Steve Dykes
COLUMBUS, Ohio — The atmosphere on the practice range at Ohio State University Golf Club late Wednesday morning was more lively than usual, the air filled with the sound of excited chatter and laughter mixed with the sound of clubs connecting with golf balls.
Korn Ferry Tour players who already feel like they have hit the lottery by qualifying for the PGA Tour found themselves a guaranteed $500,000 richer Wednesday before they ever hit a shot in the new PGA Tour season that begins Sept. 15 at the Fortinet Championship in Napa, Calif. It's likely that a few more will leave this week's KFT Finals event, the Nationwide Children's Championship, with the same lottery prize plus the bonus.
"It's crazy. It's been a crazy day. There definitely was a different vibe out here for sure," said Taylor Montgomery, whose timing for reaching the PGA Tour couldn't have been better.
The Las Vegas resident twice last year found himself as the unlucky bubble boy, finishing 26th in the Korn Ferry Tour regular season points race and 26th again in the Finals when the top 25 in each earned exempt status on the PGA Tour. Montgomery, 27, came back this year to finish fifth in the regular season to claim his ticket to the big tour after a solid season that included eight top-10 finishes in 16 starts. He earned just shy of $330,000.
In a few weeks, a half-million dollars is going to land in his bank account thanks to the Earnings Assurance Program that PGA Tour commissioner Jay Monahan announced at the Tour Championship in Atlanta. Every tour member will receive $500,000, but rookies, like Montgomery, and other KFT graduates returning to the tour get the cash up front. Winnings will be applied to the advance, but regardless of performance a player is guaranteed the $500,000.
"That's the game changer," said veteran Ryan Armour, 46, an Ohio State product who has battled a rib injury for much of the year and finds himself back in the Finals. "It's a backstop, yeah, but it gives you options. A rookie, especially, maybe now his wife can quit her job and travel with him. He can put a little money away. Travel is expensive, especially in the fall part of the schedule. Let's face it: $500K is no joke."
"I think the thing about it is maybe that little bit of security early on, knowing you can take care of your expenses," Montgomery said. "If you struggle early getting your feet under you, there's no reason to panic. I know myself, it won't change what I'm doing. I'm not going to fly private when some guys might. I think this just puts us a little more in line with other pro sports."
"With what's happening with the LIV tour, I think the PGA Tour had to take a look in the mirror and maybe take care of us if we reached that level," said Tyson Alexander, whose golfing heritage is impressive with his grandfather, Skip, a former tour player, and his father Buddy, who won a U.S. Amateur and was long-time college coach at the University of Florida. "You don't want to be constantly thinking about dollars out there. You want to be thinking about the best golf that you can play. This obviously helps."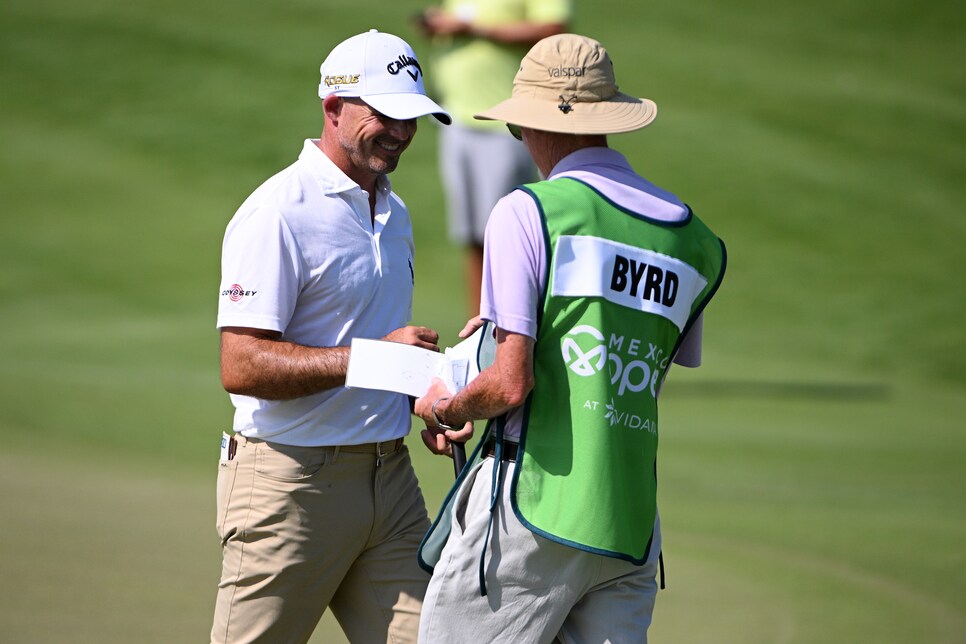 Jonathan Byrd said of Jay Monahan's accouncement of PGA Tour members earning $500,000 at the start of the year: "I just wish they'd have done it sooner, obviously."
Orlando Ramirez
Veteran players Vaughn Taylor and Jonathan Byrd were in agreement with Armour that the move is long past due.
"It's never been done before, so you never really thought about it. It's just always been this is the way, that you only get what you earn," said Byrd, 44, a five-time winner on the PGA Tour, most recently in 2011. "It makes total sense. With LIV coming around, I've been thinking to myself, 'What have I been doing the last 20 years?' I mean, if you're on the PGA Tour, you're supposed to be the best of the best, so I think this is a great move."
Byrd paused and smiled and added, "I just wish they'd have done it sooner, obviously."
"I feel like we've been talking about this kind of thing for a long time and nothing has ever happened," said Taylor, 46, who has three tour titles. "I guess some competition came along [LIV Golf] and that kind of changed the rules."
Taylor acknowledged that the stakes are even higher at this week's $1 million Nationwide Children's Championship and next week at the Korn Ferry Tour Championship. "It definitely makes things a lot more interesting," he said. "Especially for younger guys who maybe haven't made much money. Yeah, there's even more to play for this week."
Brandon Matthews, another player who earned his first PGA Tour card via a top 25 finish in the KFT regular season, merely looks at the advanced stipend as a loan of sorts that he would hope to pay back easily.
"It's a great time to be a rookie on the PGA Tour no matter what, even before this was announced," said Matthews, 28, who finished 10th in the points race. "But that $500,000, the way it's structured, it's nice. It's a fantastic thing that they're doing and should have done a while ago. But look, if you believe in yourself to excel out there, that isn't really going to matter anyway."