Graduation Day
Robby Shelton wins last regular season Korn Ferry Tour event as 25 PGA Tour cards are solidified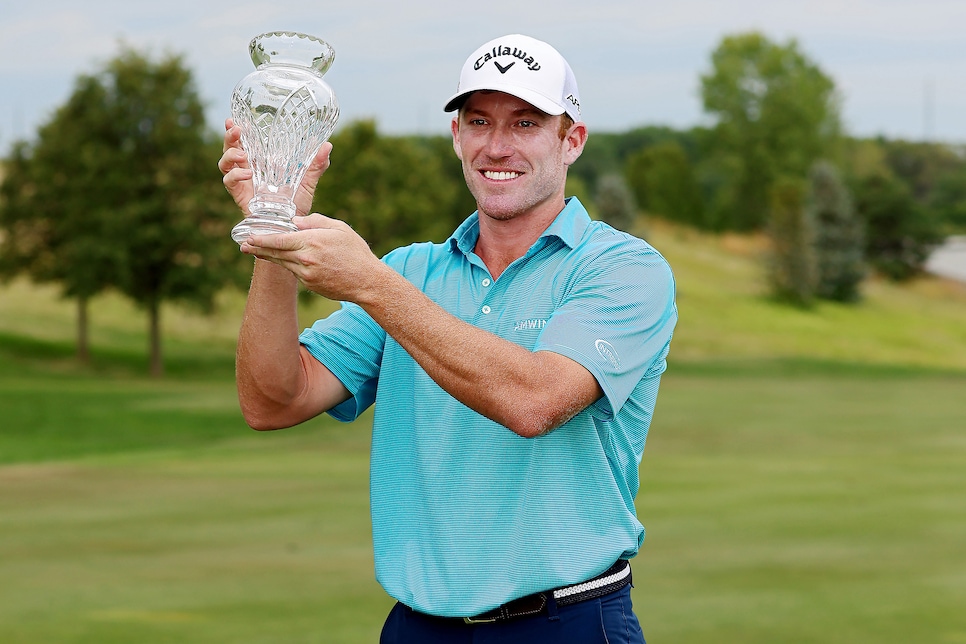 Robby Shelton poses with the trophy after he won the Pinnacle Bank Championship at the Club at Indian Creek in Omaha, Nebraska.
Mike Mulholland
Robby Shelton punctuated his return to the PGA Tour on Sunday by winning the Pinnacle Bank Championship, beating England's Ben Taylor by one stroke. But the race for 25 PGA Tour cards—the tournament within the tournament at the last regular-season event on the Korn Ferry Tour—never left the starting gate.
Shelton, 26, fired a six-under 65 to surge past Taylor, one of three 54-hole co-leaders, and finished at 17-under 267 at the Club at Indian Creek in Omaha, Neb., to collect his fourth career Korn Ferry Tour title and second of 2022. He and Taylor, who closed with a 68, are among seven players regaining their PGA Tour status for the 2022-23 season.
Taylor, 30, had a putt to tie on the 72nd hole, but his 20-foot birdie try veered left.
"It means so much to me just to see my game trending in the right direction," said Shelton, who collected $135,000 and finished second to China's Carl Yuan in the tour's season-long points standings.
Notable among the 16 rookies advancing is Las Vegas native Taylor Montgomery, who twice last year was the odd man out, finishing No. 26 in both the Korn Ferry Tour regular season points standings and in the Finals. One of three 54-hole co-leaders with Taylor and Philip Knowles, Montgomery had a chance to capture his first KFT title until a quadruple-bogey 8 at the par-4 12th dropped him out of a tie with Shelton. Still, he easily graduated fifth overall after tying for third by shooting 69.
Yuan finished fifth after a 68 to become the third player from China to earn a tour card.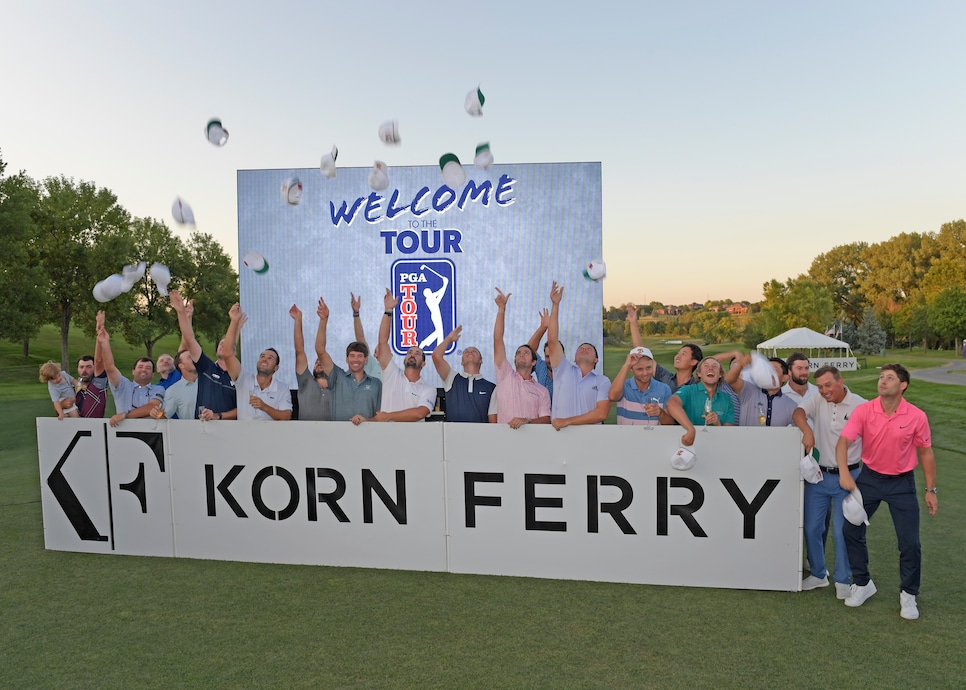 Graduates of the Korn Ferry Tour celebrate by tossing their cap after receiving their PGA Tour cards following the final round of the Korn Ferry Tour's Pinnacle Bank Championship in Nebraska.
Stan Badz
The tournament began with the top 15 players in the standings having already secured their cards, and England's Harry Hall took another card off the table by making the cut, leaving nine up for grabs on the weekend. There was jockeying and shuffling, but in the end the top 25 endured. What drama there was, aside from Shelton's victory, was supplied by North Carolina's Trevor Cone, who bogeyed three of his first five holes and fell below the magic number. He needed to birdie his final two holes to get back above water, and he did just that for an even-par 71.
"I didn't have any idea. Obviously, I knew I needed to play better after those first four, five holes," said Cone, who tied for 34th at six-under 278.
Anders Albertson was the last man in despite missing the cut. He began the week 21st but survived as Brandon Harkins, who came in 26th, remained there after a closing 70 left him at 278 and T-34.
The only significant movement occurred lower down in the battle for the top 75, good for full KFT status next year and a place in the KFT Finals, where 25 more PGA Tour cards are available in a three-event series in which PGA Tour players who finished 126-200 in the FedEx Cup eligibility standings also compete. The Finals begin Thursday at the Albertsons Boise Open in Boise, Idaho.
Two players rallied to move inside the line. Knowles, the third round co-leader, would have earned his tour card with a victory, but he shot 71 and ended T-10 at 271. That still enabled him to improve 21 places to 66th. Xinjun Zhang, who lost his PGA Tour card in 2021, bogeyed three of his last six but still finished with a 68 for a T-16 and moved up 12 spots to 71st.
Chris Baker, who missed the cut, fell three spots but hung onto the last exempt position. Among the players pushed out was Sam Saunders, grandson of the late Arnold Palmer, who was on the bubble but dropped three places to 78th.
KORN FERRY TOUR POINTS LIST (Top 25 get PGA Tour cards for 2022-23)
2: Robby Shelton, 1,602.75
3: Paul Haley II, 1,341.01
5: Taylor Montgomery, 1,216.00
6: Augusto Núñez, 1,156.98
10: Brandon Matthews, 1,093.82
12: Seonghyeon Kim, 980.744
13: Byeong Hun An, 941.096
14: Davis Thompson, 925.981
16: Trevor Werbylo, 878.038
18: Tyson Alexander, 857.275
21: Harrison Endycott, 829.997
23: Vincent Norrman, 785.448
25: Anders Albertson, 782.708
26: Brandon Harkins, 774.284
28: Ryan McCormick, 750.988
30: Akshay Bhatia, 726.483