Betting Analysis
Presidents Cup picks 2022: Our experts' best bets at Quail Hollow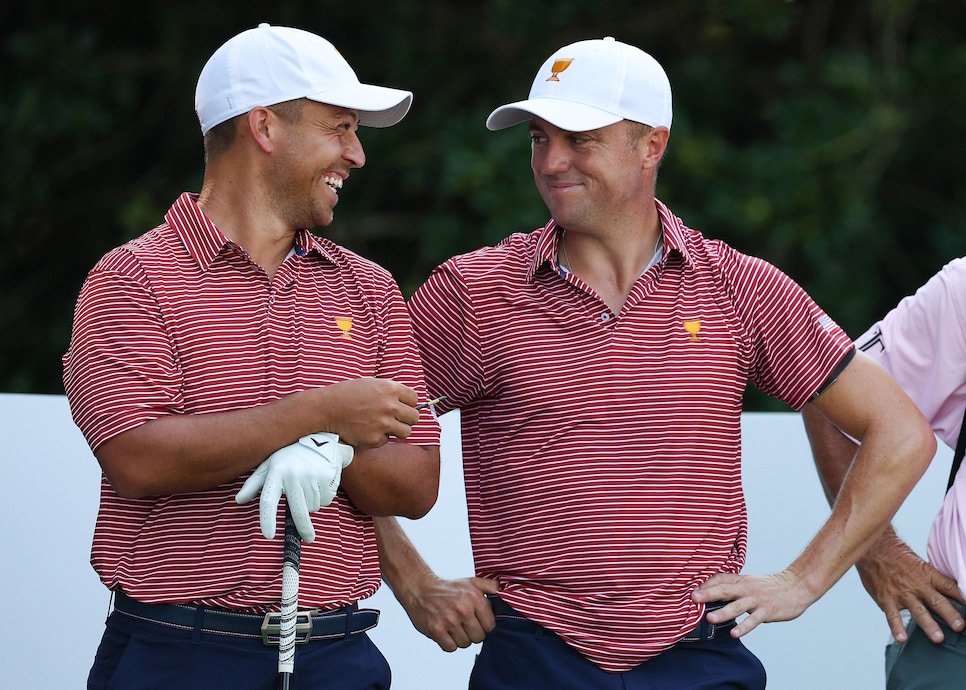 As of this writing, the American team is now a massive -700 favorite to defeat the International team at the 2022 Presidents Cup at Quail Hollow, per the DraftKings Sportsbook. It's Alabama vs. Louisiana Monroe-type stuff, and much like Alabama, you won't get rich betting against the U.S. side at Quail Hollow this week.
But, as any experienced golf bettor knows, there are still a plethora of prop bets to explore ahead of the biennial team event, even some involving the International team and its roster of underdogs. Below, our expert panel of handicappers dole out their best bets for this matchup of David vs. Goliath.
Pat Mayo, DraftKings/Fantasy National, Mayo Media Network analyst: Cameron Davis, Taylor Pendrith and Mito Pereira, Top International Point Scorer, Top Captain's Pick Point Scorer and Top Rookie Point Scorer markets — There's is absolutely no value in anything USA related, and if you think the International team gets crushed, as the -700 betting line would indicate, who is good and who is bad on the International side doesn't make a difference, as they're all expected to be bad and score zero points. Since the top players, per the odds, like Hideki Matsuyama, Sungjae Im, Corey Conners, and Adam Scott are really at no advantage over the back end of the team, since most their over/unders on points scored is around 1.5 over the four days, take some longshots from the world side, hope they can sneak in a win or two and cash in big. In each session, only two players per side sit, so there's a good chance Davis, Pendrith and Pereira play four or five sessions each. Then compare that with their odds as Top International points scorer and you'll see there's real value. I'm also going to play them in the Top Wildcard selection as well. If they can start out hot, besides Spieth if he's always playing with Thomas, there's a good chance most of the American Wildcard picks will be riding the pine at least twice, this way you can have a chance to attack that market with value on the International side. Davis and Pendrith have the best value in the overall Top Wildcard market, while Mito at +850 is quality for Top International Rookie, a softer market to bet.
Brandon Gdula, FanDuel/numberFire managing editor: Sungjae Im, Top International Point Scorer (+500, FanDuel) — To find a top-point scorer, you historically need match volume. Of the 18 golfers to lead or tie for the points lead since 1994, 16 played five matches. The International team has funneled more of its match volume to its stronger golfers (if you rank each side by OWGR entering the Presidents Cup). The International side fields eight rookies and four veterans, with Im being one of the vets after playing in 2019. He went 3-1-1 and beat Gary Woodland 4 and 3 in singles. Im ranks fifth in adjusted strokes gained among all golfers in the Presidents Cup, so he has the path to volume and the ability to rack up points.
Rick Gehman, data scientist and RickRunGood.com founder: Tom Kim, Top International Point Scorer (+700, DraftKings) — Tom Kim has everything going for him right now. He wrapped his PGA Tour season with five top-25 finishes in his last eight starts, including a win at the Wyndham Championship. He showed that he's an elite ball-striker, gaining strokes in that category in each of his final seven starts. Now he becomes a valuable asset to an International team looking for someone to step up. Captain Trevor Immelman has praised Kim's play and his value as a teammate. Kim has been also serving as a translator to other South Korean teammates making him easy to partner with a large chunk of the team. At only 20-years old, Kim could be asked to play all five sessions which would put him in prime position to rack up points for his squad.
Anonymous Caddie Picker of the week: Xander Schauffele, Top Overall Point Scorer (+800, Bet365) — I've always felt like the way to win a big team event is to putt extremely well. Quail is a demanding ball-striking golf course but will still come down to the ability to hole putts. This man is strong in both of those departments.
Stephen Hennessey, Golf Digest dep. managing editor: Cam Davis, Top International Rookie Point Scorer (+750, Bet365) — Adam Scott and Cam Davis are the lone Australians left on the Presidents Cup side, so it's likely they'll be paired. I can't imagine Immelman will sit Scott for more than one session, so it's possible you get Cam Davis out there with one of the most experienced Presidents Cup veterans in Scott, who has been playing great of late. Quail Hollow should suit Davis well, too, based on his off-the-tee prowess.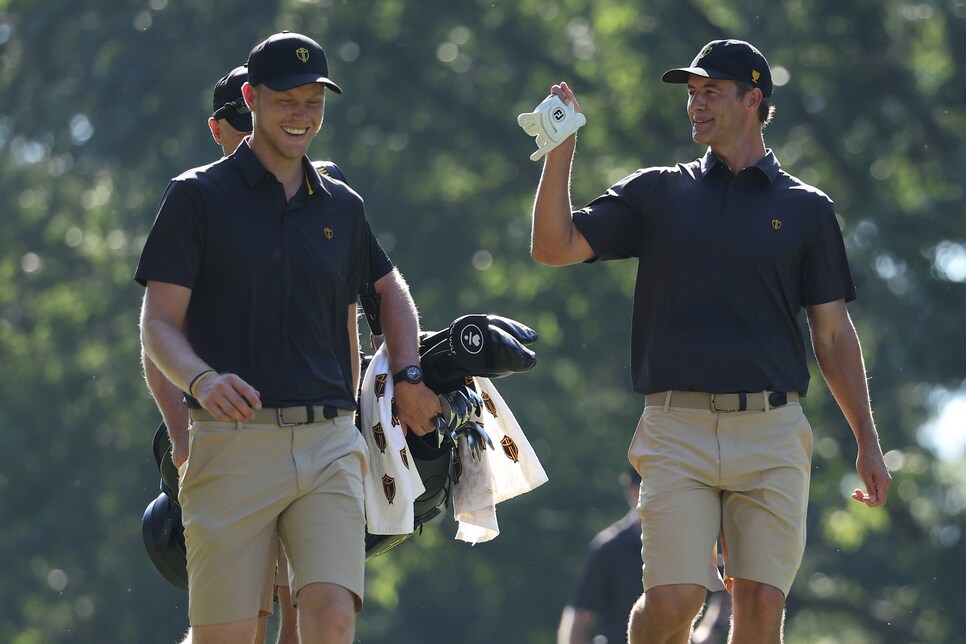 Christopher Powers, Golf Digest staff writer: Patrick Cantlay, Top Overall Point Scorer (+750, DraftKings) — Barring a 4D chess move type shakeup from Davis Love III, Cantlay and his best buddy Xander Schauffele will be rolled out for all four two-man sessions, and they'll be favored in every match they play in. Considering how scorching hot they both are, not to mention the immaculate vibes, 4-0-0 does not seem out of the question. Then, it's on to Sunday singles, where you'll essentially be watching a match within the match between Cantlay and Schauffele for who can get to 4.5 or 5 points. I'll lean with Cantlay, who is 2-0-0 in Sunday singles in his two team event appearances while Schauffele is 1-1-0.
Gdula: Billy Horschel, Top Captain's Pick Point Scorer (+1400, FanDuel) — Captain's picks can still see plenty of volume in this setup but on average around 0.3 matches fewer than qualifiers since 1994. With the International side's tendency to focus more on the top of their lineup, we've seen 11 of 16 "wildcard" points leaders come from the US team, which has more depth and is willing to use it. Horschel, we know, is a strong match-play player and has played Quail Hollow fine in the past if we care about results from a decade ago (T-7, T-29, MC).
Gehman: Team Leading After Day 1, U.S. (-250, DraftKings) — If you can't stomach the -700 for the United States to win the Presidents Cup, consider them winning after Day 1. Captain Davis Love III opted to begin this year's competition with foursomes (alternate shot), which should be the Americans best format. Expect to see Patrick Cantlay and Xander Schauffele who are 3-0 in foursomes together over the most recent Presidents Cup and Ryder Cup. They also won the Zurich Classic together this year edging out Sam Burns and Billy Horschel, who could be another possible Day 1 pairing for Team USA. As if that wasn't enough, the Americans could roll out a Justin Thomas/Jordan Spieth combination, who have plenty of foursomes experience together and none of the above pairings including the No. 1 player in the world – Scottie Scheffler.
Caddie: Max Homa, Top Captain's Pick Point Scorer (+350, DraftKings) — I like this bet because you remove all the elite Americans, and if you believe Homa will be paired with Collin Morikawa, then you're basically getting slightly better odds and just need Homa to defeat one of the International players in singles. Odds are, Morikawa would go out earlier than Homa on Sunday and face a tougher International opponent, so I like this bet a lot. Plus, of course, he's a past champ at Quail Hollow and his stellar ball-striking matched with timely putting should be a match-play asset for the U.S.
Hennessey: Team Leading After Day 1, U.S. (-250, DraftKings) — It's tough to stomach laying these kinds of odds … but c'mon. Unless we have some Buffalo Wild Wings-level manipulation, I'd say it's a pretty heavy lock the Americans are leading after Day 1. Foursomes comes first, and the U.S. boast a 73-29-1 record all-time in the alternate-shot format. And perhaps no team has been as heavy of a favorite as this American side.
Powers: Day 1 Correct Score, U.S. 5-0 (+1200, DraftKings) — Personally, I'd love nothing more than the International team to pull off the upset (grow the game!!), but that stat Stevie mentioned above about the American domination in alt shot has me thinking this thing could be over before the sun sets Thursday. Sure, the International team might scrap out a halve or two, but with Schauffele-Cantlay, JT-anyone, Morikawa-anyone, Scottie-anyone and whoever-whoever rolling out for the U.S. on Thursday, a 5-0 sweep at 12-1 odds is too juicy to pass up.