Presidents Cup
Presidents Cup 2022: Justin Thomas has seized the 'Captain America' title with his play and attitude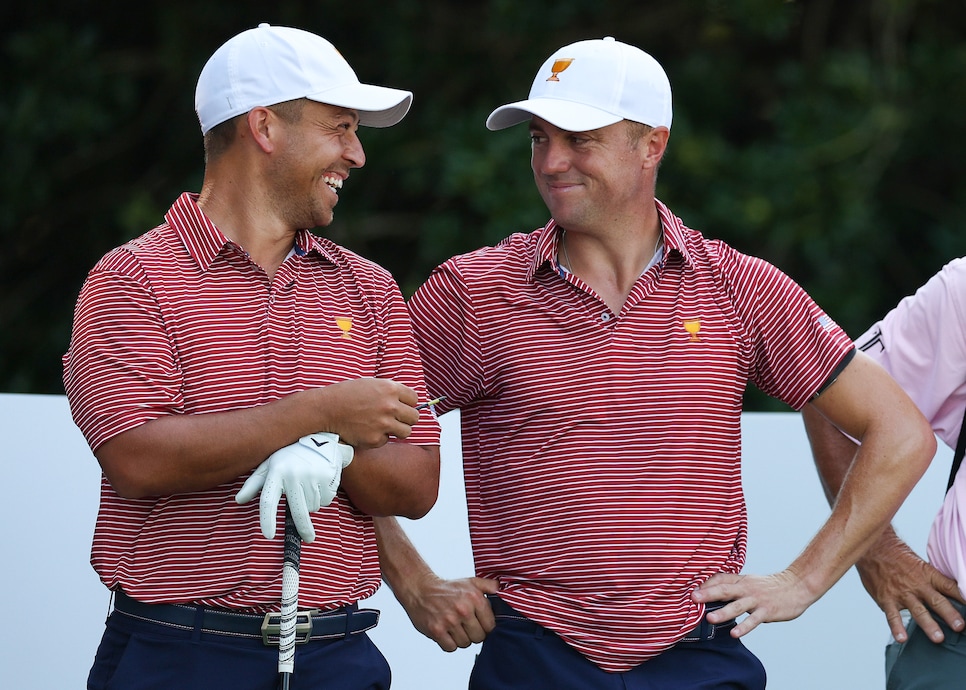 Justin Thomas shares a laugh with Xander Schauffele during a practice round for the 2022 Presidents Cup.
Rob Carr
CHARLOTTE ­— At the 2019 Presidents Cup, Justin Thomas tied Lanny Wadkins and Sam Snead as the American to get to 10 points fastest in international team competition—the Ryder Cup and Presidents Cup—needing just 13 matches to do it. That statistic, while fairly arcane, sums up his success at these events better than almost anything else. And it is even more impressive when you consider that Snead played in a much less competitive Ryder Cup era, and Wadkins appeared in his first two Ryder Cups in the late '70s, when American blowouts were still the norm.
That said, it's much easier to look at Thomas' record: a gaudy 12-4-3 combined in two Ryder Cups and two Presidents Cups, which makes him easily the world's most successful young team match-play golfer of his generation.
The mantle of "Captain America," designating America's foremost force in these events, rightfully belongs to him. His competition includes Patrick Reed, whose strong Ryder Cup record (7-3-2) previously earned him the title, though he's now under .500 in the Presidents Cup following a rough 1-3-0 showing in 2019; and Jordan Spieth, Thomas' friend and frequent partner, whose winning percentages (8-7-3 in the Ryder Cup, 8-5-1 in Presidents Cup) lag below Thomas'. Beyond that, you have to look at up-and-comers such as Collin Morikawa, Xander Schauffele and Scottie Scheffler, who were immensely successful at Whistling Straits but whose team match-play careers are just beginning.
Speaking Tuesday ahead of the 2022 Presidents Cup, Thomas, who captured his second career major at the PGA Championship over the summer, was humble in trying to explain his success.
"I would say a lot of it is I've been fortunate to have some really good partners who are also very, very good at golf," he said. "And I have no shame in riding their coattails to victory. … Tiger [Woods] was playing great in Australia. Rick [Fowler] was playing unbelievable at Liberty National. Jordan was playing well at Paris and Whistling Straits. We have a lot of very, very good players on our team, and I've been fortunate to have some good partners and just sprinkle some in when I can."
That, of course, doesn't quite do his record justice. It also doesn't explain how he was one of the few Americans to excel at the blowout loss to Europe in the Paris Ryder Cup, when he went 4-1 and beat Rory McIlroy in singles. Or how he almost single-handedly saved Team USA's bacon by winning 31/2 points out of his first four sessions while the rest of the team was struggling at the last Presidents Cup ... including a dramatic walk-off putt to win his foursomes match with Woods.
The "worst" day of his team match-play career came at Whistling Straits on Friday, when he and Spieth were defeated by Jon Rahm and Sergio Garcia in morning foursomes, and he could only earn a half point with Patrick Cantlay in the afternoon fourball session.
Even then, he came out on Saturday to win his foursomes match with Spieth in a session that essentially put the Ryder Cup out of reach for the Europeans, then defeated Tyrrell Hatton, who had been of Europe's most demonstrative players, in singles. That secured his fourth winning record out of four attempts in team match play for his country and marked him as the undisputed top dog on an ascendant American team.
Thomas' attitude, as expressed this week, is not about taking a long view or even looking beyond a single match, but about accumulating small successes with each shot, and each hole. His focus is so intense that when he was asked about which players on the International team loom largest as opponents, he wouldn't answer with a name and said he doesn't waste time thinking about it.
"My number one goal in these team events is just to do whatever we have to do to go get a point," he said. "If it means shoot 10 under or shoot two over, I don't care. As long as we get a point for Team USA and put one on the board, then our goal is accomplished."
Still, he eventually admitted that there's something about these events that brings out a new side to his game.
"It just has a little bit different feel," he said. "I feel like my adrenaline and emotions obviously come out a lot more. You know, things that you probably couldn't get away with in a stroke- play event, you can get away with in terms of celebrations and playing with the crowd a little bit. I just try to feed off that."
Later in his press huddle, Thomas told reporters that he'd spoken extensively with Nick Saban, Alabama's head football coach, on the topic of playing as a favorite, and that those conversations are especially pertinent at the Presidents Cup, where the Americans are heavily favored to win.
"I've talked to him a lot about it because that's something that I personally struggle with a lot with myself. Not being a favorite, but just being very confident, like feel like I'm playing very well going into a tournament or whatever it might be and just managing expectations and emotions," he said. "And there's nobody better on earth than him. And somehow getting a bunch of 18- and 19-year-olds to manage their expectations and just get lost and engaged in the process."
Players are typically tight-lipped about potential pairings, but in his own presser, Spieth let it slip that he expected to play with Thomas, and likely more than once. That's the least surprising news coming out of Charlotte this week, but it does give Thomas another chance to add to his impressive record within one of the most comfortable—and productive—pairings around.