CHARLOTTE — On paper, the mismatch this week between the International team and the United States seems greater than any of the 13 previous editions of the Presidents Cup. The biennial match-play competition has been largely a lopsided affair since it was first held in 1994, with the Internationals claiming only one win (1998) and one tie (2003). But the loss of talented stars Cameron Smith, Joaquin Niemann and Abraham Ancer to LIV Golf from a roster that the road team was hoping to roll out at Quail Hollow Club has many predicting a heavy loss to the Americans.
At this point, International captain Trevor Immelman knows it is going to be difficult to intimidate an American team boasting World No. 1 Scottie Scheffler, Patrick Cantlay and Xander Schauffele, to name a few. What would intimidate Team USA on home soil? Sungjae Im's laser-like iron play? Taylor Pendrith's driving distance? Adam Scott's chiselled good looks and polished Australian accent?
"I'm not blessed with the physical gifts Adam Scott has," Immelman said through laughter. "From his good looks to the way he swings the golf club, I've never lived that life. I don't know what kind of power it has. But I will say this, my team is ready for a fight."
Immelman had already faced plenty of questions on how his squad could possibly steal victory from the Americans even before losing Smith, Niemann and Ancer. But while knowing his team is up against it, the 42-year-old South African also knows his side boasts plenty of talent and Cup experience in its qualifiers—Scott, Im, Hideki Matsuyama, Joohyung "Tom" Kim, Corey Conners and Mito Pereira—as well as captain's picks of Pendrith, K.H. Lee, Si Woo Kim, Cameron Davis, Christiaan Bezuidenhout and Sebastian Munoz.
Many are pointing out that Matsuyama is the best-ranked International player at 17th while the average ranking of the American team is 11.6. Yet Immelman is quick to note that in 2019, Scott was the top International at 18th while the U.S. average was 12.2, and the Americans just squeaked out the victory.
"Yeah, it's a huge mountain to climb," Immelman said. "But there's been so many sporting events I've seen over the years where you're convinced of a particular result and then something else happens."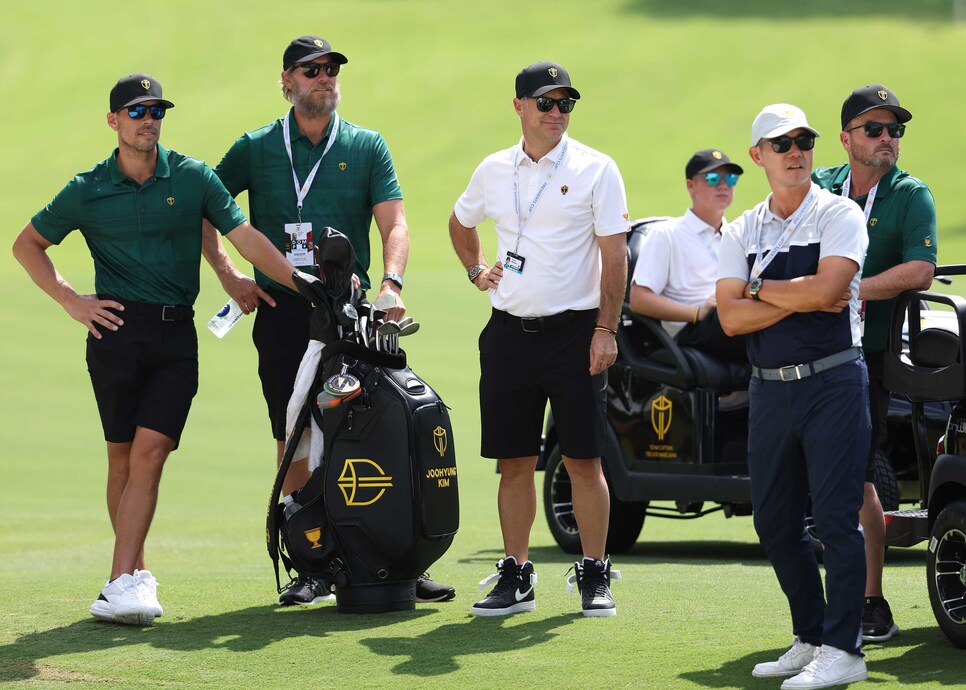 Trevor Immelman is trying to keep things light for the International team as he tries to identify ways for his group to pull off the upset at Quail Hollow.
Warren Little
How then can the Internationals engineer an upset? Scott, whose record number of appearances for the Internationals will increase to 10 this week, says there is a magical formula. It begins by carefully picking combinations that can keep up with the Americans through the foursomes (alternate shot) and four-ball sessions. Then, hopefully, you send out all 12 Internationals for the Sunday singles with a belief that they are the best players in the world.
"Obviously, the first thing we need to execute is have all 12 of us come out and let go of our inhibitions and light the course up," Scott said. "But let's look at Melbourne [in 2019]; we were heavy underdogs and we led going into the singles. It shows that tactics and pairings are where we can have an advantage. It's the singles where we are up against it. We'll have to almost use Jedi mind tricks on our team and throughout the week so that by Sunday every individual is a hero in their own mind. We're going to have to take ourselves to a place where we ignore the World Ranking and play ruthless match play."
One edge the Internationals can certainly lean on when deciding the pairings is ball-striking. Among the top-six players in strokes gained/ball-striking (combining off the tee and approach) since July 1 who are at the Presidents Cup, four are on the International team (Pendrith, Conners, Im and Tom Kim) and only two are on the American team (Scheffler and Finau).
Duncan Carey is the independent data analyst who Immelman has retained to help formulate the pairings. Carey worked with Ernie Els in 2019 at Royal Melbourne, when the Internationals led by two going into the singles. He also worked for Europe on the 2016 and 2018 Ryder Cups, as well as the 2017 Solheim Cup. Carey told Golf Digest on Tuesday that the parameters he would use were course setup, how the players match as a pairing and how they compound the other pairings in a session. "I separate statistics for four-balls and foursomes so that we get the right players in each format."
This means being willing to move away from employing "geographical pods" to help determine the two-player teams that will have the most success. "The work we've put in over the last four or five years with the squad is to get over that (pod system of nationalities playing together)," Immelman said. "That type of thinking was pulling the handbrake on our team, thinking Koreans had to play together and South Africans had to play together. We really weren't coming up with the strongest possible teams and putting them together."
The Internationals will have to remind themselves of their best performances on golf's biggest stages. Scott has won 14 times on the PGA Tour, while Matsuyama's eight victories includes the 2021 Masters. Kim, a 20-year-old South Korean, just became the second-youngest player to win a PGA Tour event since World War II with his triumph at the Wyndham Championship in August. Pereira is the only qualifier without a PGA Tour victory but finished tied third at the PGA Championship in May, one shot outside a playoff Justin Thomas eventually won.
Scott has backed close friend Immelman to extract that self-belief from his players. He says Immelman, a two-time member of the International team in his playing days, has used his role as lead golf analyst for CBS to get to know players deeply while on the road at PGA Tour events. "Trevor has put more work in than he'd ever tell people. He's digging deep into people's setups and finding out what makes them tick," Scott said.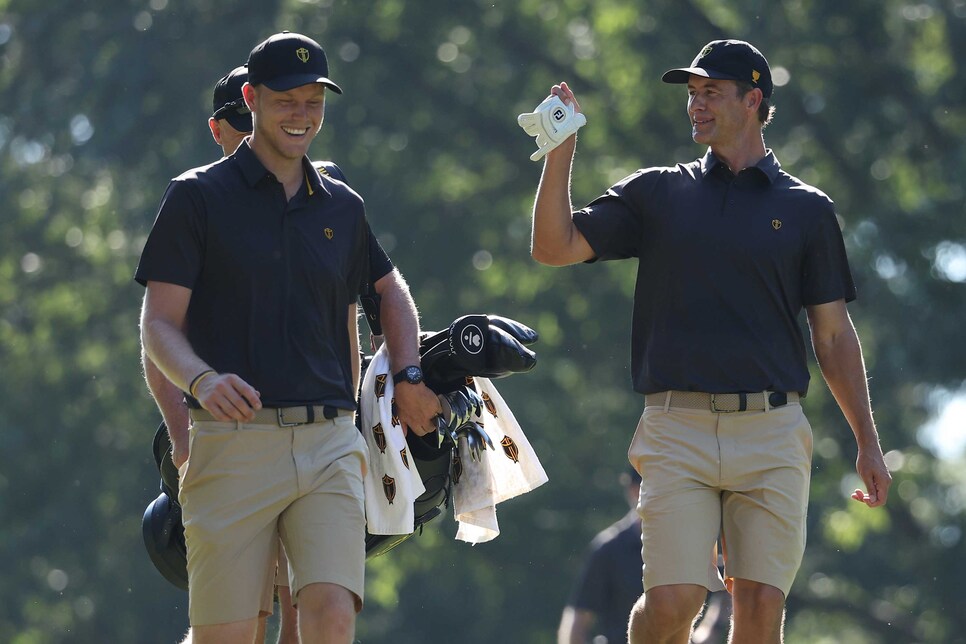 Adam Scott hopes to share his veteran experience in the Presidents Cup with the rookies on the International team, including fellow Aussie Cam Davis.
Warren Little
Added Immelman: "I've been able to observe how these players handle adversity and how they play under pressure, and I made my picks based on these observations." Immelman specifically points to Si Woo Kim as an example. "I picked [him] because I have amazing respect for his ability," Immelman said. "I think he has truly untapped potential on the PGA Tour. He's already shown us by winning [the 2017] Players Championship at a very young age. I'm taking it upon myself to pump him up for that week."
That puts a fair amount of pressure on Immelman's shoulders but he believes that combining his instincts with data analytics will allow him to find the right combinations to succeed.
"You've got to be smart with the way you team players up when we make the pairings," Immelman said. "The beauty of the Presidents Cup, where I think it's better than the Ryder Cup, is the two captains units can go back and forth on putting teams out and you can create matchups. So you've got to be smart. I'm 100 percent confident in the fact that I've done my homework."
Few golf course projects had more national attention in recent years than Quail Hollow, mainly because its front nine was redesigned just a year before it hosted the 2017 PGA Championship, won by Justin Thomas. The par-4 first and par-3 second holes were completely torn up, replaced by a new long dogleg-right par-4 opening hole. Several acres of pines to the left of the fifth tee were removed to make room for a new par-3 fourth. (With its knobby green fronted by three traps, it proved to be the most frustrating hole for pros in the 2017 PGA.) More pines were removed to the left of the par-4 11th, replaced by bunkers, and even more trees chopped down on a hill left of the par-4 18th to make room for money-making hospitality boxes. There's no question that this latest remodeling, rushed though it was, improved the course. The course was also rerouted for the 2022 Presidents Cup.
View Course
Immelman has seen bigger upsets in sports than what he hopes can happen this week. He aims to use them as inspiration in his pep talks in the team room. No doubt his players will hear plenty about the 1995 Rugby World Cup held in Immelman's native South Africa, the first time his country was back in the event after the end of Apartheid.
"Our country had just gotten through all the negative stuff and had become a true democracy," Immelman said. "But we weren't quite sure how our rugby team would perform because they hadn't played that much international rugby until that point. But South Africa were in the final against the mighty All Blacks [New Zealand]. We weren't supposed to win that matchup, but they did in overtime.
"I believe my International players [are capable of a similar upset]. These guys are all PGA Tour players and have played well on the biggest stages. It's not like we've pulled a bunch of chumps off the street."