Presidents Cup
Presidents Cup 2022: 'We're a team of honor'—International captain Trevor Immelman discusses LIV defectors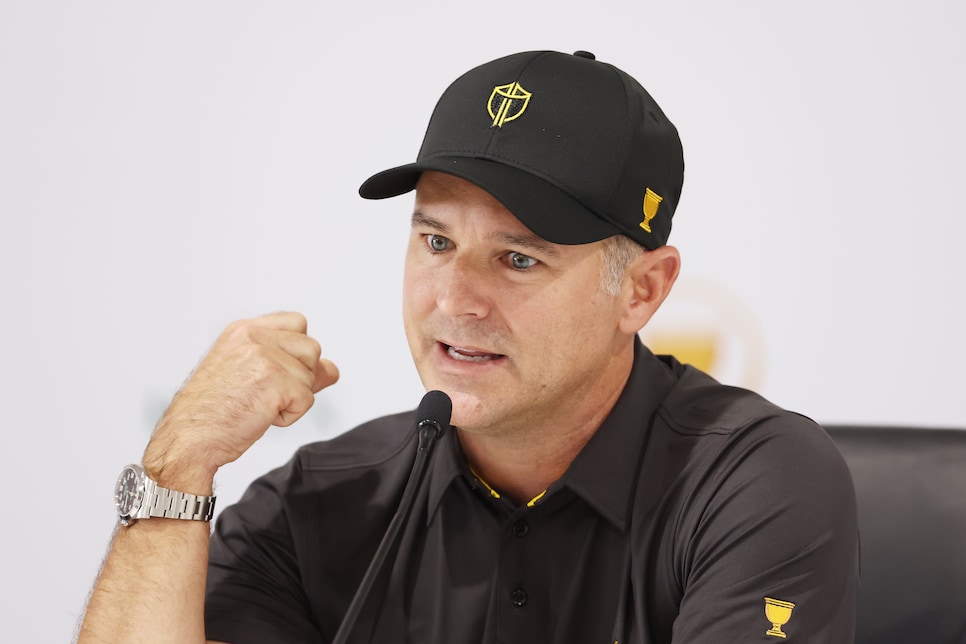 Captain Trevor Immelman speaks at a press conference Tuesday ahead of the Presidents Cup.
Warren Little
CHARLOTTE — Two days before the start of the 2022 Presidents Cup, the American team is the undisputed favorite to win for a 12th time and increase its overall record to 12-1-1. That would have been the case even in a world without LIV Golf, but the breakaway Saudi league has made the situation significantly more difficult for the International Team and its captain Trevor Immelman.
While the U.S. lost players such as Dustin Johnson, Bryson DeChambeau and Patrick Reed, it retained the core of its victorious 2021 Ryder Cup team and added new players from the very top of the World Ranking. The Internationals, on the other hand, suffered blow after blow in the lead-up to this year's event, with the worst coming at the very end, when World No. 2 Cameron Smith signed with LIV following the conclusion of the PGA Tour season.
Devastating as these twists of fate were for a team that was already an underdog, International captain Trevor Immelman expressed no regret and affirmed again and again on Tuesday that the 12 players on his team were the 12 he wanted to compete with. He was careful not to personally attack any of the LIV defectors, but he did paint a picture by contrast.
"Our team is a team that plays by the rules," he said. "We're a team of our word. We're a team of honor."
He also made the point—emphatically—that there was no mystery about what might happen for anyone who joined LIV when it came to the Presidents Cup.
"Every single player that I spoke to from early on in this process knew exactly what the situation and the consequences were going to be," he said. "And they knew that if they made certain decisions, it was going to be highly unlikely they were going to be able to represent the International team. So that went into their decision-making process. All the cards were out on the table, and everybody knew where they stood."
This information stands opposed to the public stance of players such as Smith, who refused to answer questions about LIV Golf during the FedEx Cup Playoffs event in Memphis in August, even as rumors swirled that he was on the way out. He asserted that he still planned to play in the Presidents Cup.
"The 12 that are here are the 12 that wanted to be here," Immelman said, "and those are the 12 that I want to fight with."
When a reporter asked Davis Love III if "supporting the PGA Tour" was more important than having the best players on his team, he didn't hesitate in his reply.
"No. We've got both," he said.
Following up on Dustin Johnson specifically, a player who earned five points in five matches in last year's Ryder Cup at Whistling Straits, Love did concede that he would have been a captain's pick if he didn't earn his spot on the team by the points system.
"He would have been a veteran pick," Love said. "So, yes, we miss him. But I think on points, we pretty much got the guys we wanted to get. I think we would have had to make a spot for him as a pick farther down unless he got on a huge roll in the FedEx Cup."
Still, Love said, he wouldn't change the roster he has today, and he pointed to new players who are getting the turn they've wanted in team match play ... in one case, after missing the cut narrowly more than once.
"Like Trevor said, we're really happy with the 12 we've got because we know that they're committed and excited," he said. "Look at Max Homa. He was talking about it since January, I want to make this team, I want to make this team. Billy Horschel's been trying to make [it]—he's been on the bubble for three or four teams. He's really excited."
Despite his "team of honor" quote, Immelman did tell the assembled media that all of the LIV defectors communicated with him directly throughout the process.
"The message was delivered to me right from those players," he said. "We're a tight group. And all those players have been open and honest with me throughout their process, telling me exactly where they're at so I was up to speed on it ... so I thanked them for that."
The interesting case of Louis Oosthuizen also came up. The South African resigned his PGA Tour membership before joining LIV in the hopes of playing in the Presidents Cup by taking advantage of a rule that players don't necessarily have to be tour members to participate (Ryan Fox, for instance, was under consideration for the Internationals). Unsurprisingly, this loophole was quickly closed, and Immelman explained how and why.
"My understanding is that he made particular announcements and allowed himself to be used in different marketing campaigns and announcements once he was not given the release from the PGA Tour," Immelman said. "And he did all of those things before he resigned his membership. So there were still particular infractions there."