New and improved
Presidents Cup 2022: What if the matches added LPGA players?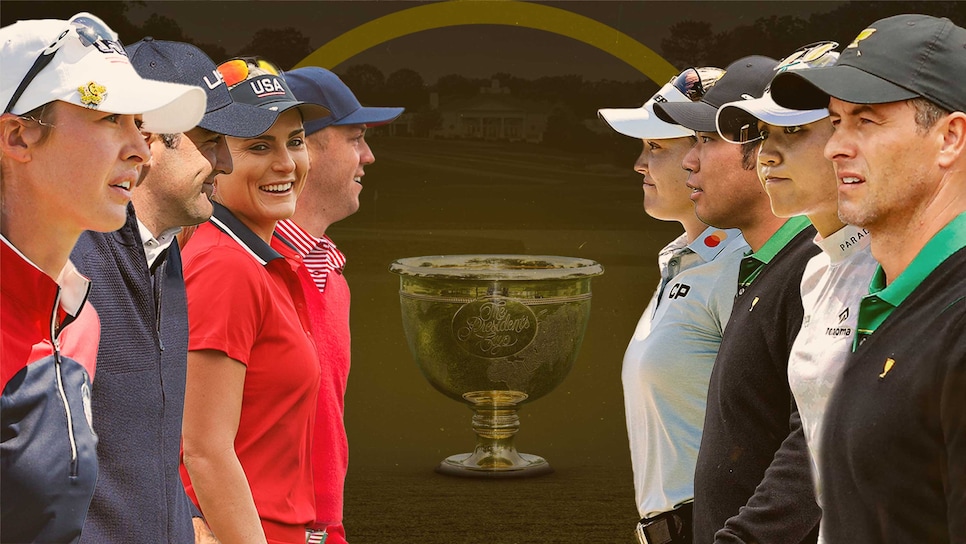 The Presidents Cup has been played 13 times since its inception in 1994. Team USA has won 11 of those, the match was halved once, and the International team has one lone victory coming in 1998. If an event has been played for nearly 30 years and has produced basically the same result throughout, might that be a sign there's opportunity for change?
The question becomes more relevant when looking ahead to the 14th playing of the event this week at Quail Hollow Club. As Charlotte welcomes the 24 competitors a year later than expected after the COVID-19 pandemic forced a delay, it's hard to imagine a result different from the one history has regularly produced. The International team, led by captain Trevor Immelman, comes in having lost a handful of players—Cameron Smith and Joaquin Niemann most notably—late in the season when they chose to join the Saudi-backed LIV Tour. This has left Davis Love III's U.S. team a heavy favorite. A quick look at the World Ranking shows the discrepancy: the average World Ranking for the 12 pros who make up Team USA is 11.8. For the International team, that number is 48.8.
How about adding women to the Presidents Cup, turning it into a mixed-team event with the LPGA Tour?
The notion of a combined men's and women's team event is something that's been discussed before. PGA Tour Commissioner Jay Monahan is on record as saying back in 2018: "We're very interested in getting the men and women together inside the ropes in the same week and in the same competition. I think that's something you'll see in the future. It's just a matter of time. That's really exciting and interesting."
Then-LPGA Tour Commissioner Mike Whan spoke positively bringing together the top men's and women's golfers in some fashion, as well, and current LPGA Tour Commissioner Mollie Marcoux-Samaan has said she's in favor of having a joint PGA-LPGA event.
So why the Presidents Cup specifically? Well, for the event to be more competitive, the teams need to be more balanced. For the teams to be more balanced, you need more talent on the International side. And you don't have to look any further than the LPGA for international talent, with 29 of the top 50 players on the Rolex Women's Rankings being natives of countries outside the U.S. and Europe (and 62 of the top 100). By comparison, only 12 in the top 50 of the Official World Golf Ranking hail from outside the U.S. and Europe, and 31 of the top 100.
Working off the premise that the two teams would keep their rosters at 12 players each—six men and six women filled in exclusively off the world rankings—when you add in LPGA players, you start to see how the teams get more evened out. If the competition were to happen right now, the average world ranking for the combined Team USA would be 9.8. The average world ranking for the combined International team would improve to 14.8. Theortically, this would make for a closer match, and that's before we even get into what kind of pairings we could witness.
Here's how the teams would appear if the match were played today, assuming Jin Young Ko would play despite her current wrist injury.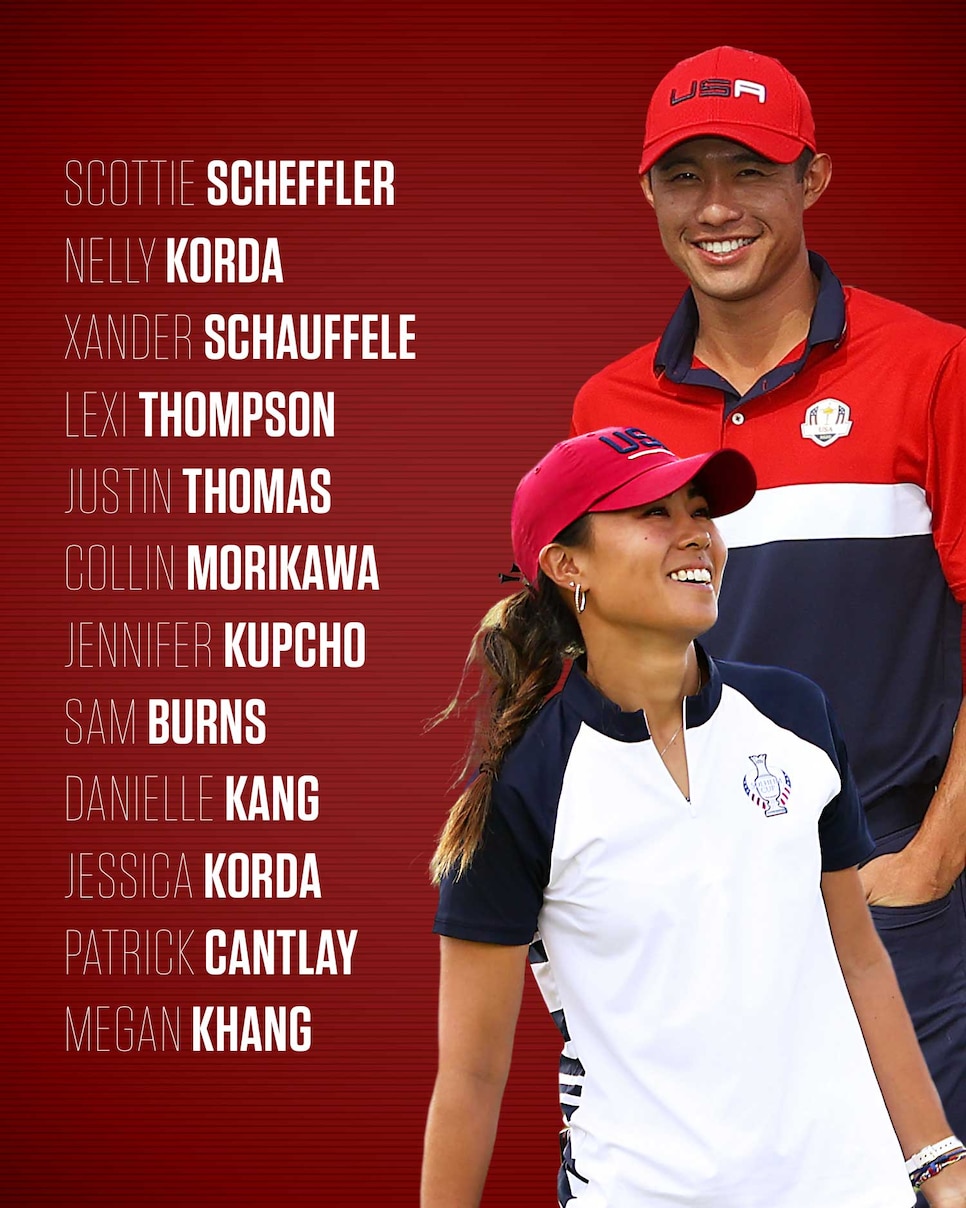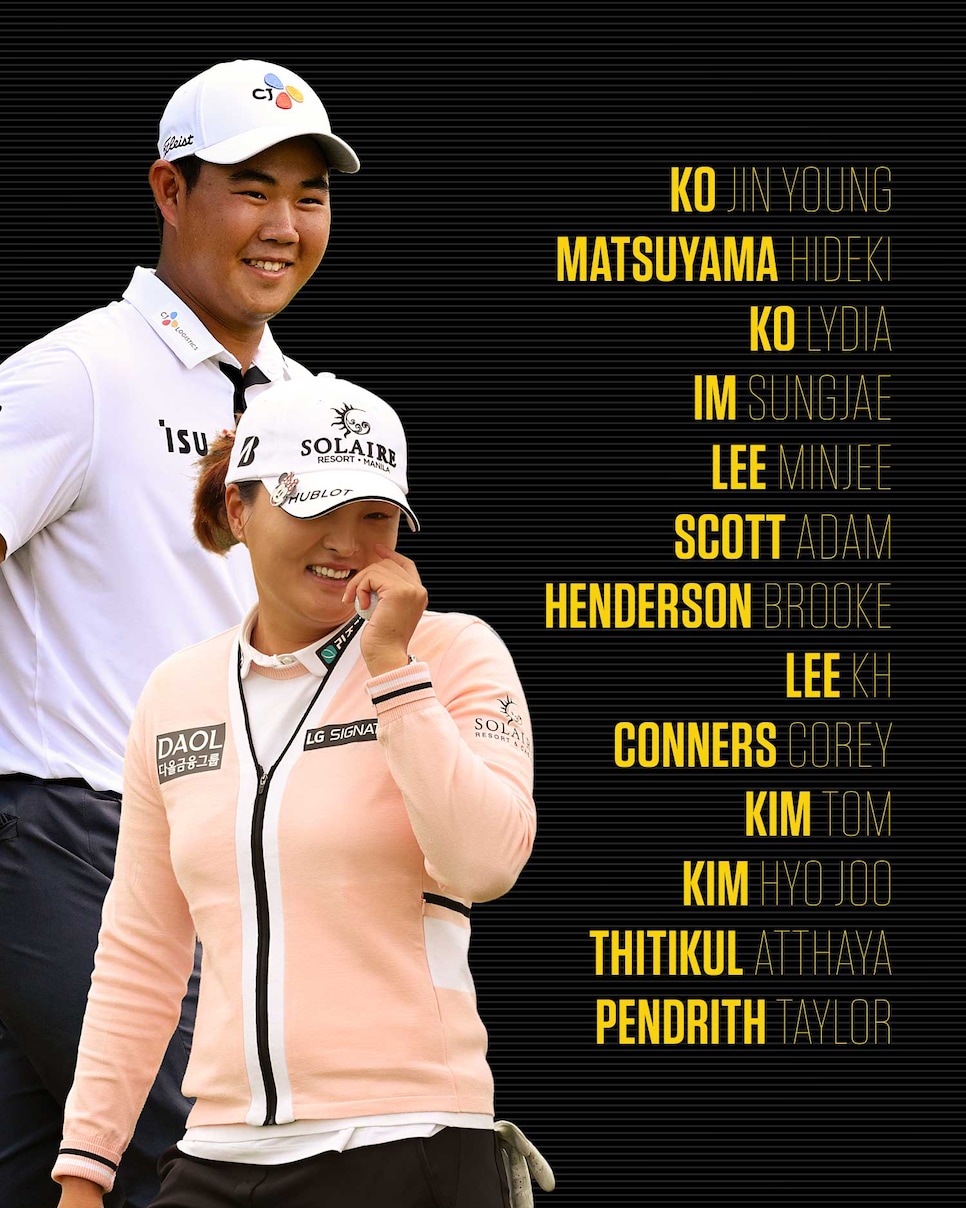 Unsurprisingly, LPGA players were excited when asked about competing in the hypothetical match. Ko, the top-ranked women's player in the world, told Golf Digest she'd love the opportunity to represent South Korea on such a stage. "I think about it every time I see the Ryder Cup and Solheim Cup," Ko emailed through her agent of a mixed-team event. "I would love to take part in one."
Count Nelly Korda in as well: "I think it would be cool to do something with the men. I think that would really promote women's golf, too. I think that would help us a lot and maybe, hopefully, they have something in the plans for that, but I think it would be great for the game of golf."
An event like this would be a dream opportunity for the LPGA to showcase its best talent. The Solheim Cup, pitting the U.S. against Europe, generates an enormous amount of positive energy around women's golf. Imagine what the effect would be if PGA Tour stars were added along with incorporating players throughout the rest of the world?
"I think all events that have exposure and events playing with the best players in the world, both men and women together, are good for the tour and good for the exposure for our women to be in that setting," Marcoux Samaan told Golf Digest when asked about interest in a mixed-team event.
While the men would help get more viewers to the women's game, the women would help add competitiveness to the men's event.
"I know with what's going on on the PGA Tour maybe the Internationals aren't as strong as they would've been a couple months back," Korda said. "I know the U.S. men have always done really well. They've always been super strong and I feel like we are so international on the LPGA that it could probably balance it out and actually make it really exciting."
Korda's sister, Jessica, was for the idea, too.
"It would be very cool. I would think it would add a lot of strength to the event with this one-of-a-kind element," Jessica told Golf Digest. "It would truly be a unique competition for our sport. It's always fun and special anytime we get to collaborate with the guys."
The idea gets even more compelling when looking at some hypothetical matches that could take place. We did just that, changing the Presidents Cup format to mirror the Solheim and Ryder Cup formats. We also created mixed-teams for foursomes and four-ball for both Friday and Saturday. Here's what it could look like:
Lexi Thompson/Patrick Cantlay vs. Minjee Lee/Adam Scott
Jessica Korda/Justin Thomas vs. Jin Young Ko/Tom Kim
Danielle Kang/Collin Morikawa vs. Brooke Henderson/Hideki Matsuyama
Jennifer Kupcho/Scottie Scheffler vs. Lydia Ko/Sungjae Im
Nelly Korda/Xander Schauffele v. Atthaya Thitikul/Corey Conners
Megan Khang/Patrick Cantlay v. Brooke Henderson/K.H. Lee
Jennifer Kupcho/Sam Burns v. Hyoo Joo Kim/Hideki Matsuyama
Lexi Thompson/Justin Thomas v. Minjee Lee/Sungjae Im
Megan Khang/Collin Morikawa vs. Brooke Henderson/K.H. Lee
Jennifer Kupcho/Sam Burns vs. Hyoo Joo Kim/Sungjae Im
Lexi Thompson/Justin Thomas vs. Minjee Lee/Tom Kim
Nelly Korda/Xander Schauffele vs. Atthaya Thitikul/Corey Conners
Lexi Thompson/Scottie Scheffler vs. Minjee Lee/Adam Scott
Jessica Korda and Justin Thomas vs. Lydia Ko/Tom Kim
Jennifer Kupcho/Patrick Cantlay vs. Brooke Henderson/Hideki Matsuyama
Nelly Korda/Collin Morikawa vs. Jin Young Ko/Sungjae Im
Nelly Korda vs. Jin Young Ko
Scottie Scheffler vs. Tom Kim
Megan Khang vs. Atthaya Thitikul
Collin Morikawa vs. Adam Scott
Jessica Korda vs. Lydia Ko
Sam Burns vs. Corey Conners
Lexi Thompson vs. Brooke Henderson
Justin Thomas vs. K.H. Lee
Danielle Kang vs. Hyo Joo Kim
Xander Schauffele vs. Adam Scott
Jennifer Kupcho vs. Minjee Lee
Patrick Cantlay vs. Hideki Matsuyama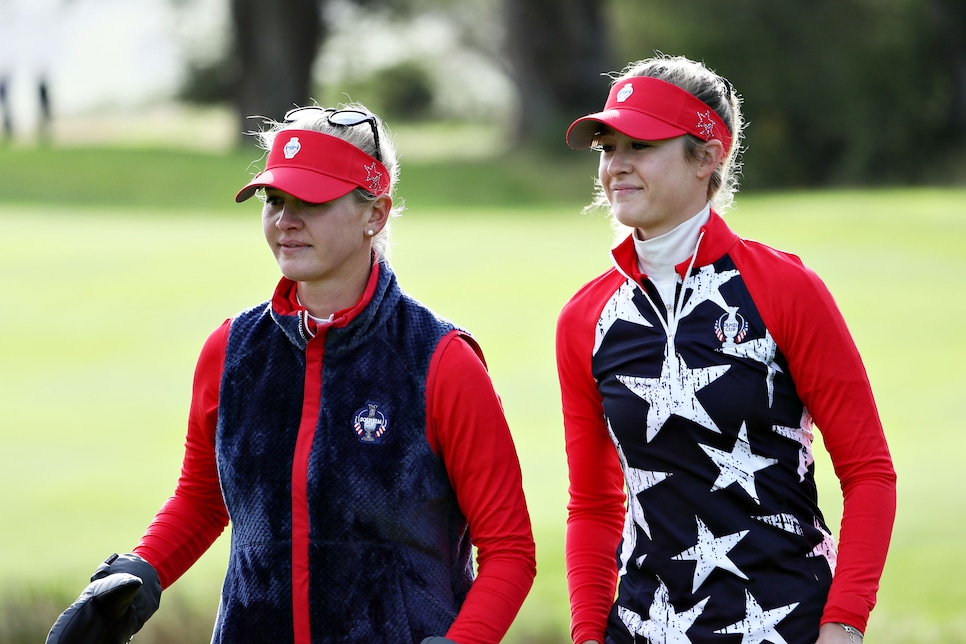 Jessica and Nelly Korda are Solheim Cup veterans who are all for the idea of turning the Presidents Cup into a mixed-team event.
Jamie Squire/Getty Images
An alternative could be to have mixed matches just one day and return to more traditional two-man or two woman pairings the other. Regardless, the match-ups feel dynamic and could create a new level of tension and excitement that the overall competition could benefit from.
Making such a big change to the Presidents Cup isn't something to take lightly, and there are some who hesitate at the suggestion that the event needs such a significant shift. That includes current U.S. Presidents Cup captain Davis Love III.
"I love the Solheim Cup, and I love watching that. So they probably would not want us to come play in theirs. So, I think the Presidents Cup stands on its own and has been great," Love III said. "I would love to see some sort of event like this that was mixed teams."
Likely the easiest way to get a combined PGA/LPGA event on the schedule would be to modify a current event instead of creating something from scratch. We're not here to knock the Presidents Cup. It has its own history, as Love III alludes to, but it's hard to dismiss the potential making new, iconic Presidents Cup moments if women were added to the teams. The chances for a blowout victory would be far less than they are now.
Navigating the uncharted waters of a co-ed Presidents Cup is sure to have its fair share of naysayers. But if intense competition with the best players in the world is the goal, it's hard to argue against giving this a shot.