Fantasy Advice
Presidents Cup DFS picks 2022: Why I'm fading these American players this week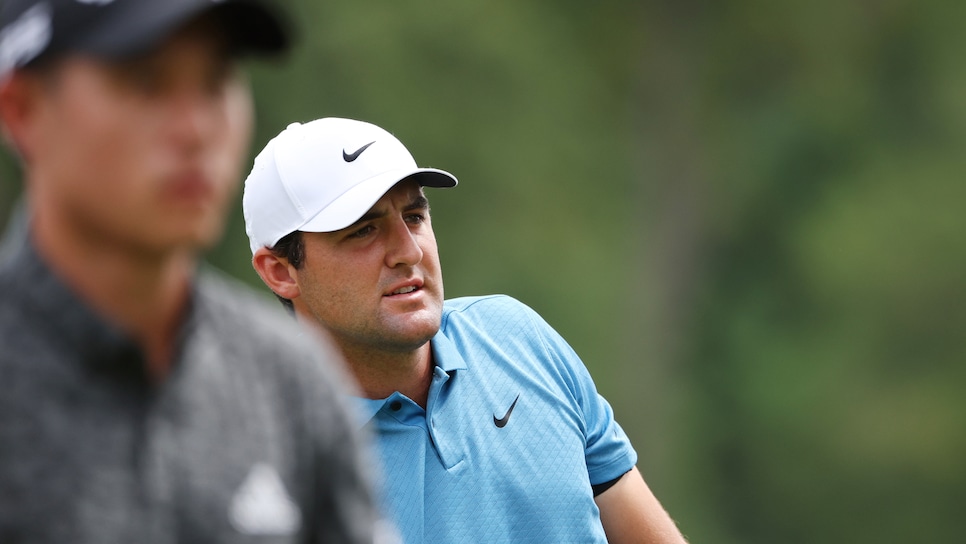 If you're playing DFS for the Presidents Cup, you need to understand how the format and the scoring are different. With match play, golfers will be rewarded points based on the number of holes won/lost not on the number of birdies/bogies that they make.
It's worth noting that partners, when playing together, will receive the same number of points for that match, no matter how they individually contributed to the match. For example, if Justin Thomas makes nine birdies while partner Jordan Spieth makes nine bogeys but they win the match—both receive the same number of points.
The Presidents Cup also allows DraftKings to use its "Cup Golf" format, which requires users to choose five golfers and one "captain" for each team. The captain will cost 1.5x their normal salary but will return 1.5x their normal fantasy points.
Success in this format comes down to opportunity. You're looking for golfers who have a chance to play all five sessions and accumulate as many points as possible. Patience will certainly be recommended since we will learn Thursday's pairings on Wednesday at 4 p.m. (eastern). If you're willing to wait that long and make sure your lineups have six golfers who will tee it up on Thursday, you can guarantee to have maximum opportunity through 20 percent of the event's sessions and gain an edge on the users who don't adjust their lineups.
Here are the players who have my interest—and those who certainly don't—this week at the 2022 Presidents Cup.
Golfers I'm Definitely Playing
Max Homa ($9,200 DraftKings)
There's a real chance that Homa is the "X factor" this week for the United States. He's fresh off his victory in Napa and heads to Quail Hollow, where he won the Wells Fargo Championship in 2019. His game is in top shape, and he's a perfect teammate who could be partnered with anyone. That "anyone," I imagine, is going to be Collin Morikawa. Two standouts from Cal-Berkeley could make a formidable duo this week.
Tom Kim ($5,600 DraftKings)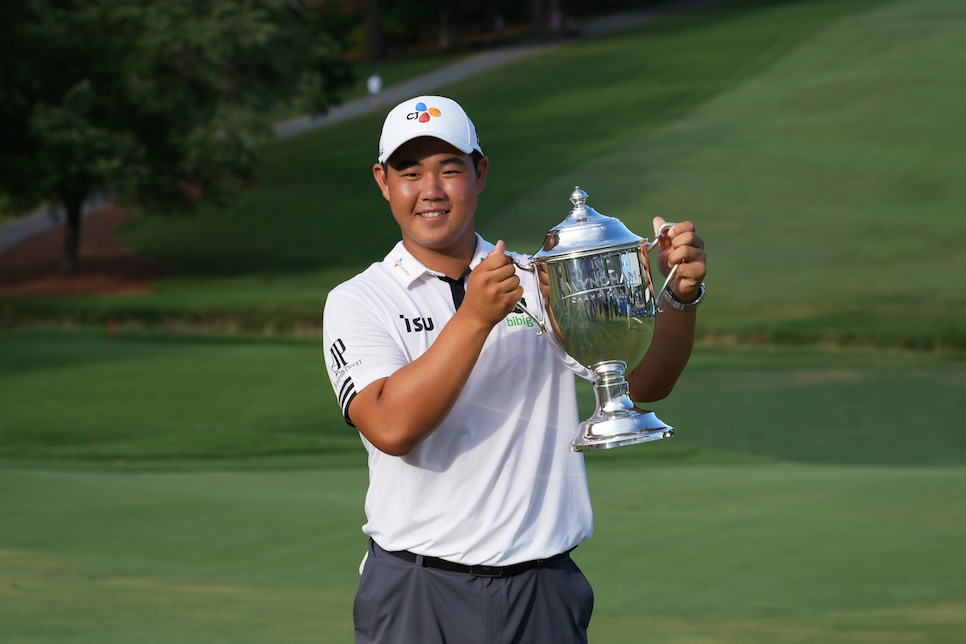 Speaking of "X factors," Tom Kim represents just that for the International Team. The squad is top-heavy and will be looking for some rookies to step up, with Kim being the likely candidate. At 20 years old, playing five matches over four days won't be a problem, and we've seen Kim get scorching hot already in his young career. Captain Trevor Immelman heaps praise on Kim as a teammate and translator for the other South Korean golfers on the team. That makes him a logical partner to a large chunk of the International team.
Sungjae Im ($7,400 DraftKings)
My hopes are that Im and Kim form a super team and play all four partner sessions together. Captain Immelman called Im the "most underrated player on tour," and it's likely that he gets the nod for every session. Im's last five events of the season were all top-15 finishes with three runners-up. His game is dialed, and he was the top International point scorer (3-1-1) in 2019.
Xander Schauffele ($10,000 DraftKings)
Schauffele will be the beneficiary of opportunity this week in North Carolina. He's been a staple for the United States, playing nine out of 10 possible sessions over the most recent Ryder Cup and Presidents Cup. He's tied to a great partner, Patrick Cantlay, and both are near the top of their games right now. Schauffele has won twice in his past six starts and finished in the top four the BMW Championship and Tour Championship.
Few golf course projects had more national attention in recent years than Quail Hollow, mainly because its front nine was redesigned just a year before it hosted the 2017 PGA Championship, won by Justin Thomas. The par-4 first and par-3 second holes were completely torn up, replaced by a new long dogleg-right par-4 opening hole. Several acres of pines to the left of the fifth tee were removed to make room for a new par-3 fourth. (With its knobby green fronted by three traps, it proved to be the most frustrating hole for pros in the 2017 PGA.) More pines were removed to the left of the par-4 11th, replaced by bunkers, and even more trees chopped down on a hill left of the par-4 18th to make room for money-making hospitality boxes. There's no question that this latest remodeling, rushed though it was, improved the course. The course was also rerouted for the 2022 Presidents Cup.
View Course
Collin Morikawa ($7,800 DraftKings)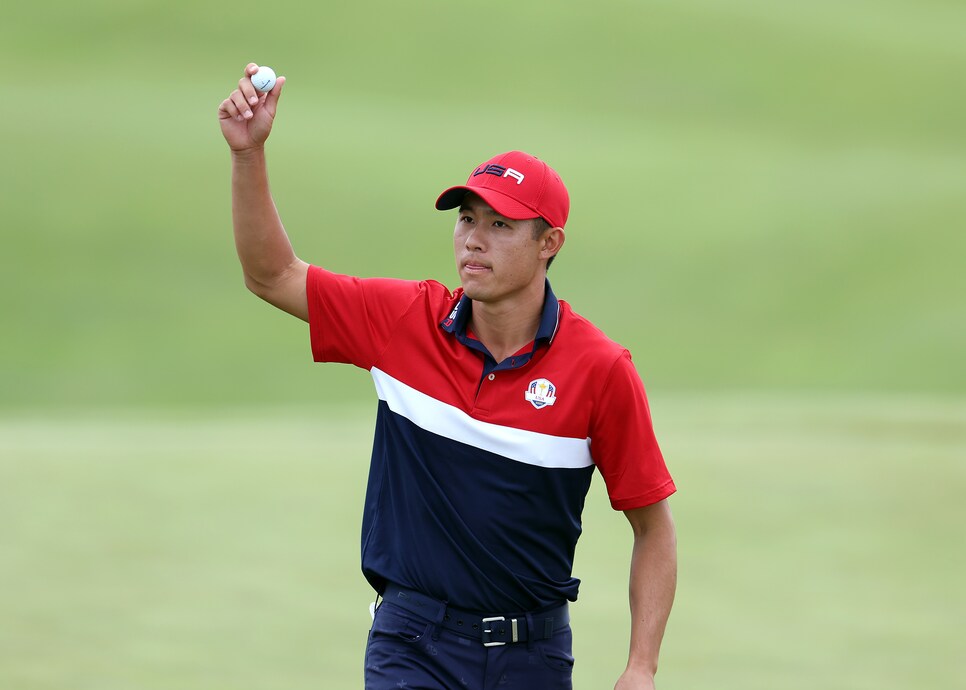 Morikawa is one of the more fascinating options this week. For the first time in his career, he finished winless on tour, but he started to find his game down the stretch. He gained 26.13 strokes on approach over his final 13 measured events, per the RickRunGood.com golf database. Morikawa went 3-0-1 in his Ryder Cup debut, often paired with Dustin Johnson. Now he'll be looking for a new partner, and he's got plenty to offer!
Adam Scott ($6,000 DraftKings)
Scott has played in 44 of 45 possible sessions over his nine Presidents Cup appearances and there's little reason to think that trend will stop at Quail Hollow. Scott played himself deep into the FedEx Cup Playoffs with a T-5 finish in Memphis and another T-5 finish in Wilmington. With 2.5 points this year, he would become the highest-scoring International player ever, so his experience will certainly be valuable.
Taylor Pendrith ($4,400 DraftKings)
This is a staggeringly low price on Pendrith, who should be a huge asset at Quail Hollow with his excellent ball-striking. Pendrith has gained 1.26 strokes per round in the two ball-striking categories over his past 24 rounds, the third-best in this field, per the RickRunGood.com golf database.
His competition outlook, as a rookie, is tied closely to a partner and his early success. If Pendrith completes the Canadian pairing and plays with Corey Conners on Thursday, it would significantly improve his value in fantasy formats.
Scottie Scheffler ($10,600 DraftKings)
Scheffler possesses all the talent in the world and should be a huge part of the American firepower. However, it's unclear who Scheffler will partner with, which is a bit of a concern. His first team experience came at the 2021 Ryder Cup where he played twice with Bryson DeChambeau and once with Patrick Cantlay. Scheffler is pliable, so he could play nearly every session but his overall value will be tied to his partner, which is currently unknown.
Kevin Kisner ($5,000 DraftKings)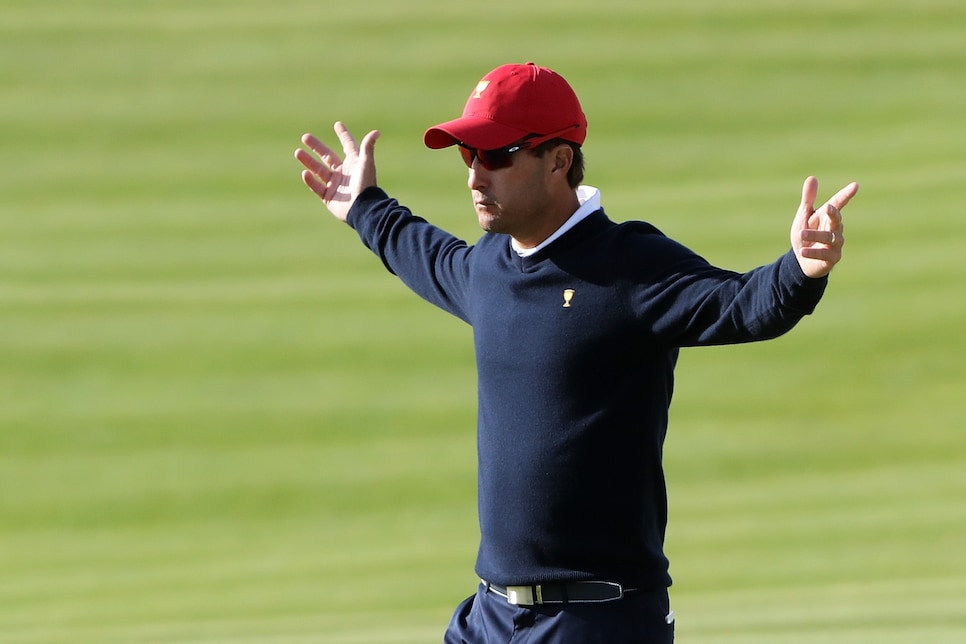 Kisner's match-play prowess is intriguing for this week but Quail Hollow looks to be a terrible setup for him. This course can be stretched over 7,500 yards, and Kisner has already lost strokes off-the-tee in each of his past seven starts. It's unlikely that Kisner sees a ton of action with a bad course fit and an unknown partner.
Si Woo Kim ($5,200 DraftKings)
There's only one golfer in this event who is losing strokes to the field over his last 24 rounds: it's Si Woo Kim. His inconsistent style of golf is generally fine for match play, but he has been lost with the putter recently. Kim has lost 23.34 strokes putting over his past three measured events. That's about as bad as it gets.
Christiaan Bezuidenhout ($5,400 DraftKings)
Bezuidenhout is reliant on his flat stick to find success. He's lost 13.84 strokes from tee-to-green over his past three starts and ranked outside the top 150 in driving distance last season. He and Kisner are the only two golfers in this event who are losing strokes from tee-to-green over their past 50 rounds. It's unlikely that Bezuidenhout plays often, and his path to success is quite narrow when he does tee it up.
Cameron Young ($6,600 DraftKings)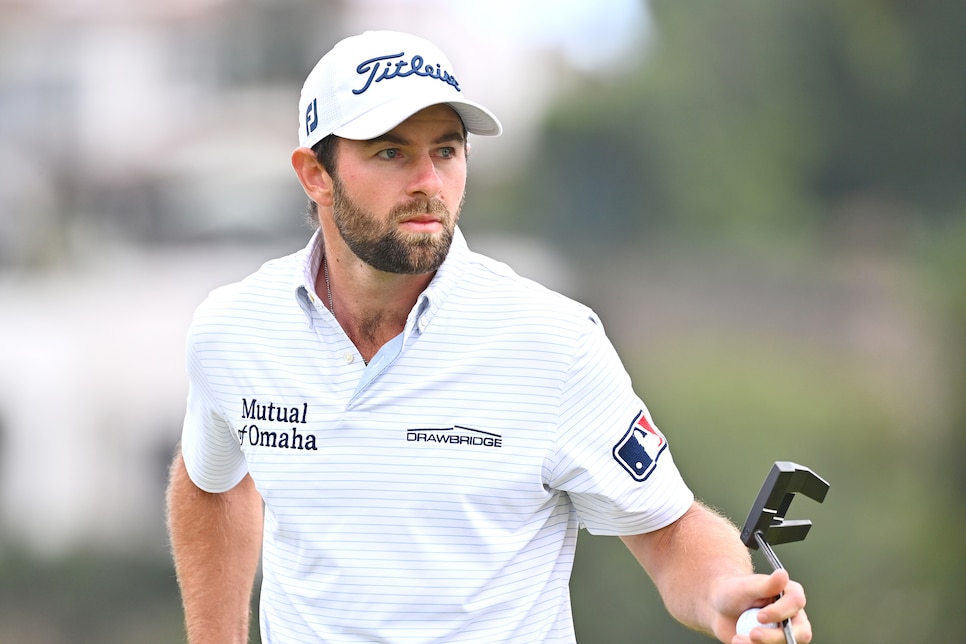 Young is the most difficult and interesting golfer to handicap for this week. On paper, he's a perfect fit for Quail Hollow and has enough birdie-making ability to provide plenty of value. However, when you inject the team format into things, his role becomes much less clear. He'll be jockeying for playing time against his much more established teammates (Spieth, Scheffler, Schauffele, Thomas, Cantlay, etc.). There's only so many matches to go around.
Young's value could spike if he gets a Thursday pairing with someone like Scottie Scheffler, but we won't know that until Wednesday evening. He's a high-risk/high-reward option for the Presidents Cup.