1 / 9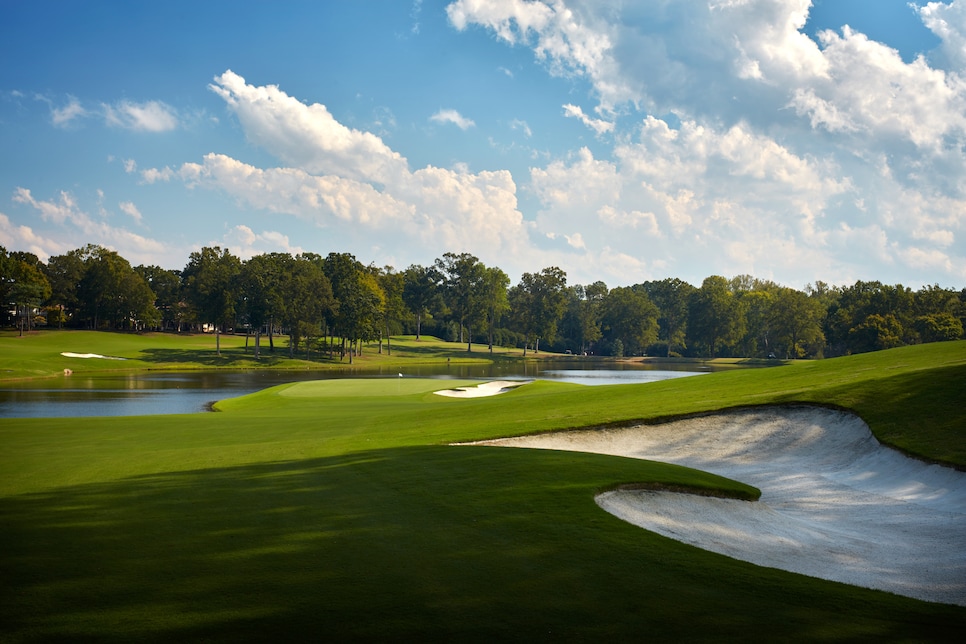 Courtesy of PGA of America
2 / 9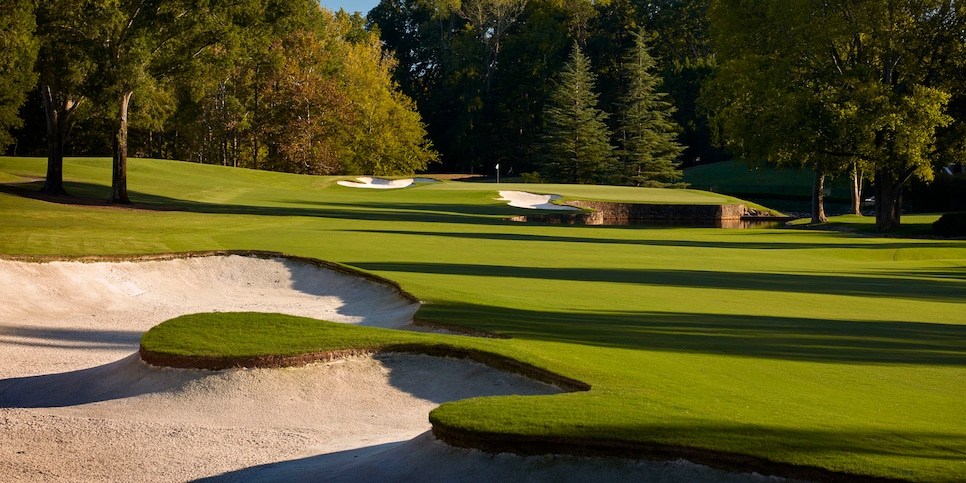 3 / 9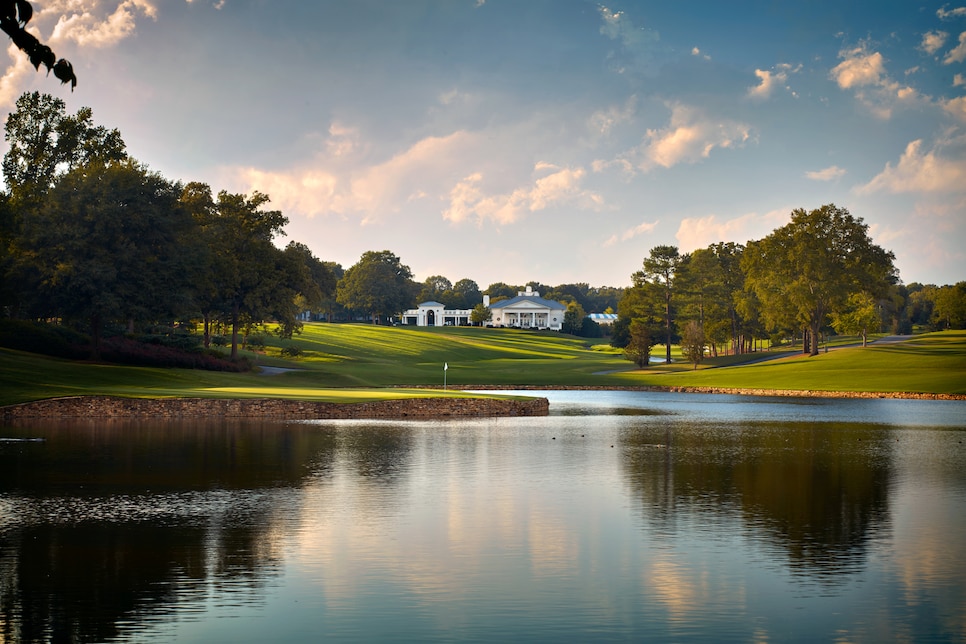 Courtesy of PGA of America
4 / 9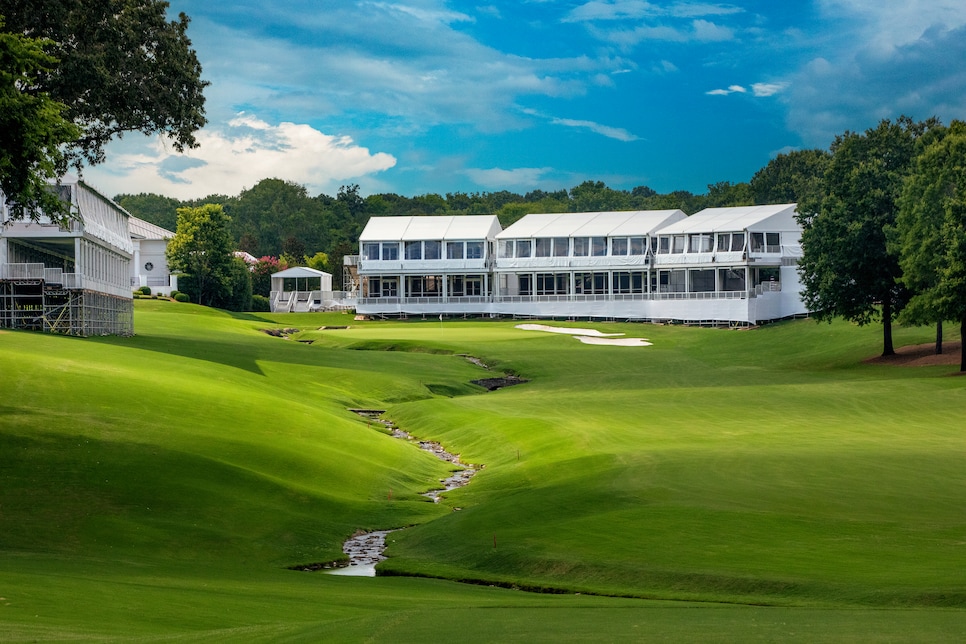 The green at the narrow 15th is typically Quail Hollow's hardest to reach in regulation.
5 / 9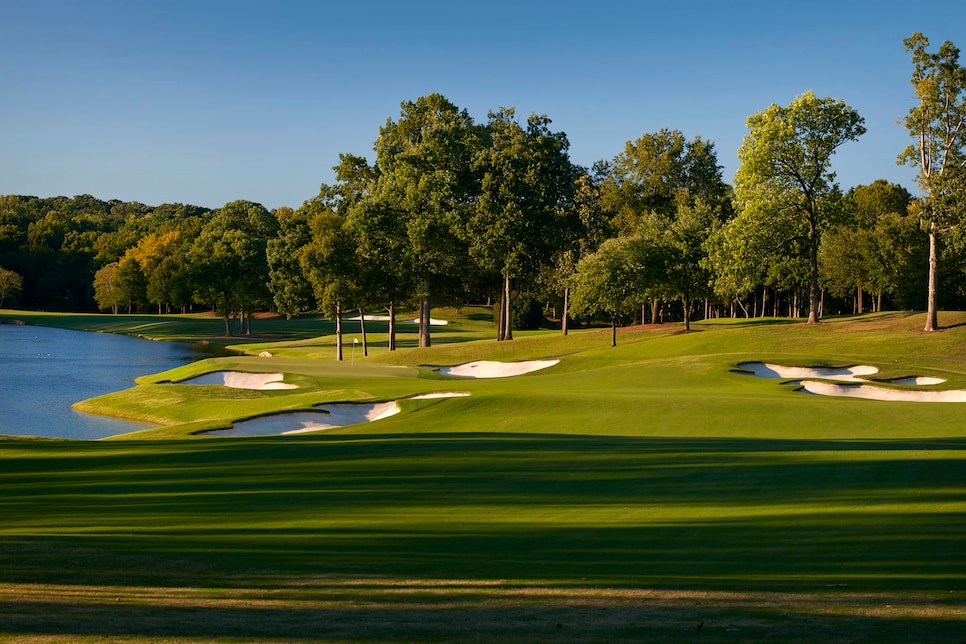 6 / 9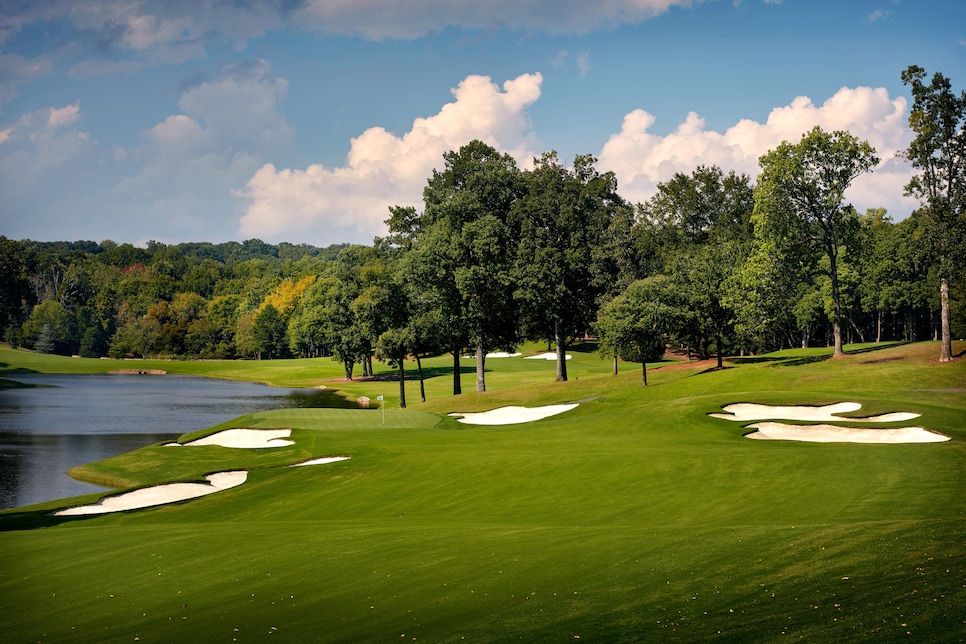 Courtesy of Gary Kellner/PGA of America
7 / 9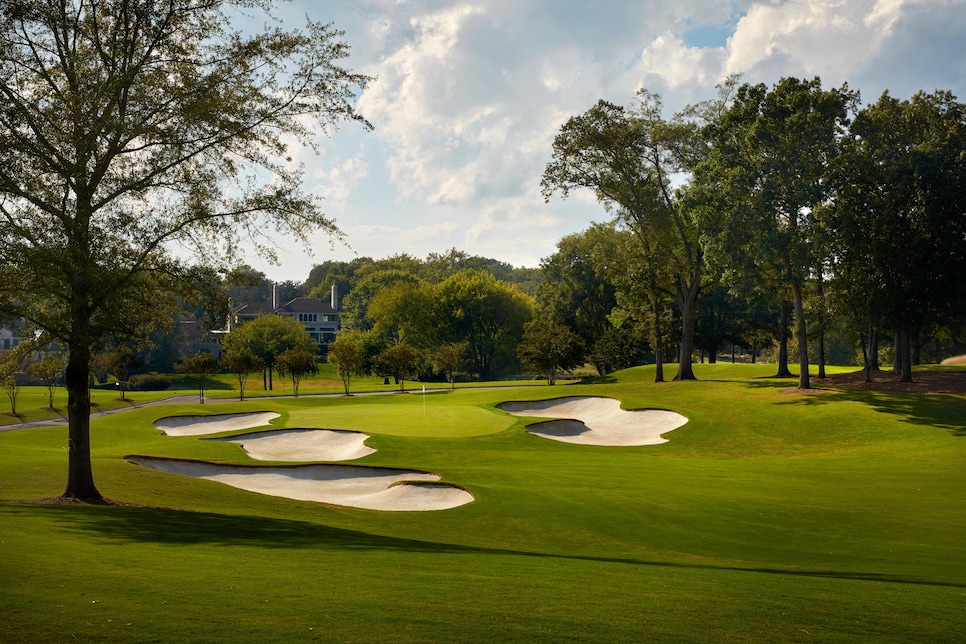 Courtesy of Gary Kellner/PGA of America
8 / 9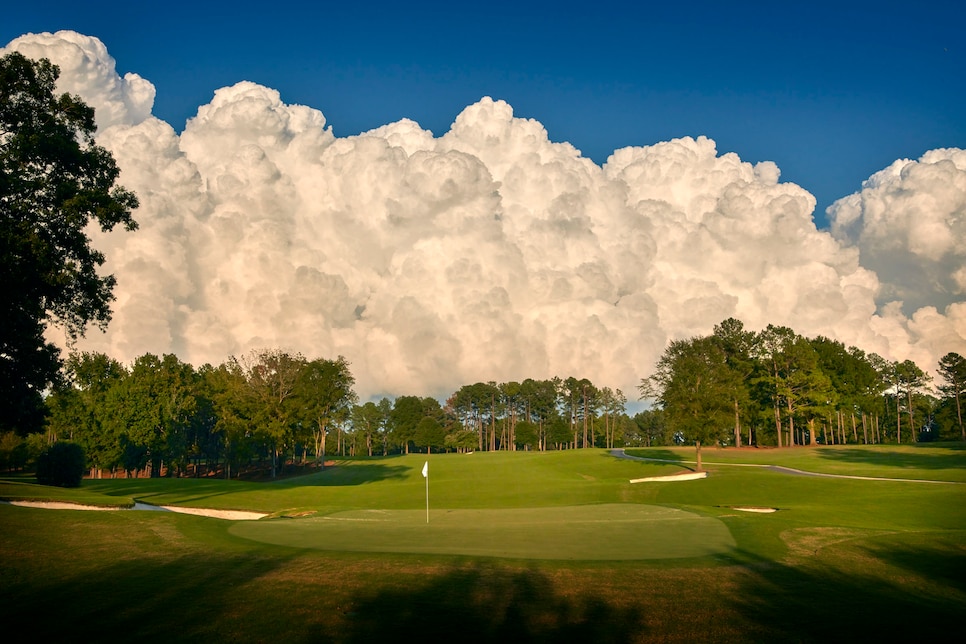 9 / 9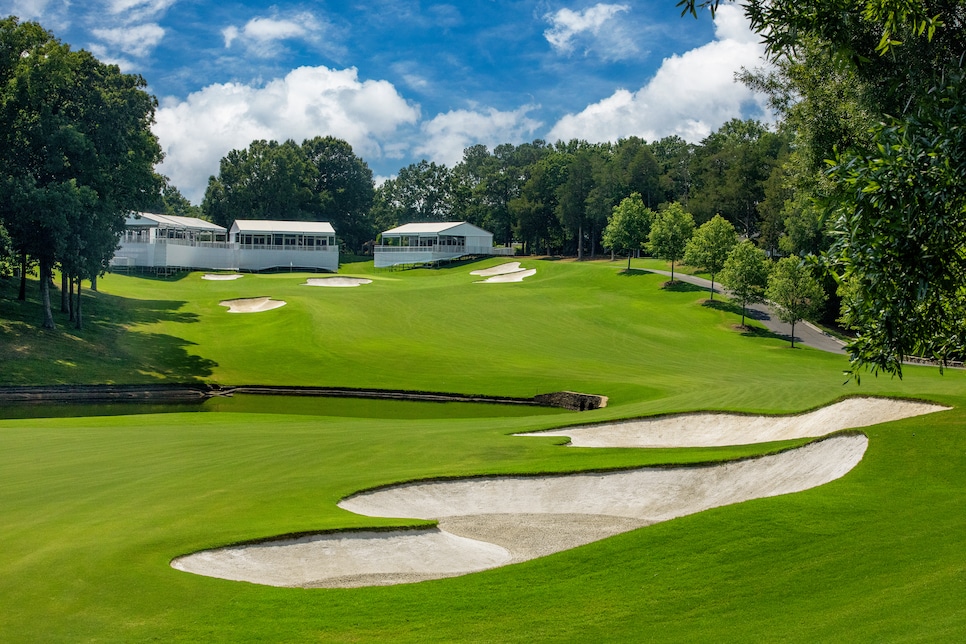 The uphill 12th with water left and right is listed as a par 5 but will take scores of 4s and even 3s to win.
Overview
Few golf course projects had more national attention in recent years than Quail Hollow, mainly because its front nine was redesigned just a year before it hosted the 2017 PGA Championship, won by Justin Thomas. The par-4 first and par-3 second holes were completely torn up, replaced by a new long dogleg-right par-4 opening hole. Several acres of pines to the left of the fifth tee were removed to make room for a new par-3 fourth. (With its knobby green fronted by three traps, it proved to be the most frustrating hole for pros in the 2017 PGA.) More pines were removed to the left of the par-4 11th, replaced by bunkers, and even more trees chopped down on a hill left of the par-4 18th to make room for money-making hospitality boxes. There's no question that this latest remodeling, rushed though it was, improved the course. The course was also rerouted for the 2022 Presidents Cup.
About
Designer
George W. Cobb, ASGCA/(R) Tom Fazio
Awards
Second 100 Greatest: Ranked from 2019-'20, 2023-'24.
2023-'24 ranking: 119th.
Previous ranking: 97th.
100 Greatest: Ranked from 1966-1968 & 2021-'22.
Highest ranking: 97th, 2021-'22.
Best in State: Ranked Top 5 in North Carolina in 1977, 2011-2012, & 2021-'22; Top 10 in 2009 & from 2013-2020; Top 20 from 2005-2007.
Current Ranking: 7th.
Most underrated holes on the PGA Tour
Panelists
Ratings from our panel of 1,900 course-ranking panelists
100 GREATEST/BEST IN STATE SCORES
Reviews
1 / 5
Review
"First 5 holes are mediocre at best. Then the back 9 is really good. Hole #18 is probably one of the 10 best finishing holes in America. Was in good shape."
Read More
2021
2 / 5
Review
"Private club that holds annual PGA event plus majors. If you want a long tough great course try to get on Quail Hollow. Great golfing experience and condition is great. More hillier than it looks on TV and great variety."
Read More
2021
3 / 5
Review
"The best part of Quail Hollow includes all those holes we see on TV every year -- the rest is solid but more straightforward. Those last 7 holes are pretty special, however."
Read More
2021
4 / 5
Review
"This is one of the venerable clubs in the country. Any invitation should be accepted. Many hands have worked on the course. It doesn't disappoint. Conditioning is always good, especially after Fazio worked on it in 2017. There is a reason it hosts a PGA event: it is an exceptional course."
Read More
2018
5 / 5
Review
"Looks better on TV. Very overrated. New holes are almost unplayable."
Read More
2018
Readers
Collection of reviews from our readers
There are no reader ratings yet
Reviews
There are no readers reviews yet. Be the first to write a review.