What might have been
Presidents Cup 2022: 'It's bittersweet'—Injured Will Zalatoris takes up U.S. teammates offer, comes out to watch practice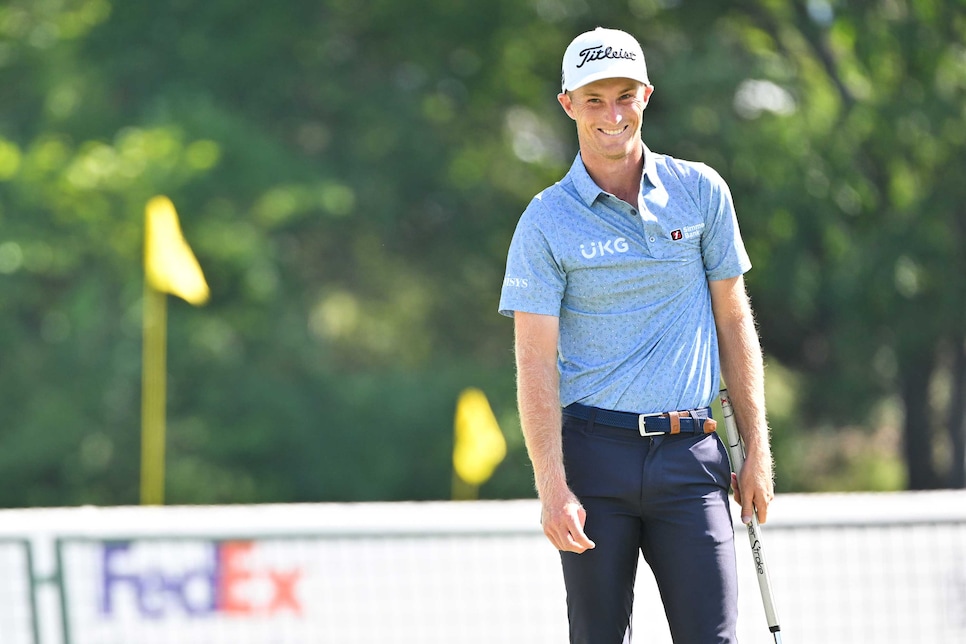 Not long after winning his first PGA Tour event at the FedEx St. Jude Championship, Will Zalatoris had to withdraw from playing on his first Presidents Cup team due to injury.
Ben Jared
CHARLOTTE — Will Zalatoris made an appearance Wednesday at Quail Hollow Club, smiling and moving easily on the range and later walking a few holes with a group of U.S. players that included Cameron Young, his former teammate at nearby Wake Forest.
Zalatoris was supposed to be a member of the American team in this week's Presidents Cup, but his back blew up at last month's BMW Championship—just a few days after collecting his long-awaited first PGA Tour title at the FedEx St. Jude Championship—and he's on an extended sabbatical as he rehabs two herniated discs.
Fellow Dallas residents Jordan Spieth and Scottie Scheffler texted their would-be teammate asking him to join the squad for a few days, and U.S. captain Davis Love III called Zalatoris last weekend to extend an official invitation.
"Of course, there was no way I was going to say no," Zalatoris said after watching the American team warm up for its final practice session ahead of Thursday's opening foursomes session. "It's good to be here. It's good to be with the guys. Obviously, it's nice to be in a familiar place with Wake Forest being down the road and Cam being here, too. A lot of friends. Yeah, I'm looking forward to it."
Zalatoris, 26, planned to stay another day or two but not for the entire week. While he said he had "come to terms with everything pretty quickly," he was not about to claim that he wouldn't rather have a club in hands the next few days.
"When they did the MRI and the CAT scan, I was told, 'You're going to need 12 weeks.' That's when I knew I needed to tell everyone I wasn't going to play in the Presidents Cup," Zalatoris said. "I wanted the guys to know that, hey, this last week, there's going to be another spot available. I thought that would be doing the team a disservice if I didn't speak up.
Asked if he might have some kind official role with the U.S. team, Zalatoris quickly said, no, "and that's on purpose." This would have been his first time playing in the Presidents Cup or the Ryder Cup—he finished seventh on the U.S. Presidents Cup qualifying list—and having to sit out is naturally disappointing, so there was little motivation in getting too involved. Besides, he has a back injury to take care of. He doesn't want to overexert himself, especially as the competition starts to unfold.
Zalatoris added that expects to be fully prepared to play tournament golf in another two months.
"If I listen to the doctors, it shouldn't be an issue going forward," he said. "It's now just a matter of how well I listen. Trust me, after the first five weeks of my recovery I'm going to make sure I listen because I don't want to do this again."