Live Blog
PGA Championship 2022 live updates: Justin Thomas defeats Will Zalatoris in playoff, claims second Wanamaker Trophy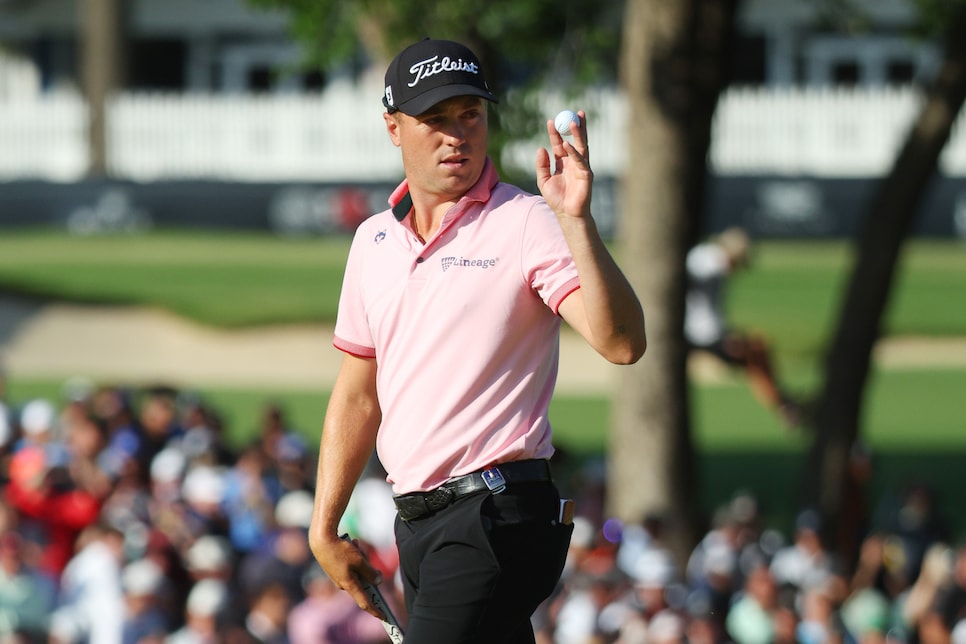 TULSA, OKLAHOMA - MAY 22: Justin Thomas of the United States reacts to his birdie putt on the 17th green, the second playoff hole during the final round of the 2022 PGA Championship at Southern Hills Country Club on May 22, 2022 in Tulsa, Oklahoma. (Photo by Andrew Redington/Getty Images)
Andrew Redington
In one of the more stunning PGA Championship Sundays in recent memory, Justin Thomas overcame a seven-shot deficit at Southern Hills to claim his second Wanamaker Trophy.
It took some help from Mito Pereira, who made a catastrophic double bogey on the 72nd hole to miss out on a playoff, but Thomas still needed to execute down the stretch to have a chance. And execute he did. Following a round-saving birdie at the ninth hole, Thomas proceeded to tour the back nine in three under with three birdies and no bogeys, the biggest of which came at the drivable par-4 17th. There, Thomas found a greenside bunker from the tee and got up and down to reach five under.
At 18, Thomas piped a drive down the middle and then hit his approach to 10 feet, setting up a birdie putt that would have won him the tournament in regulation had it dropped. It slipped past the right edge, giving him the clubhouse lead at five under.
That number held up, with Will Zalatoris the only one to match it thanks to a clutch par save at 18. Pereira's double bogey saw him finish at four under after he grinded to make par after par all day long. But his final tally of five-over 75 knocked him out of a playoff with Zalatoris and Thomas.
In the playoff, Thomas and Zalatoris birdie the first of three holes, the par-5 13th. Then, at 17, Thomas made birdie once again, besting Zalatoris by one stroke. They both made par at 18, and Thomas secured a one-stroke win in the aggregate playoff. The win is his second in a major championship, both of them PGAs. He last won a Wanamaker Trophy in 2017 at Quail Hollow, where he also came up clutch down the stretch with a birdie on the 17th hole.
For Zalatoris, this marks his second runner-up finish in a major, the first coming in the 2021 Masters, where Hideki Matsuyama clipped him by one stroke for the green jacket. In nine career majors, Zalatoris has six top-10 finishes.
PGA Championship 2022 live updates (all times eastern):
7:36 p.m.: Zalatoris' putt fails to go, and Thomas two-putts his way to the win, giving him two Wanamaker trophies. Surprisingly, this also marks his first win since August of 2020. Two majors, 15 PGA Tour victories. Well on his way to a Hall of Fame career, and he's only 29 years old.
7:30 p.m.: Needing to make up a shot, Zalatoris tries to peel a cut into the right pin and finds the green, but comes up well short. Thomas had an almost identical shot to the one he had in regulation and finds the back portion of the green. Two-putts will guarantee him another hole at least, and it might win him his second PGA Championship. Zalatoris needs to make a bomb to have any chance.
7:25 p.m.: Thomas pumps a fade to the edge of the fairway and Zalatoris crushes one down the left side. The drama is intensifying.
7:20 p.m.: Thomas' eagle effort misses on the right side but leaves him with a three-footer for birdie. Zalatoris' birdie putt doesn't fall, and he settles for par. Thomas follows by holing his birdie to take a one-shot lead into the 18th.
7:15 p.m.: Thomas hits a beauty at the 17th and does his patented Tiger-esque twirl. His ball landed on the green and the crowd goes NUTS. Zalatoris missed right and just chipped his second to about 10 feet. Big moment, here.
7:08 p.m.: Thomas stiffs a wedge, just like we all expected, and Zalatoris proceeds to two-putt for birdie. From seven feet away, JT pours in his birdie putt. On to 17 we go.
7:03 p.m.: Check that, JT went the sensible layup route instead, giving himself a nice wedge in for his third. Zalatoris hit a 6-iron on and has 35 feet for eagle.
6:58 p.m.: The playoff is officially underway, with Thomas hitting first at the par-5 13th. He misses the fairway in the right rough but should be able to take a shot at the green in two. Zalatoris absolutely pounds a draw down the middle and should have no issue hitting the green in two. Remember, this is a three-hole aggregate, so it doesn't end here. They'll play 13-17-18, and the lowest total score after that wins. If they are still tied, we go to sudden death, starting on 18, then 13, then 17, then 18, if necessary.
6:48 p.m.: Double bogey for Pereira, meaning he won't even be in the playoff. Shocking, shocking stuff. Thomas and Zalatoris will now go to a three-hole aggregate playoff.
6:44 p.m.: After taking his drop, Pereira tries to cut a 5-iron into the right pin and misses long and left. He chips his fourth out of the rough and it rolls through the green, leaving him with over 20 feet for bogey. Good lord. This is hard to watch. We are now going to a playoff no matter what with Zalatoris and Thomas. Only thing left to decide is whether or not Mito will be joining them.
6:35 p.m.: Oh. My. God. Mito Pereira just hit his driver into the creek on 18. Disaster. Up at the green, Zalatoris holes his par putt to keep it at five under, at least guaranteeing himself a spot in a playoff with Justin Thomas. IT'S CHAOS RIGHT NOW!!!
6:32 p.m.: Pereira leaves his pitch a solid 15 feet short and then, somehow, leaves his birdie putt a half of an inch short. Unbelievable scenes. He will now go to the 18th tee with a one-stroke lead. Zalatoris and Young, meanwhile, both miss the 18th green, Zalatoris short and Young long. Zalatoris just hit his chip about eight feet past, setting up a must-make par for him just to have a chance at a playoff. Young needs to chip in.
6:24 p.m.: Despite having a one-shot cushion, Pereira pulls driver on 17 and it winds up being a momentous decision. His power fade clears the creek and he'll have a pretty straightforward up and down for birdie to go up two shots, which is exactly what you want coming down the difficult 18th at Southern Hills. At the 18th, Zalatoris' drive hits a tree and kicks back into the fairway, and Young pumps one all the way to the creek, also in the fairway.
6:22 p.m.: From the greenside bunker on 17, Zalatoris gets up and down for birdie to get to five under, tied for the clubhouse lead. Young also gets up and down from over the green for birdie to get to four under. Man, these two are going to be having nightmares about the 16th hole tonight if Pereira goes on to win at six under.
6:19 p.m.: We'll give Justin Thomas credit, he didn't leave the birdie putt short, but it didn't fall. He shoots a three-under 67, matching the low round of the day, to post five under. Pereira is waiting on the 17th tee while Young and Zalatoris finish up the short par 4.
6:13 p.m.: AND HERE. WE. GO. Thomas throws a dart into the 18th green, though it did take a big hop past the flag and he'll have about 15 feet to post six under. Back at 16, Pereira saves a massive par to remain at six under. The guy has shown some guts today without his best stuff.
6:07 p.m.: Welp, this has become a true "does anybody want to win this?"-off. Young makes double bogey, and Zalatoris actually THREE-putted for bogey. We jumped the gun on the last update. It was a tap-in! But, as we know, there are no sure things when it comes to Zalatoris' putting stroke. Brutal. The Wake Forest boys are at four under (Zalatoris) and three under (Young), respectively. Up at the 18th, Thomas rips a low cut and now controls his own destiny. Pereira has a lengthy look at a par save at 16 after coming up short with his approach.
6:02 p.m.: Cam Young is putting on a clinic in how to lose a golf tournament right now. Despite finding the fairway on 16, his approach found the right bunker and he left his third about 40 feet short. Then, he left the par putt about 10 feet short. He'd be lucky to make bogey now. Zalatoris, meanwhile, makes another par and continues plugging along at five under.
5:58 p.m.: Someone cue the undertaker GIF for Matt Fitzpatrick. The Englishman just chipped in for birdie at the 15th, getting him back to four under. Despite showing Pereira the line with his chip-in, Pereira misses the same birdie putt that both Thomas and Zalatoris had earlier, only his misses on the high side while their's missed low. Pereira stays at six under, one ahead of Young and Zalatoris ... and Thomas! JT gets up and down from a greenside bunker on the 17th for birdie to reach five under. All-world bunker play on this back side from Thomas, who is looking to steal a second Wanamaker Trophy down the stretch here.
5:46 p.m.: Pereira's par putt was tracking the whole way but it missed on the high side. Bogey drops him back to six under. Good news is, he still leads by one, as both Zalatoris and Young miss their birdie putts at the 15th.
5:43 p.m.: JT checks in with a 10 out of 10 bunker shot at the 16th, setting up what should be a tap-in par. At 15, Zalatoris and Young both put their second shots inside of 20 feet. At 14, Mito hits a solid chip and has another look at par. Things are getting crazy.
5:40 p.m.: Holy nuke job. Mito just RIPPED a low draw at the par-3 14th that scurried about 20 yards past the green and almost on to the next tee. Right after making that easy birdie, he's now got to go back to what he's been doing great all day - making a miracle up-and-down par save. No pressure. In the groups ahead, Zalatoris and Young found the fairway at No. 15 and Thomas is in a greenside bunker at 16.
5:34 p.m.: Young hits a poor bunker shot which, predictably, leads to a bogey. His relationship with the lead would have been brief anyway, as Pereira two-putted for birdie back at the 13th to reach seven under. Young's bogey drops him to five under, where he's now tied for second with Zalatoris, who made par at 14.
5:29 p.m.: In our last update, we failed to mention that Will Zalatoris is still very much in this. He made par at 13 and just found the green at the par-3 14th. Young put it in the right bunker, which appears to be a tough up and down to a back right pin. Up at 15, Thomas misses a very makeable birdie look, and boy does that feel like a dagger, especially with Mito Pereira in the middle of the fairway at the 13th. He just found that green in two and has a great look at eagle.
5:25 p.m.: Cam Young found the back bunker in two at the par-5 13th, forcing him to play a safe sand shot to a green sloping away from him. It went about 20 feet past the hole and his birdie effort just came up short. Solid par to remain at six under, which ... drumroll please ... is now tied for the lead. Pereira couldn't keep that wild par stretch alive, bogeying the 12th to fall back to six under. Way up at the 15th, Justin Thomas has a close look at birdie to get to five under. Southern Hills is about to pop off.
5:20 p.m.: After getting into some trouble off the tee at 12, Mito hits an 88-yard wedge to about 12 feet for his third. If he can hole that, it'd be hard to think of a better stretch of up-and-down par saves in recent memory. The guy is grinding.
5:10 p.m.: Turns out Fitzpatrick's ball was dry, but he still made bogey anyway. At three under, he's given himself a rather large hill to climb just to get back in contention. Pereira makes another gutsy par. That's three in a row.
5:06 p.m.: The wheels are coming off for Fitzpatrick. His tee shot at the par-3 11th just found a penalty area, and now bogey is looking like best-case scenario. Mito finds the green but has a long, long look at birdie. Up at 12, Young makes par to remain within one, while Zalatoris makes bogey to fall two back.
At 13, Justin Thomas' birdie effort just slides by. At four under, he's still lurking, but that would have made things realllll interesting.
5:01 p.m.: Zalatoris' drive at 12 misses miles to the left and somehow stays out of a creek, but all he could do was chip it back out into the fairway. Unfortunately, he screwed that up, too, his ball rolling into the right rough on the other side of the fairway. Now he'll have a very difficult time making par. Young, meanwhile, finds the green and has about 15 feet for birdie. Back at 10, Mito kicks in his par putt and Fitzpatrick walks off with bogey. He's now three behind.
4:59 p.m.: If you thought Pereira's up and down at nine was good, he may have just pulled off the up and down of his life at the 10th. A mega flop out of the rough that landed soft and rolled to kick-in range. Showing some serious guts.
4:56 p.m.: Oh boy. Mito does the one thing you can't do at No. 10 today: miss left. Going to be a very, very tricky up and down. Fitzpatrick sails the green, and he'll have a tough up and down as well.
4:53 p.m.: Oh my goodness. Young's birdie putt at the 11th lips out. He settles for par and remains one back. Big moment there. Zalatoris made par, too, to keep it at six under. Pereira is in the fairway back at No. 10.
4:48 p.m.: Mito Pereira was making a mess of the gettable par-4 ninth, missing the fairway in the right trees and then hitting it into a greenside bunker. From there, he put his third to about 15 feet, setting up a crucial right-to-left swinger for par to keep the lead. He drains it, staying at seven under. Could be a massive, massive par. He still leads by one over Zalatoris and Young, who both made par at No. 10 and then found the putting surface at the par-3 11th.
4:44 p.m.: BANG! There it is. JT trickles in his birdie putt and gets to four under, which is now just three off the lead. Look OUT, folks.
4:41 p.m.: Now that Pereira has come back to seven under, suddenly a few other names are seriously in the mix. Looking at you, Justin Thomas. JT is on in two at 12 and has a nice look at birdie. If he gets to to four under, things are about to get "lit" at Southern Hills.
4:34 p.m.: Cameron Young birdies No. 9 to make the turn in 34 as he moves to six under and into a tie for second with Will Zalatoris. And just like that, they're both one behind as Mito Pereira makes a second consecutive bogey on No. 8. Wow, we've got a ball game as these final four start to turn towards the back nine.
4:22 p.m.: It's a bogey party! It's a bogey party! Seriously, things have gotten ugly fast at Southern Hills. Even Mito Pereira made a bogey! He falls back to eight under, two shots ahead of Zalatoris, who saves par from a hazard on No. 8. Yes, that's the second consecutive hole that's happened for this Wake Forest group. Those Demon Deacons are tough. Cameron Young makes a bogey on the hole, though, to fall to five under, tied with Matt Fitzpatrick for third.
4:10 p.m.: Kudos to Fitzpatrick for getting up and down to save bogey after finding the water hazard on No. 6. Both he and Zalatoris were very fortunate to escape without more damage. Speaking of escaping with no damage, Cameron Young gets up and down from inside the penaltry area on No. 7 to remain at six under. Incredible. He's now tied for second with Zalatoris, who bogeys the hole. Now if only Mito Pereira would let up we might have a tournament . . . wait a minute! He just hit a snap hook of the seventh tee. Things are getting interesting . . .
4:02 p.m.: More carnage at the sixth! Matt Fitzpatrick doesn't quite catch his 5-iron and it doesn't quite carry the creek at the difficult par 3. That's going to hurt. Pereira, however, hits another laser to about 25 feet. Really solid stuff right now from this 27-year-old PGA Tour rookie.
3:58 p.m.: We thought Kramer Hickok made the most incredible bogey of this tournament yesterday, but that honor now goes to Will Zalatoris. After finally taking a drop on a cart path, the 25-year old hits a great pitch to about 12 feet and buries the curler to only drop one shot. He's two shots behind now at seven under, but he has to be feeling pretty good after narrowly avoiding disaster. Meanwhile, kudos to Cam Young for hitting a difficult chip to gimme range after a long delay. He remains at six under.
3:53 p.m.: OK, so Zalatoris is not in bounds, but he has no shot. This drop is taking forever, but essentially, he's going to take an unplayable lie penalty and then play his third shot from a cart path. Meanwhile, Pereira birdies the par-5 fifth to move back to nine under so he's going to have the lead again. It's just a matter of by how many shots.
3:43 p.m.: Uh-oh. After tying the lead, Will Zalatoris misses his first green of the day on No. 6—and he misses it badly. The 25-year-old goes way long on the par 3 and looks to be unplayable in some bushes. The only question is whether his ball is in bounds. A DEVELOPING SITUATION to be sure.
3:40 p.m.: The Deacons are coming (again)! The Deacons are coming (again)! This time, Zalatoris and Young both birdie No. 5 after reaching the par 5 in two. Young actually had an eagle look from inside 20 feet, but settles for his second birdie of the day to move to six under. For Zalatoris, it's also a second birdie of the day as he regains a share of the lead.
3:33 p.m.: CBS just flashed a graphic that Mito Pereira has 19 consecutive rounds or par or better—the longest current streak on the PGA Tour. So . . . um . . . why didn't more of us bet on him to win this week?! But he can't get back to even for this round after missing an eight-footer for birdie on No. 4. Matt Fitzpatrick does make birdie, though, to move back to six under. And Abe Ancer birdies No. 5 to get back to four under. So, basically, not much has changed since last night.
3:22 p.m.: The Deacons are coming! The Deacons are coming! Well, sort of. Will Zalatoris birdies No. 4 to move to seven under and within a shot of Mito Pereira. And Cam Young hits his approach to four feet on the short par 4 and. . . misses. Yikes, that hurts. He remains at five under.
3:18 p.m.: Mito Pereira faces his first real test of nerves with a six-footer for par on No. 3 and . . . he fails. Pereira lips out on the low side for his first bogey of the day. Still, at eight under he remains in front by two shots over Will Zalatoris. Playing partner Matt Fitzpatrick makes back-to-back pars on 2 and 3 after that opening bogey to remain at five under with Cameron Young.
3:05 p.m.: There's a lot of focus on the pair of Wake Forest products in Sunday's penultimate pairing, but don't forget another Demon Deacon, Webb Simpson. After making the cut on the number, the 36-year-old vaulted up the leaderboard with a Saturday 65. And after making birdie on No. 5, he's moved into a tie for fifth place at three under. He's still got a long way to go, but this is playing out pretty similarly to Webb's lone major win at the 2012 U.S. Open. Just saying . . .
2:57 p.m.: After an opening bogey, Cameron Young bounces back with a rare birdie on No. 2. Young is at five under, one back of playing partner Will Zalatoris, who opens with two pars, and four back of Mito Pereira. Young may not lead the PGA Tour in strokes gained: approach like his fellow Demon Deacon, but he leads this week in strokes gained: cool storylines thanks to his dad, David, being a longtime PGA of America club pro at Sleepy Hollow Country Club in New York.
2:50 p.m.: Mito Pereira goes fairway, green, two-putt par to begin his final round while Matt Fitzpatrick is unable to save par after that wayward tee shot. Way up ahead, first-round leader Rory McIlroy makes the turn in 32. Could we see another Sunday 64 at a major from him? Possibly. Could we see him finally snap that eight-year drought in majors? Probably not.
2:40 p.m.: OK, we've got everyone out on the course. Overnight leader Mito Pereira didn't show any nerves with his opening tee shot, piping a drive into the fairway. Matt Fitzpatrick, on the other hand, misses well left and will have some tree troubles. Up ahead in the Wake Forest penultimate pairing, Cameron Young makes an opening bogey after finding a fairway bunker and Will Zalatoris makes a solid par.
2:22 p.m.: Do we love seeing pros hit 7-woods on par 3s. Of course! Does it feel like the course has been tricked up to do it when there's a 245-yard par 3? Yes. And still, from these guys, we get thrilling shots, like Cameron Smith lipping out said 7-wood. Sweet. Not so sweet: Smith, one of the game's great putters, horshoed his six-footer for birdie. So to review: a 245-yard lipout and a six-foot lipout.
2:08 p.m.: Not to make this like a Tiger Watch, but since nothing much else is going on yet, Rory missed the green at the par-3 sixth, hit a terrible pitch and made bogey. Back to six behind. The par 3s have been his NIGHTMARE. He's six over on them for the week. We'll lay him for a while now.
1:57 p.m.: Four straight birdies for Rory. Four under through five. Five back.
1:47 p.m.: Oh Rory, you're doing it to us again. Three straight birdies. Now at three under overall. Six shots back. Too much ground to make up, so just another big tease after Thursday's 65. No one feels the disappointment more than Mcilroy, but still ... you're killing us!
1:10 p.m.: Going into this final round, it feels like there's still a bit of doubt about the true talent of Will Zalatoris. He hasn't been around all that long and the sketchy short puting makes you want to look away at times. But CBS put up a graphic that puts Willy Z's early showing in majors in perspective. He has four top-four finshes in his first seven starts in majors, and that ties him for the most since 1958 with Ken Venturi, Gary Player, Jim Jamieson and Ernie Els. Of those men, only Jamieson didn't win a major and he had an otherwise undistinguised career. It bodes very, very well for Zalatoris to not be a flash in the pan.
12:31 p.m.: Rahm finishes up with a 2-under 68 ... a strong round, but he certainly didn't expect to be wrapping up his final round before lunchtime in Tulsa.
He's just the second round under-par in the clubhouse so far on Sunday ... though there are five under-par rounds on the course right now (with about two-thirds of the field now having teed off in their final rounds).
12:15 p.m.: Jon Rahm has given us a glimpse of what's possible at the drivable par-4 17th hole, hitting it to inside 9 feet for an eagle look. The Spaniard just misses the putt, though ... so he'll settle for a birdie (he's way back at +6), giving us a look at the potential fireworks in store down the stretch on Sunday.
11:45 a.m.: Talor Gooch, the lone Oklahoma native in the field, has had a great week ... including a few really impressive highlights. He just recorded his latest memorable one early on Sunday.
That follows another hole-out by Gooch from the bunker on Thursday:
The Edmond, Okla., native is having a week in his home state!
11:25 a.m.: Though Southern Hills is playing tough, Brian Harman is proving low scores are out there ... and in bunches. The diminutive former Georgia Bulldog has started Birdie-Birdie-Birdie (!) in his first three holes. Incredible ... Harman might be the shortest hitter among the contenders as well. That brings Harman to +2 so he's still 11 shots back, but his Sunday start is very impressive.
11:05 a.m.: So far about 30 players are on the course, and only six are under-par ... Kevin Streelman having the best round thus far, sitting 2-under through 11.
Though not as cold as yesterday, the wind is expected to be blowing all day with some potential strong gusts. It will be tough-sledding once again this afternoon.
One of those things: The 17th hole, which was playable in the final round and saw some low numbers, will allow for contenders to make up ground down the stretch. Cameron Young made eagle on the 17th hole, which has him four back of Mito Pereira and in the penultimate group.
Here are all the pin positions for the final round:
MORE PGA CHAMPIONSHIP COVERAGE FROM GOLF DIGEST