News
Masters 2020: 7 semi-bold, last-minute predictions for how Masters week plays out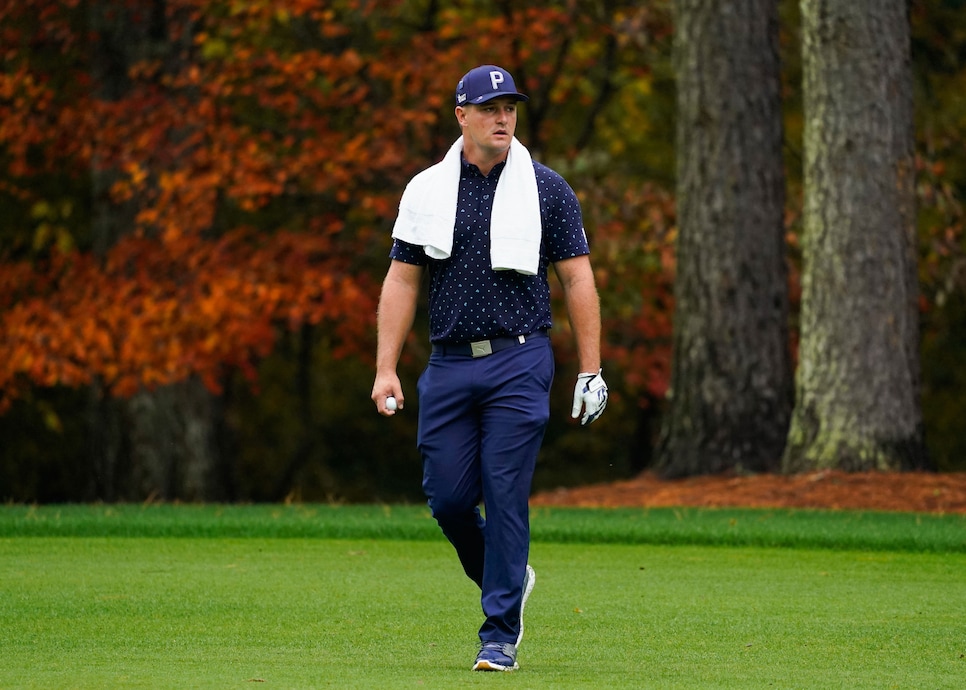 AUGUSTA, Ga. — In "One Day More," the comically epic choral masterpiece from "Les Miserables," the musical's chief antagonist Javert offers a foreboding prediction for the following day's battle:
One more day till revolution/We will nip it in the bud/We'll be ready for these schoolboys/they will wet themselves with blood!
The student army then offers a contrasting, yet equally passionate vision:
One day to a new beginning/Raise the flag of freedom high!/Every man will be a king!
One side believes the other is in for a literal bloodbath; the other side believes it will make every man a king. Even in the hot-take zeitgeist of 2020, these are extremely bold predictions.
You might be wondering: How is this at all relevant to the Masters? Because there is just One Day More until the world's most famous golf tournament begins. And like Javert and the Schoolboys, we're here to make bold predictions. Well, semi bold. Here are seven things we see happening this week at the Masters:
1. Tiger will finish in the top 15
I know, I know. He's been putting poorly. He hasn't played much. And when he has, it hasn't been pretty—his best finish in six events since the restart is a T-37 at the PGA Championship. I know this better than anyone; I've watched him at all six events. And still, I'm optimistic about Woods' prospects for a few reasons.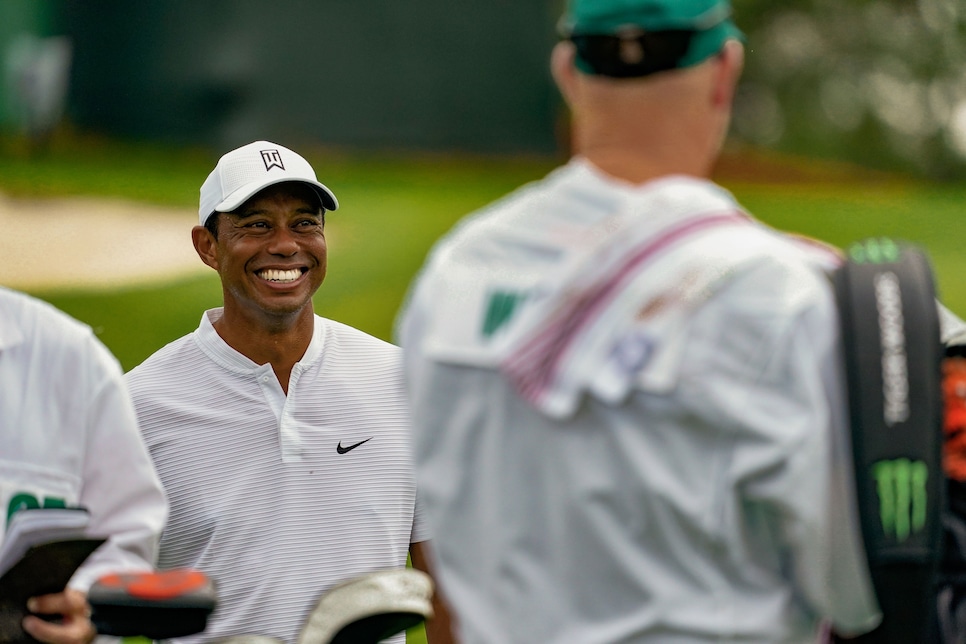 First, his history at Augusta National. Woods has never missed the cut in 20 starts as a professional, and in those 20 Masters he's finished outside the top 25 just twice. There is no course that requires more local knowledge than Augusta, with all its twists and turns—there's a reasons PGA Tour Champions regulars seem to make cut every year, and why no one has won in their first Masters appearance since 1979—and Woods knows this place as well as anyone.
Second, how he's hit the ball so far this week. Granted, Woods has not struggled in range sessions or practice rounds in 2020, but he does seem to be a bit more dialed in than he has been recently. He put in quite a bit of work at home over the past couple weeks and looks comfortable turning the ball over right to left, which he has said was a key to his victory last year.
Third, Woods has too much pride to lay an egg in his title defense at the Masters. I know golf doesn't work that way, and this isn't to say Woods doesn't put the work in at the other events—but he knows this tournament offers his best chance to win more majors, and there is absolutely an extra level of motivation and focus this week. I think back to 2015, when Woods' game was in shambles, and he still managed to finish T-17 here.
Now, I'm not saying he'll win, but I do think he will play much better than he has all year.
2. No amateurs will make the cut
This is actually bolder than you may think—the last year no amateurs made the weekend at Augusta National was 2015. There are six in the field this week: Andy Ogletree, John Augenstein, Lukas Michel, James Sugrue, Yuxin Lin and Abel Gallegos.
Ogletree, the 2019 U.S. Amateur champion, has played in three PGA Tour events and the U.S. Open since June and missed the cut in all of them. The guy he beat in the final, Augenstein, probably has the best chance to make the weekend, but he too missed the cut at the U.S. Open. Michel is remains the reigning U.S. Mid-Am champion from 2019—this year's event was cancelled—but shot 80-77 at the U.S. Open. Lin has actually played in the Masters before, in 2018 after he won the prior year's Asia-Pacific Amateur, and he shot 79-80 to miss the cut by 10. He was 17 at the time, and the USC sophomore is certainly a much better player now than he was then, but still an uphill battle. Sugrue, from Ireland, is ranked in the top 10 in the World Amateur Golf Ranking—but hey, these are bold predictions. And then there's Gallegos, the 18-year-old from Argentina who won the Latin-America Amateur in January. He hits the ball miles, but making the weekend would be a massive accomplishment.
3. Jordan Spieth will miss the cut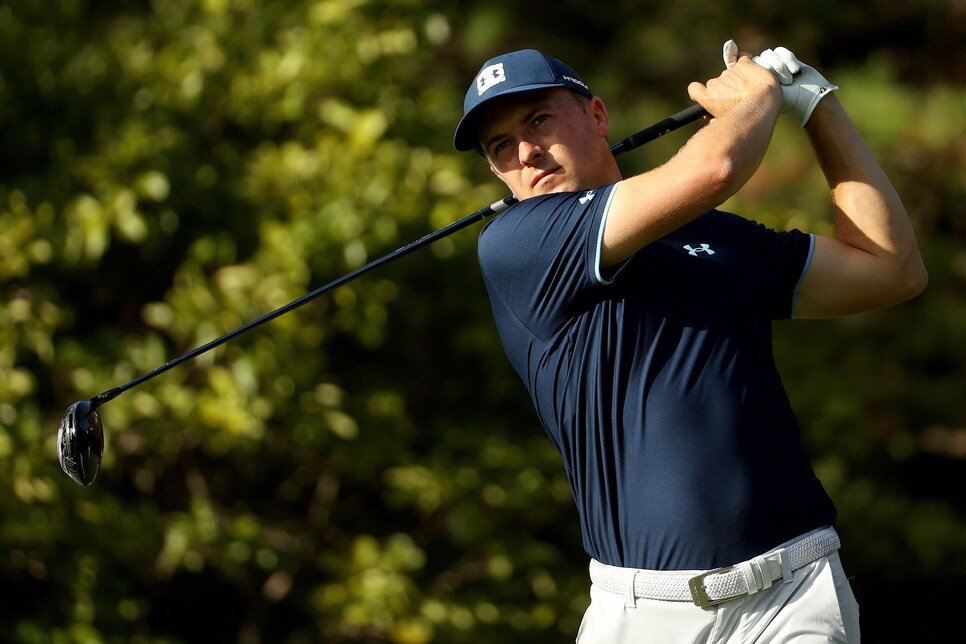 It hurts to write, because he's one of the best guys out here and the whole world seems to be rooting for the comeback. But he's down to No. 80 on the World Ranking—80!—and has missed the cut in each of the last five tournaments he's played that had a cut (he finished T-38 out of 77 at the CJ Cup and T-41 out of 77 at the Zozo Championship). Unfortunately, I'm sensing the slump reaches a new low this weekend at the venue that saw him emerge as the heir apparent in 2015. He's never finished worse than his T-21 here last year, and he has four top-three finishes in just six starts, so maybe simply being on the grounds will jolt his game into gear. But I'm not seeing it.
4. The cut will be under par
More cut talk! You may have missed it, but some semi-news dropped on Monday—only the top 50 players and ties will make the weekend here. That means the elimination of the 10-shot rule, which allowed you to stick around so long as you were within 10 of the 36-hole lead.
Because the course will be much softer and gentler than in normal years—November, plus a rainy week—the scores will also be lower. I don't think we'll see someone at, say, 12 under through two rounds, but I think there will be a bunch of guys bunched in the two- to five-under-par range. Without the 10-shot rule to save the guys over par, the cut could be as low as one-under 141, which would be the lowest score in Masters history by a full four strokes. But then again, this is the first year without the 10-shot rule since 1966.
5. Bryson will eagle the third hole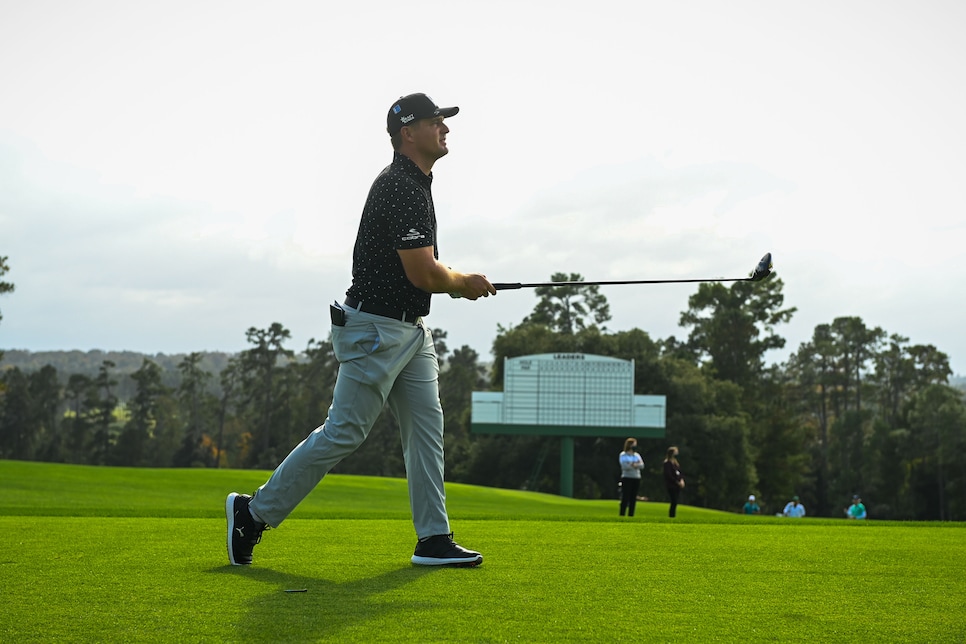 Incredibly, more people seem to be talking about Bryson DeChambeau than Tiger this week. Rightfully perhaps—he's proven to be a true disruptor in this sport, and he absolutely dominated the last major championship. Since that romp at Winged Foot, fans and media have wondered how he will play Augusta National. Yes, he'll have short irons (or even wedge) into some par 5s. But I think the more breathtaking display of power will come on the par-3 third hole, which plays 350 yards uphill. It's about 340 to the front edge, and DeChambeau has been flying the ball around 350 on the practice range. Because of how high he hits it, how soft the course is and how steep the upslope is leading up to the green, he'll probably need a little helping wind or the tees to be up if he's to get it all the way to the green. I'm saying it happens at least twice, and he'll hole one of the two putts.
6. You at home won't miss the fans that much
The talk among players here has focused on how weird playing Augusta is without the roars, the fans to aim at and the grandstands that serve as bumpers. But you, watching at home? It won't make that big a difference. We've been doing this no-fan thing for about five months now, and the general consensus seems to be that the absence of fans impacts golf broadcasts less than other sports. Plus, Masters broadcasts are famously soothing—Masters naps are a thing, at least among the casual golf fan crowd. So, if anything, it'll just be a little calmer than usual. But this will still feel like the Masters.
7. Jason Day will win the tournament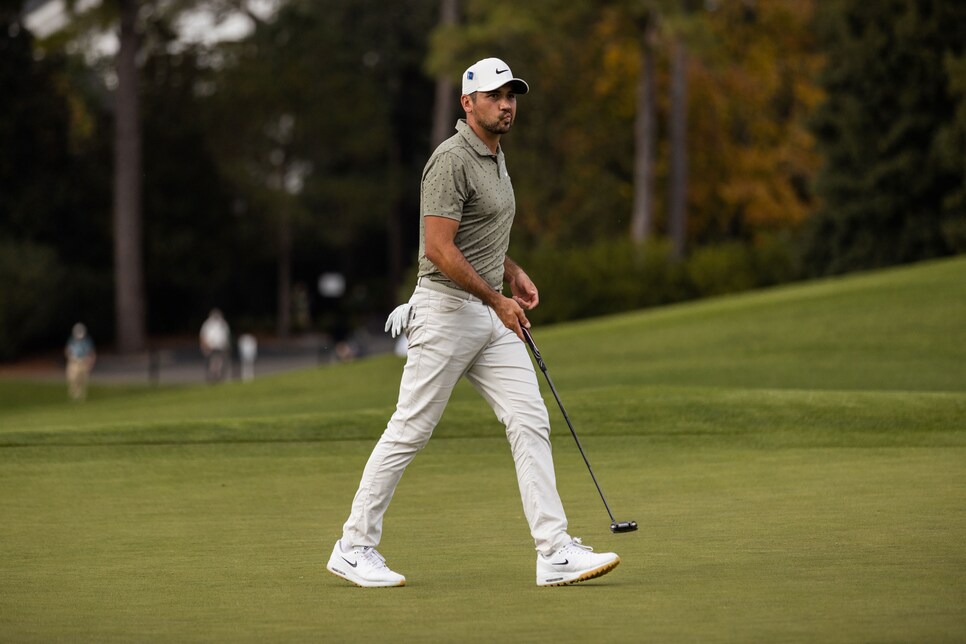 I had Day at No. 21 in my pre-tournament rankings, but most of that was due to health concerns—he's pulled out of two tournaments this year (including one last month) and has struggled with his back for years. But he finished T-7 last week in Houston and has looked terrific in practice rounds thus far. Most encouragingly, he played a full 18-hole practice round on Tuesday, which would seem to suggest he's feeling good physically. The 32-year-old former World No. 1 has the length to compete here, he putts fast greens extremely well and he has a sneaky great history at Augusta, with three top-three finishes including a T-5 last year. If you're looking for a semi-longshot to bet outright, he's your guy.