News
Masters 2020: Three interesting facts about every amateur competing at Augusta National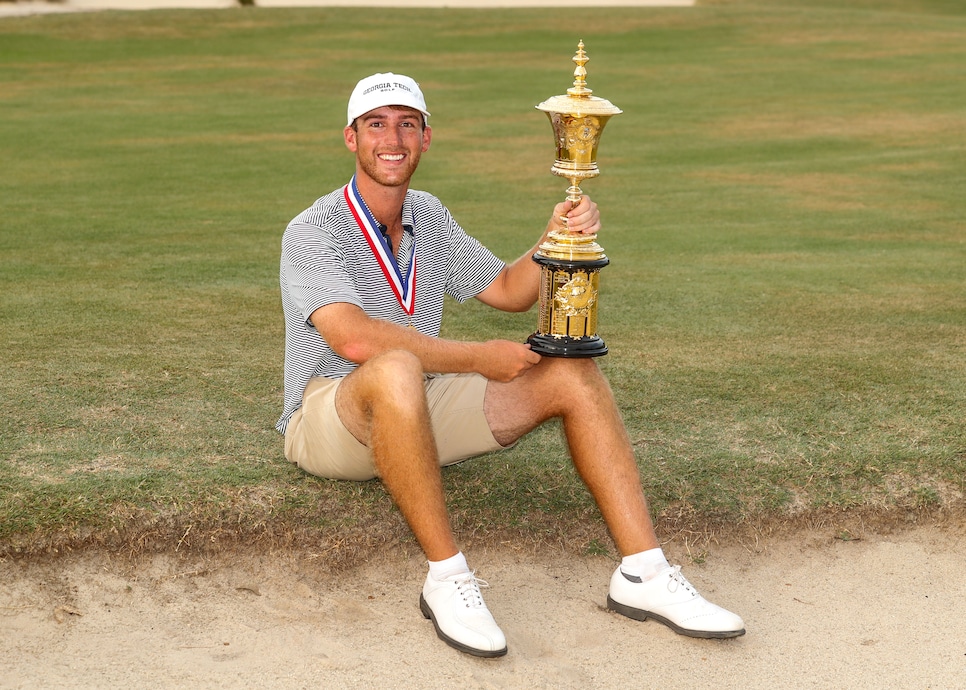 Copyright USGA/Chris Keane
If you think the waiting game was difficult on tour pros when the Masters was pushed back from April to November, consider what it must have felt like for the six amateurs in the field this week at Augusta National. The excitement of earning a coveted invitation into the tournament and the anticipation of competing in the major is an emotional torrent for anyone whose golf dream is coming to life. To have all that abruptly halted last March with the COVID-19 outbreak, then being told to hang on another seven months had to be unnerving.
Mind you, given the realization that a postponed Masters was preferable to none at all, there was really only one solution: adopt a better-late-than-never attitude.
"If I had to wait till next year, I was going to do it," said Andy Ogletree, the 2019 U.S. Amateur champion who'll tee it up with his boyhood idol, Tiger Woods, on Thursday and Friday. "I just think this is such a special week. This tournament, getting to play here as an amateur is super special. I can't wait for the Amateur Dinner and I can't wait to stay in the Crow's Nest, and I want to have the whole experience. And thankfully we're able to play, and looking forward to getting out there."
That said, the experience they're in for this week will be different than anything they imagined. While still getting to drive down Magnolia Lane, once on the other side of the clubhouse, the green emptiness of Augusta National without patrons will be nothing like what they imagined the Masters to be in their mind's eye. There won't be any Par-3 Contest, and no time spent together in the Crow's Nest; the club has them each assigned separate nights to promote social distancing.
For Ogletree, getting to play with Woods remains a big deal, even if it comes without the friends and family he'd hoped to have rooting him on. Ogletree has his father, Jim, here under the designation of swing coach and his mother, Melissa, is his "plus one" that each competitor has been allowed.
"You imagine the big crowds. You imagine the roars. You imagine people running up to see Tiger and then running to the next hole after he taps in, stuff like that," Ogletree said. "The past few weeks, it's become a lot more real that I'm actually playing with him, not necessarily thinking about the crowds and the experience. It's more I'm just like playing in the same arena as Tiger. So I've thought about it a lot."
There's a notion that the lack of galleries and other distractions that a full-blown Masters imparts on amateurs might help them play better this week at Augusta than they would have otherwise. Whether that's true will never be fully known. That doesn't mean they won't be a whole lot of nervous come Thursday. When things begin for real, there might not be any fans, but there still will be butterflies.
The question that then emerges, as it does every year: Who among the amateurs will be playing just 36 holes and who will have the luxury of playing 72? Nine times in the last 10 years a player has made the cut and taken home the low amateur trophy on Sunday. Here's a peek at the six candidates, in alphabetical order, and the chances at becoming the golfer who makes it 10 times in the last 11 years.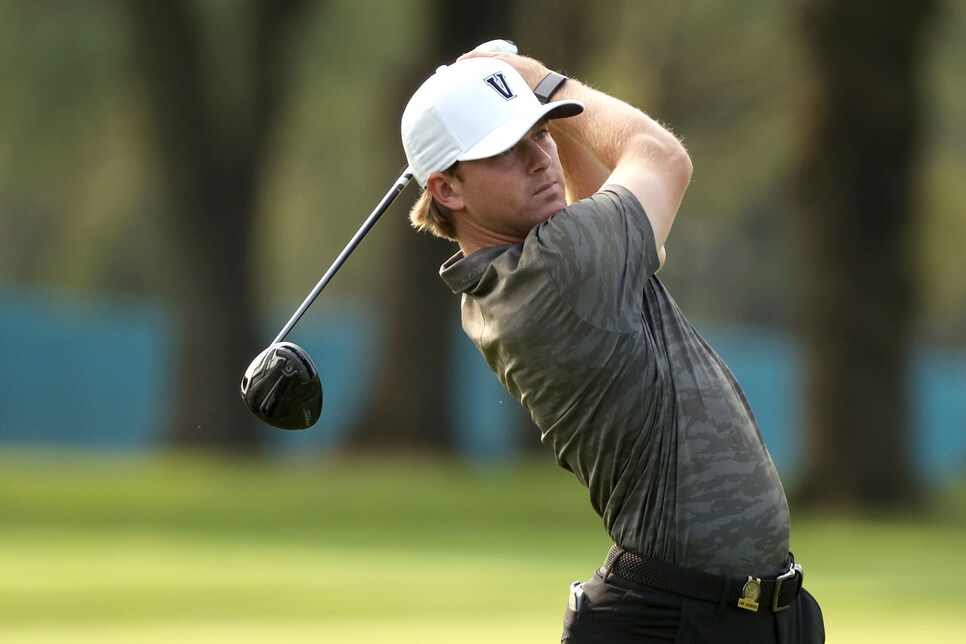 John Augenstein, 23, Owensboro, Ky.
How he qualified: U.S. Amateur runner-up
Odd of making the cut: 2-1
Skinny: The plan for the Vanderbilt All-American was to play in the Masters in April, finish the college season in June, turn pro and (ambitiously) be holding a PGA Tour card by the fall. But all that blew up when COVID-19 hit. So Augenstein audibled; he is now a fifth-year senior at Vandy, getting in another year of college golf while also lining himself up to play for the U.S. in next spring's Walker Cup at Seminole. Yep, it's quite the fallback plan. Augenstein played in the U.S. Open in September, missing the cut but gaining experience in his first start in a pro tournament. "It was a great week, a lot of fun," Augenstein said. "I picked up on a few things during the week, and you improve by learning a lot through experience. You learn where your game is."
Abel Gallegos, 18, Argentina
How he qualified: Latin America Amateur champion
Odd of making the cut: 8-1
Skinny: Gallegos was all smiles on Monday talking about the practice round he'd played with Rory McIlroy and bumped into Tiger Woods while staying at the Crow's Nest on Tuesday.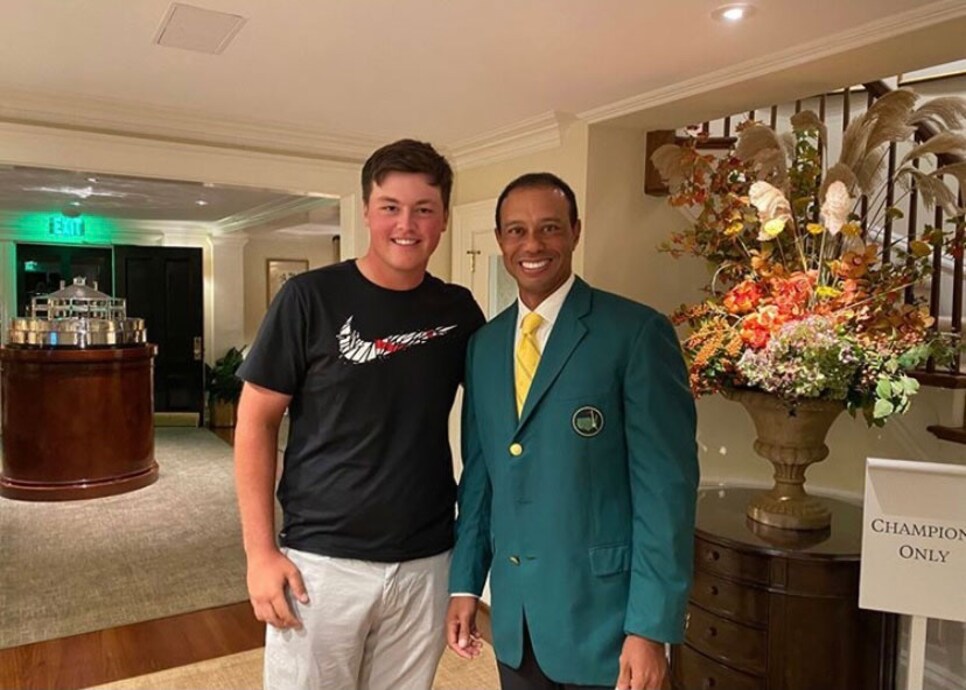 No doubt he's one of the most unlikely golfers in this week's field, having grown up playing on a nine-hole golf course called Las Mulitas (Little Mules) in the town of Veinticinco de Mayo, 120 miles outside Buenos Aires. While a rising talent, his victory at the LAAC in January was bit of a surprise, the 6'3", 230 pounds teen overpowering the field with a closing 67, the low round of the tournament. The win earned him an invite into the 2020 Open Championship at Royal St. George's, after which he was going to turn pro. It's unclear whether he'll remain an amateur through next July, so this might be one of the last starts in which he can't cash a check.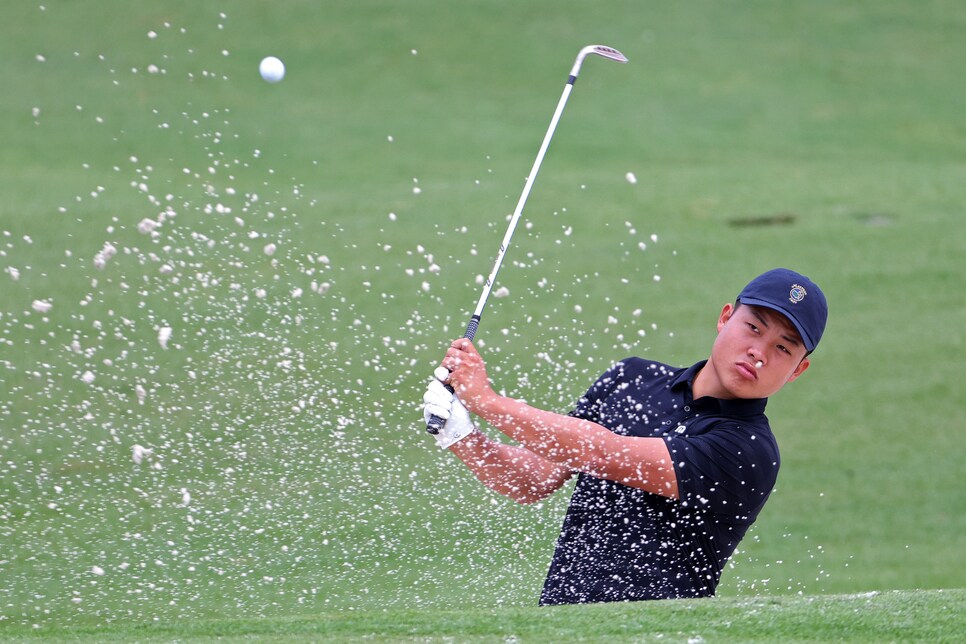 Yuxin Lin, 20, China
How he qualified: Asia-Pacific Amateur champion
Odd of making the cut: 4-1
Skinny: Lin has an edge over his fellow amateurs in that he's already played in the Masters, competing in 2018 after winning the first of his two AAC title. He's also motivated by redemption for the 79-80 he shot to miss the cut. The lefty sophomore at USC played in his first pro event when he was 13, his first European Tour event at 15 and has made more than a dozen cuts in professional tournaments in China. His current swing coach is Boyd Summerhays, who works with Tony Finau among others. In his most recent amateur start, he finished T-8 at the Azalea Invitational.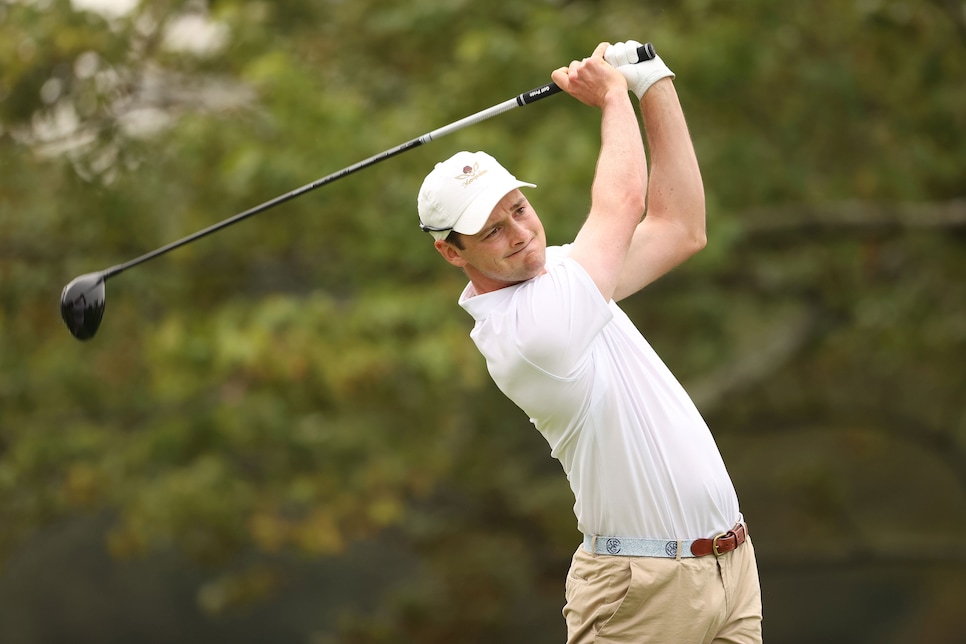 Lukas Michel, 26, Australia
How he qualified: U.S. Mid-Amateur champion
Odd of making the cut: 5-1
Skinny: Let's start by saying it's well worth reading John Huggan's feature on Michel and the incredible backstory of his father's escape from Eastern Europe in the late 1960s. This is Michel's third trip to Augusta. He came here the previous November after becoming the first international winner of the Mid-Am. Then in March he heard of the postponement of the tournament just as he was boarding his plane from Australia to the U.S., came to the States and got in a few rounds at the club before eventually returning home. He's been in the States now since August, playing the U.S. Amateur at Bandon Dunes (where he missed match play) and then the U.S. Open at Winged Foot (missed cut). It's tough to expect much different in terms of results this week, but it's also hard to believe that he's acclimated enough to give himself a punchers chance to play on the weekend.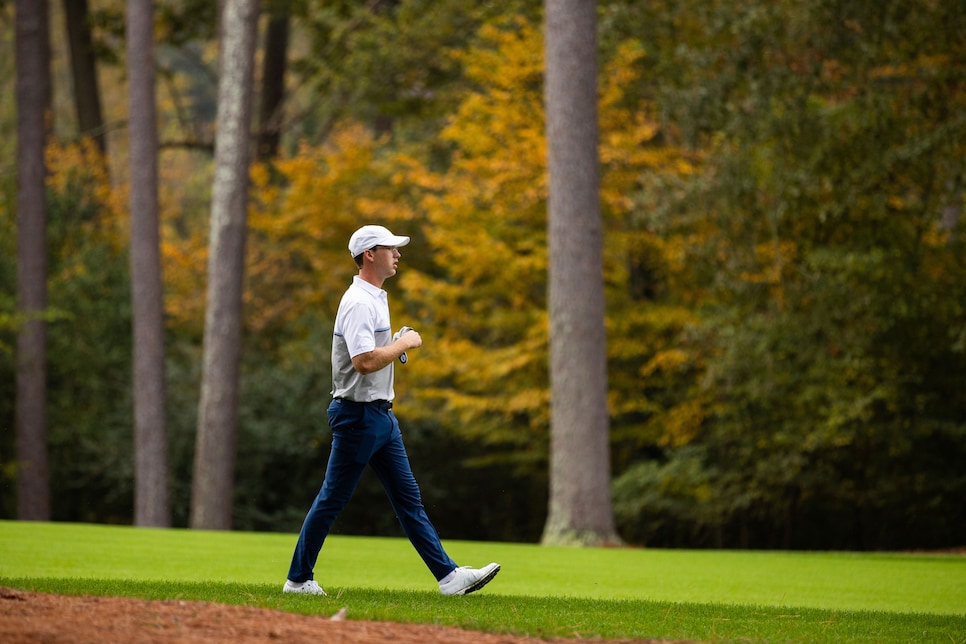 Andy Ogletree, 22, Union, Miss.
How he qualified: U.S. Amateur champion
Odd of making the cut: 3-1
Skinny: Like Augenstein, Ogletree was expecting to be a pro golfer by now, wrapping up his senior season at Georgia Tech in the spring and then moving on. Unlike Augenstein, Ogletree choose not to return to school this fall, as he weighs whether to turn pro in the coming months and aim to get spots in PGA Tour and Korn Ferry Tour events with sponsor's exemptions. Ogletree played in three PGA Tour events since the tour resumed play in June, missing the cut in all three. He also failed to make it to the weekend at the U.S. Open in September. And yet he has a familiarity with Augusta National, having played 11 times either with the Georgia Tech golf team or on his own after winning the Amateur, that could serve him well this week.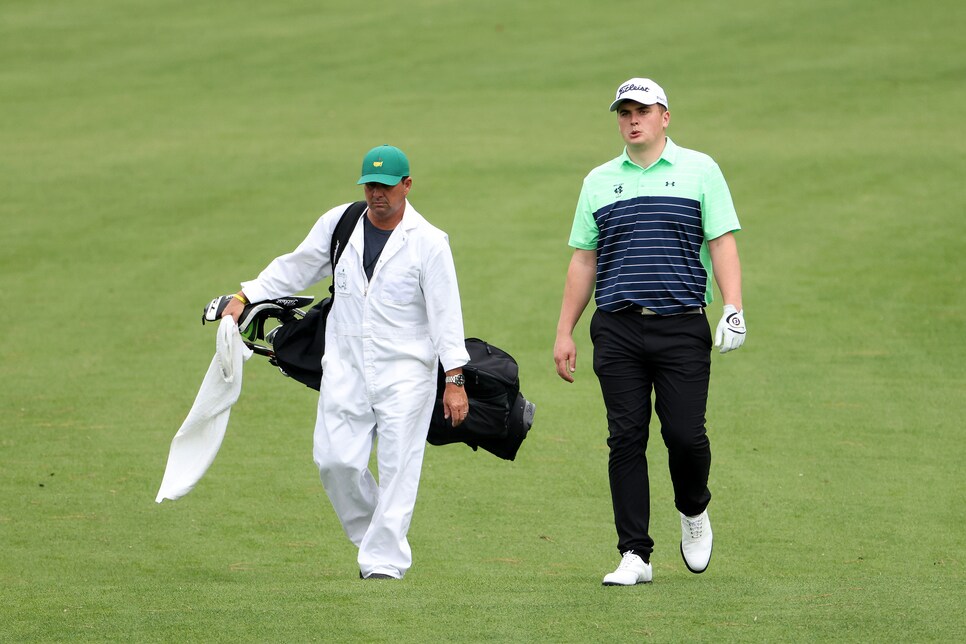 James Sugrue, 23, Ireland
How he qualified: British Amateur champion
Odd of making the cut: 3.25-1
Skinny: No amateur has been waiting longer to play at Augusta than Sugrue, who became the 2019 British Am champion in June 2019. The wait was worth it when he got to the club this week but there is some disappointment for him he can't shake. "This year has been a pure disaster due to COVID. I suppose it's OK for me because I was still able to play in tournaments," said Sugure, the highest ranked amateur of the bunch at Augusta coming in at No. 8 in the World Amateur Golf Ranking. "But I feel for my parents who won't be able to see me play at Augusta as they've been looking forward to it for a long time. … They'll be glued to it. They won't miss a shot if I'm shown on TV." This will be Sugrue's third major appearance thanks to his British Amateur win, having missed the cut atthe 2019 Open at Portrush and this year's U.S. Open at Winged Foot.
MORE MASTERS 2020 PREVIEW CONTENT FROM GOLF DIGEST: