News
Masters 2020: The 9 most intriguing pairings for the first two rounds at Augusta National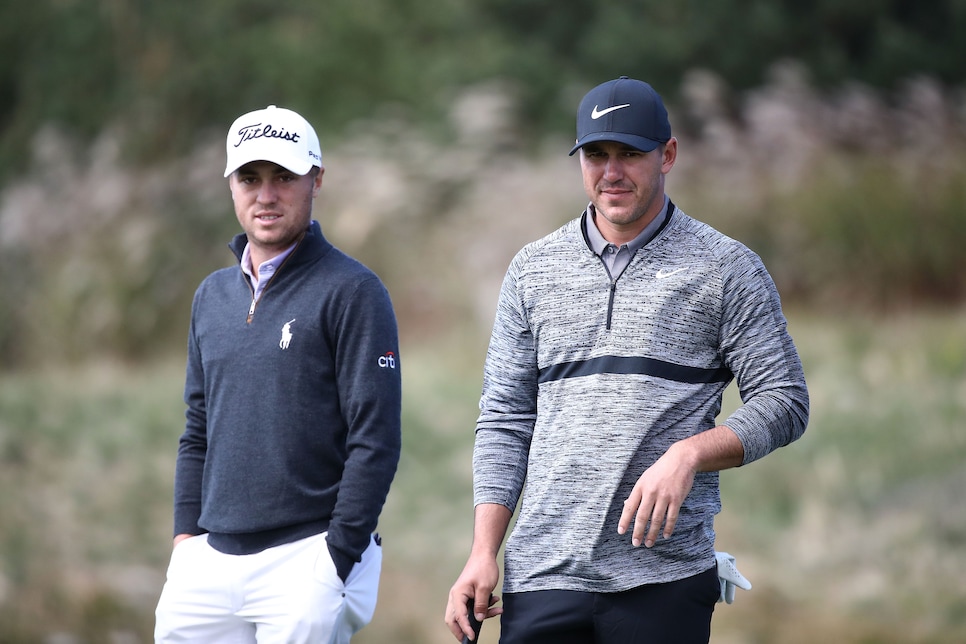 Barring a literal hurricane (which, unfortunately, doesn't seem out of the question), the 2020 Masters will finally get underway on Thursday morning at Augusta National. Due to concerns about getting first and second round play in before darkness, there will be an unprecedented two-tee start, with the first groups set to go off No. 1 and No. 10 at 7 a.m. ET. The action will be fast and furious, early and often.
On Tuesday, pairings and tee times were announced just past noon, and, as always, there are a number of marquee threesomes that immediately jumped off the page and a handful of sneaky-good ones you should be keeping an eye on, too. Below, we handpicked the nine most intriguing trios, in chronological order.
Webb Simpson, Marc Leishman, Hideki Matsuyama (7:11 a.m. ET off No. 10 / 11:16 a.m. ET off No. 1)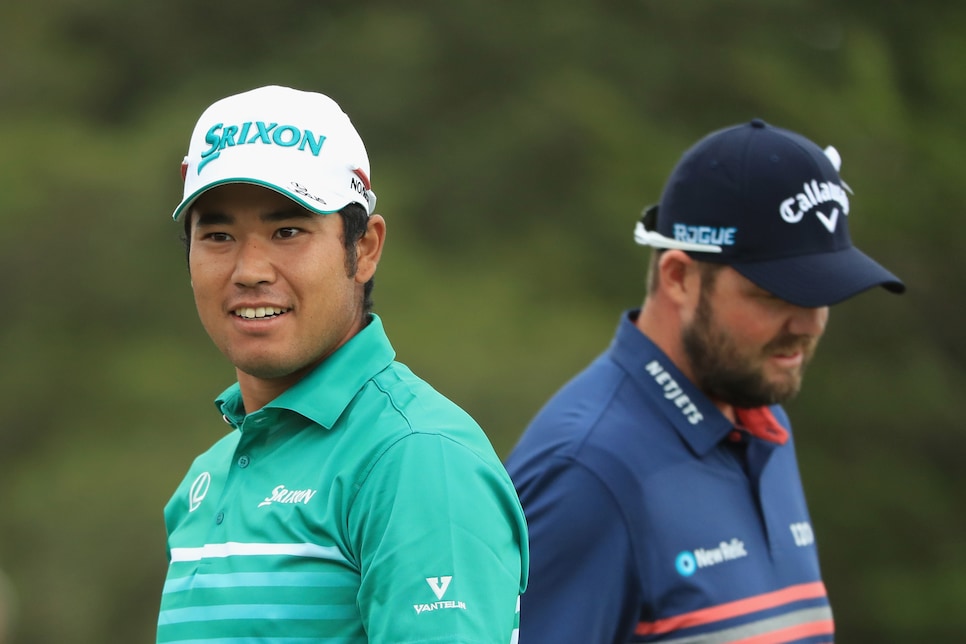 If not for Hideki Matsuyama's T-2 in Houston, this group might have been glossed over entirely. But now that the former World No. 2 has shown some signs of life, this is now one of the premier groupings of the Thursday morning wave. Matsuyama, who is still in search of his first major victory, will be joined by Webb Simpson, who has not only been one of the best players during the restart, he's been one of the best players in the world for the past three seasons. A win this week would be his second major title, following the 2012 U.S. Open. The wild card here is Marc Leishman, who has been absolutely woeful since returning from quarantine. But no one should be surprised if he makes a little noise, as he has collected five top-nine finishes in majors since 2013 (he's 175-1 to win, by the way, if you're into that sort of thing).
Jon Rahm, Bryson DeChambeau, Louis Oosthuizen (7:33 a.m. ET off No. 10 / 11:38 a.m. ET off No. 1)
You could throw in a 24-handicapper with Jon Rahm and Bryson DeChambeau and that trio would still be the No. 1 must-watch group of Thursday morning at the 2020 Masters. But to add the sweet-swinging Louis Oosthuzien, a dominant force in major championships over the last decade, makes this perhaps the most-talented group of the first two rounds. There's a legitimate chance these three finish 1-2-3 this weekend, in whichever order you choose. Is that something you might be interested in?
Patrick Reed, Paul Casey, Tony Finau (7:44 a.m. ET off No. 10 / 11:49 a.m. ET off No. 1)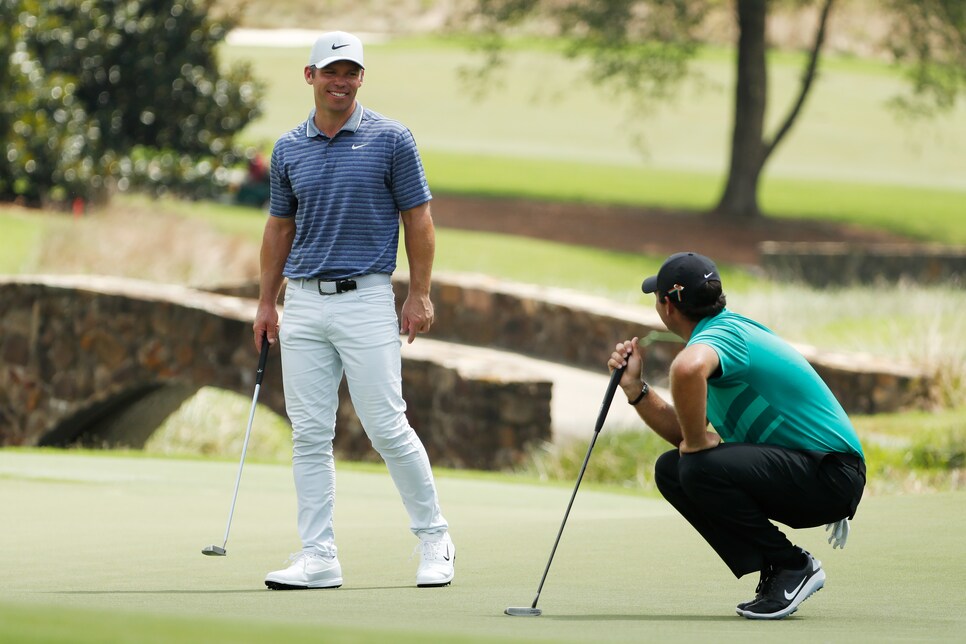 Because of his reputation, Patrick Reed never gets a ton of love from gamblers. He should, especially this week, as he's 30-1 to win the green jacket for a second time. Since mid-July, the 2018 Masters winner has quietly finished 14th or better in six of his past nine starts, including a 13th at Winged Foot, where he looked like he might win up until a disastrous back nine on Saturday. Reed's partners, Paul Casey and Tony Finau, who each have excellent history in the majors, specifically at Augusta, will be as hungry as ever this week.
Tiger Woods, Shane Lowry, Andy Ogletree (a) (7:55 a.m. ET off No. 10 / 12 p.m. ET off No. 1)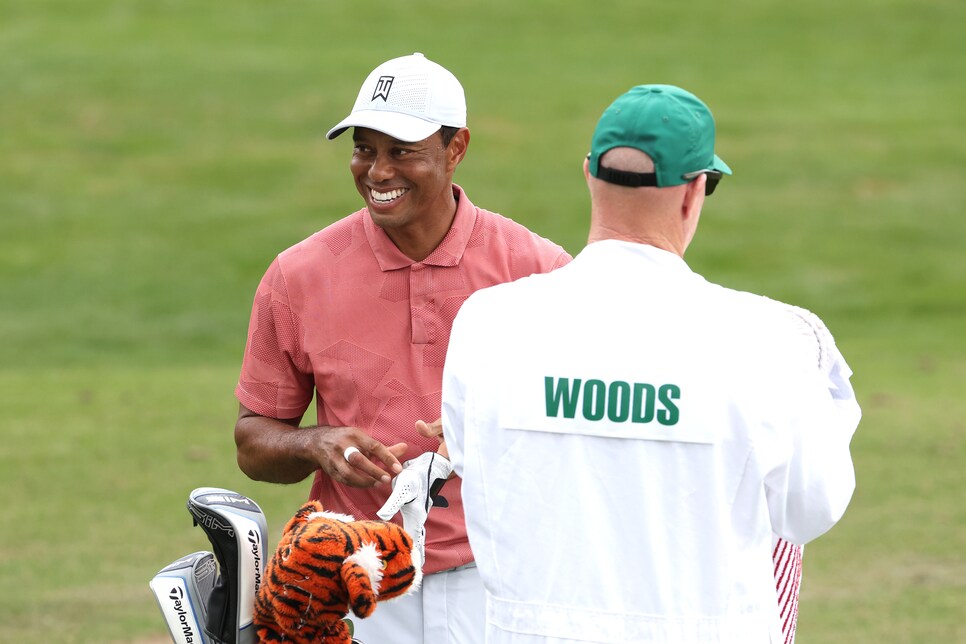 You didn't think we'd leave off Tiger, did you? Of course not. This group is more than just Woods, though. Reigning Open Champion Shane Lowry is coming off a T-11 at the Houston Open, his second-best finish on the PGA Tour in 2020. 2019 U.S. Amateur winner Andy Ogletree rounds out this group, and it'll be fascinating to see how he handles playing with Woods. Luckily for him, there won't be a sea of patrons breathing down his neck this year.
Jordan Spieth, Gary Woodland, Ian Poulter (8:06 a.m. ET off No. 10 / 12:11 p.m. ET off No. 1)
This might be the biggest question mark group of the entire tournament. First, you have Jordan Spieth, a former Masters winner who seems to conjure up magic every time he steps on the hallowed grounds of Augusta National. This year, though, he's playing about as bad as he ever has, making it hard to believe any "Masters magic" can save him. Then there's Gary Woodland, who we last saw on his back at the Zozo Championship at Sherwood, writhing in pain. Woodland withdrew that week, but appears to be a full go for this week. Lastly, there's Ian Poulter, who has three top 10s in the last decade at the Masters, but, at 44 years old, has yet to break through in a major. This group could create some serious buzz early, or it could be a complete trainwreck.
Bubba Watson, Matthew Wolff, Tommy Fleetwood (11:27 a.m. ET off No. 10 / 7:22 a.m. ET off No. 1)
If you're looking for some chaos, this is your group. Bubba will be shaping shots left and right, Wolff will be hitting BOMBS with his quirky swing that will cause thousands of casual fans to start Googling his swing sequence (click away!), and Tommy Fleetwood will be striking the absolute hell out of his irons. No matter how they play, it will be highly entertaining.
Adam Scott, Collin Morikawa, Tyrrell Hatton (11:38 a.m. ET off No. 1 / 7:33 a.m. ET off No. 10)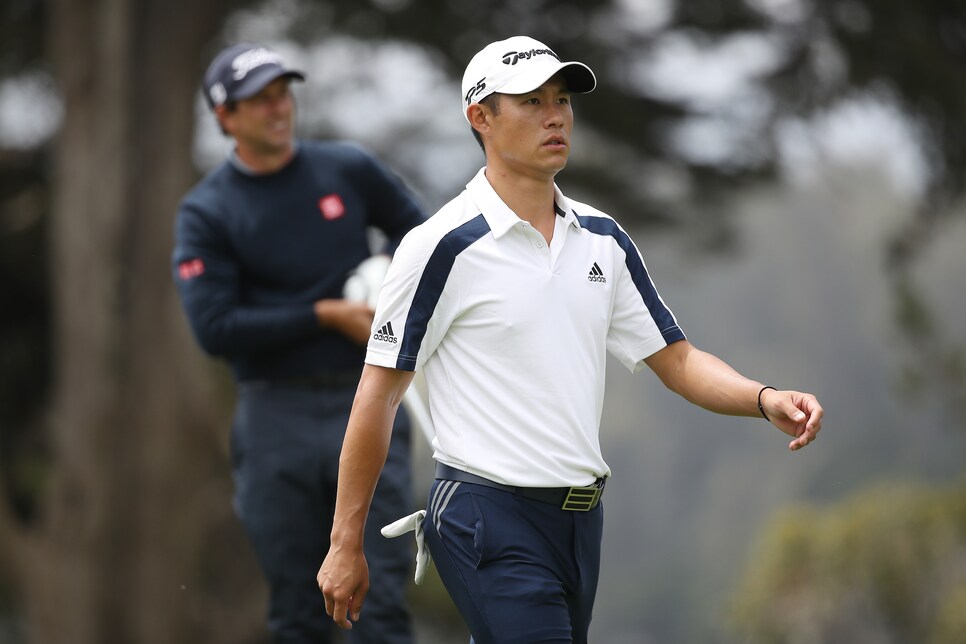 While the Watson-Wolff-Fleetwood group and all its quirks gets rolling on the back nine, this smooth-swinging group will tee it up soon after on the front nine, and it will be one of the great displays of ball-striking you'll ever witness. Do not watch this group if you hate perfectly struck iron shot after perfectly struck iron shot. It ain't for you.
Justin Thomas, Matthew Fitzpatrick, Brooks Koepka (11:49 a.m. off No. 1 / 7:44 a.m. ET off No. 10)
If not for the next pairing, this would be Thursday's and Friday's main event. JT and Koepka have been two of the dominant forces in the game over the last few years, and England's Matthew Fitzpatrick won't just be there as a spectator. He has a T-7 and a T-21 in four Masters appearances, and he'd love nothing more than to upstage Bryson DeChambeau with what is essentially the opposite style of play this week. If you can find decent odds on a "the winner to come from the JT-Koepka-Fitzpatrick" group somewhere, we'd strongly encourage taking them (responsibly, of course).
Dustin Johnson, Patrick Cantlay, Rory McIlroy (12 p.m. ET off No. 1 / 7:55 a.m. ET off No. 10)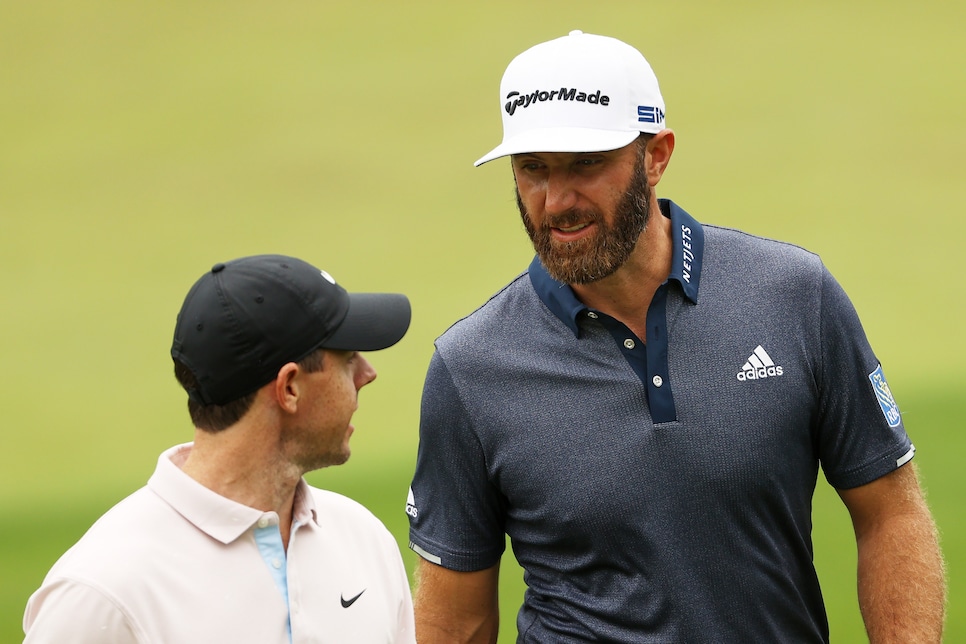 Amazingly, Patrick Cantlay, who had the solo lead on the 13th tee in the final round of the 2019 Masters, is the forgotten man of this group. In reality, he might be the most attractive pick, not only because of his 28-1 odds but because he boasts the most recent win out of this trio. He's also looking to capture his first major, which would solidfy him as one of the top 10 players in golf right now (technically, he already is at No. 10 in the OWGR).
But he'll have his hands full right from the start with these two, who each have plenty of close calls at Augusta National but no victories just yet. Johnson's recent COVID-19 diagnosis appeared to be the latest road block in his quest for a second major title, but with a T-2 in Houston, he showed he seems to be feeling just fine. And then, there's Rory, who, well, you know the drill by now. A sixth chance at a career Grand Slam is on the line. Yada, yada, yada. We don't need to sell this group any harder.