News
Masters 2020 live updates: Dustin Johnson breaks Masters scoring record, earns first green jacket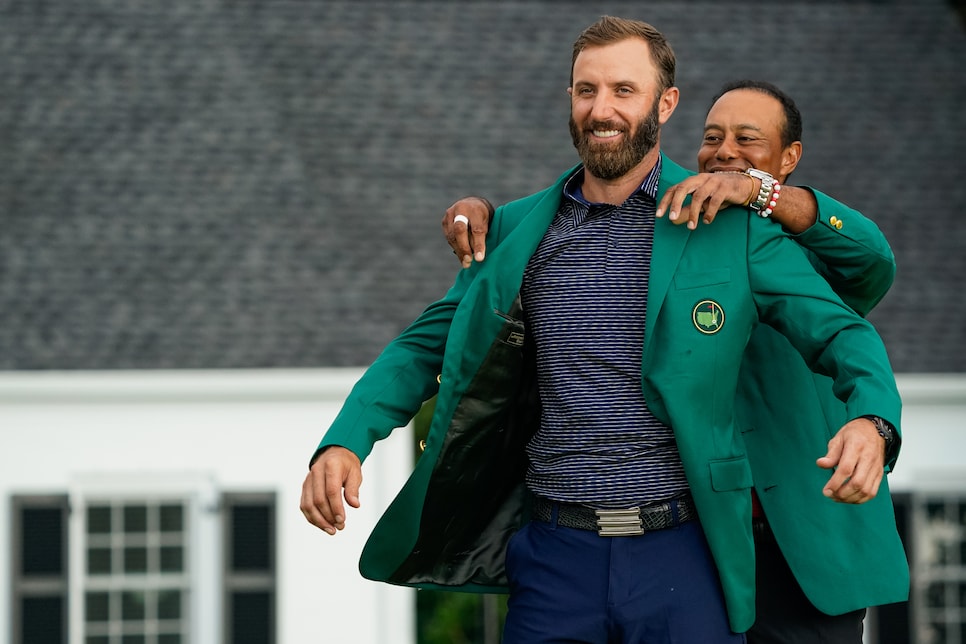 This is it, this is Masters Sunday. Months of anticipation for this fall 2020 Masters has culminated in this day, as Dustin Johnson carries a four-stroke lead into Sunday, looking for his first green jacket. He brings that history of his major collapses with him—being the only player in major history to be 0-for-4 in converting on 54-hole leads. The last of those came just a few months ago at the 2020 PGA Championship, so the world will be watching how DJ deals with that baggage.
(Scroll down for the latest updates)
It has looked easy for DJ thus far. The Columbia, S.C. native became the only player in Masters history to card two rounds of 65 or better with his Saturday 65, sitting at 16 under par (65-70-65) through 54 holes. He has the Masters 72-hole scoring record (18-under) well within his sights. The biggest obstacle for DJ, as our Joel Beall writes, might be himself.
3:13 p.m.: The presentation of the green jacket to Dustin Johnson is complete, and there's a new member of golf's most elite group.
One of the most memorable parts of this championship came in DJ's post-round interview. We're used to seeing DJ being stoic in all moments, so to see DJ moved to tears—to the point of being unable to talk, was such a cool thing. Kudos to CBS' Amanda Balionis for handling this so well:
And a great photo captured by our JD Cuban: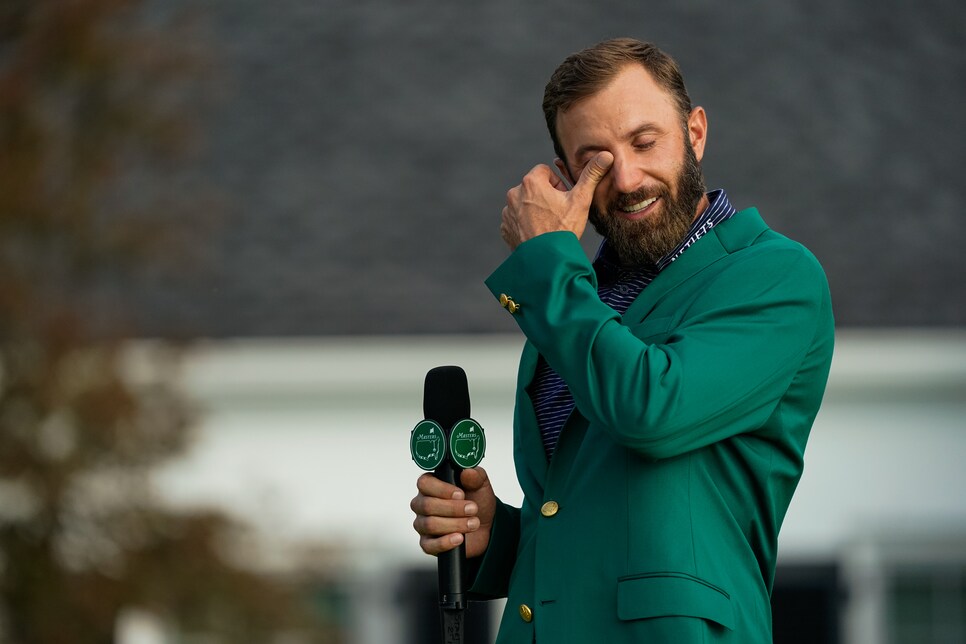 2:51 p.m.: DJ does it! The two-putt on 18 gives him the 20-under mark, tying the lowest score in a major and shattering the 18-hole scoring record by two. Incredible, and such a cool scene as DJ's brother, Austin, gets choked up and crying after DJ holes out. Paulina, DJ's fiancee, runs onto the green to greet her man. And DJ and Paulina walk off the 18th green hand in hand. What a fantastic moment for DJ as he says to Bubba Watson walking off the green, "I finally got one!"
In the past 40 years, only two people had previously won by five shots or more—Tiger Woods in 1997 and Nick Faldo in 1996. Dustin Johnson's 20-under total and final-round 68 is good enough for him to win by five shots over Cam Smith and Sungjae Im.
2:46 p.m.: Dustin Johnson finds the green and is on the correct part of the putting surface at the 72nd hole, giving him two putts to secure the Masters scoring record, shooting a historic 20-under in 2020. This win secures DJ's legacy as one of the best players of all time, not just his generation. After so many close calls in the majors, DJ will secure his second major title, and this will be his 24th PGA Tour win.
2:39 p.m.: Dustin Johnson finds the fairway off the tee at 18. That locks up the title for DJ and all the history ahead of him. This will feel absolutely fantastic for the 36-year-old, securing his second major title and first Masters title.
Cam Smith gets up and down from the front of the green to officially make it four rounds in the 60s, the first player ever to do it at Augusta National. And he's going to lose by five ... that fact is one of the craziest takeaways for the week.
2:37 p.m.: Dustin Johnson two-putts for par at the 71st hole, giving him a five-shot lead over Cam Smith and Sungjae Im heading to the final hole. What an absolutely historic march for Dustin Johnson. A par at 18 would give him the Masters scoring record by two and would match the lowest score in relation to par in a major (20-under, Jason Day in 2015, PGA and Henrik Stenson in 2016, Open Championship).
2:33 p.m.: Cameron Smith hits the fairway at the 18th hole as he looks to maintain his current second-place position. And with a par at 18, the Aussie will become the only player in Masters history to shoot four rounds in the 60s ... and to think he'll lose by five shots. What a week for Smith, and what a week of scoring at Augusta.
2:29 p.m.: Dustin Johnson finds the putting surface at the 17th hole with his second shot. That'll be a long way for a birdie to get to 21-under, but DJ will take a par and go to the 18th tee with a five-shot lead. This one is all but wrapped up . . . it looks like Tiger Woods will be placing the green jacket on Dustin Johnson in this historic 84th Masters.
2:24 p.m.: Another piped drive down the middle for Dustin Johnson here at the 17th hole. Just one more drive left for DJ until this coronation is complete for the 36-year-old South Carolina native. DJ has dreamed his entire life of winning the Masters, and he should pretty much be able to wrap this up.
2:19 p.m.: Dustin Johnson two-putts for par at 16 as he maintains his 20-under mark heading to 17. Sungjae Im with a spectacular up and down at 16 to stay tied for second with Cam Smith—they are five back of DJ's lead as DJ tees off on 17.
2:14 p.m.: Rory McIlroy's tournament comes to a finish with a missed birdie at the 18th hole. That Thursday 75 was enough to knock him out of contention. He finishes with rounds of 66-67-69 to get in at 11-under, currently nine back of Dustin Johnson. Another year, another missed chance at that career Grand Slam.
2:07 p.m.: Dustin Johnson makes his 20th birdie for the week with that brilliant up and down from 107 yards out at the 15th hole. DJ is at 20-under—just looking like an absolute lock at this point that he will at least tie the 18-hole scoring record of Tiger Woods and Jordan Spieth (18-under, 270). DJ can play his final three holes in 1-over and record the lowest four-round score in tournament history.
2:00 p.m.: Dustin Johnson will have a great chance to add to his birdie total after wedging it close at the par-5 15th following his layup. If this victory isn't already secured for DJ, a birdie at 15 will pretty much put a bow on it, with Sungjae Im's approach going awaaaaay long at 15, getting lucky to stay out of the back water between the trees to the right.
1:57 p.m.: What a birdie from Cam Smith! From just to the left of the Sarazen Bridge at the 15th, he gets up and down to get back to four back of DJ. He'll need some kind of mess up from DJ, but the Aussie continues to fight impressively.
How about this stat, courtesy of Golf Digest's E. Michael Johnson—Cam Smith looks poised to be the first player ever to shoot four rounds in the 60s at the Masters, sitting on 3-under right now. And the Aussie will likely still lose by four or five. That's the kind of historic scoring we're seeing at Augusta with the softer conditions this week . . .
1:52 p.m.: Cameron Smith's second shot at the 15th, looking to pull off something miraculous, pulled it drastically to the left. It actually came up shy of the water and ended up on dry land—leaving himself some green to work with for his third. Like he's done all week, the Aussie hits a nice pitch to 11 feet for a chance at birdie.
1:44 p.m.: That's the 19th birdie of the week for DJ, to go along with two eagles, to now get to 19-under, just like Jordan Spieth did for a moment in 2015. That was another great roll here at 14. What a historic performance we're witnessing from DJ as he looks to secure his first green jacket, with the par-5 15th upcoming. He has a five-shot advantage.
1:39 p.m.: Dustin Johnson is out here throwing darts. After a 324-yard tee shot, DJ sticks his approach from 126 yards to about 6 feet for another birdie—that would get him to 19-under for the first time all week, surpassing Tiger Woods/Jordan Spieth's 18-under total (for the time being). Cruise control appears to be activated for the 2016 U.S. Open champion.
1:35 p.m.: Rory McIlroy gave it a go at the par-5 15th hole but sailed his iron over the green and into the water behind the 15th. He does get up and down to save par, but he needed something legendary there to have a chance. This is really a three horce race at this point, with Dylan Frittelli going wide left at the par-5 15th now being 6 back.
1:29 p.m.: It's now a four-shot lead for Dustin Johnson with a sporty birdie at the par-5 13th. DJ gets it back to 18-under as he pursues that historic 72-hole scoring record. But this isn't close to being finished. Sungjae Im birdies the 13th along with DJ to remain four back of the leader. Cam Smith just put his approach at 14 to about 17 feet as he looks to put some more pressure on DJ.
1:20 p.m.: Tiger Woods has had quite the adventurous Sunday—after the shocking 10 at the par-3 12th, Tiger birdied 5 of his final 6 holes to remain in red figures in his final round in his title defense. Not quite the weekend he had in mind when he entered it four strokes behind, but that was a nice way to end this tournament after that disasterous 12th.
1:17 p.m.: Rory McIlroy just had a brilliant look at a birdie at 14 to get to 12-under and five back, but his putt doesn't get to the hole. Another disappointing miss for Rory to remain at -11 and six back.
Dustin Johnson's tee shot at 13 was smoked with his fairway wood. He finds the short grass, so he'll have a good chance to get onto this 13th green in 2, albeit from 229 yards out.
Actually, we take that back—DJ decides to lay up with mud on his ball, deciding it wasn't worth the risk. And DJ likely saw Cam Smith miss the birdie try up at the 13th green, which is a tough miss for Smith. He's still 3 back with DJ still playing this par-5 13th.
1:11 p.m.: DJ two-putts for a stress free par at 12 to maintain his three-shot lead. Up ahead at 13, Cam Smith's drive was just a yard too far, into the rough, so he was forced to lay up. But his wedge game has been so good, so you'd say that was a prudent play. Now from 45 yards, he pitches it to about 15 feet, not a great shot but he'll have a chance at a birdie.
1:03 p.m.: One of the biggest hurdles to this run for a championship is navigating the par-3 12th hole, and Dustin Johnson has done just that. DJ hits a perfect tee shot, about 15-20 feet left of the pin, right over the center bunker—to give him a chance at another birdie.
Sungjae Im's tee shot ends up in the front bunker, so he'll need to scramble to stay within four shots of the current lead.
12:57 p.m.: Dustin Johnson remains at 17-under with an up and down for par at 11. He remains 3 up on Cameron Smith, four up on Sungjae Im, who had a chance for birdie above the hole at 11, but he takes par.
Rory McIlroy hit a nice second shot into the par-5 13th, giving him a chance at eagle but the bid slides by. He makes the birdie to get to 11-under, now 6 back of DJ. Brooks Koepka's eagle putt misses, too, so his birdie gets him to -9.
Justin Thomas made a nice birdie at the par-3 12th to match Rory's score at -11. In the same group, Cam Smith two-putts for par, as does Dylan Frittelli (-11). Cam Smith remains 3 back.
12:50 p.m.: Dustin Johnson is going to have an awkward chip at 11 after missing the green right. But he's a little farther up ... so he's going to have to come up quite a bit to get onto the surface. And DJ does just that, a nervy pitch to about 5 feet for a good chance to save a crucial par.
12:46 p.m.: Dustin Johnson's lead is back to three shots with Cam Smith failing to get up and down at the difficult 11th hole. Smith missed the 10-footer, not something we're used to seeing from this scrambling man. As Frank Nobilo just said on the telecast, Smith's job just a got a bit harder, but DJ has to navigate the 11th hole now, too.
12:38 p.m.: Cameron Smith's approach to 11 stays out to the right, a difficult shot from 227 yards with the wind in his face. He'll need to rely on that world-class short game once again to salvage a par here.
12:34 p.m.: Dustin Johnson hits a solid birdie putt but it stays about 1 foot above the hole, so he'll settle for a par to remain 2 up on Cameron Smith, who will have 227 yards into the 11th green. Sungjae Im two-putts from long distance at No. 10 to remain four back of DJ's lead.
12:26 p.m.: What an absolutely fantastic golf shot from Dustin Johnson at the 10th hole. From 213 yards up the hill with a 5-iron, DJ hits a nice low draw that carries onto the surface. He'll have about 25-30 feet for a birdie try, but more than that—relieves any stress of having to scramble for a par. If he keeps hitting greens like we've seen him do over the first 54 holes, it'll be tough to catch him.
The competitor with the best chance to do it right now is Cam Smith, who hits the fairway at the difficult 11th hole. Cam's been a scrambling champ today and all week, but he'll be in the fairway at 11, still two back of DJ's lead.
12:19 p.m.: Cameron Smith continues to scramble like an absolute champ, hitting a great bunker shot from the right side of the 10th hole to about 5, 6 feet for another save. That will keep him two back of DJ. And of course, the Aussie holes it—just another one-putt for this guy. What an absolutely gritty performance from Smith.
After fanning his approach shot right at the 11th hole, Rory McIlroy hits a great chip to 4 feet and makes the putt to stay at 10-under. That keeps him 7 back of Dustin Johnson's lead. DJ just hit his tee shot at the 10th hole and hits a great high draw over the trees and into the fairway.
12:14 p.m.: Dustin Johnson misses the 13-footer for birdie at No. 9, just hitting his putt a bit too firm. He'll still have 3 1/2 feet to clean up for par. DJ cards it to go out in 1-under 35, maintaining his two-shot lead as he heads to the final nine holes of this 2020 Masters.
12:10 p.m.: Dustin Johnson hits a great pitching wedge on the ninth from 115 yards out to about 13 feet for another birdie to go out in 34, and match the 72-hole scoring record at 18-under (still with a ton of golf left). But another birdie from DJ keeps him in front by three making the turn.
12:03 p.m.: Cameron Smith converts another absolutely spectacular birdie from the trees—this one at 9 following up the escape at the seventh—to make the turn in 33. He's just two back of DJ as he makes the turn. What a spectacular showing thus far from the Aussie, who has a very real chance to chase down DJ now on this final nine.
11:58 a.m.: Cameron Smith ... WOW. After the miraculous escape at the seventh hole leading to a birdie, the Aussie has hit another sensational escape from the pine straw now at the ninth hole, carrying the bunkers perfectly and taking the slope down near the hole. He'll have about 5 feet for another insane birdie to get to 15-under . . .
Dustin Johnson meanwhile converts the 5-footer for birdie to two-putt at No. 8 to push his score back to 17-under. That's a three-shot lead for the moment, but Cam Smith is likely to make that birdie upcoming at nine.
The bid for Rory McIlroy's special Sunday round takes a bit of a hit with a bogey at No. 10 after that poor second shot. That drops Rory back to 10-under and seven back of DJ.
11:46 a.m.: Eyes will be on Rory McIlroy as he's gone out in 3-under 33, putting him five back of Dustin Johnson's current lead, with DJ still playing the par-5 eighth and on in two. Rory got a bit fortunate on his second shot at the 10th hole from 214 yards, as his iron went dead right but went through most of the trees. He ended up hole high but way right of the hole location. The pitch is an ultra difficult one and gets away from him, now ending up off the green hitting 4, hoping to hole that for a miraculous par.
11:41 a.m.: Tiger Woods just two-putted for a 10 on the par-3 12th hole. His worst score on a par 3 previously in a major was a 6 . . . that's just an unbelievable result for the defending champion. He's all the way down at 4-over for the tournament and 9-over on his day after Tiger had it at 6-under at one point earlier today . . .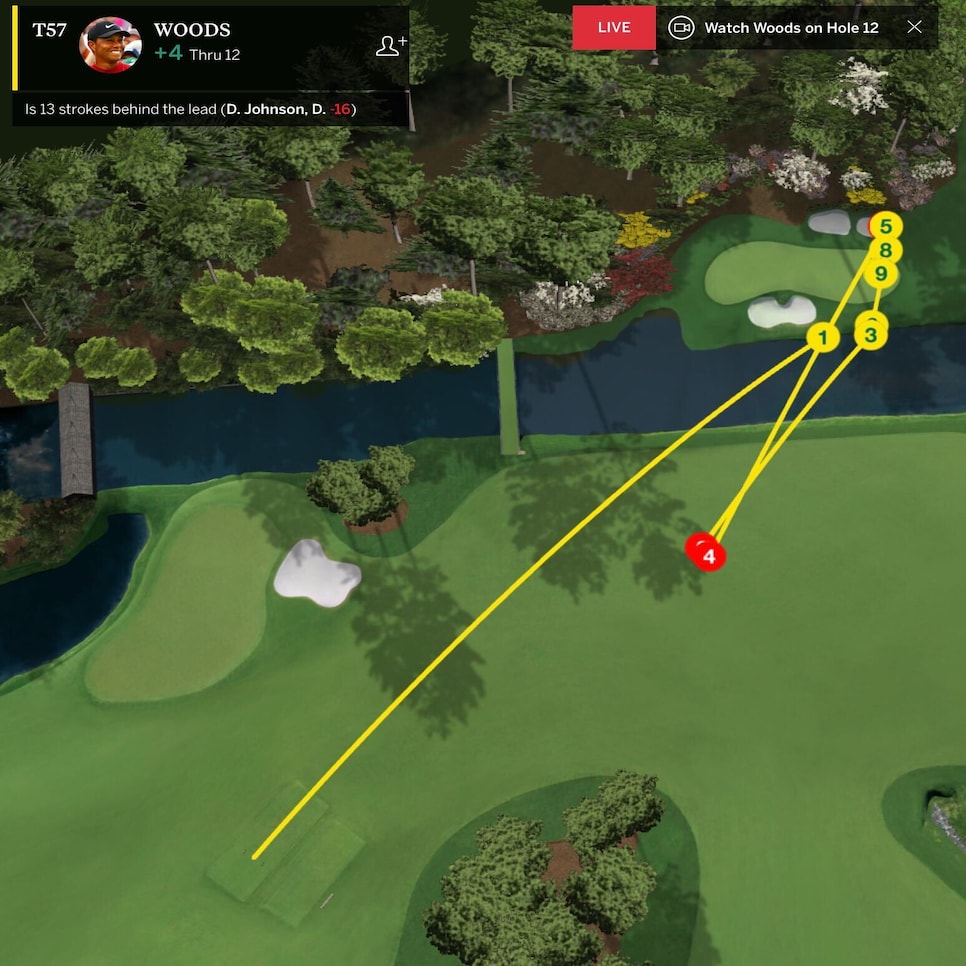 11:34 a.m.: Dustin Johnson hits a phenomenal bunker shot in one of the bunker shots at No. 7 to about 2 feet after finding the second cut against the right trees. DJ has a good chance to save his par to remain at 16-under and even for the final round. Sungjae Im's bunker shot from the back greenside bunker isn't as fortunate as DJ, rolling off the front of the green. The 22-year-old nearly holes his chip shot but comes up shy and will drop his second straight shot, meaning he's now 4 back of DJ.
11:23 a.m.: Lot of action to catch up on - DJ birdied the sixth to get back to 16 under, and his two playing partners, Sungjae Im and Abraham Ancer, made bogey after each missing short par putts. Im dropped to 13 uner, while Ancer is now at nine under. Looks like he won't become the first player to shoot four consecutive rounds in the 60s, barring a miracle. Cam Smith could accomplish the feat, and he just helped his chances with an absolutely incredible birdie from the trees at the seventh. He's two back. As for Rory, he two-putted for birdie to get to 11 under. Another birdie at No. 9 and he's officially in the freakin' mix.
Meanwhile across the course at the 12th hole, Tiger Woods finds the water with his tee shot—at a hole where he really seized the tournament just a year ago. Augusta National has a way of bringing things full circle. That feels like that just happened there.
Tiger then hits his third shot back in the water ... and compounds it after finding the back bunker with his fifth ... and he had an unbelievably bad lie in the bunker, and blades it back into the water, which was his sixth shot. He's going to be dropping and hitting 8 ... this is just really hard to watch at this point. It had been a nice week for Tiger, but that's all unraveling very quickly.
11:15 a.m.: FOLKS, Rory McIlroy, who is at 10 under, has an eagle look at the par-5 eighth. This could get very real in a minute.
11:07 a.m.: Uh oh. DJ's par putt misses. He's now at 15 under, and his lead has shrunk to one shot. Yikes. Is it happening AGAIN??
10:57 a.m.: Man, what a break for Cam Smith, who got a ruling in the second cut at No. 5 because he had an awkward stance on ... something. CBS announcers speculated that it was casual water, but it may have been a sprinkler box or something like that. Smith was able to lift his ball, clean it and drop it back in the rough, giving him a better lie. He didn't save par, but still made a solid bogey to stay within three shots. In the group behind, Dustin found the bunker off the tee, then had to lay up. He hit a great wedge shot on his third, but still has about 10 feet for par. Things are getting interesting, folks.
10:41 a.m.: Just as DJ was about to pull away, he gives one right back at the par-3 fourth. His tee shot was just short of the green, and then he left his uphill birdie putt well short of the hole. His par putt lipped out, giving him a bogey and dropping him back to 16 under. His lead is now two shots over Sungjae Im and Cam Smith, though Smith is in big trouble at the par-4 fifth, where his approach missed way left. Im could be in solo second shortly.
10:34 a.m.: There's the Dustin Johnson we've seen all week. DJ holes the difficult downhiller from 12 feet to get to 17-under and now extending his lead back to 3 shots. DJ's putter has been an absolute weapon this week, and that was a big make for him to negate some of those negative thoughts from the first two holes.
Sungjae Im manages to match DJ's birdie at the third hole—to keep pace and remain three back of the lead. Sungjae's tied at 14-under with Cam Smith as DJ gets to 17-under, now one off the 72-hole scoring record.
10:30 a.m.: Cam Smith continues to be a scrambling machine at the par-3 fourth hole after his tee shot found the left greenside bunker. The Aussie hits a phenomenal out to about a foot to save his par to remain two back of DJ.
10:28 a.m.: Dustin Johnson busts his driver off the tee, hitting it 323 yards and leaving himself just 17 yards to this tricky left-hand hole location. DJ hits an OK pitch that runs past the flag to about 12 feet or so. Sungjae Im in the same group hit a phenomenal second shot to about 7 feet, as he has a chance to join Cam Smith at 14-under to get to two back of DJ's lead.
10:22 a.m.: Cam Smith converts the short birdie putt at the third hole to trim Dustin Johnson's lead to two shots. The Aussie has led the field in putting all week, and he continues to convert on opportunities early. One of the amazing stats from yesterday is that Cam Smith needed just nine putts on the back nine en route to shooting 3-under par on the inward nine. Smith is off to a dream start for him thus far.
Justin Thomas is off to a disappointing start with the bogey at the par-5 second, but he converts a tricky 9-footer for par at the third to avoid dropping another shot. He's 7 back early as he aims to do something special on Sunday.
Sebastian Munoz hits the shot of the day at the par-3 fourth hole and converts the birdie from about 3 feet to get to 10-under in an impressive showing for the Masters debutant.
10:17 a.m.: Abraham Ancer misses a real chance for birdie from 3 feet at the second hole, which would've gotten him to 3 back. That was a surprising miss for Ancer, who has looked so good all week.
Sungjae Im converts after hitting a phenomenal chip shot, getting to three back of DJ's lead. That matches Cam Smith at T-2. Cam Smith looks like he might make it two birdies in a row after sticking his approach to about 5 feet at the third hole.
10:11 a.m.: Dustin Johnson hits his 7-wood from the rough up near the front right bunker, presenting a challenging third shot over the bunker to the traditional right hole location. And DJ fails to make it to the green with his third, hitting into that front bunker. Now DJ is left with a difficult sand shot for his fourth. But OK, he hits it to two feet from there to save par. He avoids disaster early . . .
10:01 a.m.: As TV coverage starts, we have a look at DJ's poor drive at No. 2. Looks like he has a mud ball in the right-hand rough—he couldn't tell where it went off the tee. It'll be surprising for DJ not to go for this second hole, where he nearly made an albatross yesterday. But DJ doesn't need eagles today ... a couple birdies at the par 5s and bogey-free golf will do him well. But DJ has two wide right drives to start Sunday after not missing one fairway on Saturday.
9:55 a.m.: Justin Thomas has found trouble at No. 2. He snapped his tee shot left way into the trees, and it looks like he wasn't able to find it, so he had to take a drop and play a pounch out into the fairway for his third, then played his fourth shot to 16 feet for a chance at par at the par-5 second. Cam Smith played his third shot from 86 yards to 9 feet, so he'll have a great chance to get within three of Dustin Johnson's lead.
9:49 a.m.: OK, all the groups are now on the course. The final group of Dustin Johnson, Sungjae Im are off the first tee. DJ found the right fairway bunker off the tee, but hits a fine approach to 31 feet. Sungjae's shot from the fairway spun off the front of the green, but he hits a nice chip to 3 feet. Abraham Ancer hit approach to 13 feet but fails to convert on the birdie putt. DJ two-putts for par to maintain his four-shot lead.
In the group behind, Cam Smith, Justin Thomas and Dylan Frittelli all parred the first. No early fireworks yet, but you just wait.
9:44 a.m.: Cameron Champ is off to that special round we just talked about below. Wow ... three birdies in three holes for the long-hitting 2019 Safeway Open champion. Champ gets to 9-under overall. What a start!
9:38 a.m.: Rory McIlroy will be thinking about what could've been all week at Augusta. That opening 75 kicked him out of contention early, but he has fought back brilliantly. He'll have a few more 'woulda, shoula, coulda's' about his play at the first two holes on Sunday. Rory left his third shot in the bunker at the par-5 second hole after another gargantuan tee shot. Rory hits his fourth close from the bunker, but a par at the second hole isn't how special rounds at Augusta get started.
9:32 a.m.: Rory McIlroy hits a disappointing second shot from just 223 yards at the par-5 second, finding the right greenside bunker. He'll have the little mound behind the hole location to help, but that's a poor shot after such a great tee ball.
At the fifth hole, Tiger Woods, Scottie Scheffler and Shane Lowry are all in the fairway with their tee shots.
9:26 a.m.: Rory McIlroy has hit opening tee shots of 343 yards (No. 2) and 330-yard (No. 1) to start his round. He's going to have just 223 yards into the par-5 second hole. That's a middle iron for the Northern Irishman ... just absolute insanity. Koepka found the right fairway bunkers off the second so he'll have to lay up before hitting his third shot.
Tiger Woods pars the par-3 fourth, hitting a nice tee shot to about 30 feet above the hole, and then navigating the slippery downhill putt expertly to about 2 feet. The others in his group par, too—Tiger remains at 6-under.
9:16 a.m.: Rory misses that great birdie chance from 8 feet hole high on the opening green after his mammoth drive, so that'll be a disappointing par on the first hole. Usually you're never disappointed with an opening par at Augusta National, but that one is a definite missed opportunity—especially because Rory McIlroy needs a historic, 62-type-of-round to have a chance today. Koepka and Fleetwood also make pars to stay at 8-under.
9:12 a.m.: Tiger Woods two-putts for par on the third green to remain at 6-under. His playing partners also make par. Meanwhile Rory McIlroy hits an absolute dart of an approach at the first hole, hoping to convert on that incredible 330-yard opening drive. Rory will have 8 feet for an opening birdie.
9:06 a.m.: The Rory-Fleetwood-Koepka group is on the first tee starting their rounds. And oh boy, what a fantastic first tee shot from Rory McIlroy. He carried the right fairway bunkers by A LOT. He hits it 330 yards, and that's uphill to the fairway from the first tee, so that's just a gigantic drive. He'll have 101 yards left at No. 1 ... craziness. Koepka's drive went right but avoided the bunkers. And Fleetwood finds the fairway, about 35 yards behind Rory.
8:56 a.m.: Tiger Woods nearrrrrly holes his pitch shot from behind the green at No. 2. Wow, he raised his club up and drops it behind him after it lips out. He thought it was good, and it looked great. That was from a very simliar spot where Leishman holed out, too. He'll settle for the one-footer for birdie to get to 6-under. Scottie Scheffler, his playing competitor, does, too, but in disappointing fashion, after he hit his approach to about 13 feet, riding the ridge down to the traditional Sunday hole location perfectly. Scheffler gets to 6-under.
8:47 a.m.: Tiger Woods absolutely pounds his driver down the left side of the par-5 second hole, riding the tree line perfectly as his ball bounds down the fairway. We're seeing a little more bounce in the fairway today than earlier this week. Tiger recoiled on that drive and popped it out there 322 yards, giving him an iron from 240 yards into this second green.
8:35 a.m.: There are a couple of hot starts from players on the course thus far. Marc Leishman is 2-under through two to get to 6-under. Adam Scott and Lee Westwood each are two-under through three to get to 5-under.
How about this highlight from Leishman at No. 2!
8:24 a.m.: We'll start our updates with the defending champion, Tiger Woods, who has started his final round of the 2020 Masters. He's paired with Scottie Scheffler and Shane Lowry, who he played the opening two rounds with. All three players started the day at 5-under, and they'll remain there after the first hole. Tiger hit the fairway with his cut off the tee, hit an OK approach to about 35-40 feet, and two-putted to get out of there with a 4.
Here are the 2020 Sunday hole locations—note the different location at the par-3 16th, not the traditional pin we're so used to seeing.