News
Masters 2020: Can Dustin Johnson be caught? We ranked the contenders and who has the best chance to do it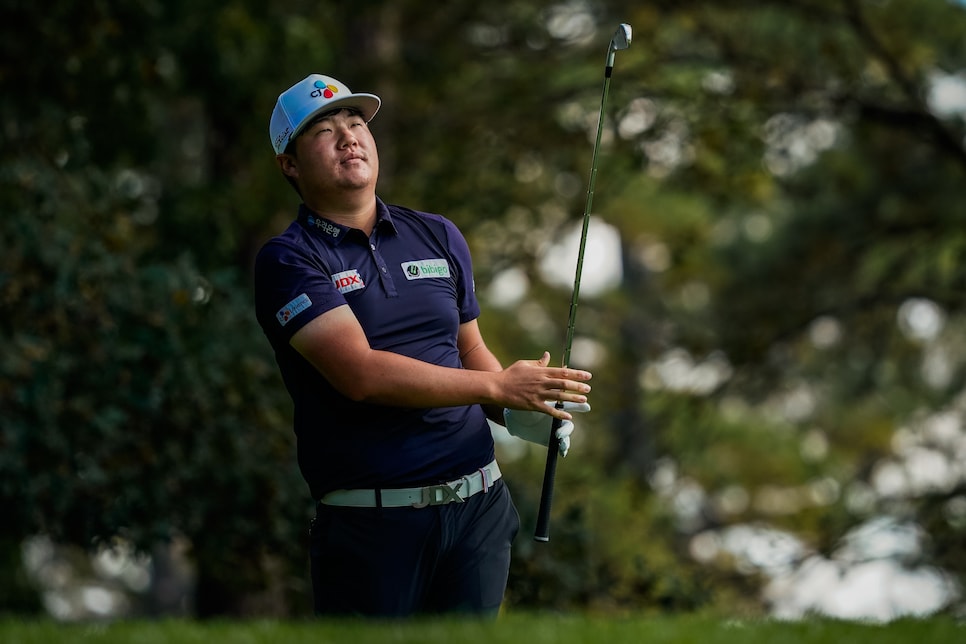 By now, you'd think we'd know better than to crown a champion until the 72nd hole is completed. The 54-hole lead is lost so often on the PGA Tour, and when it comes to majors, the winner is most commonly not the third-round leader, unless it's Tiger Woods in front.
With Dustin Johnson, we should've definitely learned this lesson. DJ holds a four-shot lead after three rounds at the 2020 Masters, setting himself up for a second major title. Johnson, with 23 PGA Tour wins, is an elite closer in regular events, but he hasn't been similarly elite closing out majors. His lone major title, the 2016 U.S. Open at Oakmont, was secured in style, but don't forget he trailed Shane Lowry by four shots entering Sunday. His other Sunday struggles are well-documented.
This time does feel different. Other than one weak stretch in the middle of his second round at Augusta National, the World No. 1 has been unconscious. On Saturday with a bunched leader board that saw as many as nine players tied for the lead early, DJ nearly made an albatross at the par-5 second, then carded back-to-back birdies at the third and fourth holes to capture a lead he wouldn't relinquish. He finished with a seven-under 65, a statement round that was compared by some to Jack Nicklaus' third-round 64 in 1965 and Seve Ballesteros' start in 1980 en route to his runaway win. You might think he couldn't be caught on Sunday—especially because when he's firing, there is no better "step on the field's throat" player in the sport.
We know golf's hard, and the right combination of major scar tissue for DJ and a special round from one of the chasers might be enough to catch him. The way we see it, there are 12 guys who have a legitimate chance to catch him, and by legitimate shot, we mean they're within eight shots, which would match the largest comeback after 54 holes in Masters history.
We ranked the chances of those 12 players chasing down DJ.
12. Sebastian Munoz (-9, seven shots back)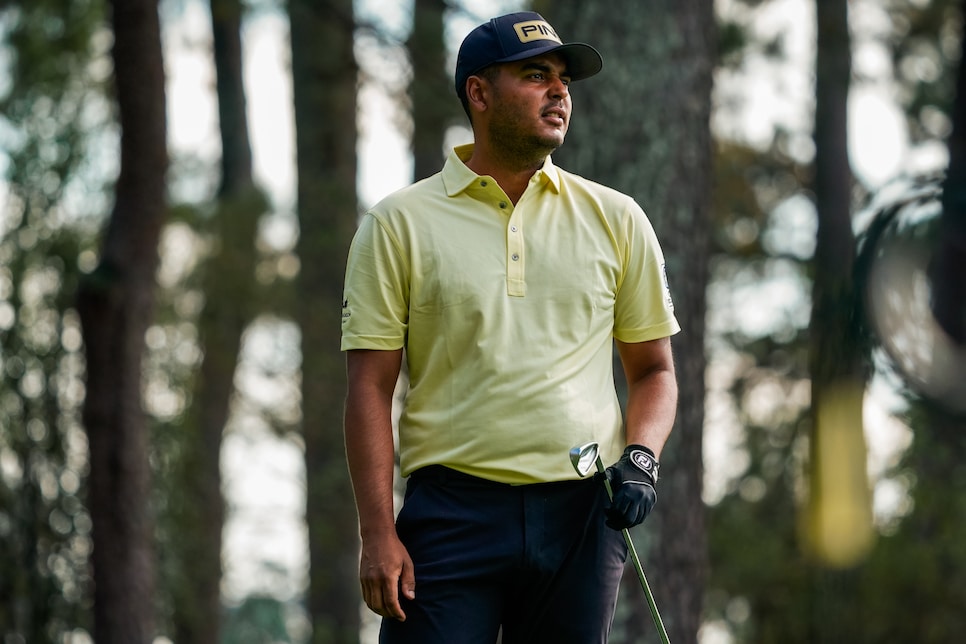 No disrespect to Munoz, but this is just his fifth career major, and in his previous four starts he has three missed cuts and a T-59. Just merely being here in the fourth-to-last group is an incredible achievement for the 27-year-old from Colombia. Anything under par on Sunday would be a success. We just don't expect him to shoot a 63 at Augusta National, which is what the 2019 Sanderson Farms winner will need (plus some help from DJ).
11. Dylan Frittelli (-11, five shots back)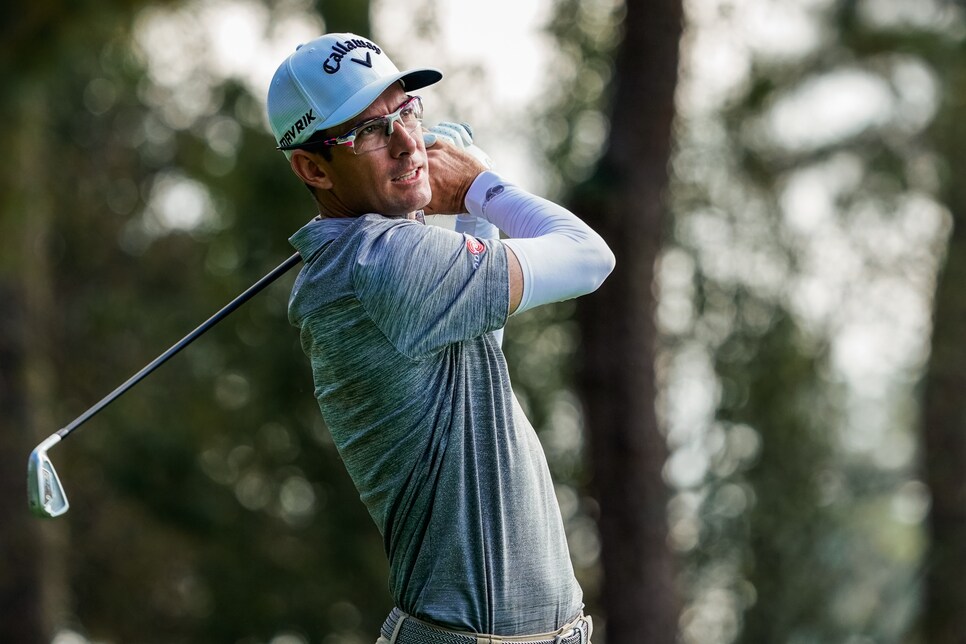 Yes, we know, this is even more disrespectful than putting Munoz at 12th. Frittelli is much closer than the guys at eight under, and he has rounds of 65 and 67 this week. But the guys below him have more experience in this situation. The South African has missed five of nine cuts in majors with a high finish of T-31. To win the green jacket, he'll need to replicate his first-round 65 and get some help. We don't see it.
10. Hideki Matsuyama (-8, eight shots back)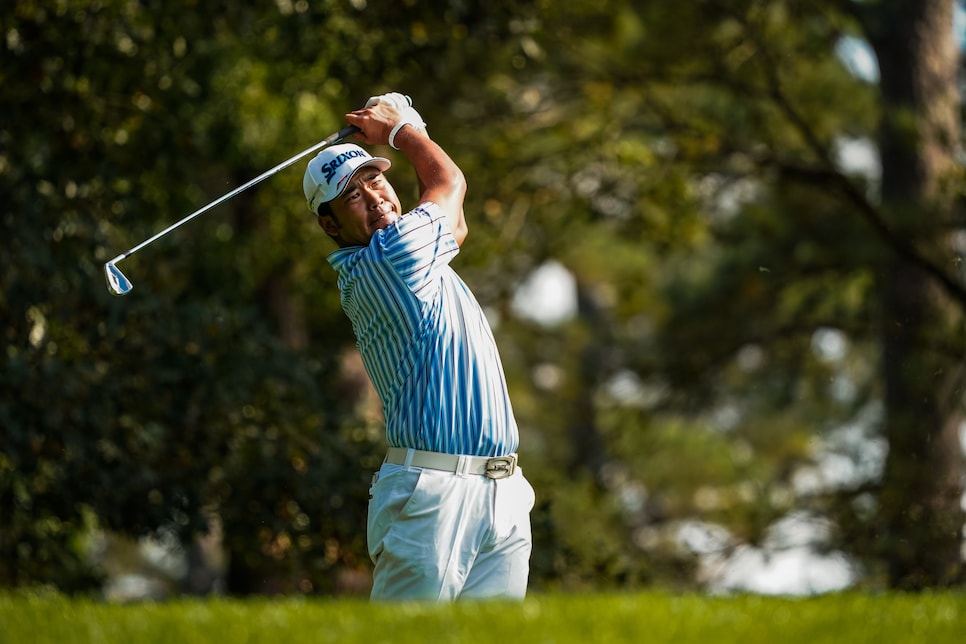 Honestly, out of respect for Hideki's game, we didn't put him last on this list (even though he should be). In order to come back tomorrow, he'll need a 62 or better, which will require him to either putt lights out (not likely) or put himself close on the majority of his approach shots with his elite iron game. The latter scenario is possible, but it's still too big of a hill to climb.
9. Tommy Fleetwood (-8, eight shots back)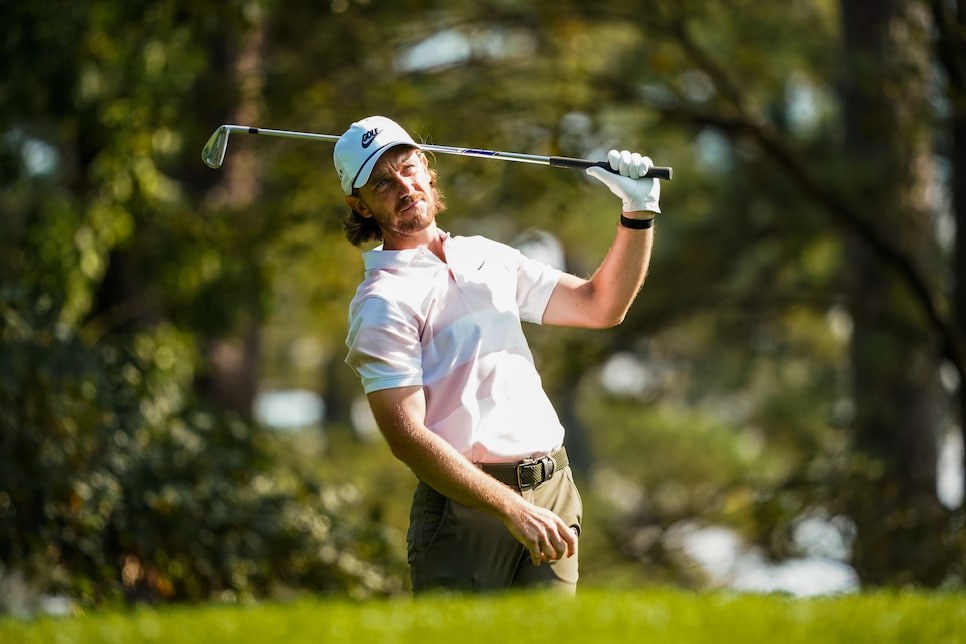 Like Matsuyama, Tommy Lad has the ability to fire at flags and make up some ground early. As you may recall, he nearly shot 62 at Shinnecock in the 2018 U.S. Open, ultimately finishing with 63, one back of Brooks Koepka. Tomorrow, he'll need the 62. That'd be a miracle from golfing Jesus.
8. Rory McIlroy (-8, eight shots back)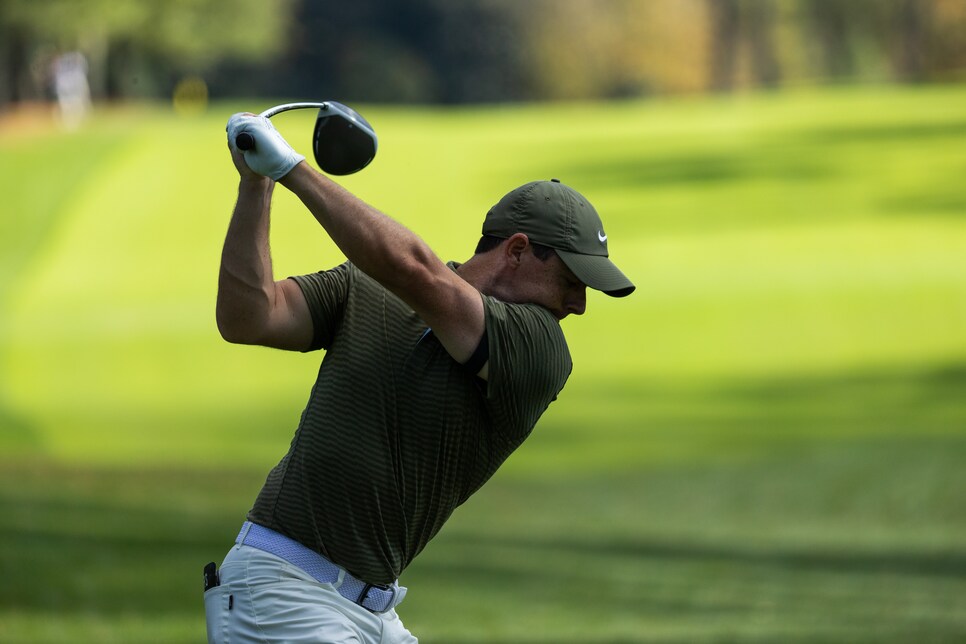 Man, what a shame it is that McIlroy shot 75 on Thursday. A 72 would have him right in the thick of it. Instead, he's eight back after shooting rounds of 66-67. If he starts birdie-eagle on Sunday, Golf Twitter will be electric. He'll then need another birdie, and another, and another, and a few more. It would be shades of Spieth in 2018, but again, it's probably still too large of a deficit to overcome.
7. Patrick Reed (-9, seven shots back)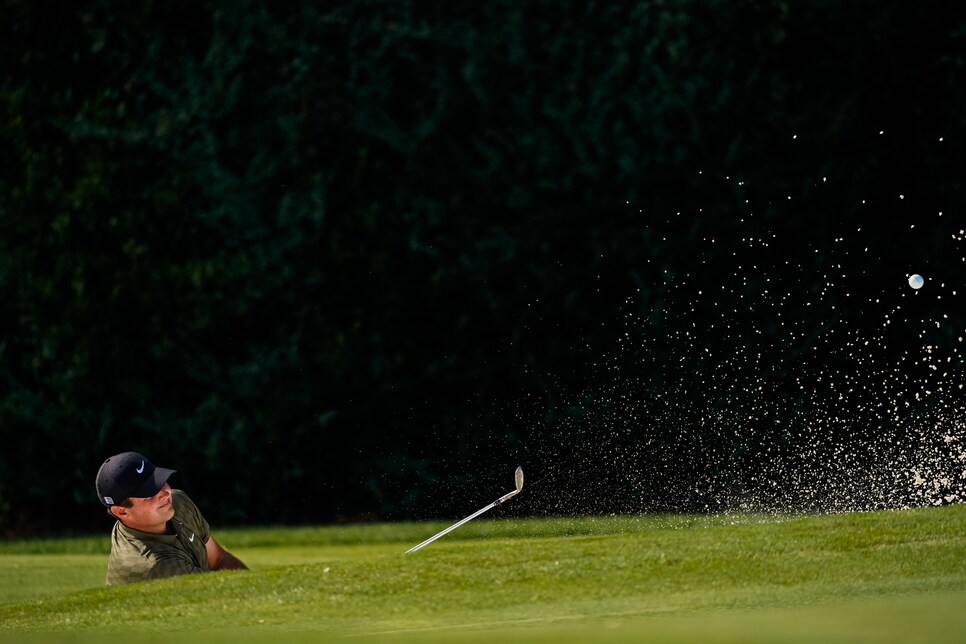 Reed's around-the-green game is among the game's best, as is his pressure putting. There's a reason the golf world is well aware of this—Reed often gets himself in trouble and can escape with his scrambling. But his driving and approach play is too erratic for the 2018 Masters winner to have a serious chance at throwing up a 62 or a 63 at Augusta. He'd have to be perfect, like bogey-free perfect. Check his scorecards this week, and you'll see they are anything but clean.
6. Brooks Koepka (-8, eight shots back)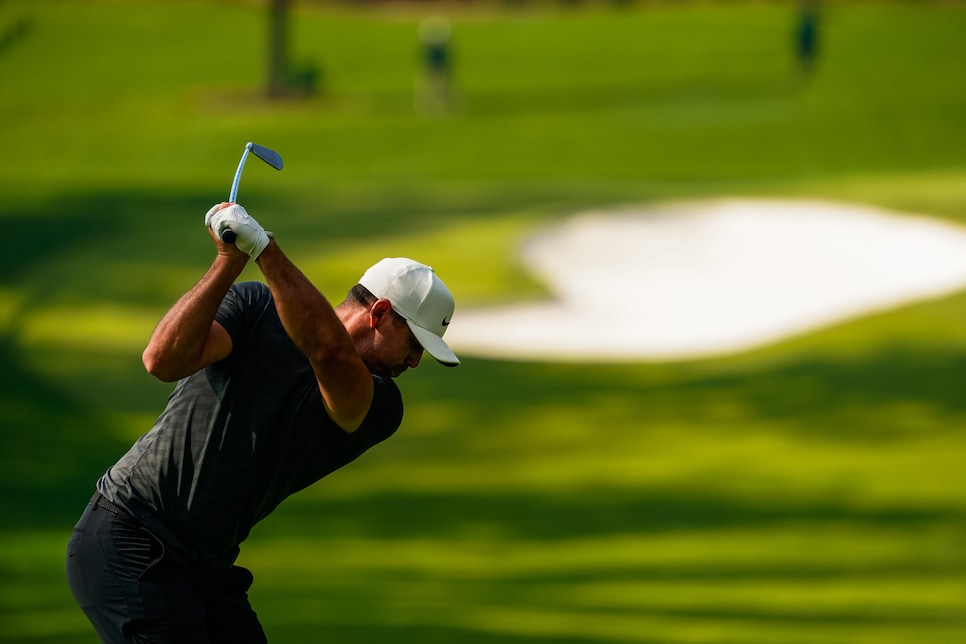 Of the crew at eight under, you have to think Brooks Koepka has the only real shot at catching DJ. He went 65-65 on the weekend in Houston, he's improved each day this week, and he at least seems to be back to full health. He also has a bit of a mental edge over DJ, if you believe in that kind of stuff. We expect Brooks to come out guns blazing on Sunday and see where that puts him at day's end.
5. Jon Rahm (-9, seven shots back)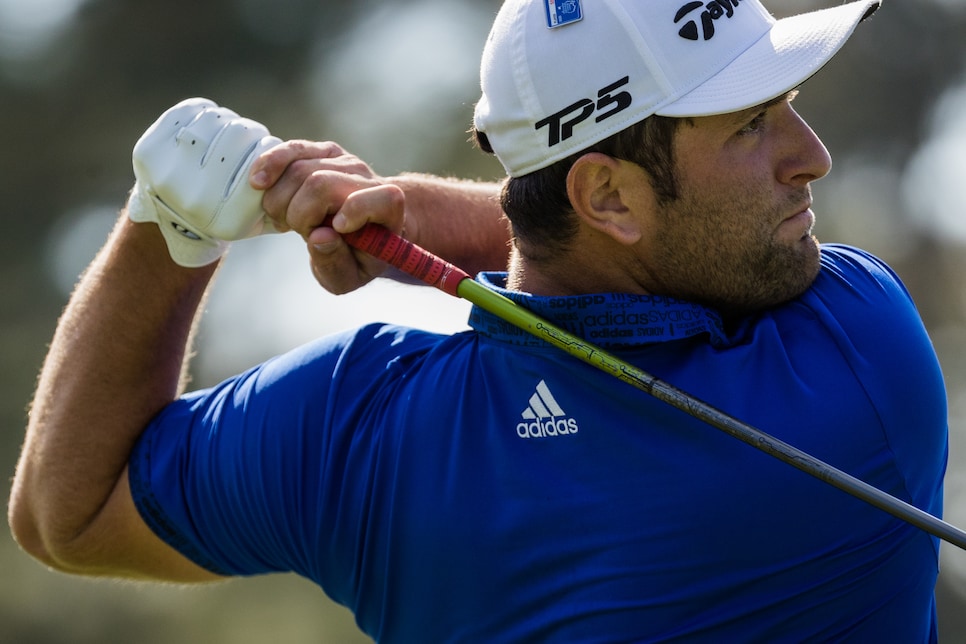 On one hand, you could argue that Jon Rahm shot his worst round of the tournament on Saturday, and that he'll be out for blood on Sunday. On another, you could argue he shot himself out of it, which is a big mental hurdle to overcome. Either way, Rahm absolutely has a 62 in him, as long as he doesn't mangle the par-5 eighth again.
4. Cam Smith (-12, four shots back)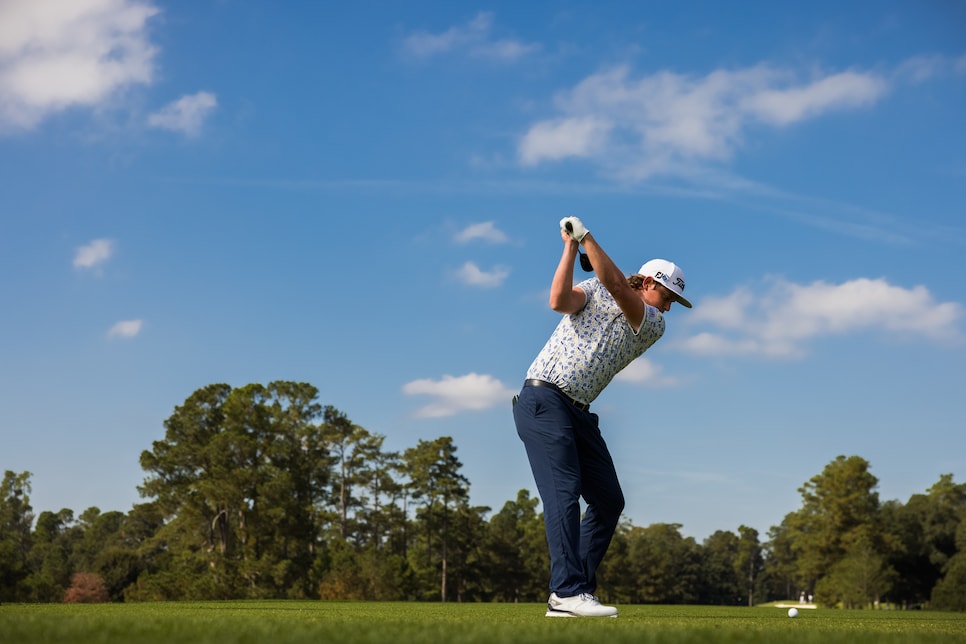 To the casual Masters viewer, there are five relative unknowns at the top of the leader board: Munoz, Frittelli, Abraham Ancer, Sungjae Im and Cam Smith. Smith has the best Masters finish among them, a T-5 in 2018 thanks to a final-round 66. So he's the only one who really has experience on Sunday at Augusta National to lean on. Plus, both of Smith's PGA Tour wins (2017 Zurich Classic, a team event, and the 2020 Sony Open) came in a playoff. Smith also stared down Justin Thomas in Sunday singles at the 2019 Presidents Cup. The Aussie is a pressure player.
3. Abraham Ancer (-12, four shots back)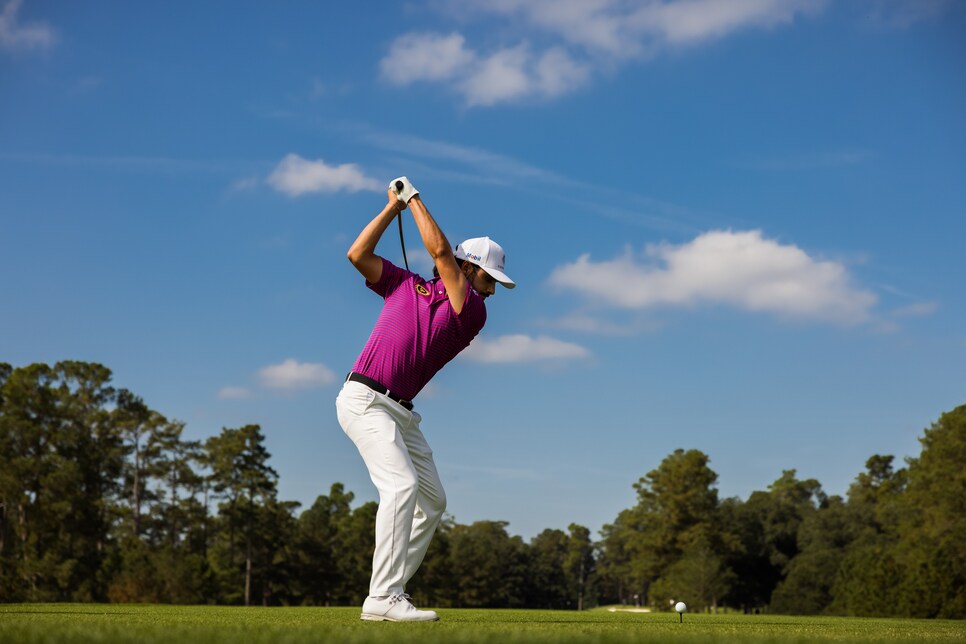 Ancer was rock-steady on Saturday, which was wildly impressive given this is his first Masters appearance. He has the résumé in big events, and he's clearly inspired from fellow countryman Carlos Ortiz's Houston Open victory. Sunday, of course, is a massive stage, and he's in the final group. The one thing working against Ancer is that no player has ever shot four rounds in the 60s at Augusta National. Amazingly, he could become the first to do it on Sunday and still lose. That's how good DJ is playing.
2. Justin Thomas (-10, six shots back)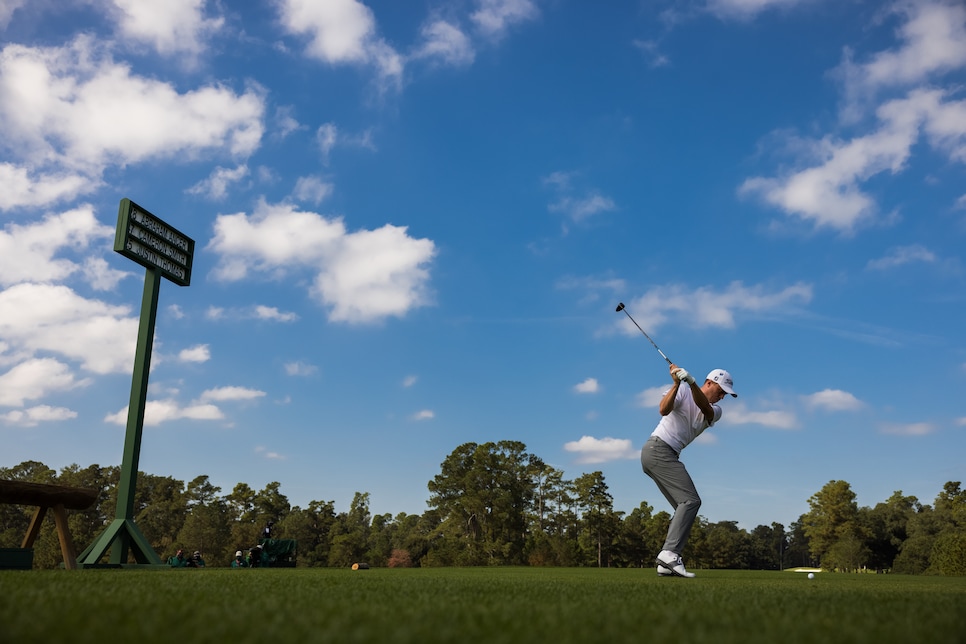 This might seem like too much respect, but Justin Thomas has earned it. He's the only one within six shots that has a major, and now that he's six shots back, he'll know he has to free wheel it to go as low as possible on Sunday. If he can shoot 64 and post 18 under, watch out.
1. Sungjae Im (-12, four shots back)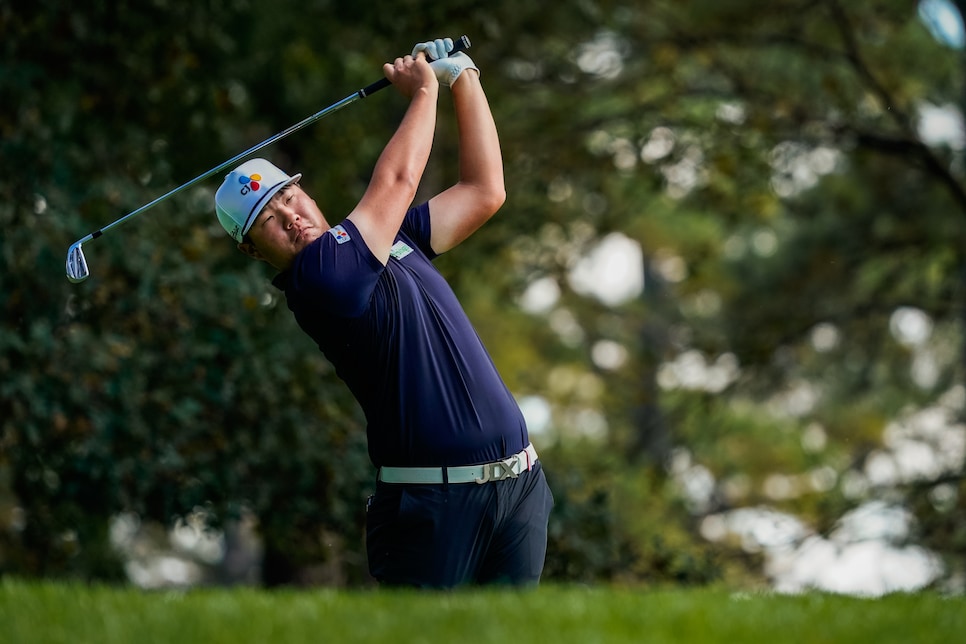 As we've seen in Masters past, a birdie-birdie or birdie-eagle start from the leader's closest pursuer can change things very quickly. That's likely what Im, or one of the others at 12-under, will need to do to make DJ start sweating (has DJ ever sweated in his life?). Im only has one tour win, but it was a big-boy win in a big-boy field at the Honda Classic in February. Sunday at the Masters is for big boys only, and Im has some experience in that department.