News
Masters 2020: These photos tell the story of Sunday at Augusta National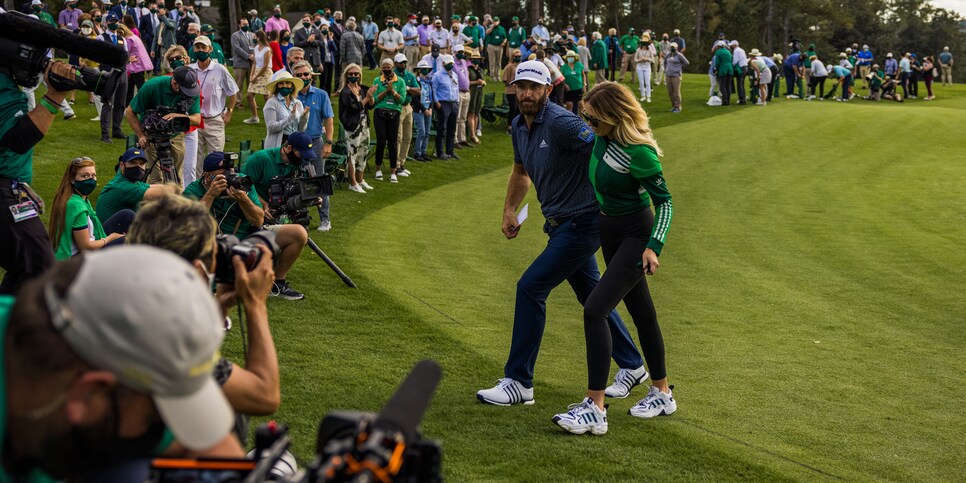 The 84th Masters was historic before it started—the first-ever in November and without patrons. Dustin Johnson punctuated the week with a spectacular performance to ensure this year's tournament would be remembered just as much for his stellar play. Golf Digest photographers JD Cuban and Ben Walton were on site the entire week to document this unique Masters and picked their favorite photos from the final two days of competition. —Ryan Herrington and Stephen Hennessey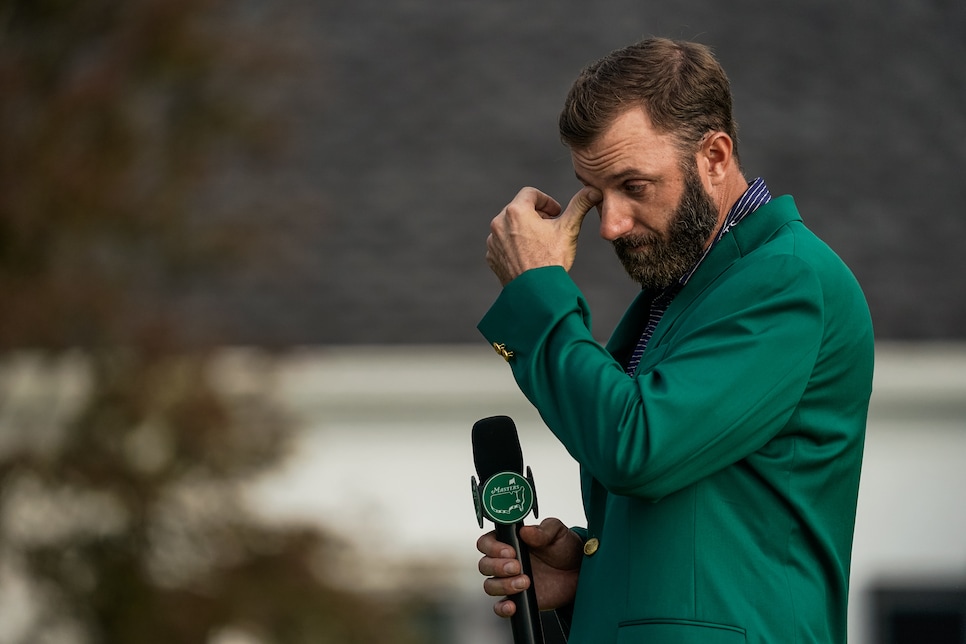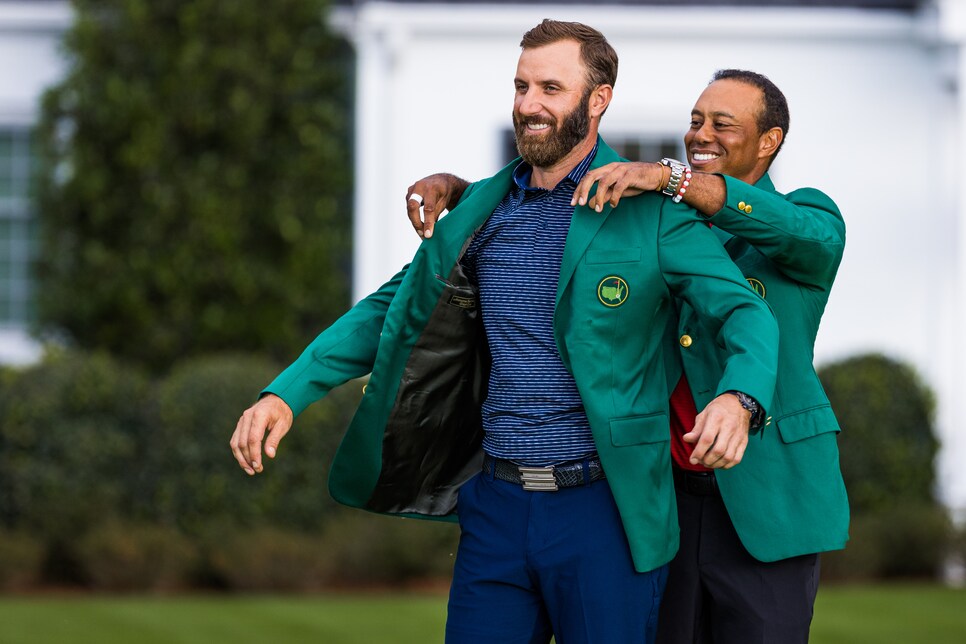 Dustin Johnson's 20-under, 268 total surpassed Tiger Woods' and Jordan Spieth's previous 72-hole scoring record (270) by two shots.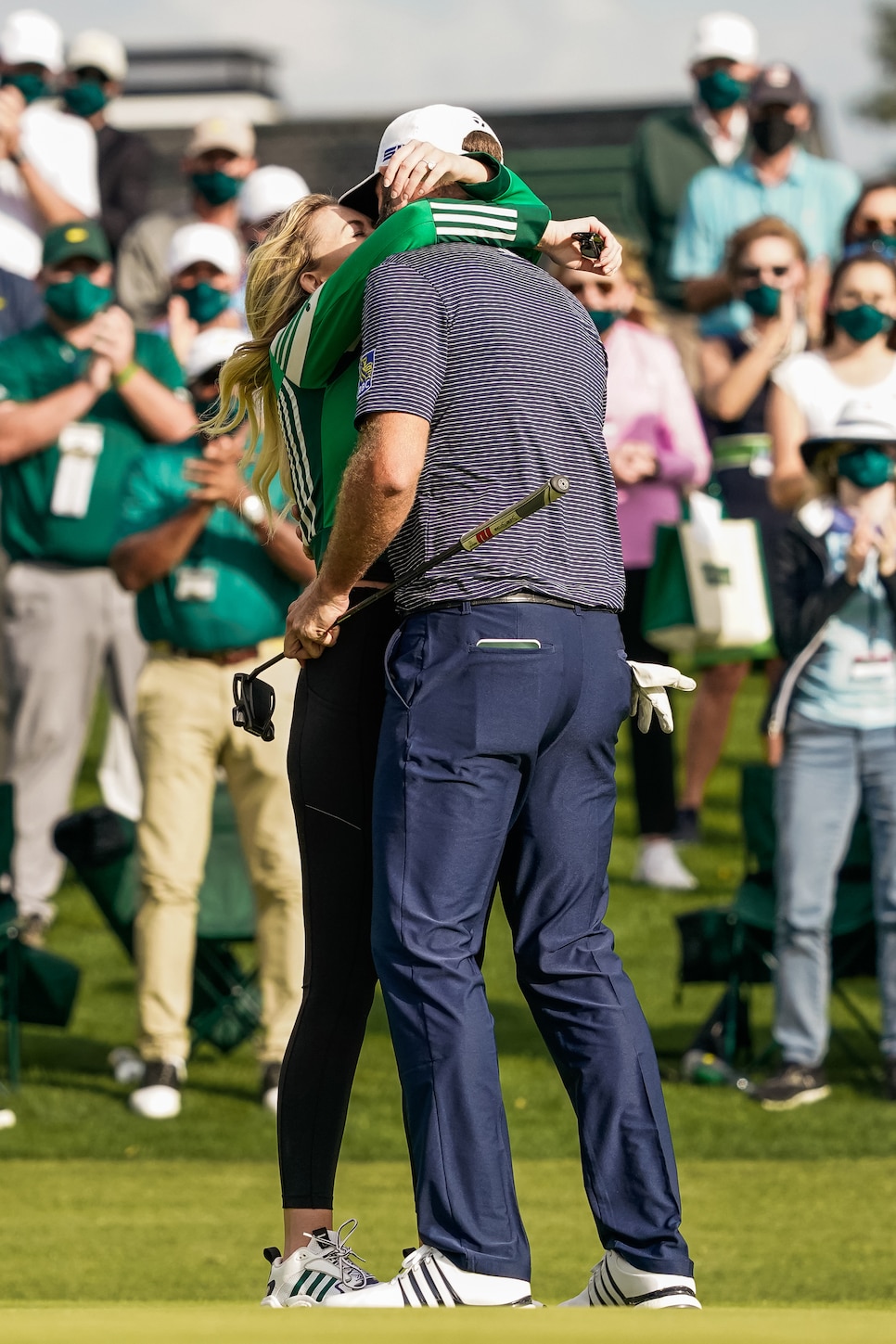 DJ's fiancée, Paulina Gretzky, greeted him on the 18th green.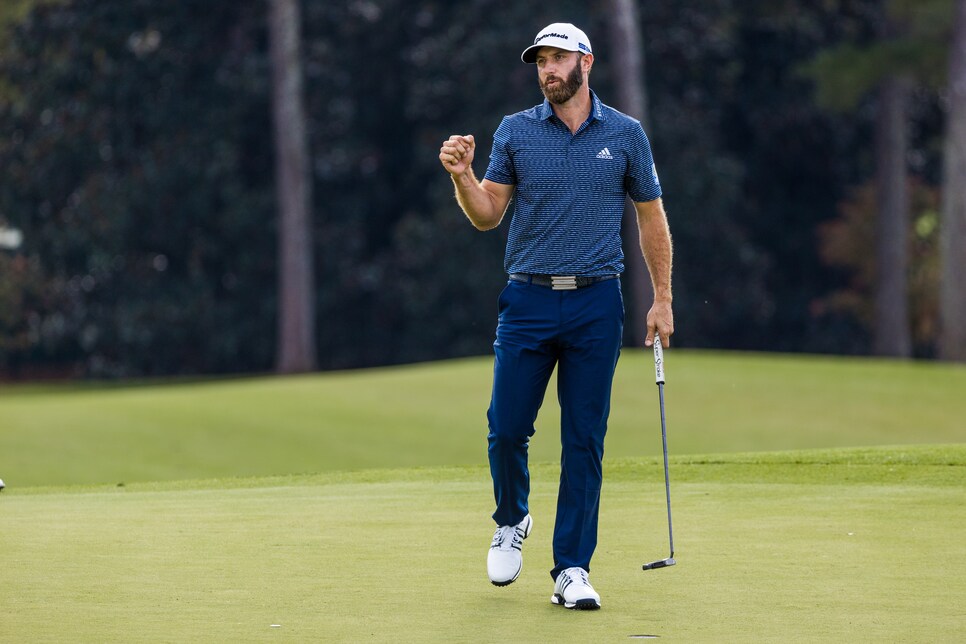 "It was a battle all day, just an internal battle with myself," Johnson said after his round about his former mishaps in the majors. "I knew I had to play well if I wanted to win."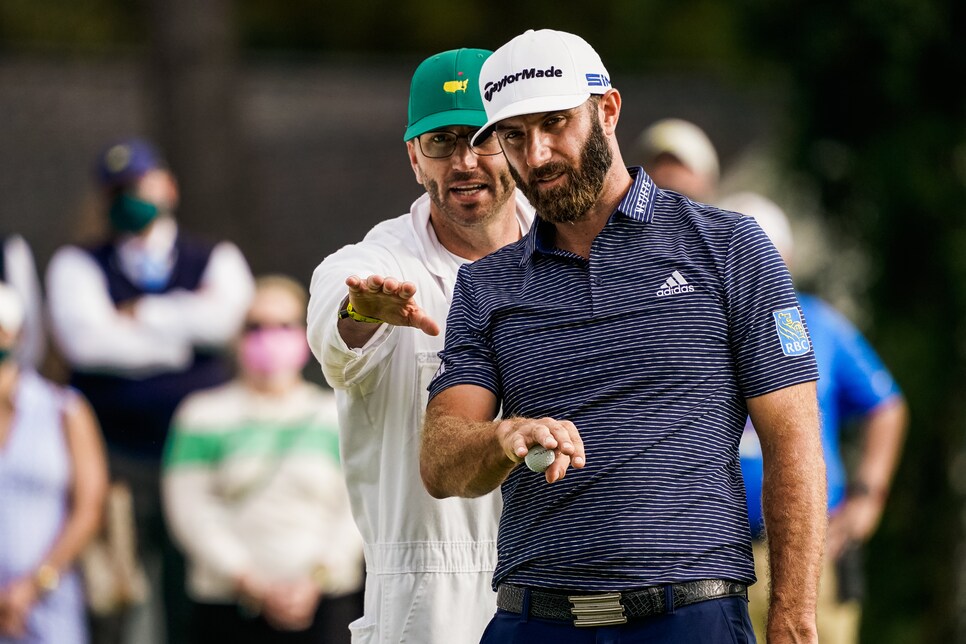 Dustin Johnson and his brother, Austin, navigated Augusta National's greens expertly all week.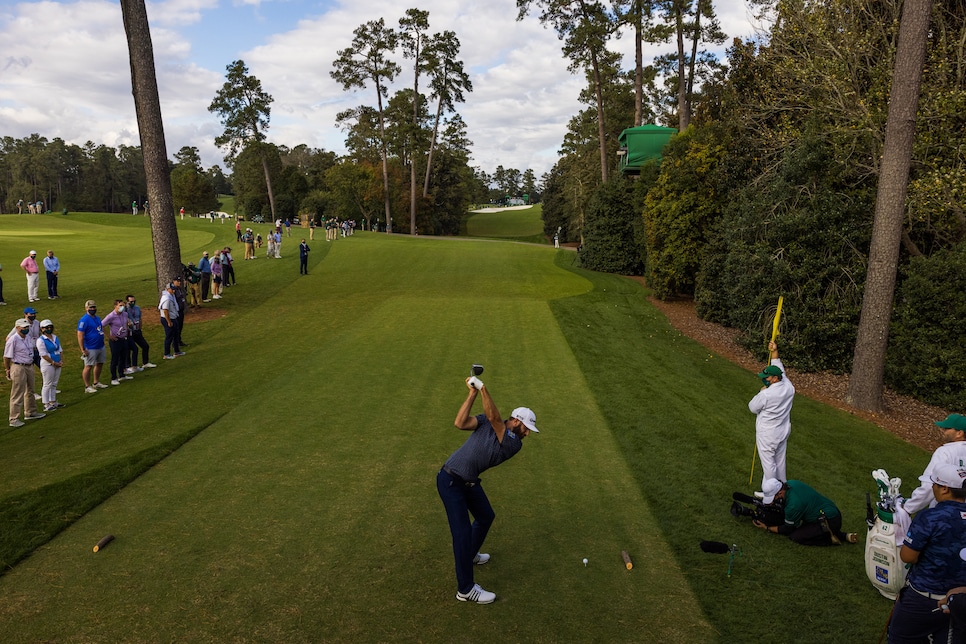 The scene at the 18th tee would normally be packed, but the lucky few at Augusta got to see DJ hit one more tee shot during his Sunday victory lap.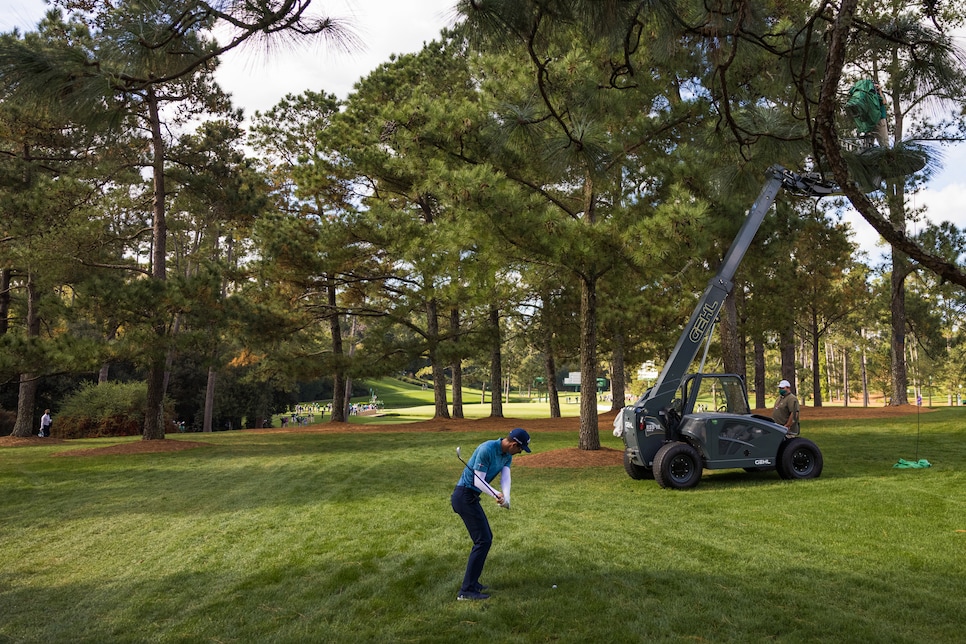 Dylan Frittelli tied for fifth in his first appearance at the Masters.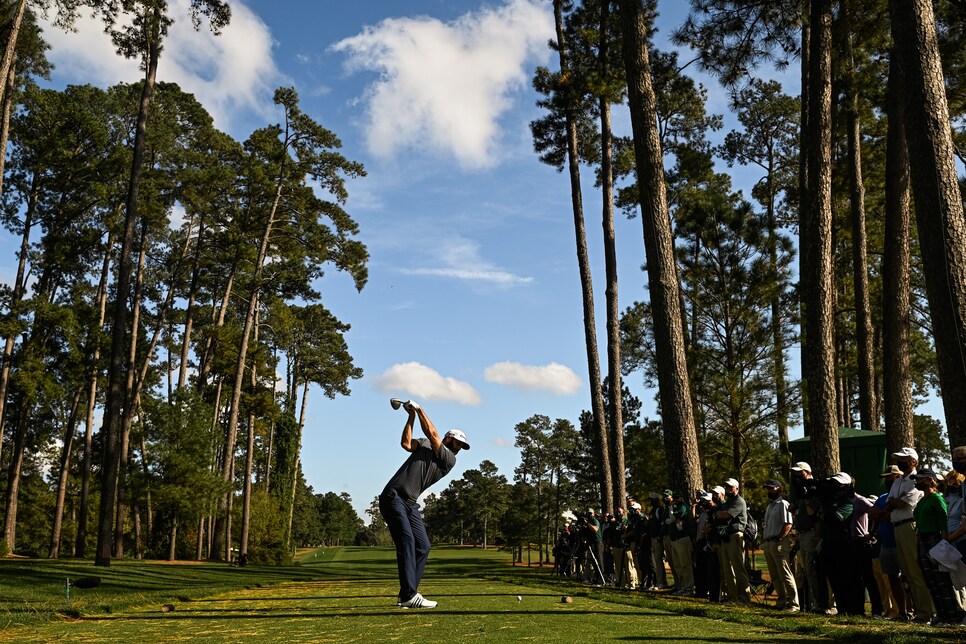 Dustin Johnson's towering tee balls faded off the loblolly pines perfectly all week at Augusta, as he missed just 12 fairways.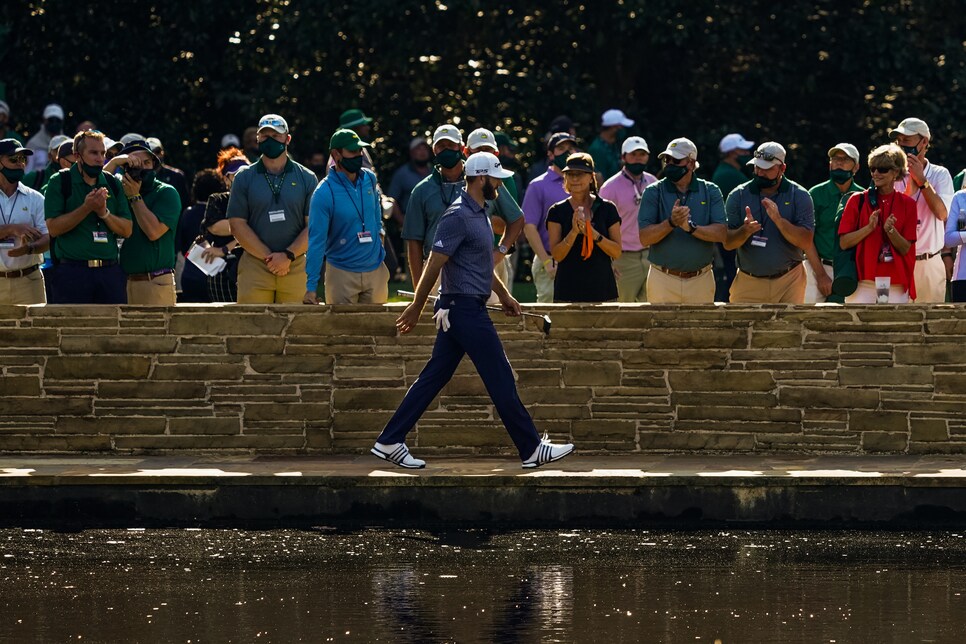 A confident Dustin Johnson walks across the Sarazen Bridge on Sunday.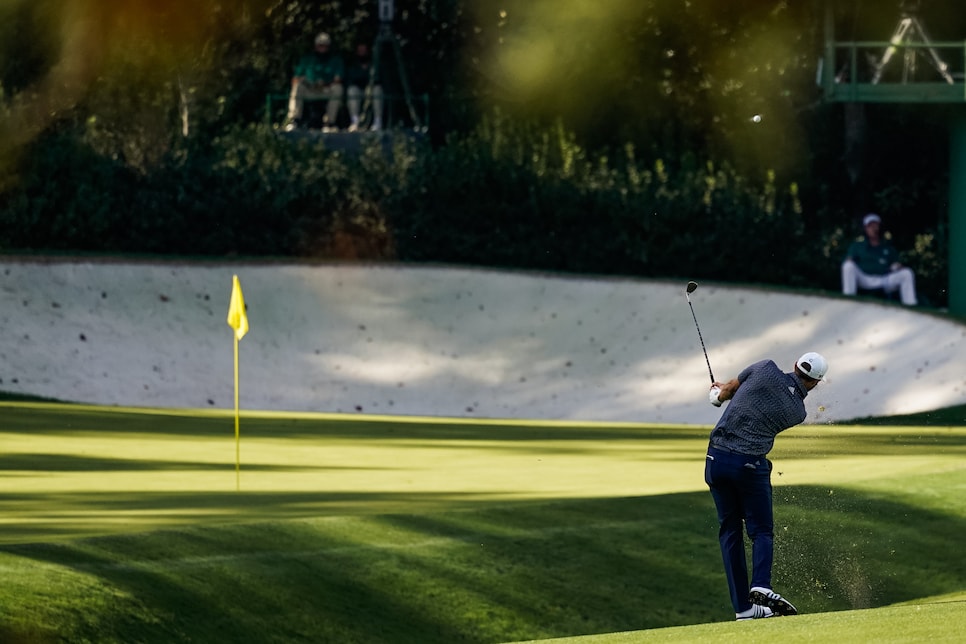 Dustin Johnson laid up on the par-5 13th and 15th holes but made birdie at each of them on Sunday.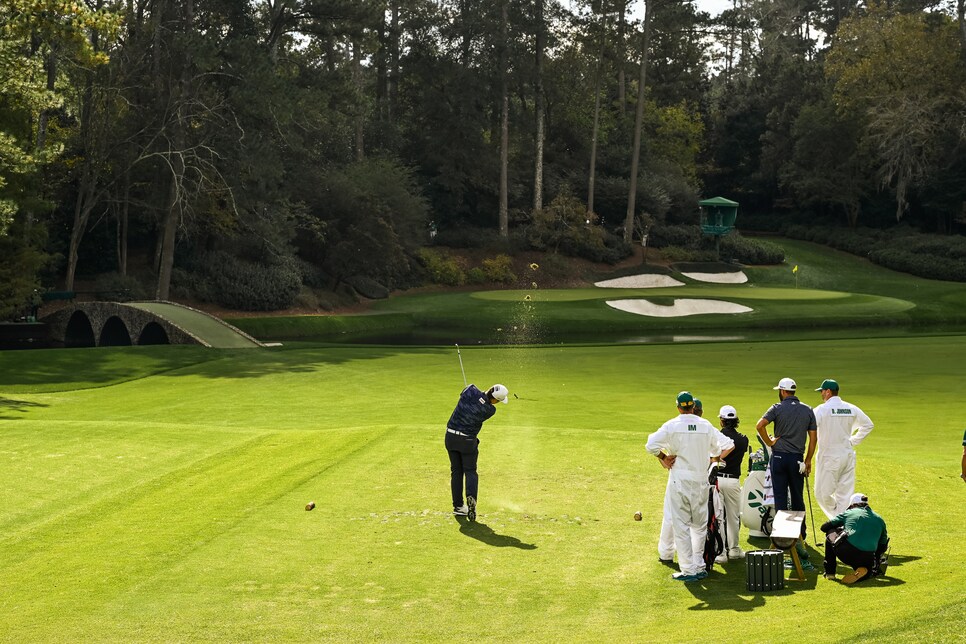 Sungjae Im found the front greenside bunker with his tee shot at the par-3 12th.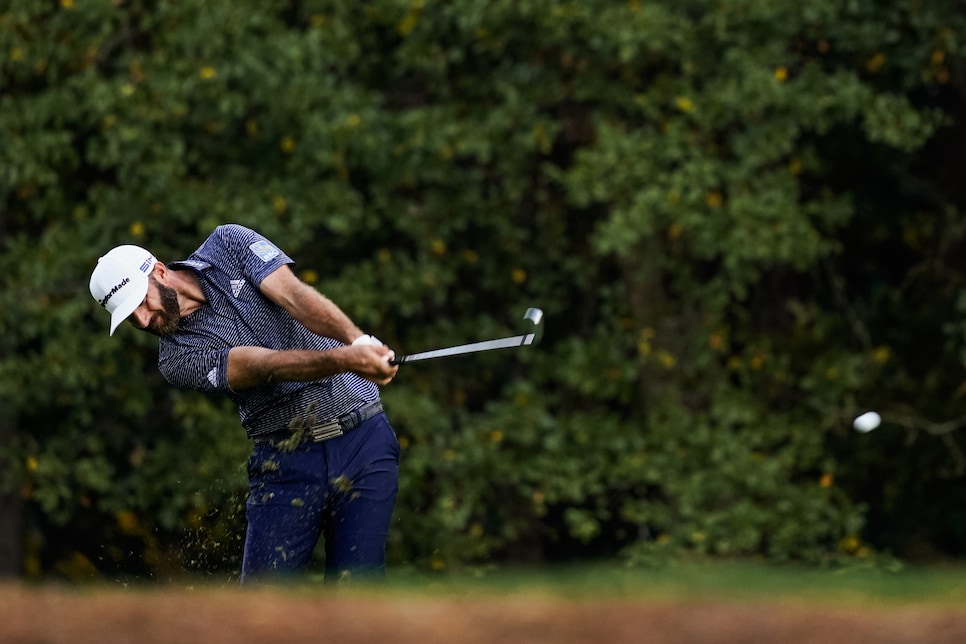 Dustin Johnson missed only 12 greens in regulation all week at Augusta National.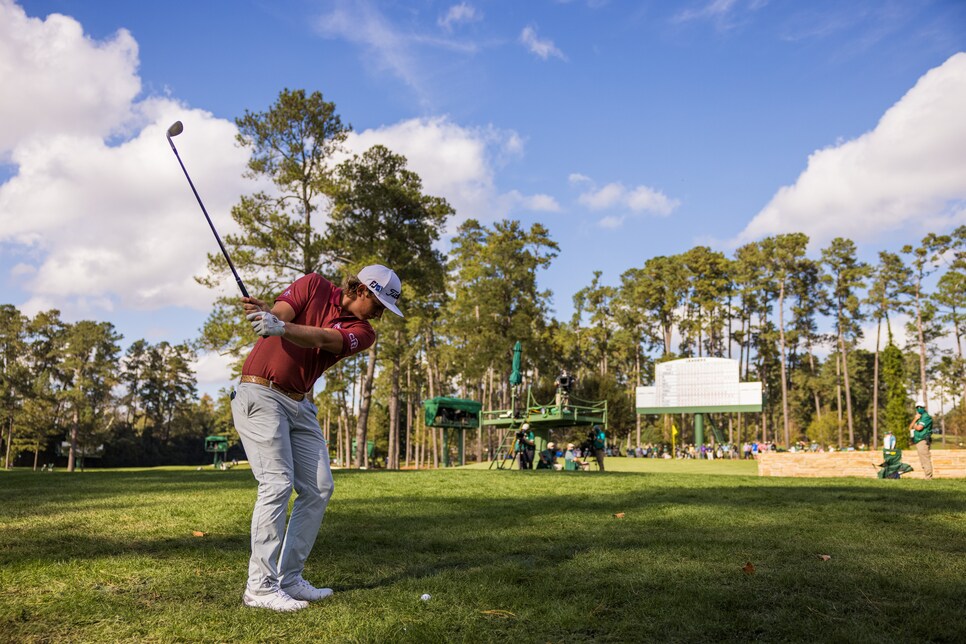 Faced with a difficult up and down after his pulling his approach at the par-5 15th, Cameron Smith did what he did all week—scrambled brilliantly, setting up another birdie. Smith finished T-2 after carding four rounds in the 60s, the first player ever to do so at the Masters.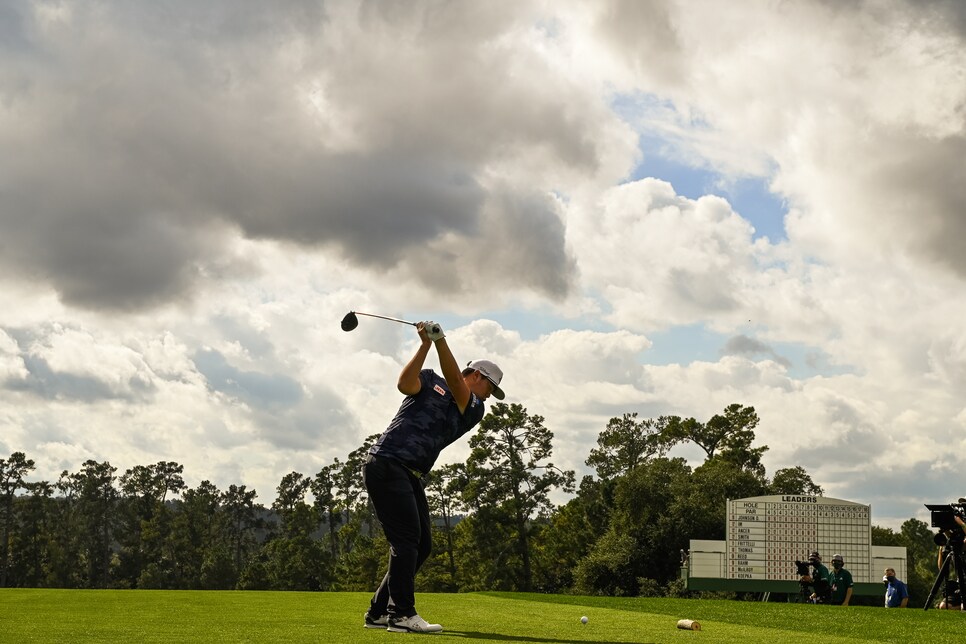 Sungjae Im kept pace all Sunday but never closed the gap enough. The 22-year-old finished T-2 in just his seventh major appearance and his first time at Augusta National.
Dustin Johnson scrambled whenever he needed to on Sunday.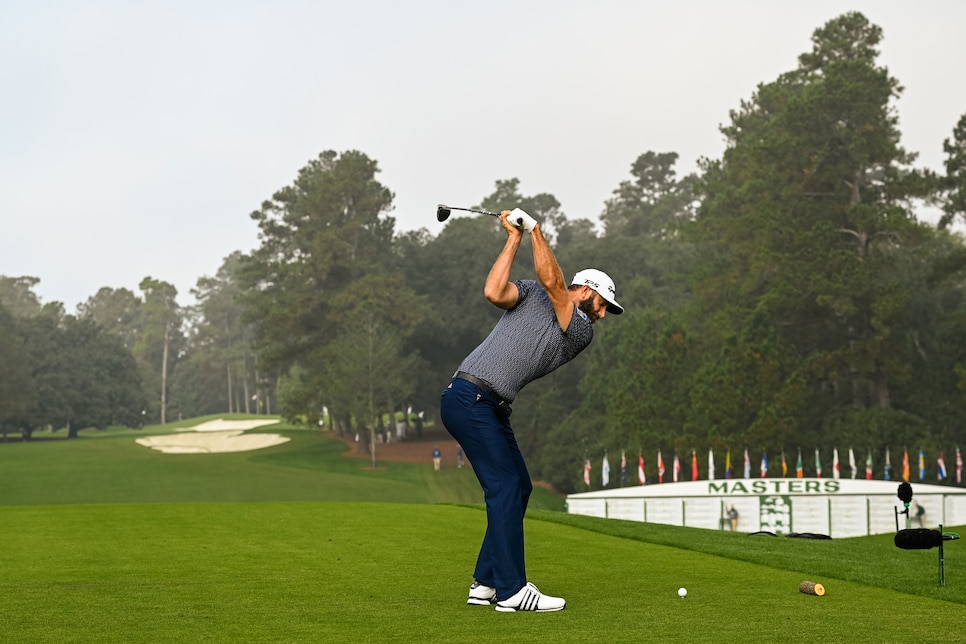 Dustin Johnson started play on Sunday with a four-stroke lead, the fourth time in his career that he led a major entering the final round.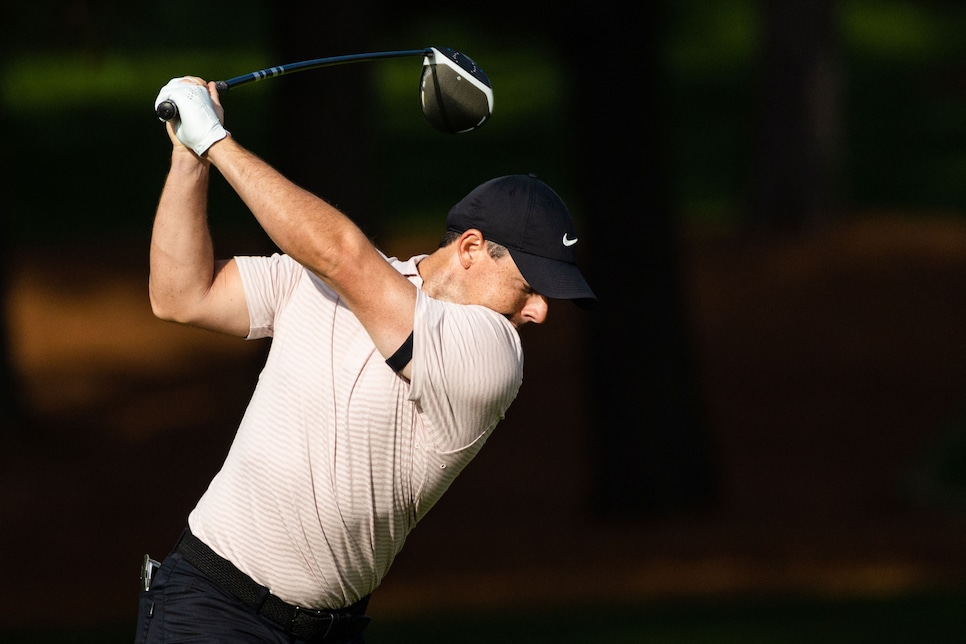 Rory McIlroy made an early charge on Sunday, but his disappointing opening-round 75 was too hard to overcome.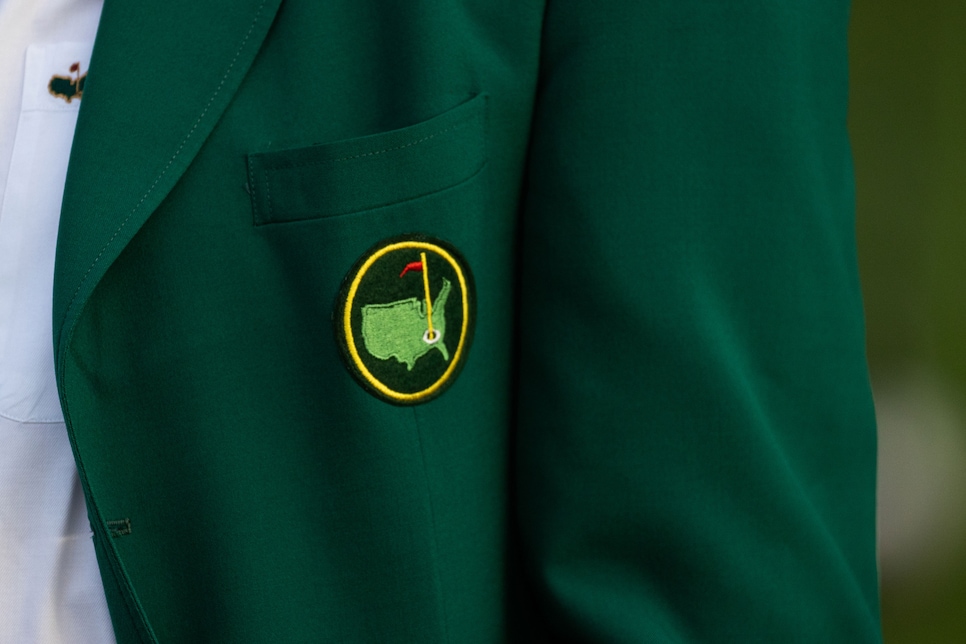 Augusta National members came out early to watch all the final round action.
Dustin Johnson showed confidence throughout his round on Sunday.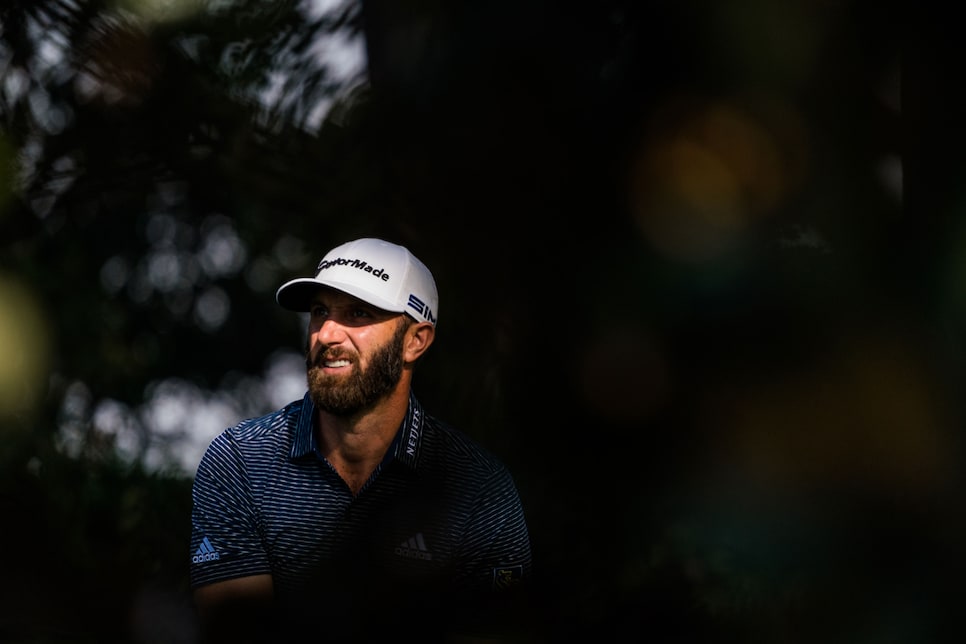 Dustin Johnson looked locked in by the time he reached the second nine on Sunday.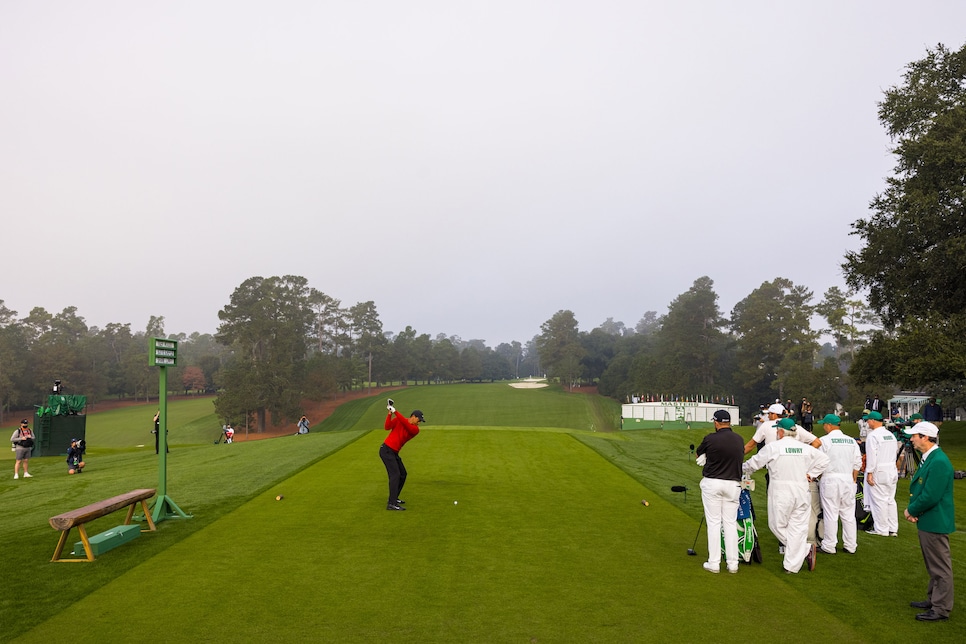 Only a handful watched as Tiger Woods hit his opening tee shot on Sunday.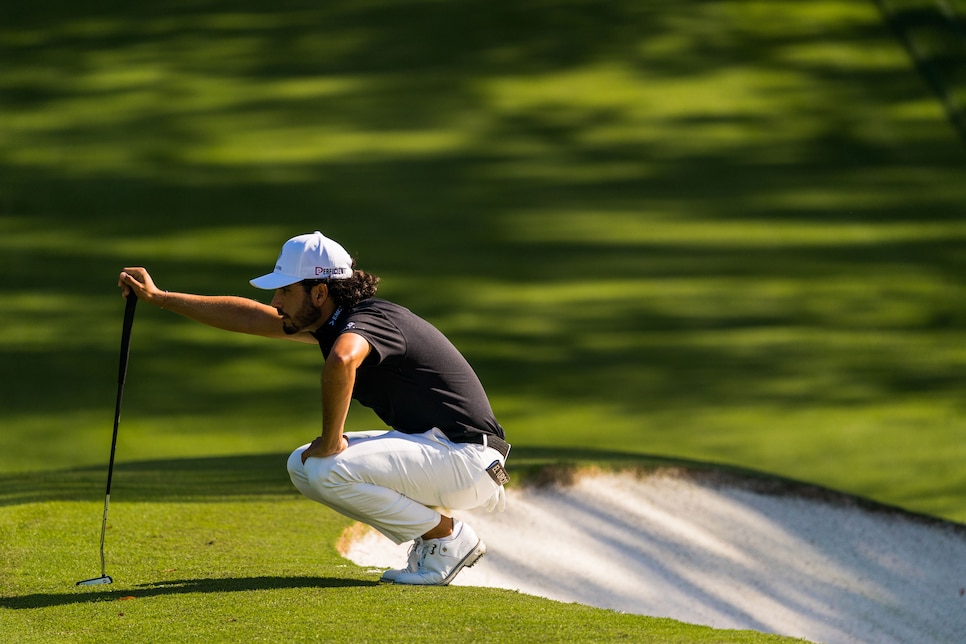 Abraham Ancer struggled on the greens on Sunday as he tried to become the first Masters rookie to win at Augusta since 1979.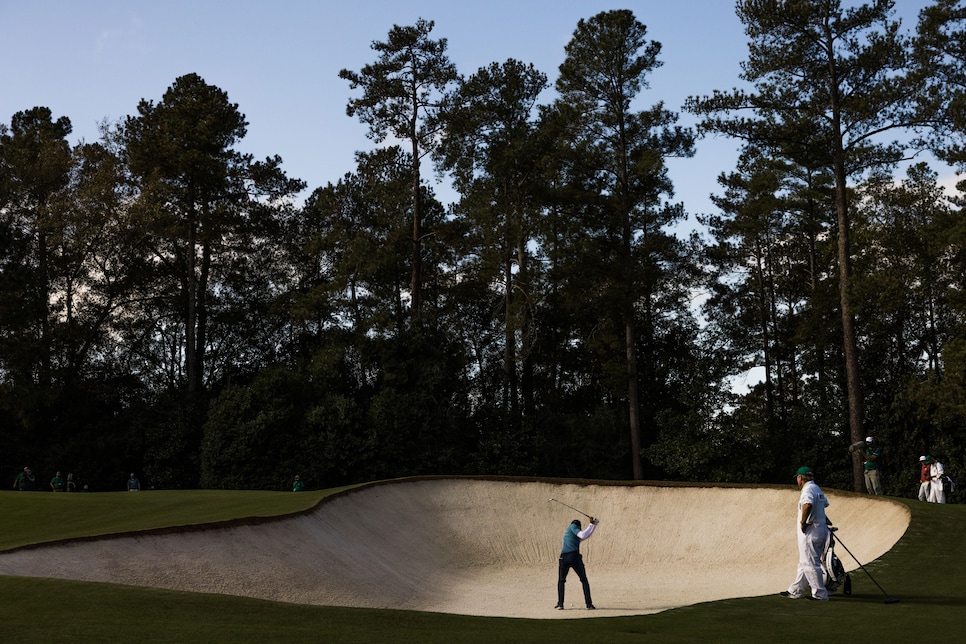 Dylan Frittelli plays from out of the fairway bunker on the fifth hole.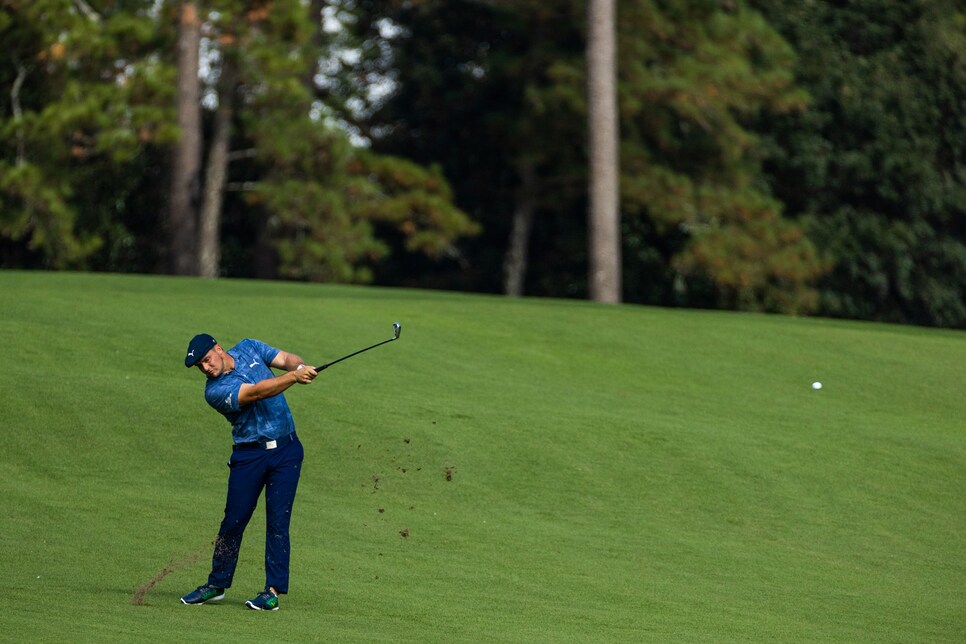 It didn't turn out to be the week Bryson DeChambeau was hoping for. The U.S. Open champ was the favorite coming to Augusta, but shot a two-under 286 overall after a Sunday 73.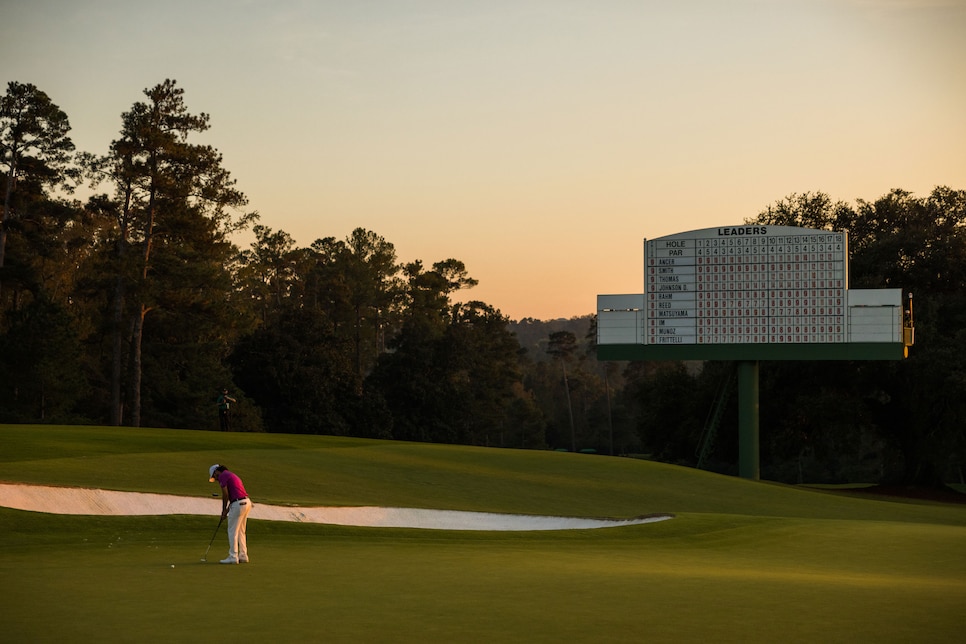 Abraham Ancer takes a swing on the green as he wraps up his third round with a Saturday three-under 69.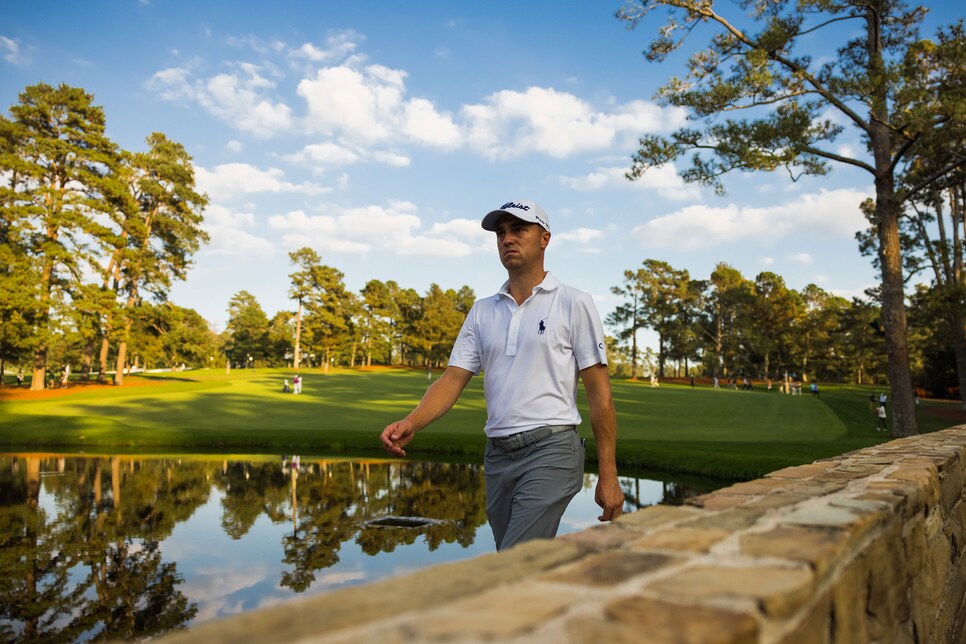 Justin Thomas walks to the 15th green using the Sarazen Bridge.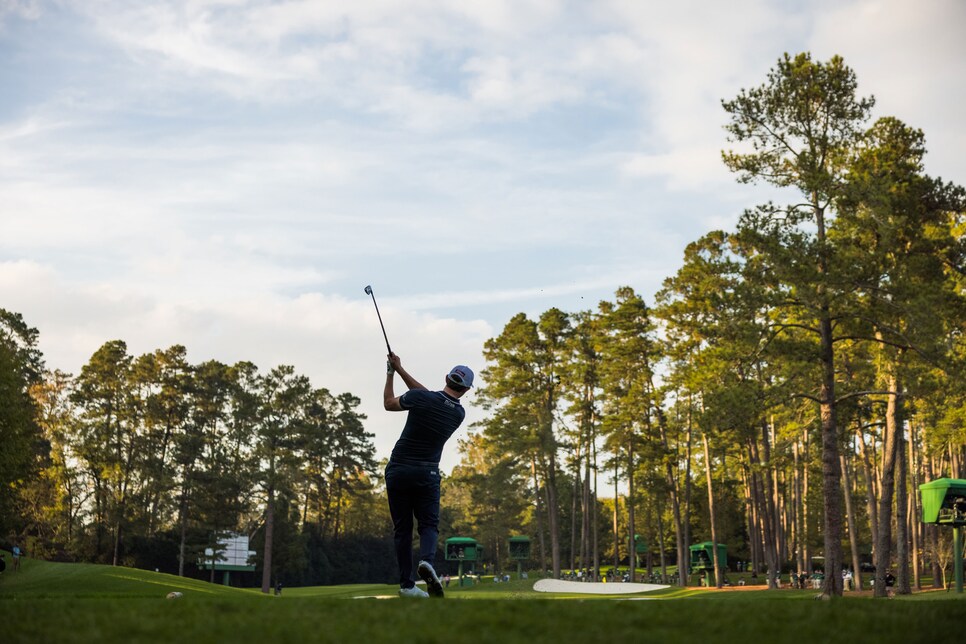 Patrick Cantlay hopes to get this shot close on the 16th hole.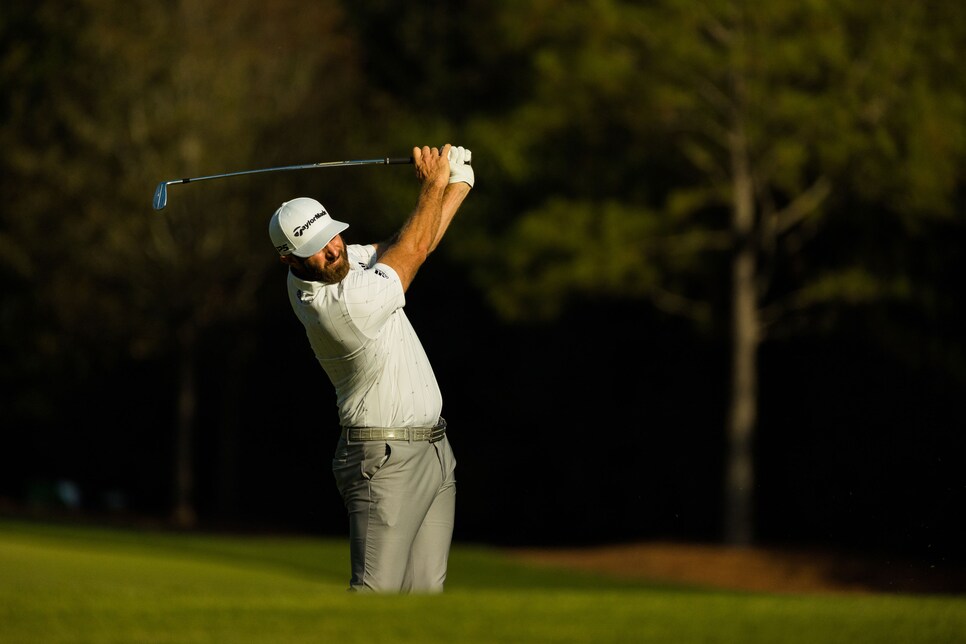 Dustin Johnson stares down his tee shot on the par-3 12th hole.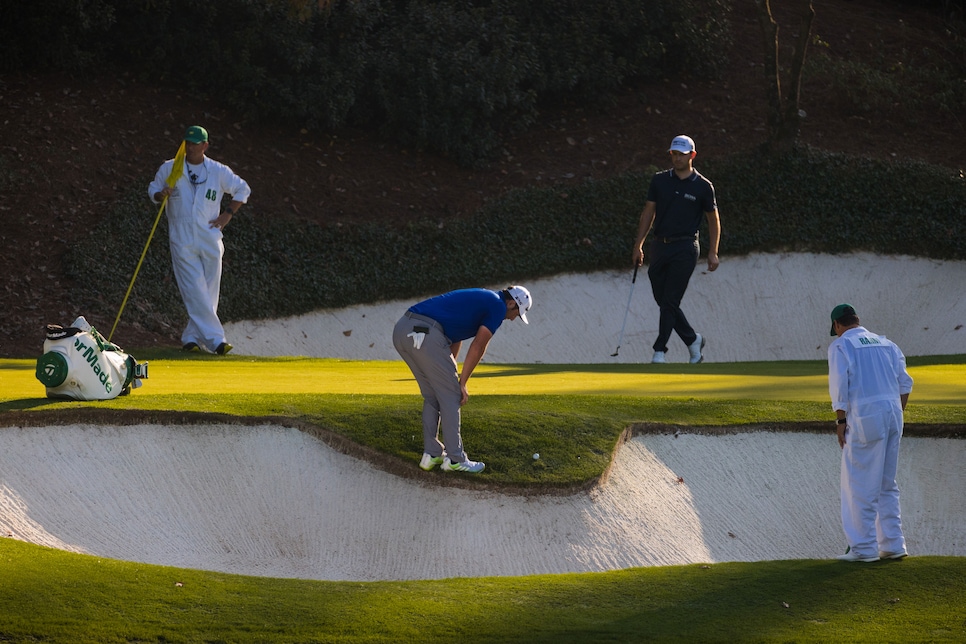 Jon Rahm looks closely at the lie of his tee shot on the 12th hole.
Justin Thomas plays his second shot on the par-5 13th hole. This would set up a birdie for the 2018 PGA Championship winner.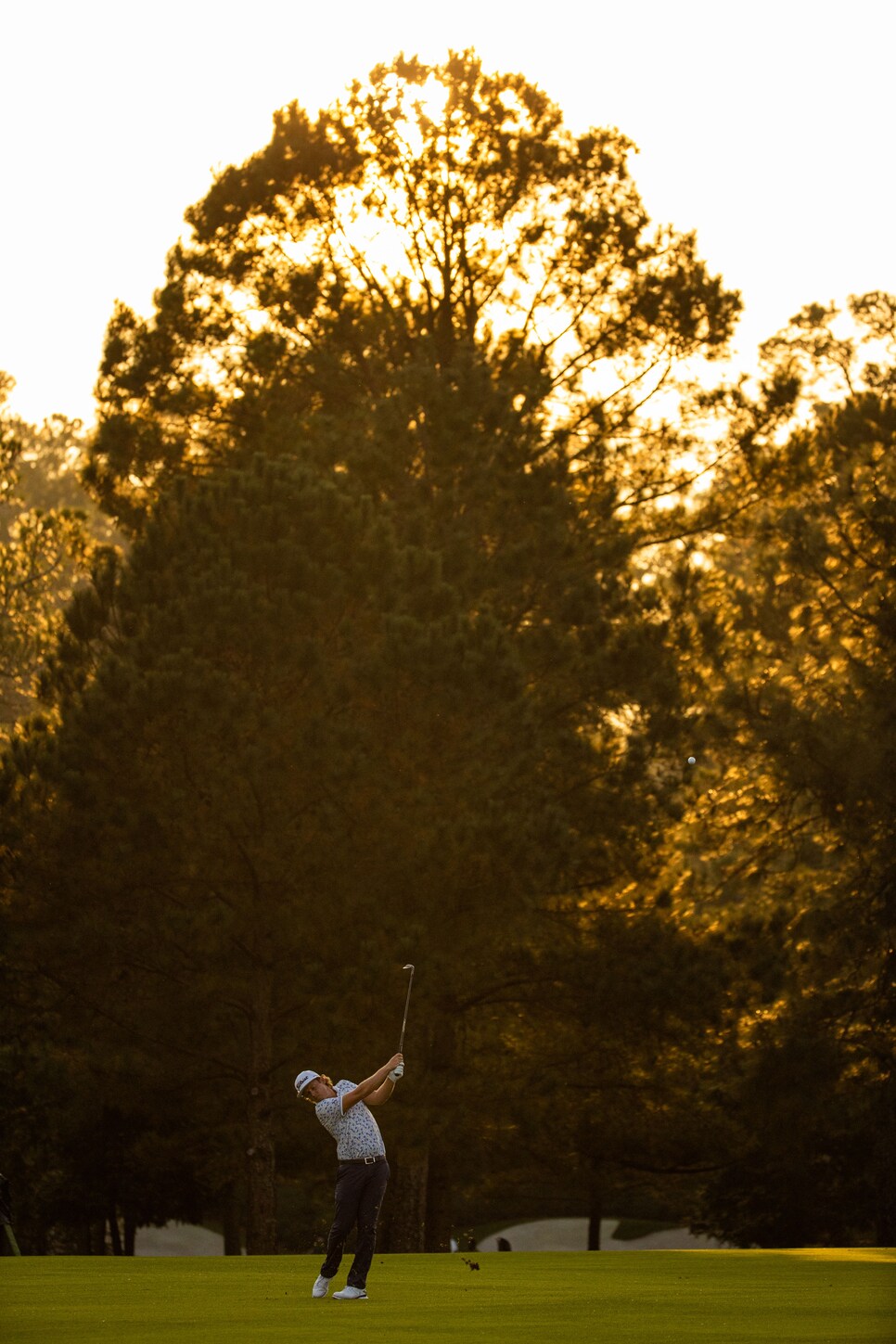 Cameron Smith plays an approach shot during his third round.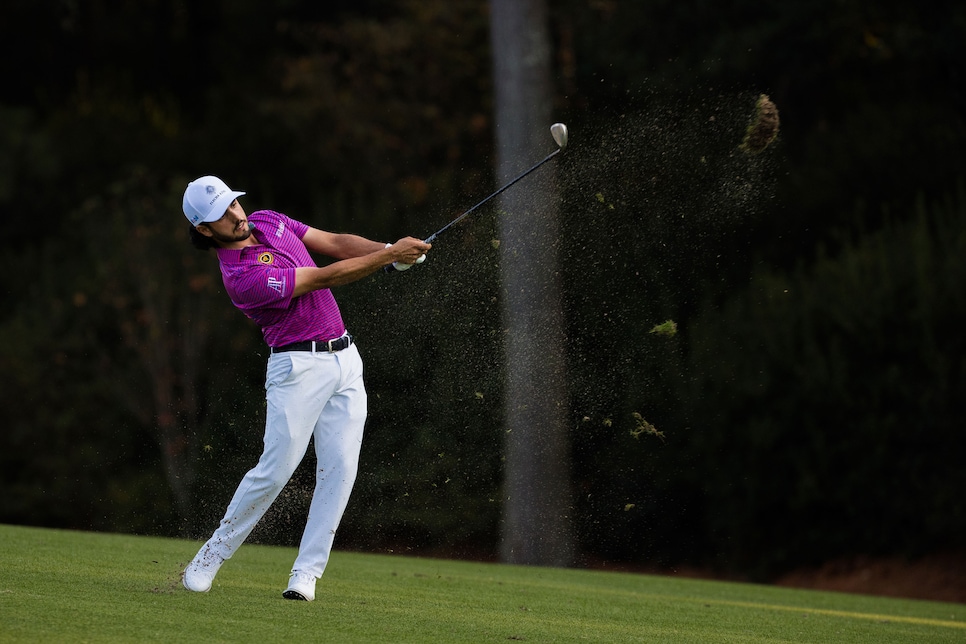 Abe Ancer plays his third shot on the par-5 15th hole.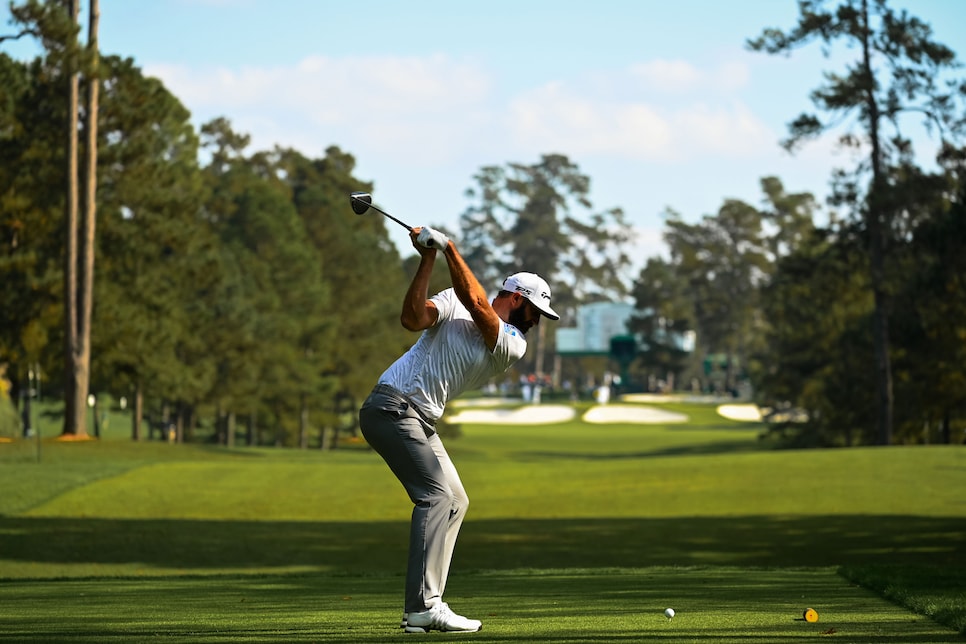 Dustin Johnson takes dead aim off the seventh tee.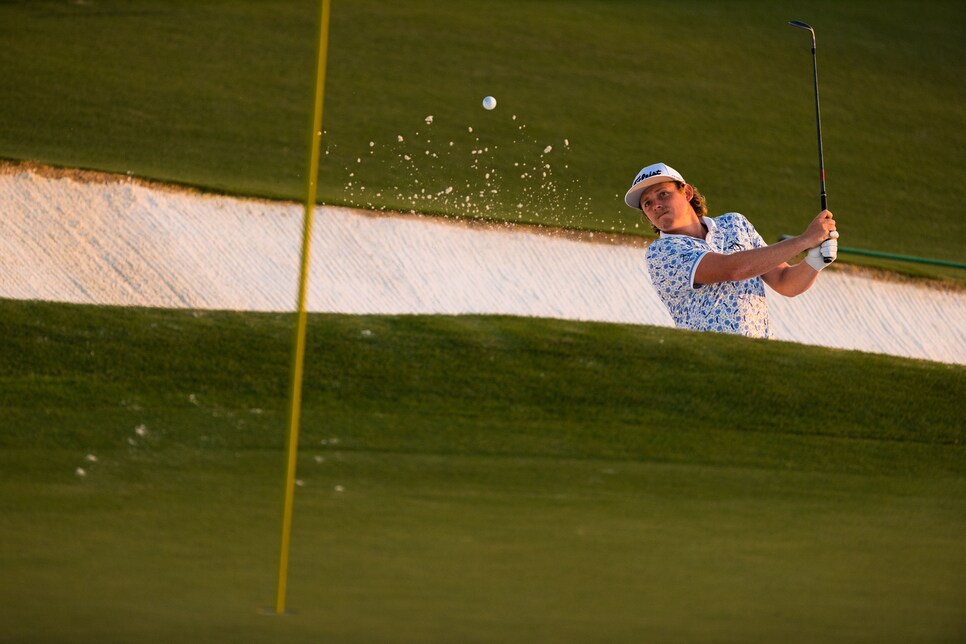 Cameron Smith plays this bunker shot on the 18th hole. He'd get up and down for par to stay within four strokes of Dustin Johnson.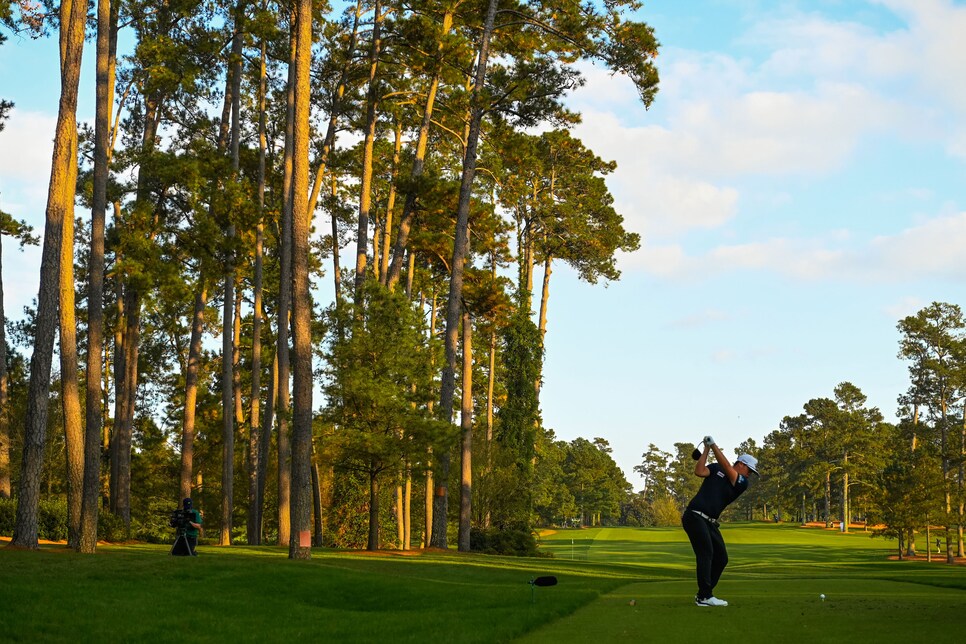 Sungjae Im makes his unique, slow-tempo swing on the 17th tee.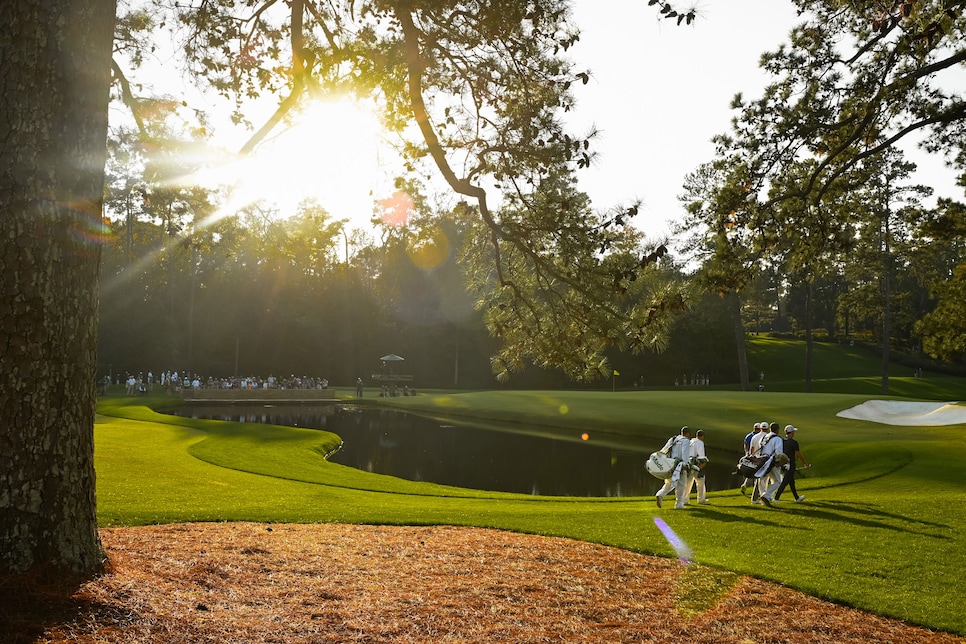 Jon Rahm, Patrick Cantlay and Dustin Johnson, along with their caddie, walk up to the green on the par-5 15th.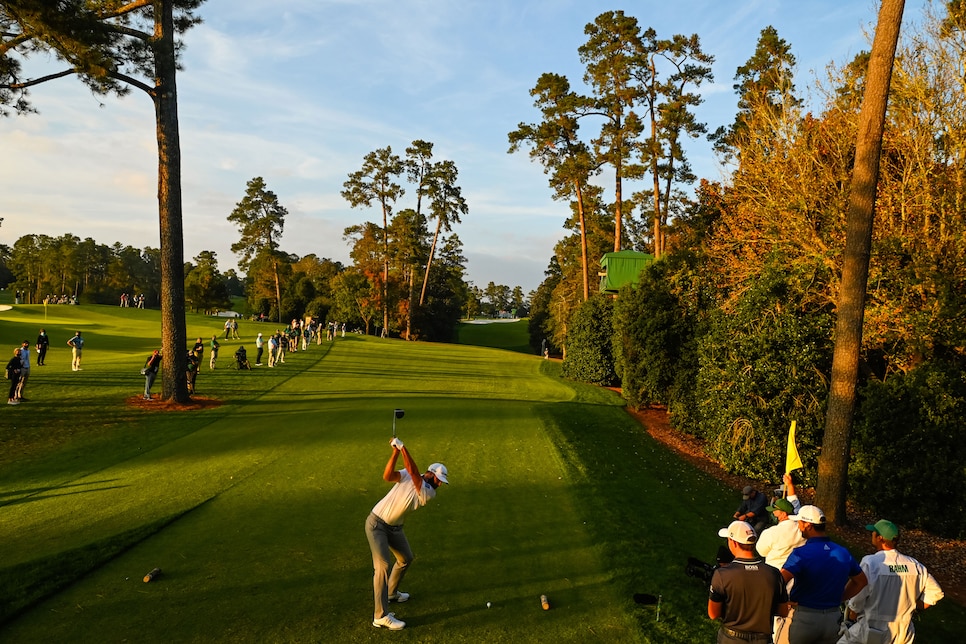 On the 18th hole, Dustin Johnson hits his final drive of a terrific third round.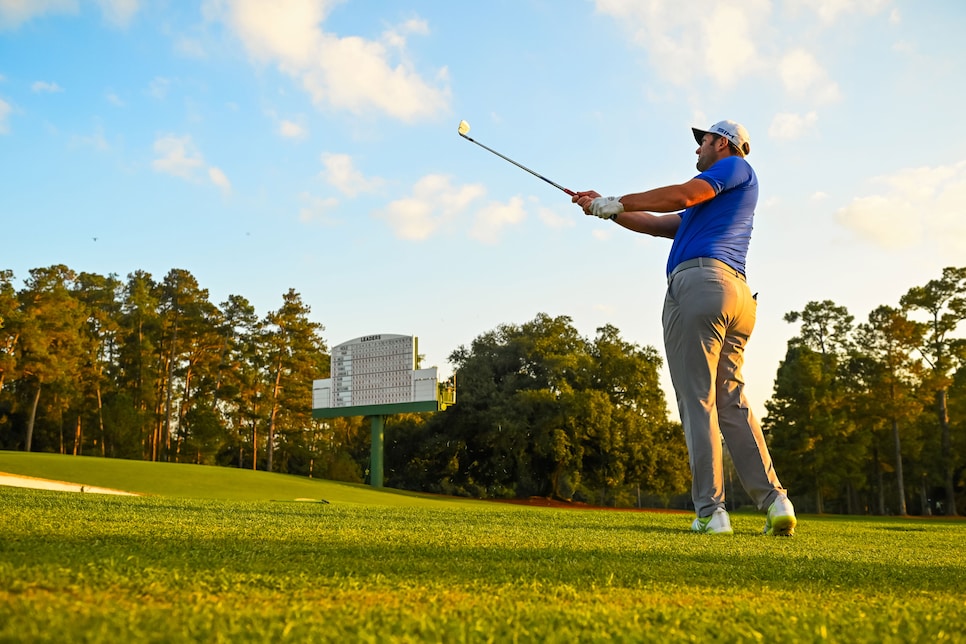 A mudball on his approach to the 18th green left Jon Rahm with this delicate chip shop.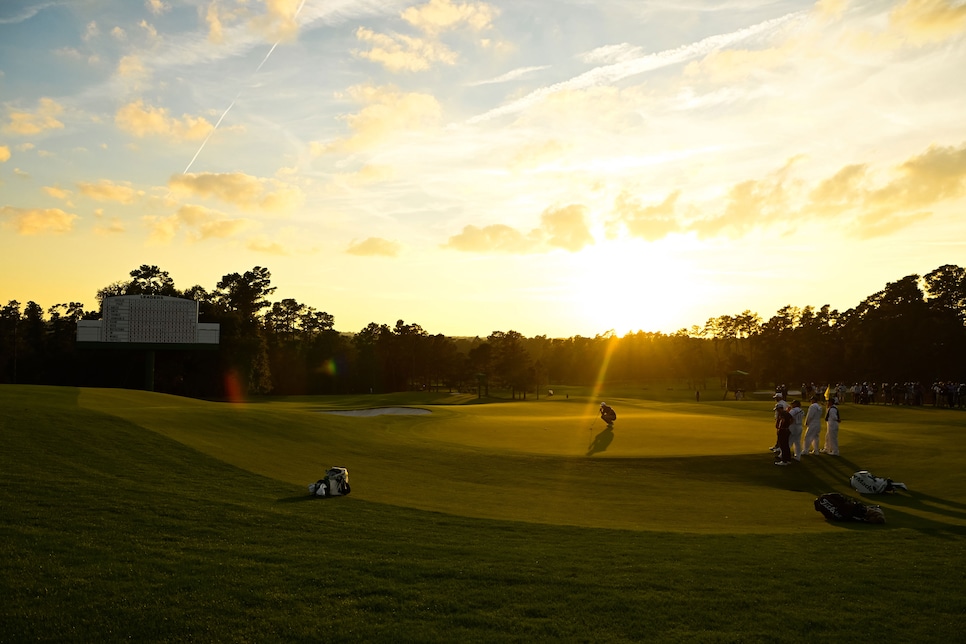 Jon Rahm lines up his par putt on the 18th hole. After starting the third round with a share of the lead, even-par 72 left him seven back of Dustin Johnson entering Sunday.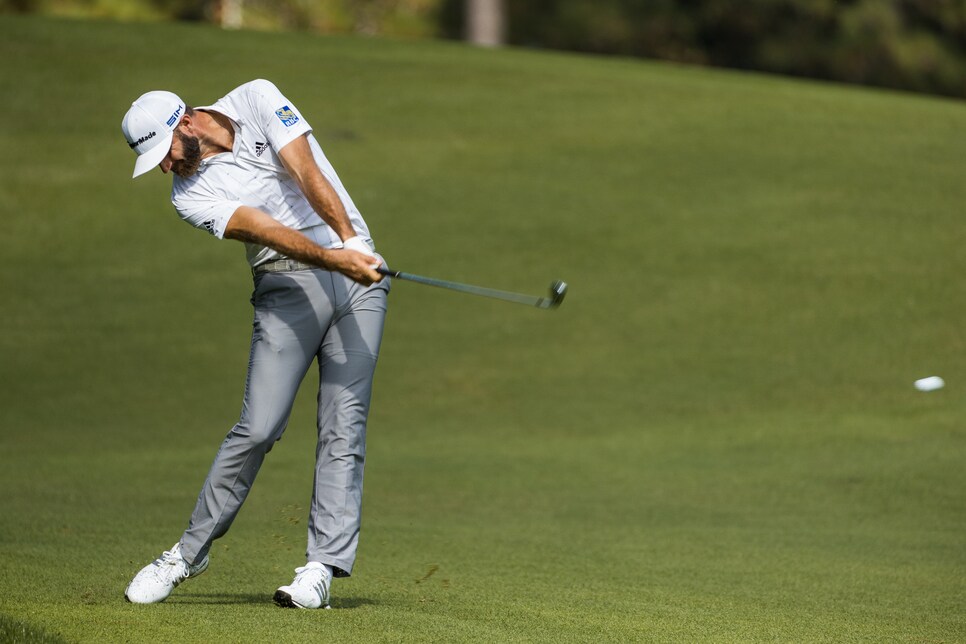 Dustin Johnson tied the 54-hole scoring record (16-under), carding a second 65 of the week to open up a four-shot lead as he looks for his first Masters title.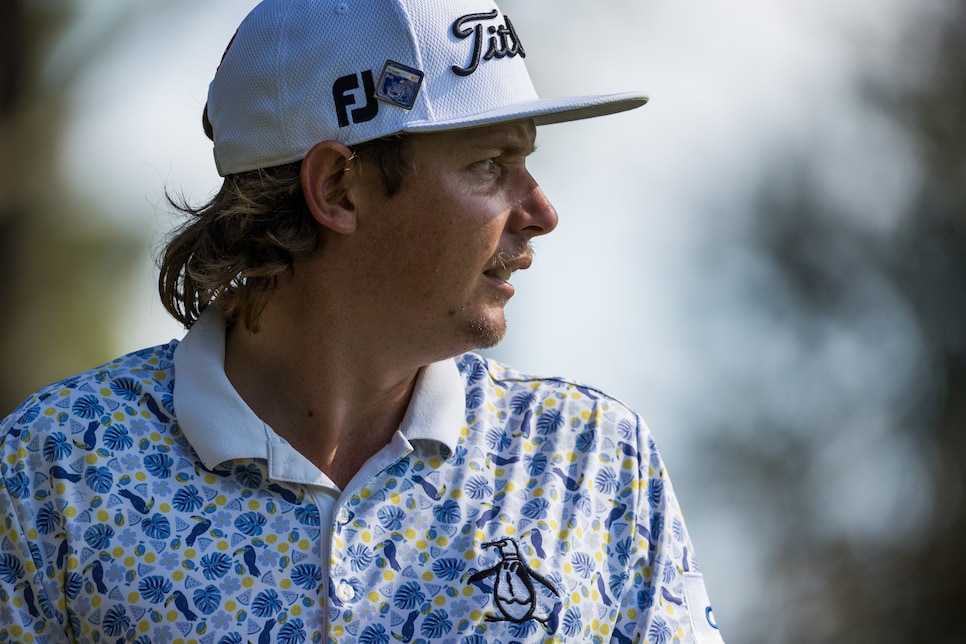 Aussie Cameron Smith, a 36-hole co-leader, continued his great play on Saturday. He finished in fifth at the 2018 Masters and wiill have a late tee time on Sunday.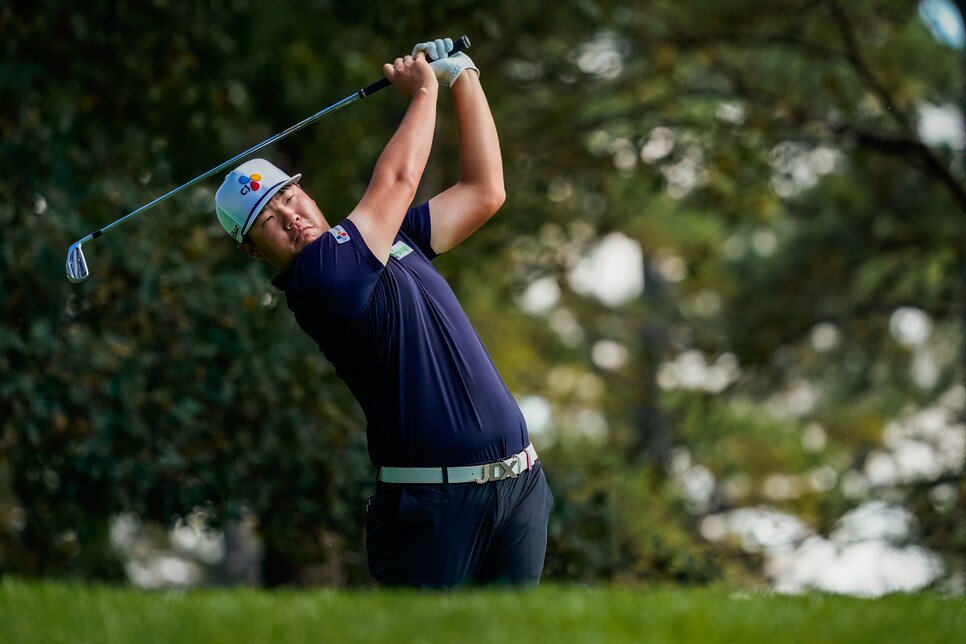 Sungjae Im shot his third consecutive under-par round at the 2020 Masters, carding a 4-under 68 to finish at 12-under par, within striking distance of Dustin Johnson's lead.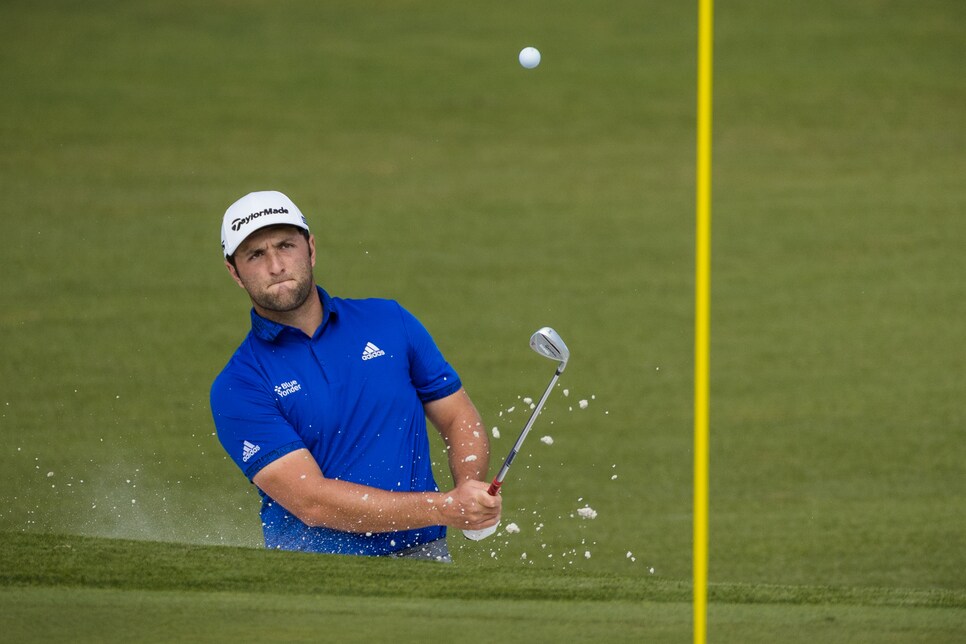 Jon Rahm, a 36-hole co-leader, was undone by a double-bogey 7 at the eighth hole alongside leader Dustin Johnson. He finished with a bogey to shoot an even-par 72 and sits seven back of the lead.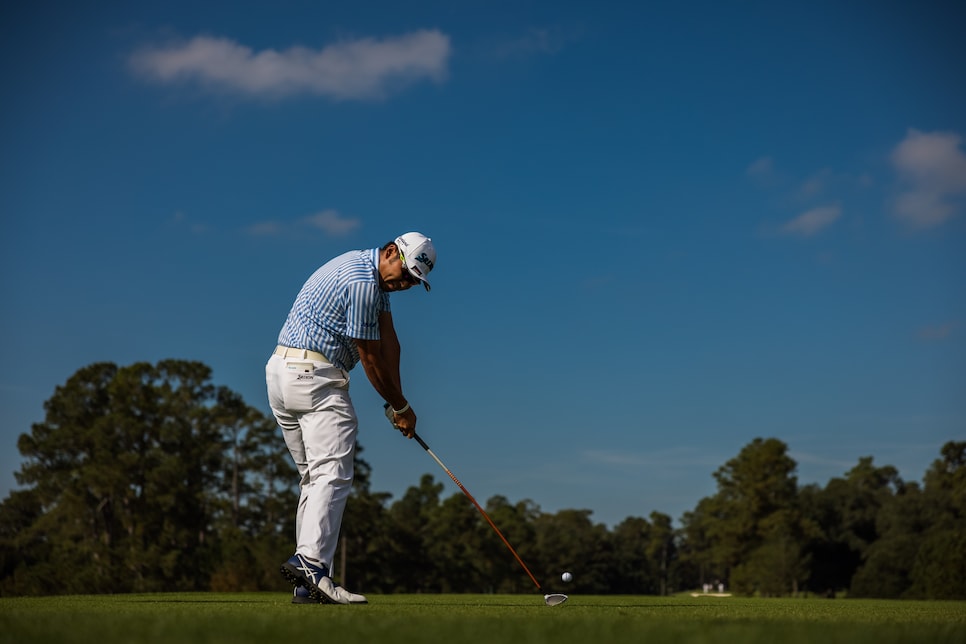 The picture-perfect swing of Hideki Matsuyama with fairway wood off the tee.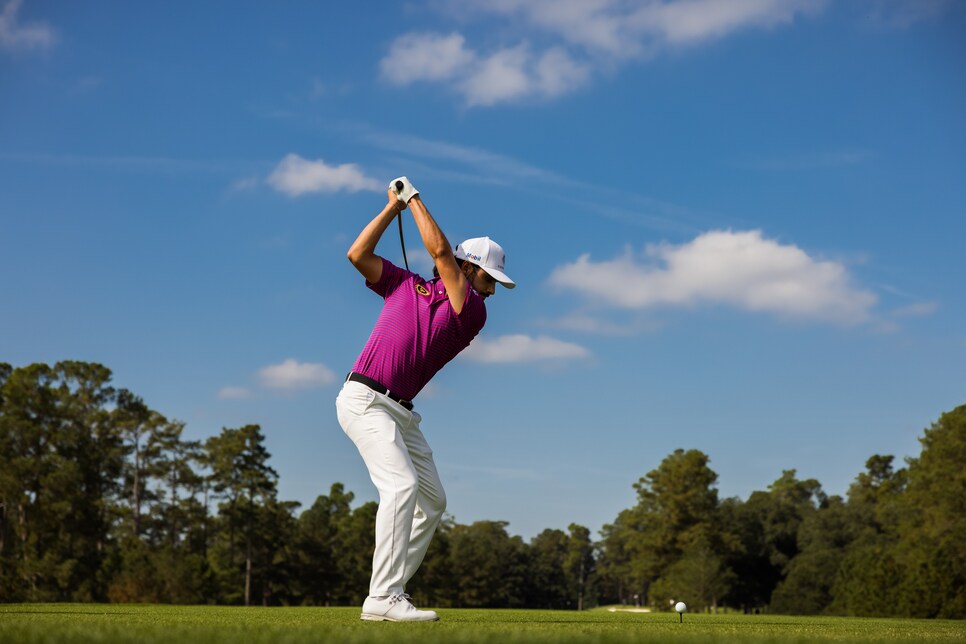 Abraham Ancer had never been to Augusta National until last Wednesday but tied for the 36-hole lead after his stellar play.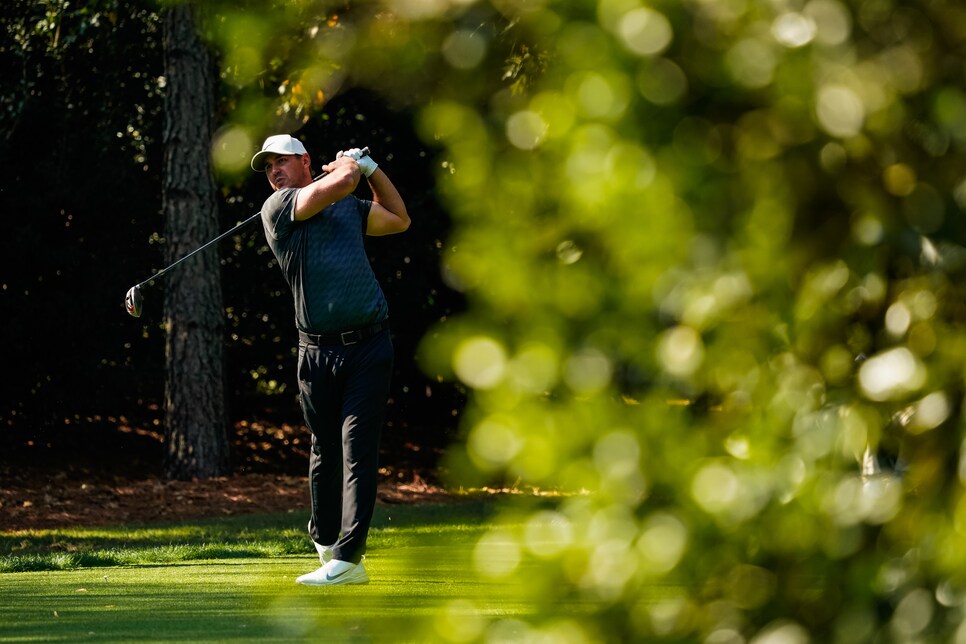 Brooks Koepka birdied two of his first three holes on Saturday to get within two of the lead but ended up shooting a 3-under 69 to end the day at 8-under.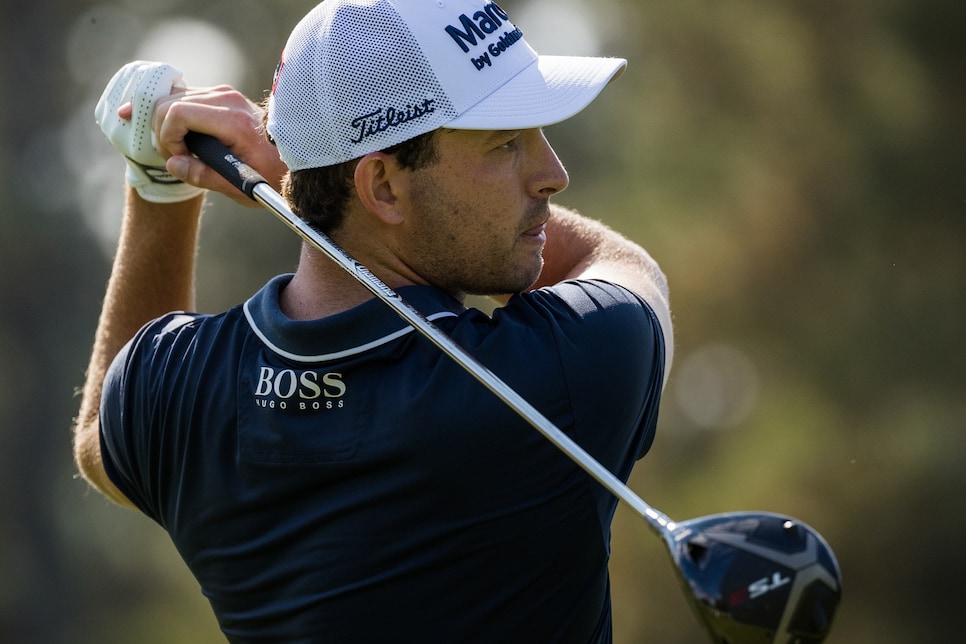 Patrick Cantlay started the third round one back, in the second-to-last pairing with Dustin Johnson and Jon Rahm.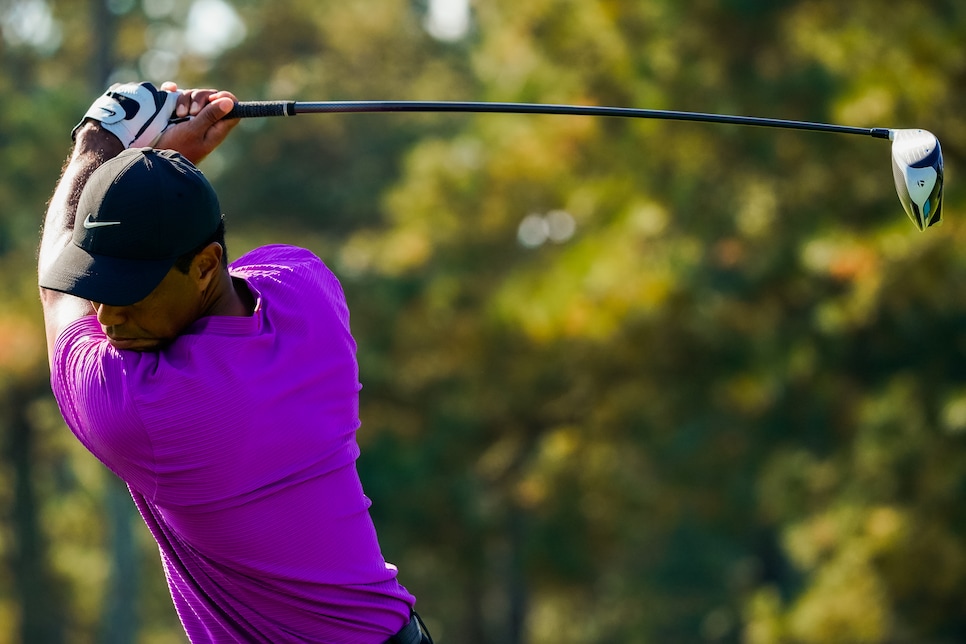 Tiger Woods was never able to get momentum going on Saturday, finishing his round even-par, sitting at 5-under after Day 3.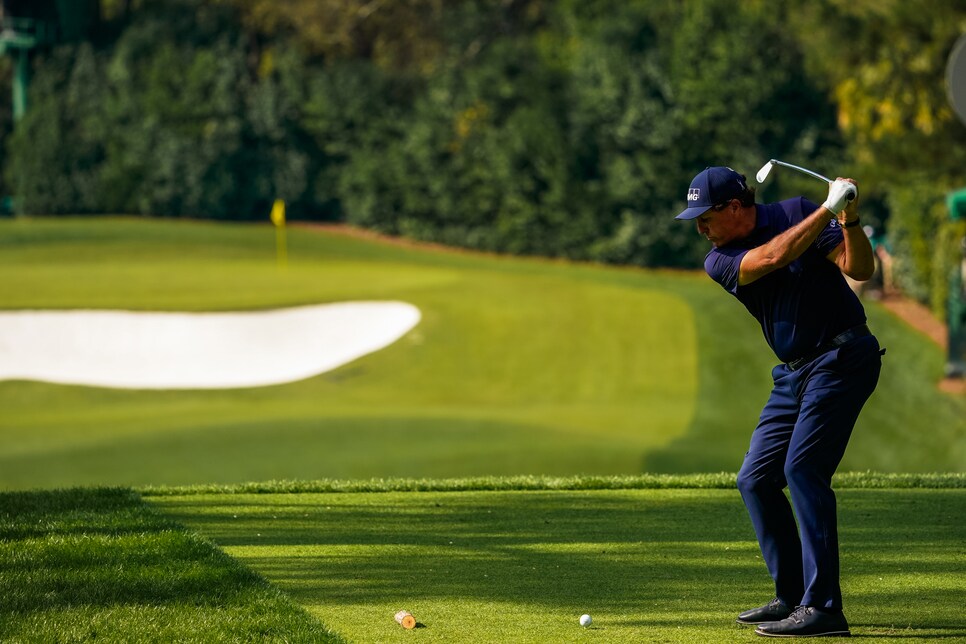 Phil Mickelson had a Saturday to forget at Augusta National, shooting a 7-over 79.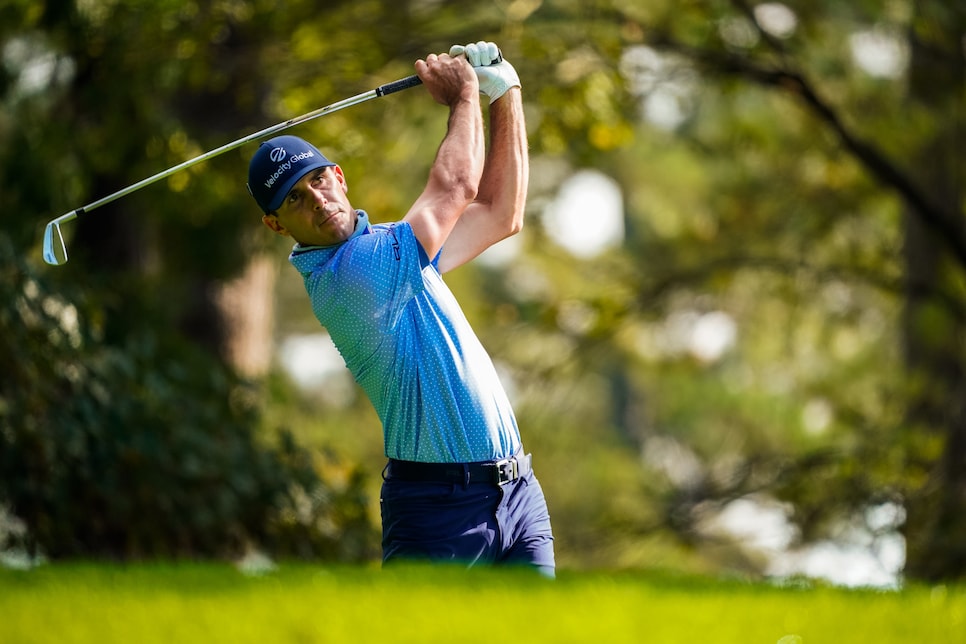 Billy Horschel carded an even-par 72 on Saturday paired with Tiger Woods and Rickie Fowler.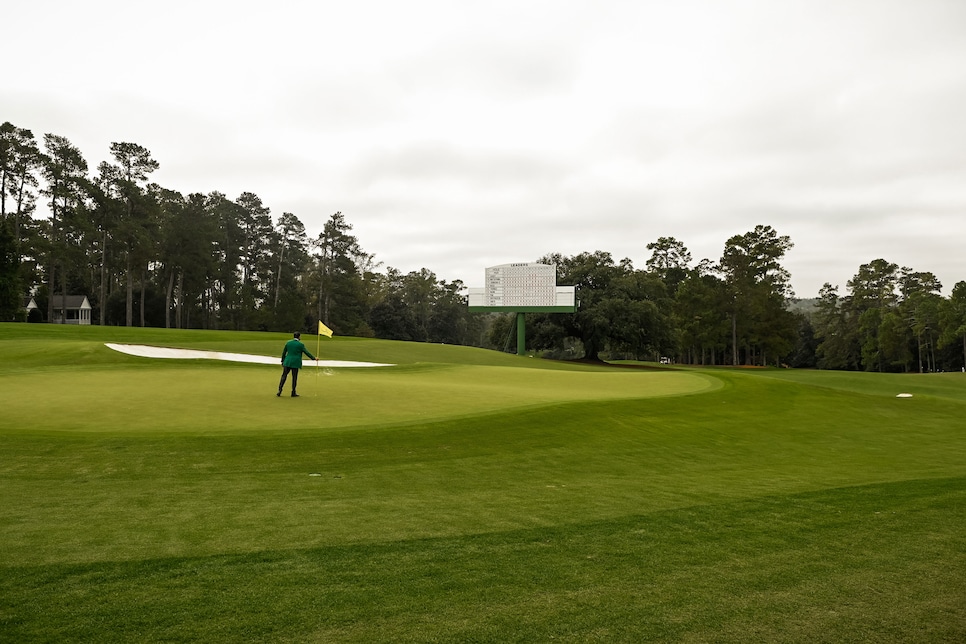 A quiet moment early on the 18th green.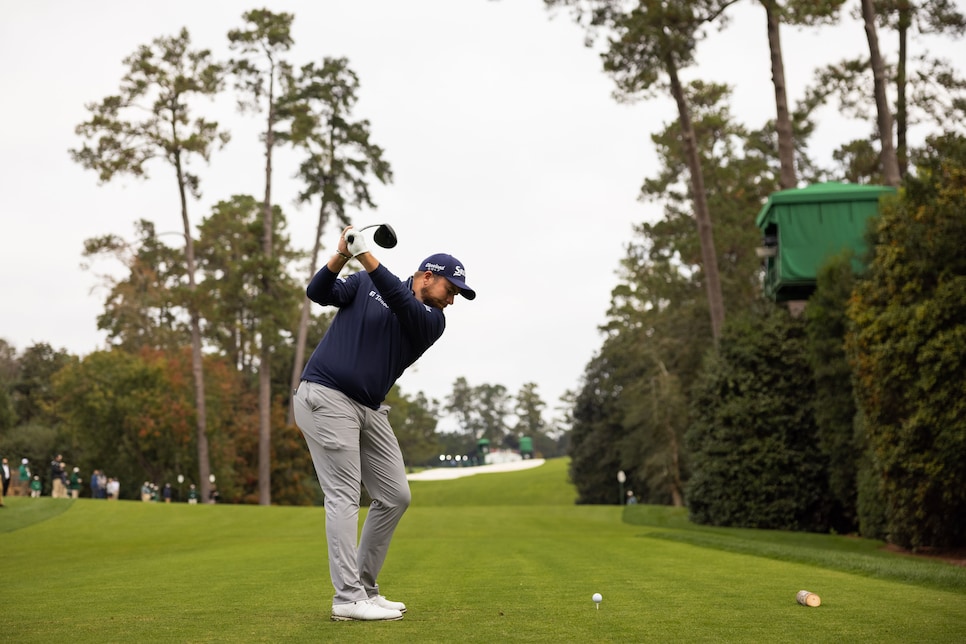 Shane Lowry hits his tee shot on the 18th hole en route to second-round 69.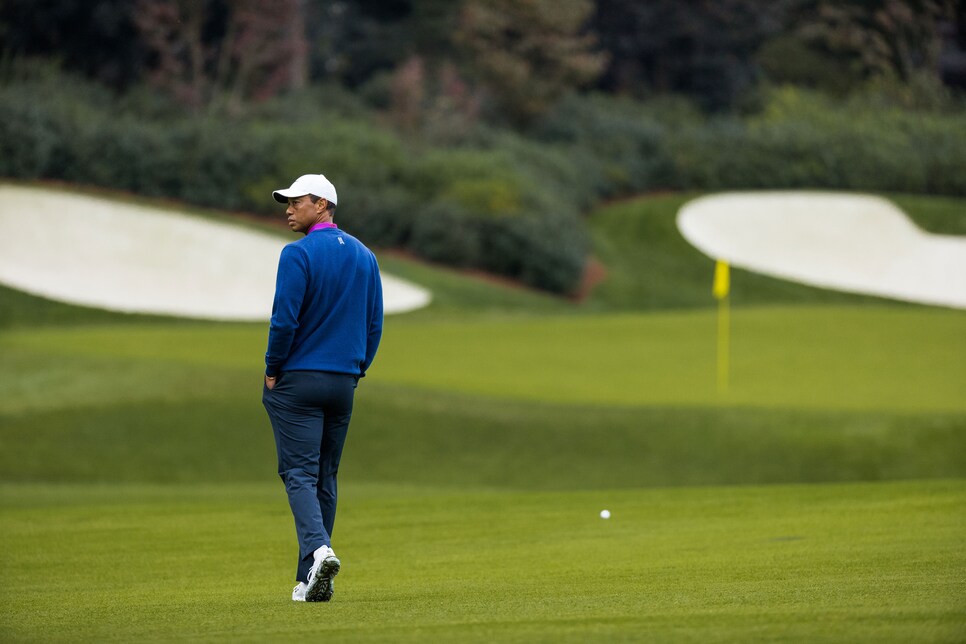 Tiger Woods walks to his third shot on the par-5 13th hole.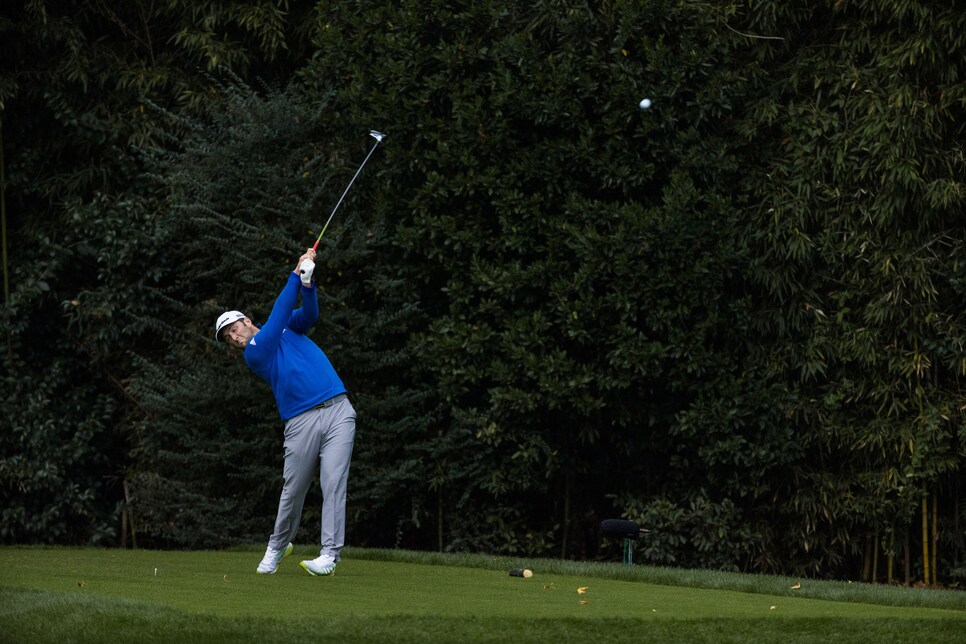 Jon Rahm, having just resumed his second round by making an birdie putt on the 13th hole, tees off on 14.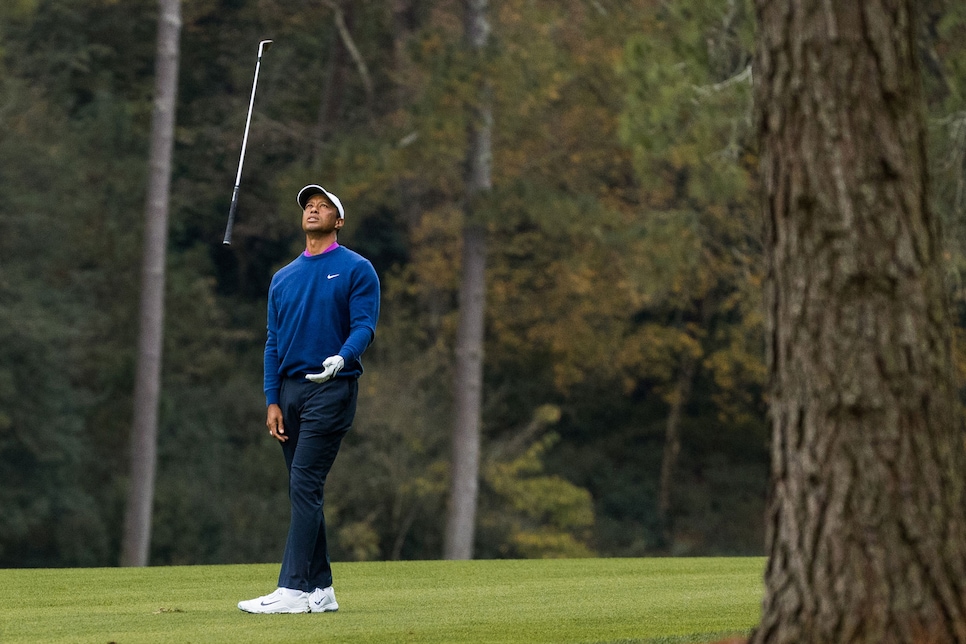 Tiger Woods reacts to his second shot on the 17th hole after it spun back off the green.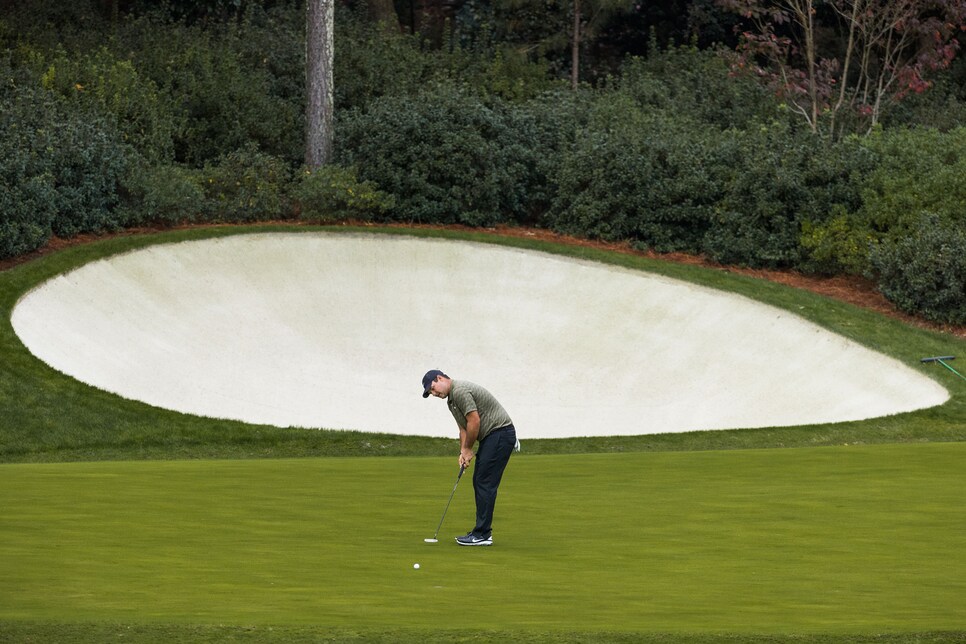 Patrick Reed rolls in a birdie putt on the 13th hole.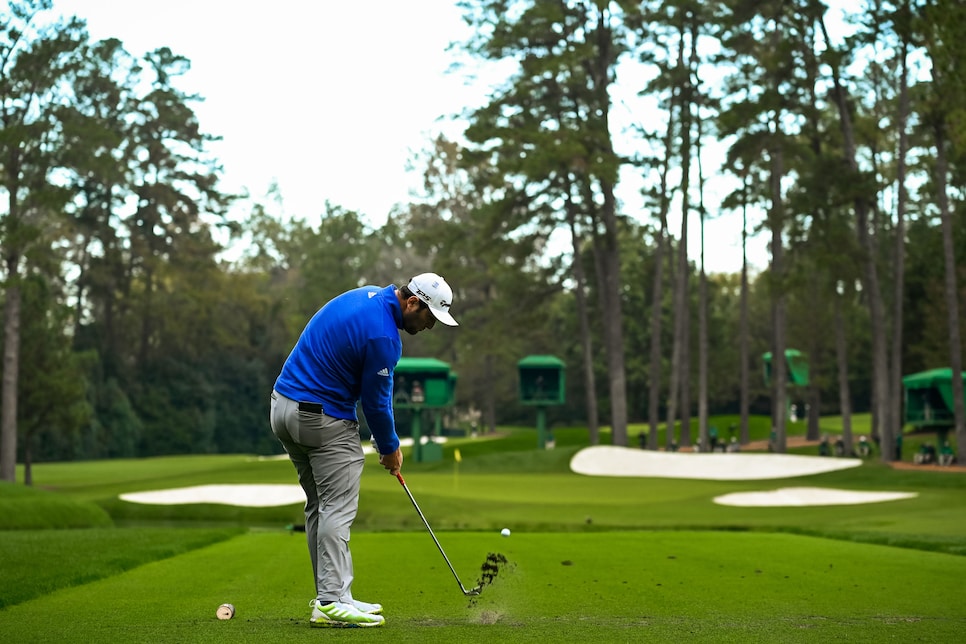 Jon Rahm tees off on the 16th hole.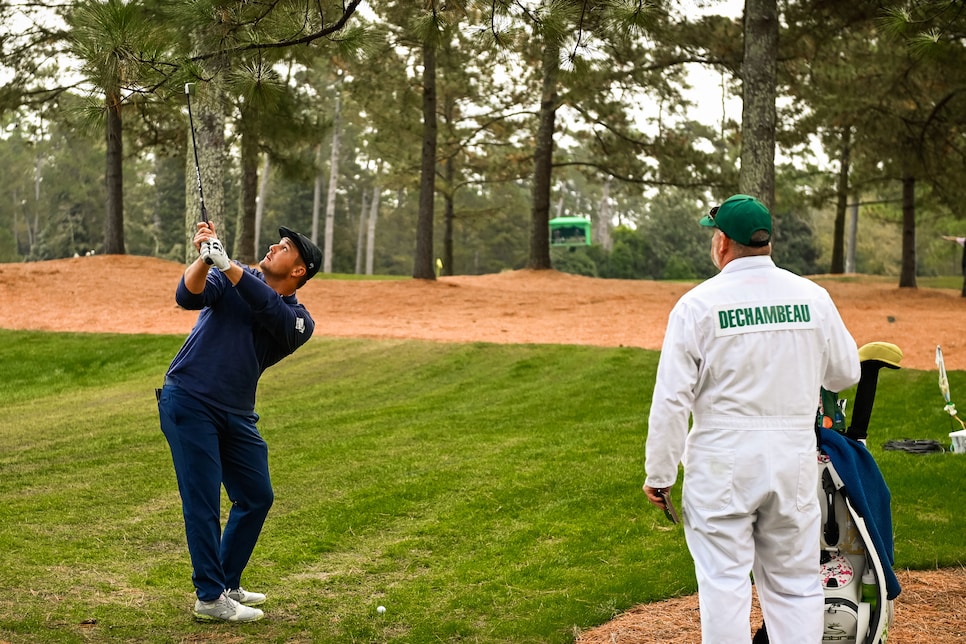 Bryson DeChambeau checks his swing on No. 17 as he prepares to hit his second shot after his tee ball went into the trees on the left.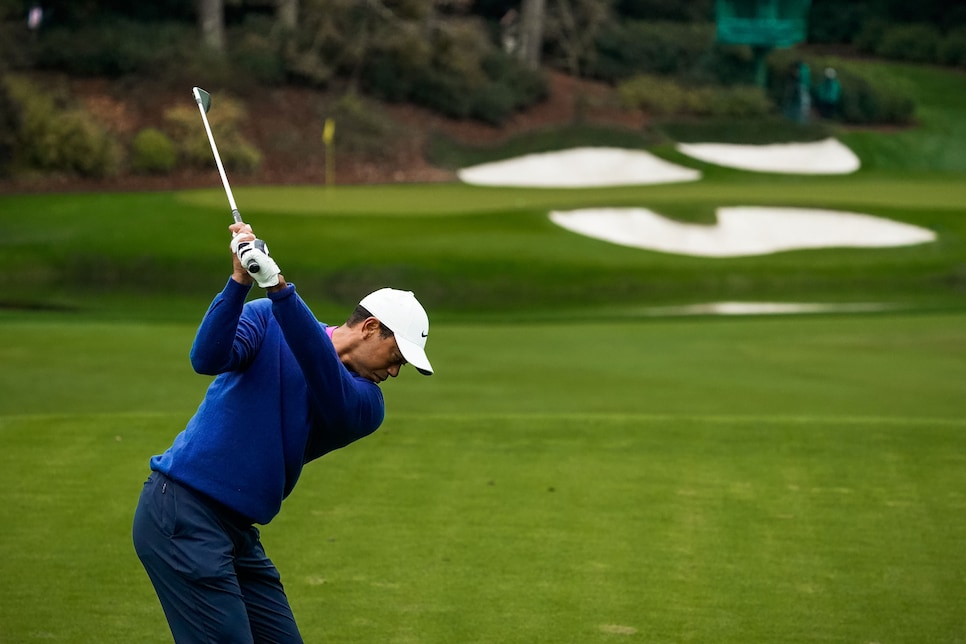 Tiger Woods hits his tee shot on the par-3 12th hole.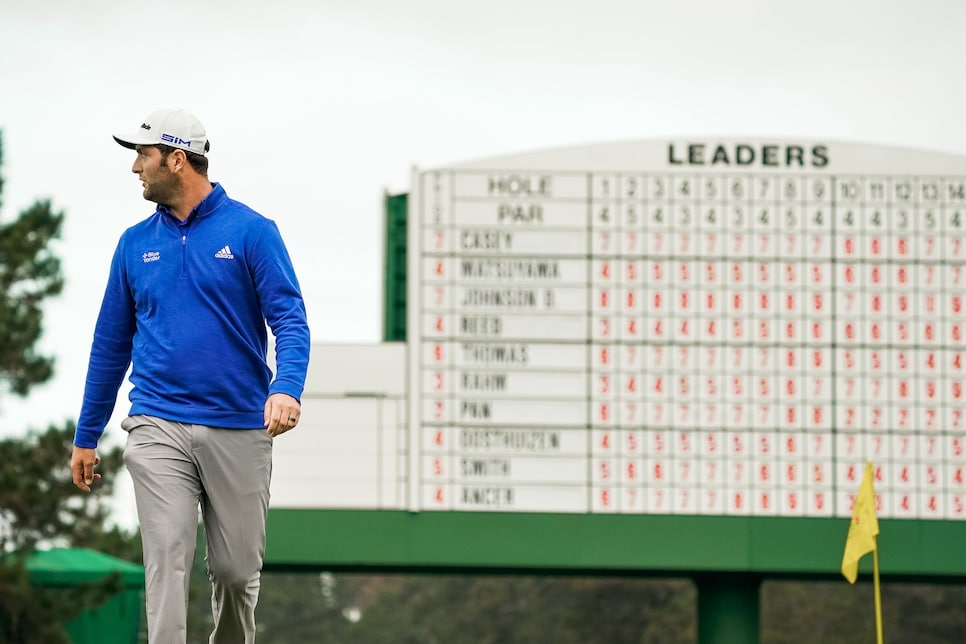 As Jon Rahm walks off the 18th green on Saturday morning, he found himself in a five-way tie for the 36-hole lead.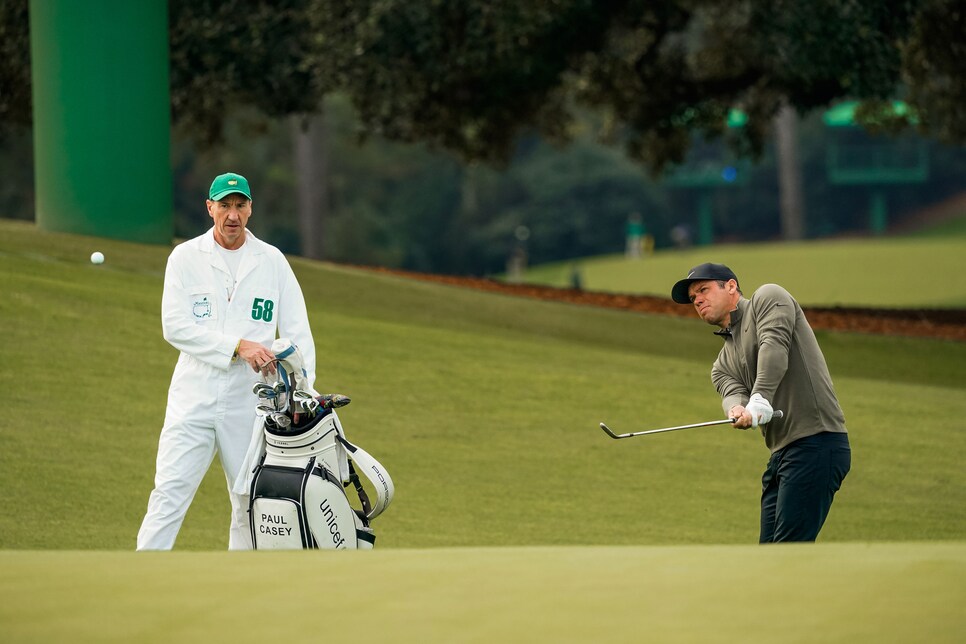 Paul Casey plays a chip shot on the 18th hole. The first-round leader after an opening 65 followed it up with a 74.