News
Masters 2020: Think the Masters has been quiet? Try hanging out around the city of Augusta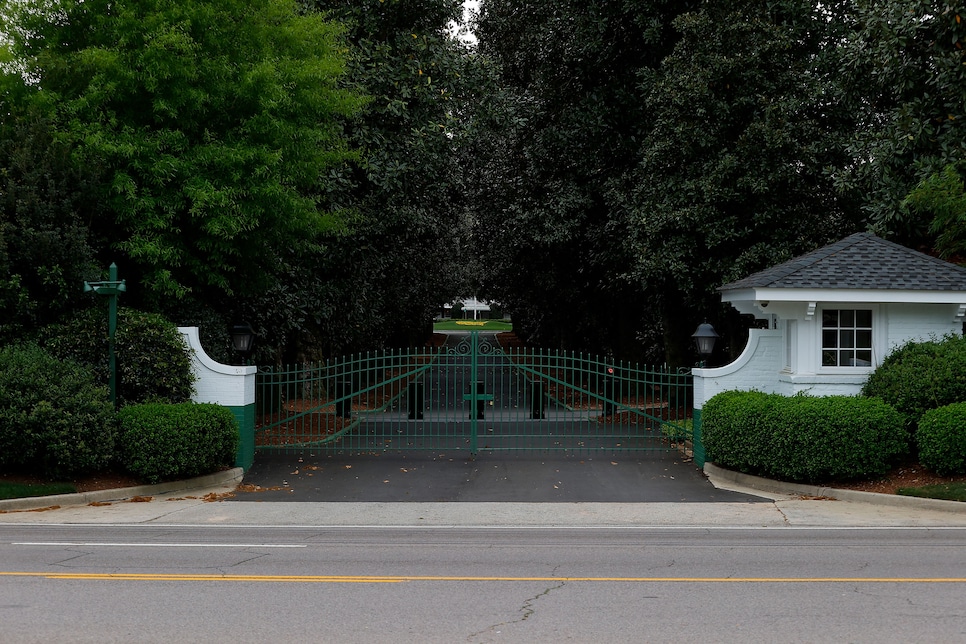 AUGUSTA, Ga. — I rolled into Augusta this week for the Microbe Masters fearing the worst. Could COVID and cold weather cause the first "bad" Masters in 52 years? For those of you too young to remember: During a national crisis caused by the assassination of Dr. Martin Luther King—when cities burned and governors of several states summoned the National Guard—the 1968 Masters not only failed to rise to the occasion, it kind of made things worse. There's a book about it, called The Lost Masters. I recommend it. Also, I wrote it. No one wants to read a sequel, of course, and I sure don't want to write it.
But five days into the week and halfway through the tournament, no aspect of the Augusta experience seemed bad, exactly—although it will if I test positive. Only extremely disorienting. For example: WBBQ-FM threw me for a loop on Thursday when I was looking for the Rolling Stones or somebody on the car radio and instead heard Johnny Mathis assuring me that this is "the most wonderful time of the year."
Christmas music. During the Masters. It ain't right.
Nor were a few dozen other things, including not being allowed to watch the world's best tournament in person. So we visitors—the few who decided to descend on the city anyway to see what a patron-less Masters felt like outside the confines of Augusta National—adjusted. We played more golf than usual, tipped tip-starved waitresses a little more generously and stood way farther apart than hug-prone Georgians ever do, at least up to now. With key parts of my Masters ritual blown to bits, I wandered around, and asked around.
How you holding up, Pucci?
Pucci—spelling and Italianate pronunciation confirmed, but no last name given—is a waitress at the Waffle House at Wheeler Road and Bobby Jones Expressway. It was there, one April morning long ago, a tanned smiling man in a yellow sweater walked in and we diners dropped our forks and applauded. A booth was quickly vacated for Arnold Palmer, party of four. I enjoyed the moment so much that I always go back.
"No, this is not like last year," quoth Pucci, looking around at six or so scattered customers, while I looked at her hot pink scimitar fingernails. "Last year was crowded."
After a chat and after I'd eaten my two over medium and grits, another waitress held out her hand. "Where's mine?" she asked. Big spender added a dollar to the tip.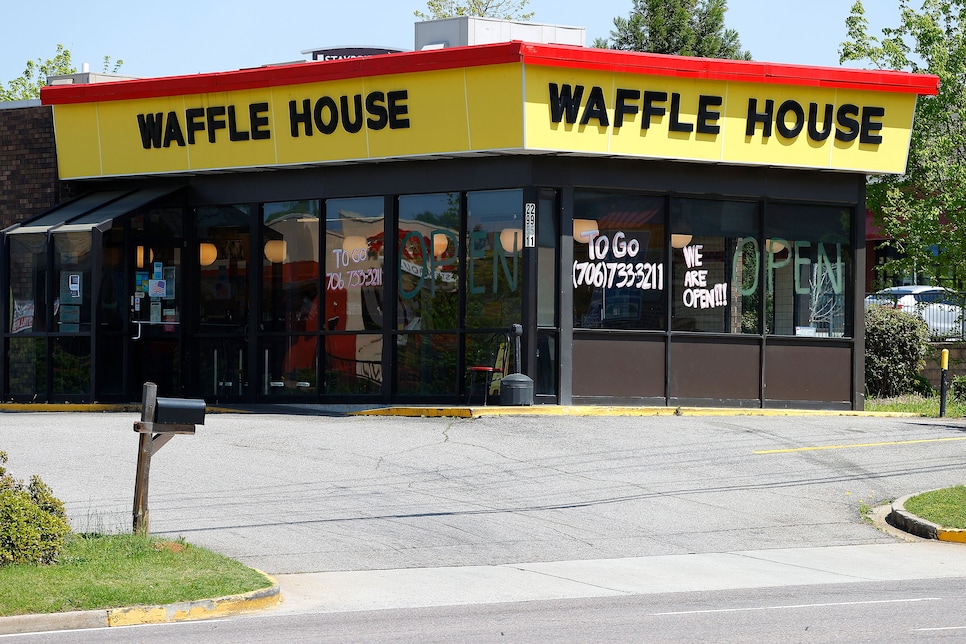 You turn onto Jim Dent Drive to enter Augusta's municipal golf course, aka The Patch. Until the advent of Charles Howell III and Vaughn Taylor, big hitting, slow swinging ex-caddie Jim Dent was the greatest-ever local linkster. And damned if that wasn't the man himself on The Patch practice tee, observing the swings of his son, Jim Jr., The Patch pro, and his nephew, Andre Lacey, the assistant pro and Food and Beverage manager.
"That's your old stuff," Jim Sr. said, when Andre mishit a 5-iron. "In a hurry."
The Patch, a once forlorn track that is now pretty good, does land office business during the Masters—that is, any other Masters but this one. When a voice on the phone asked if there were any tee times available for tomorrow (Wednesday) between 10 and 10:15, the golf shop manager on duty replied, "How about 10?"
Said manager, a chap named Gordon, said they'd expected the fall-off: "We didn't even change prices this year. We get $60 for 18 holes and a cart during Masters. Normally it's $26."
The first tee was as empty as a desert, so I sprung the 17 bucks for nine holes, noticing along the way that The Patch is so close to Daniel Field, Augusta's private airport, that you could just about reach over the fence and touch an idling G650.
If, that is, any jets were on the runway.
Augusta Country Club is Augusta National's next-door neighbor and older brother—founded in 1899, 33 years before the National. Both clubs have benefitted mightily from the relationship, and there are always a score or more of men who belong to both clubs. By charging $2,500 per visiting foursome to play its immaculate Donald Ross course, and filling the tee sheet all week, and serving many meals and many more drinks to the visitors, ACC earns around $1 million during the tune-a-mint. But this year?
"A ghost town," said pro Tommy Brannen.
To fill the void, Brannen organized and executed a 27-hole member-member tournament on Tuesday, a shock to the system for member-members who rarely see their own course during Masters week.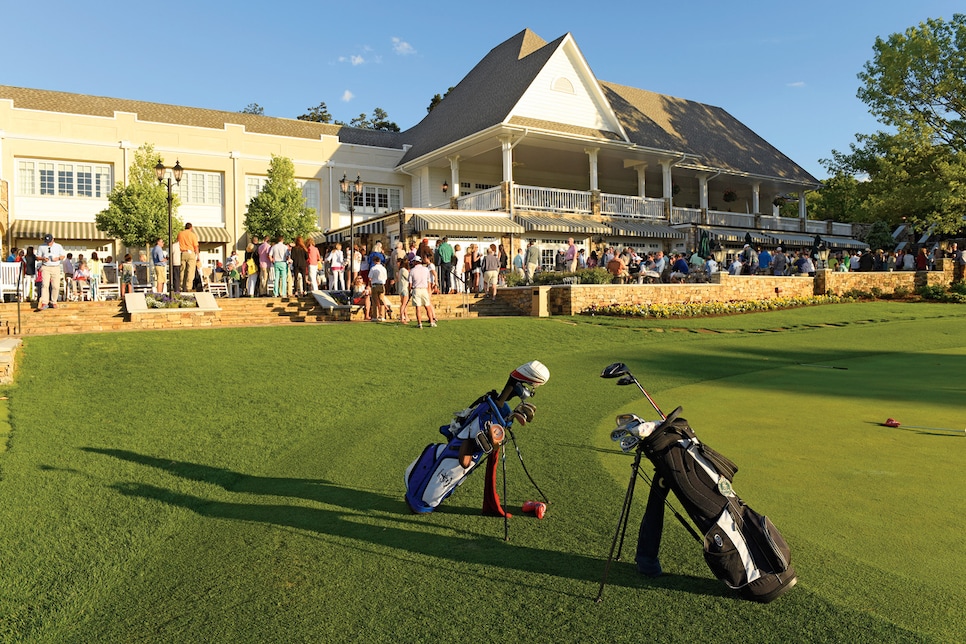 Augusta Country Club during a regular Masters week is usually crammed with business from out-of-towners looking for more to do than just attend the tournament. This week, the club hosted a member-member event.
J.D. Cuban/Golf Digest
The name brands in the event were Scott Parel, the PGA Tour Champions stalwart, and Henrik Norlander, a Swede who led Augusta State to the 2010 and 2011 NCAA Championship and is now on the PGA Tour. I eschewed the stars in favor of old friends: mercurial Danny Fitzgerald, a retired insurance agent who chirps "look at this, look at this!" after nearly every shot; stately Sam Nicholson, an attorney; and printing executive Tim Wright, whose thick mane of salt and pepper hair is the envy of bald men throughout the Central Savannah River Area.
All three bored me. More enchanting by far was Erica Langsam, the Digital Marketing Manager for Augusta-based cocktail mixers company Durty Gurl. From her stand near the ACC first tee, Erica handed me a vodka-rita, and it was good. Did I know, Ms. Langsam asked, that among the Durty Gurl offerings is the only naturally aged (for ten months) olive juice on the market? I didn't. Now I do.
An hour south of Augusta lies Waynesboro, Ga., The Bird Dog Capital of the World, and Waynesboro Country Club, the inexpensive golf capital of the U.S., at least. They get a little bump in business during Masters week, but it's a point of pride at WCC that they don't raise their prices.
"We don't do that," said Linda Vess, as she served hotdogs for four. No matter the time of year, it's $25 for a cart and 18 holes at WCC—unless you want to come on down on Monday or Thursday, when the tariff is $20—for all day, for as many holes as you want.
"Get your drinking hat on," my host, Tim Wright, said on Thursday (and again on Friday). "We're going deep today." Here, at last, was business as usual. Whether we are on the grounds at the National or in the men's grille at ACC, cocktails fuel the fun.
Muted fun, to be sure. There were hardly any of us to eat and drink and laugh and bitch about how slow the greens are at the course across the creek. Still, there were stories to be told, including this one from Cash Cunningham, whose family business, Wife Saver, supplied the egg salad, fried chicken and pimiento cheese amalgam to the Masters for 28 years.
Ten years ago, Wife Saver lost the business, because, apparently, the tournament wanted to make its own sandwich fillings. And, incredibly, they asked Cash's father, the feisty Chris Cunningham, for his recipe for cheese spread on his way out.
"My dad says, 'First you get a #10 can of pimientos,'" Chris said. "'And then you bend over, and you shove …" You get the rest.
As the laughter died down and one of our party reflected on what a waste 2020 has been, Dr. Walt Pipken said he'd be sad to see it go. "I turn 50 next year," he said. "And that means I've got to get a colonoscopy."