News
Masters 2020: Jon Rahm's eighth hole—with a topped shot and a ball off a tree—was straight out of your foursome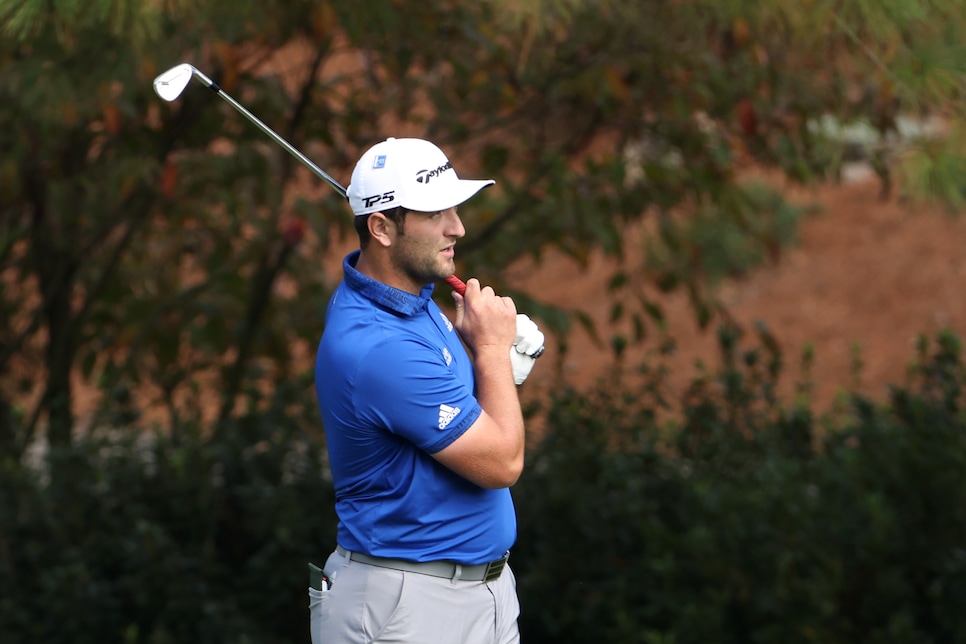 AUGUSTA, Ga.—Give Jon Rahm this: If Augusta National decides to award crystal for content producers, the Spaniard would need a new trophy case.
The World No. 2 began the week with two holes-in-on, the second ace coming from a skip off the 16th pond. He dished out his share of highlights with Bryson DeChambeau; there was an accidental wave to a bombed drive, commentary that Bryson's power was a "reality check" and a hilarious summation of DeChambeau's struggles. Rahm provided more fireworks Saturday afternoon, this time with his adventures at the eighth hole. And we do mean "adventures."
After a good drive bestowed a chance to reach the par 5 in two, Rahm tried to get home with a fairway wood. What followed was a shot usually seen at your local muni, the ball snapping violently to the left into a cadre of pines.
From there, Rahm tried to make the sensible play by punching out, only to see the pines swat his punch directly left into bushes. Rahm was forced to take an unplayable, and played a marvelous shot to get his fifth onto the green. Alas, he rammed his 30-footer past the hole. He managed to convert the tricky five footer that remained, but the damage was done. A double-bogey seven, dropping Rahm six shots back of leader Dustin Johnson.
Luckily for us, Rahm still has 27 holes remaining. We're guessing they won't be without excitement.