News
Masters 2020: Jon Rahm says he experienced a couple "reality checks" playing with Bryson DeChambeau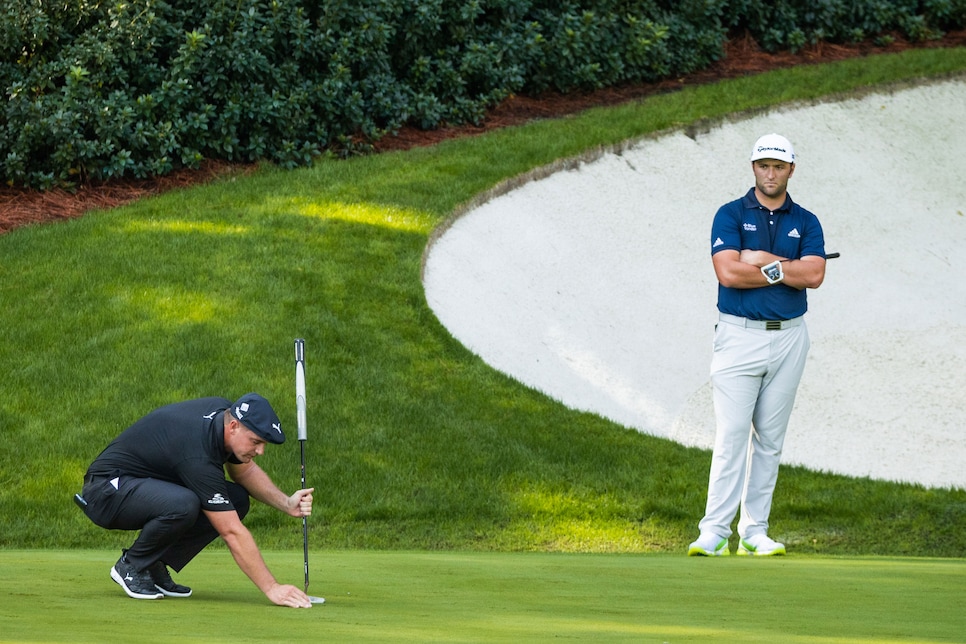 With all the attention on Bryson DeChambeau—specifically, his length—heading into the 2020 Masters, we'd forgive his fellow golfers for being sick of talking about the reigning U.S. Open champ. But one of his playing partners on Thursday, Jon Rahm, was quite candid when asked about the reigning U.S. Open champ. And quick to concede he can't hang with him when it comes to hang time off the tee.
Rahm may have gotten the best of Dechambeau by a shot in the opening round at Augusta National, but he admitted to experiencing a "couple reality checks" in terms of distance.
"Luckily for us he wasn't very straight on the first few holes. The trees were—he was kind of on par with us," Rahm said of DeChambeau's wild start that included a double bogey on the par-5 13th. "There was a couple of them that were reality checks. He hit a good one at 15 and he wasn't that far ahead of us, but after the drive on 5—because I hit mine good, and he was a good 20 yards past the bunkers, so that was one where we were like, okay, that was quite a bit. And then on 8, as well. He seemed to toe it and I hit mine good and he was still way ahead of me. So there was a couple of them that were reality checks."
To be clear, this isn't Fred Funk talking. Or even someone like the third golfer in the group, Louis Oosthuizen. This is Jon Rahm, one of the most powerful players on the planet.
Here's a look at DeChambeau's drive on No. 5, a mighty 347-yard clout of all carry that easily flew the two cavernous bunkers down the left side:
Overall, DeChambeau averaged 334 yards off the tee, a number made more impressive by the soggy conditions. But Rahm, who checked in at only 314 yards per poke, says he and Oosthuizen were more focused on the shorter distances—and clubs—DeChambeau had on his second shots during his first-round 70.
"The funny thing is Louis said it; we both hit a club that was a 7 into 15, but Louis hit a 7‑wood and Bryson hit a 7‑iron," Rahm said. "It's funny sometimes to just hear the numbers they're talking about, it's an 8‑iron, and the tee shots they're hitting. On 18 he was questioning if he could carry the bunkers, and me and Louis were not even near hitting to the bunkers. It's a different golf course, but I think today proves that no matter how far you hit it, you still need to make the putts."
Rahm (69) and Oosthuizen (68) made more of those putts for one day, but that could change. What won't is who in the group will consistently be hitting his approach shot last on Friday.