The Loop
Masters 2020: Bryson DeChambeau is the most exciting golfer since Tiger Woods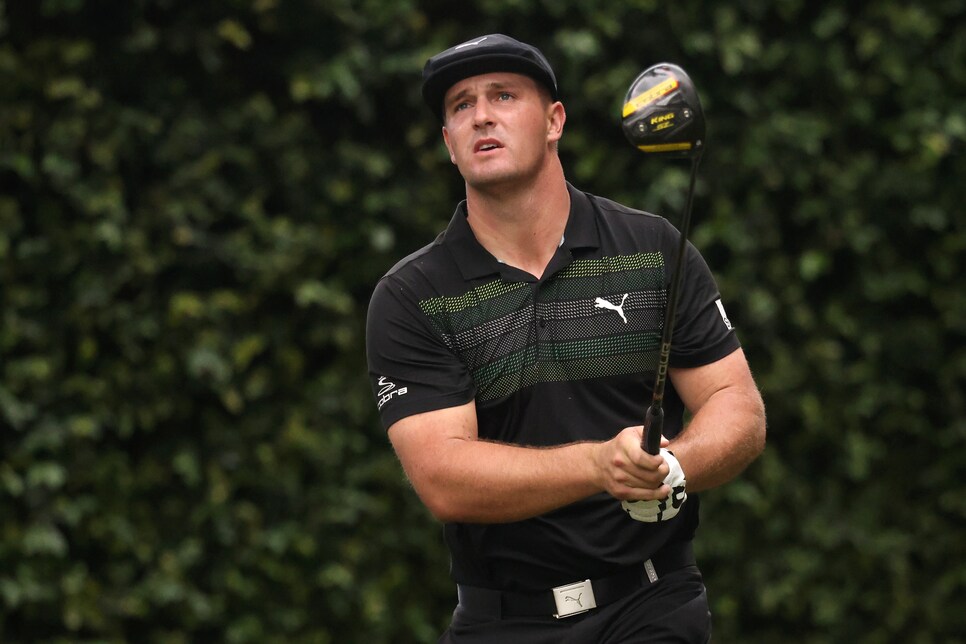 By all accounts, Bryson DeChambeau's first round at Augusta in the Muscles 'n Mass Era was a bit anticlimactic. A double bogey on the par-5 13th, his fourth hole of the day, sapped a lot of the hype and made it clear that he'd likely have to grind to end the day under par. He managed that feat and then some; despite a slew of errant drives and missed putts, he finished at -2, well off the lead but still securely in the mix. All in all, a sort of pedestrian round, and by his standards a below average one until the last two holes. A lot was made of his pre-tournament comments that the course played as a par-67 for him, but based on Thursday, it kinda makes sense—this felt like a +3 round for him.
And yet, the whole experience of watching him on ESPN's featured groups feed still managed to be completely riveting for almost five hours. Part of that, sure, is the breathless build-up—ever since his U.S. Open win, it has been clear that a DeChambeau victory at Augusta would pretty much break the sport. The hyper-polarization of the debate on what he's accomplishing and whether the game or the equipment needs to be altered to stop him would reach new levels of unbearable intensity. He's already leading a revolution, but to take the next step by decimating golf's holy ground would send us all into a tailspin. (I, for one, welcome the chaos.)
Watching him set out on that potential journey of destruction and rebirth...well, of course you're going to be riveted. But there's also just the simple excitement of his game. You could point to a million different elements, from power to touch, but hell, just listen to the way he breathes before a drive, like a weightlifter about to attempt a 400-pound bench press:
If the ground had been a bit firmer, Bryson could have been one of the few players to ever drive the third hole at Augusta.
Even when he struggles, every shot feels alive with possibility, and part of a trajectory that might be (and increasingly seems like it will be) historic. When was the last time we felt that way, outside of a meaningful tournament or two? For me, it was Tiger in his heyday, when even his runaway victories captured your complete attention and you knew you were watching someone blow the doors off the game. There have been enormous moments since, like Spieth going for his third straight major at St. Andrews in 2015, or Tiger winning the Masters last year, but there hasn't been this kind of aura around a player in a very long time. The audacity of DeChambeau's approach, the pyrotechnics of his game, and the sense of transformation and controversy even put him ahead of Rory in 2014, which was one of the most exciting stretches in recent memory.
Before a big tournament, DeChambeau is pure possibility, and for those of us watching, the emotion is pure anticipation. He'll have to deliver more than just one major to maintain that heady aura, but at the moment, the atmosphere around him is like nothing we've seen since the prime of the Big Cat himself.