News
Fred Funk, at 64 years old and averaging less than 240 yards off the tee, makes cut at PGA Tour event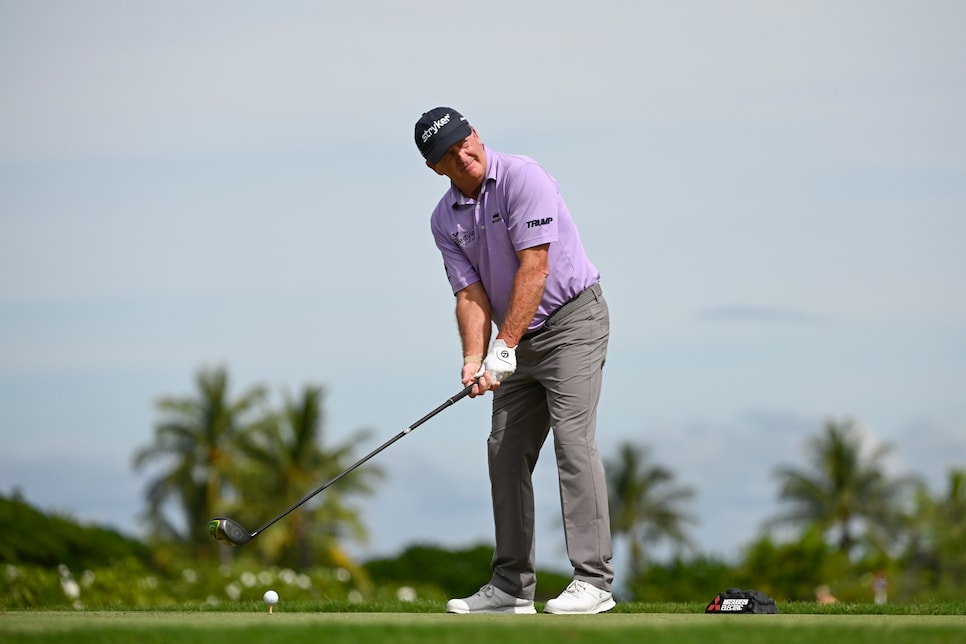 Golf, truly a game for all ages.
Thanks to two birdies on his final three holes, highlighted by a chip-in at the last, 64-year-old Fred Funk has made the cut at the PGA Tour's Bermuda Championship. If that sounds remarkable, it is: Funk becomes just the fourth player in tour history to make a cut at 64 years or older, joining Jack Nicklaus, Sam Snead and Tom Watson.
"Shoot, I didn't know they were that old and still played a tour event," Funk said Friday afternoon. "I knew Watson had maybe. Wow, that's pretty good. Say that again? Watson, Nicklaus and Snead? That's really good. And then Funk. You throw that in there, it doesn't sound right, does it?"
Judging by Funk's stats at Port Royal Golf Course, it doesn't look right, either. The 2005 Players champ is last in the field in driving distance, averaging 234.8 yards off the tee this week, and due to incessant winds on Friday, he found just four fairways in Round 2.
However, Funk was bailed out by a stellar putting performance, his 1.571 strokes per green sixth-best among the field when his round finished. And after making the turn in three over, Funk bounced back with four birdies on the second nine, finishing one inside the cut line in his 650th start on tour.
"It's something you dream about or think about," Funk said. "I don't know if you can actually [know] whether it's really going to happen, the probability of it happening, but it did and it's really special."
Adding to the sentimentality was Funk playing the past two days with his son, Taylor. Though the younger Funk's trip hasn't been as prosperous (73-81), Taylor nearly took out his pops after Fred's hole-out.
"I was like, 'I didn't hurt you, did I?' He's very fragile nowadays," Taylor Funk said. "No, it was a cool moment to hug him after that. It looked like he was about to cry making the cut again. It was cool."
Added Fred: "Yeah, he almost killed me. He horse collared me and I wasn't ready for it."
Funk, whose injuries have limited his play on the Champions Tour, will now play on the weekend at the PGA Tour level for the first time since 2017.
"Making the cut was big. Especially the last three years I've been really fighting a lot of injuries, or bad back basically," Funk said. "A lot of us do with this game, you get bad backs, like Tiger's really struggling with it as you can see. Really, the only—honestly, the only reason I played this week was because I was in the field with Taylor.
"I wasn't sure I was going to be able to go yesterday the way I felt Wednesday in the pro-am. I said, I'm going to go and tee it up and see what happens."