Gambling
Masters 2020: Could this Augusta National rule keep Bryson DeChambeau from winning a green jacket?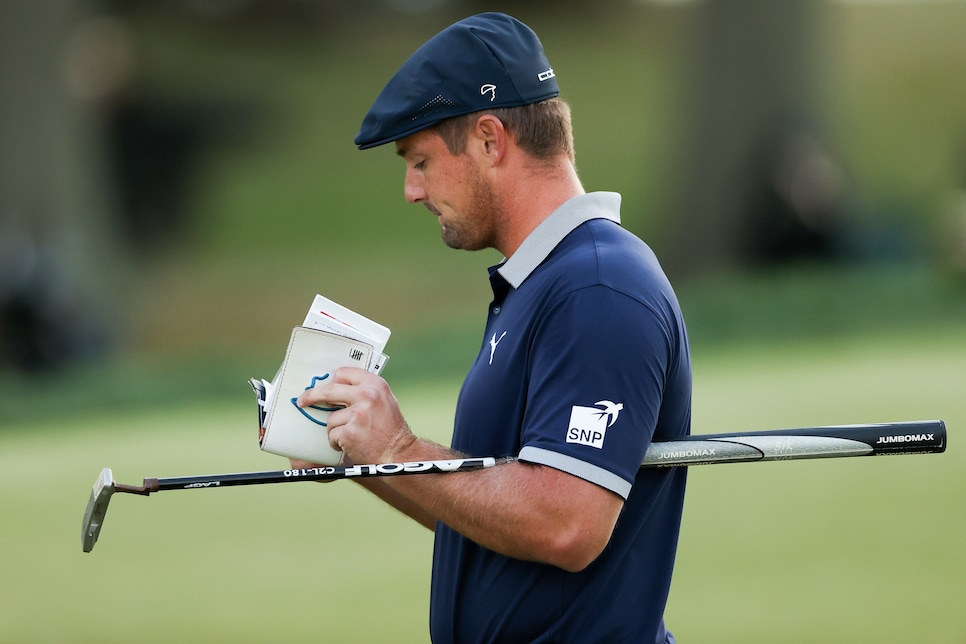 During the second round of the 2019 Northern Trust, Bryson DeChambeau took an astonishing two minutes and 20 seconds before attempting an eight-foot putt. It's the kind of thing you have to see to believe. It's also the kind of thing you probably won't see from DeChambeau—or anyone else—at next month's Masters.
That's not because the Masters cracks down on slow play more than other tournaments—although, Tianlang Guan might beg to differ—but rather, because officials at Augusta National Golf Club don't allow the detailed green-reading books that have become so prevalent on the PGA Tour.
Here's how DeChambeau described that infamous moment, if you can call something that took 140 seconds a moment:
"Five percent, where we looked at it, it was a very difficult read. It was on a bit of a crown, trying to read it, best of my ability. Couldn't figure out a way to play it four inches out because that's what the book said. That's what it looked, or that's what it said in the book. Didn't look like that to my eyes. We walked around, took a little bit of time. I was ready to hit. My caddie pulled me off because he saw something different. That's just what's going to happen every once in a while. You have guys that sometimes that does happen. Is that every time? No. That's one—probably 1 percent of the time that I take over two minutes."
After all of that, Dechambeau still missed the putt, by the way. Not that making it would have made the situation any better, in particular to his playing partners, Justin Thomas and Tommy Fleetwood, who didn't appear particularly pleased.
To be fair to DeChambeau, the reigning U.S. Open champ and current Masters favorite, he's certainly not the only tour pro taking advantage of modern-day green-reading tools—not to mention the leniency of rules officials when it comes to enforcing pace-of-play rules. Most tour pros and caddies rely on the laser-measured guides available at most every other tour stop. And in defending their use from those who say they negatively impact pace of play, Phil Mickelson went as far as declaring, "For anyone to say they slow up play is idiotic." Hmm. You have to wonder if he would feel differently if he was paired with DeChambeau that day.
Golf's governing bodies proposed greatly limiting the amount of data found in these books in 2018 before ultimately deciding to only limit their scale and size. But at Augusta National, which has always played by its own set of rules, the topographical maps that plot putting surfaces down to the tenth of a degree of slope are not allowed. Instead, all Masters competitors are provided with yardage books that only show the location and direction of major slopes in the greens.
"It makes it harder. All I can do out here is judge with my eyes," DeChambeau told Golf.com in 2019. "Is it as precise as the greens books? Absolutely not."
At last year's Masters, three-time champion Gary Player expressed his support of Augusta National's decision to prohibit the high-tech books along with his dislike of these modern playing aides.
"Bobby Locke was the best putter that ever lived, and Tiger Woods was the best putter and so on. I never saw him take out a book to read the damn green," Player said. "To read the green, you've got to look at a book? Well, if you can't read a green, you should be selling beans. It's part of the game. Where are we going? Everything is so artificial."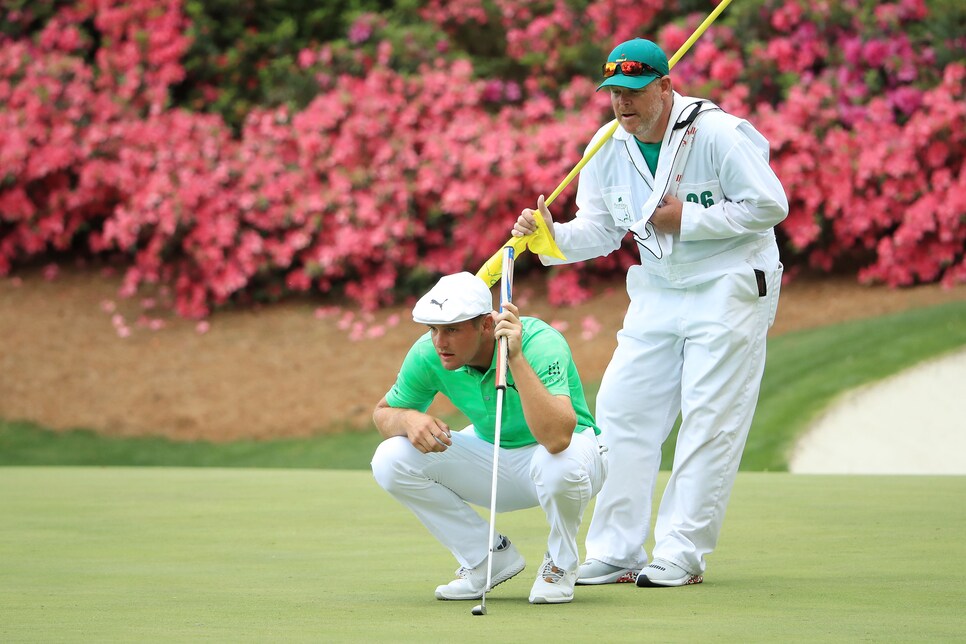 Without his pinpoint green-reading book, Bryson DeChambeau will have to go more by feel to figure out the break on Augusta National's putting surfaces.
Andrew Redington
Of course, everyone will be playing by Augusta National's rules again next month. So a player like Mickelson, who has nearly three decades of taking hand-written notes on the course's famed greens (yes, that's allowed), would seem to have an edge over someone like DeChambeau, who will be playing in just his fourth Masters.
But does the analytical—and yes, deliberate—DeChambeau also lose an edge from not having so much info at his disposal? In those three previous Masters starts, his best finish was a T-21 in 2016 as an amateur. And while DeChambeau's driving prowess is the main reason he's currently an 8-to-1 favorite to slip on the green jacket, finishing 10th on tour in strokes gained/putting last season was also critical to his ascension into the top five in the Official World Golf Ranking.
The lack of a detailed green-reading book in his back pocket may not make a huge difference in his putting performance at the Masters, but if you're backing the game's most data-driven player, wouldn't you prefer him to have access to all the data that he ordinarily uses when he plays? In any event, DeChambeau is taking a month off before attempting to win a second consecutive major. He'd probably be wise to use part of that time studying up on Augusta National's putting surfaces.