News
Masters 2020 live updates: Tiger Woods shoots bogey-free 68, Justin Thomas surging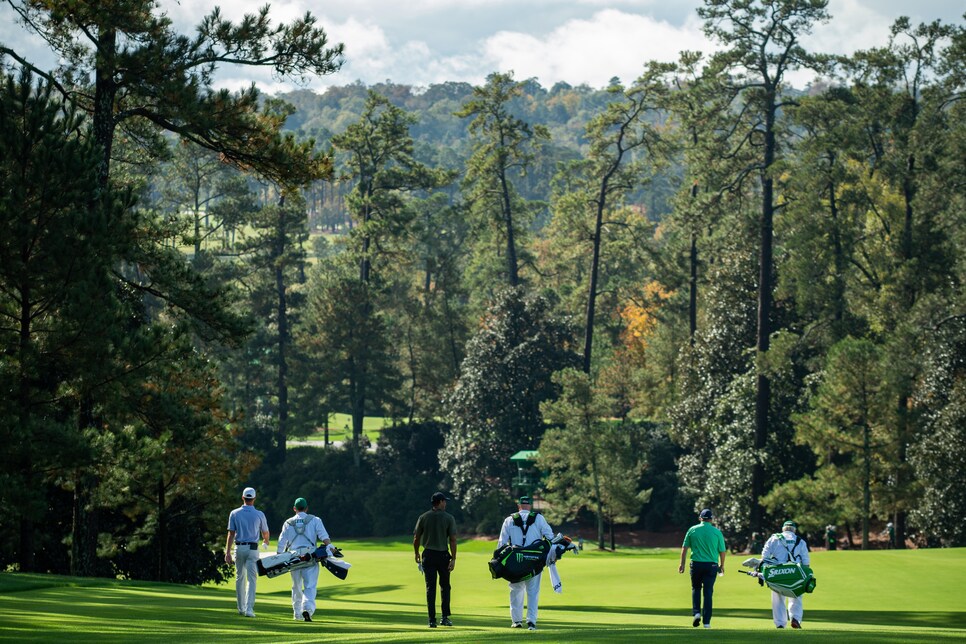 The best day on so many golfers' calendars has been delayed 218 days from its traditional April date, but it's finally here. This November Masters has a different feel to it—making it one of the most intriguing golf tournaments of our lifetime. The anticipation of what a fall version of the Masters ends Thursday as golfers compete in the 84th edition of the Masters Tournament.
There are a lot of firsts this week—the only time Augusta National will host this great tournament outside of April. It's the first stroke-play major tournament contested in November since the 1889 Open Championship. And the players will be teeing off on split tees Thursday and Friday for the first time since 2005, trying to finish each day with the lack of daylight in the fall.
(Scroll down for the latest, minute-by-minute updates)
The players will likely be fighting to finish Thursday given forecasted thunderstorms in the morning and scattered storms in the afternoon. Though the weather has improved from earlier indications days ago, so perhaps we'll get a little lucky. After all, golfers need this in 2020—the familiar sights and sounds of the Masters, albeit with no patrons and autumnal hues . . . it's something we're all looking forward to.
5:28 p.m.: Sounds like we've got one hole of coverage left. Dustin Johnson, Rory McIlroy and Patrick Cantlay just teed off on the 10th, and will hopefully get it in and then be back at it early tomorrow. Back at No. 2, Wolff cleans up his birdie putt to reach four under.
And just like that, the horn sounds. Players are allowed to finish the hole they are on, however. Justin Rose decided to do just that, and it proved to be the right move. A birdie at the ninth for the Englishman gives him a front-nine 33. Up ahead at the 10th, Justin Thomas finishes up the 10th hole with a birdie to get to five under. What a start. It will be fascinating to see if that momentum carries over into tomorrow morning, when he'll face a 210-yard approach shot out of the rough at No. 11 for his first shot of the day. Sounds fun!
Play seems to be officially over for the day, and 32 players are two under or lower. Expect more low scoring tomorrow, and then we'll see how it shakes out on the weekend, when the course should dry up. Going to be must-see TV. We'll have all the important updates in our Day 2 live blog. Check back at 7:30 a.m. ET.
5:19 p.m.: Justin Thomas is going to be pretty upset this is going to get called early, because he is absolutely cooking. After a front-nine 32, Thomas just stuck one to 10 feet at the par-4 10th. Great look at birdie coming up.
An update on some other notables - Phil Mickelson, after bogeying the first, has worked it back to one under. He just barely cleared the water at 11, and said to himself "why are you scaring me like that?" Peak Phil. Rory McIlroy, meanwhile, is off to a slow start. The Northern Irishman turned in even par. Two Oklahoma State Cowboys, Rickie Fowler and Matthew Wolff, are each at three under, and both just getting their back nines underway.
5:14 p.m.: It's getting dark quickly, as evidenced by Justin Thomas trying to find his ball in mid air after ripping a tee shot off the 10th tee. There's probably 15-20 minutes left of daylight. The good news is, ESPN just announced that live first-round coverage will resume at 7:30 a.m. ET on Friday. Golf Twitter, rejoice!
5:08 p.m.: The race to get in as many holes as possible before sunset is on, and it's leading to a lot of birdies. 2013 Masters winner Adam Scott just went birdie-birdie at the eighth and ninth to turn in four-under 32. Justin Thomas, who opened his round birdie-birdie-birdie, just made another birdie at No. 8, then par at No. 9 to also turn in 32. Back on the eighth green, World No. 1 Dustin Johnson rolls in a birdie to get to three under. Lot of action. Lot. Of. Action.
4:54 p.m.: Justin Thomas bounces back from the bogey at 7 with a birdie at the par-5 eighth, making it look easy after ripping a fairway wood up near the green and pitching it close for the birdie. He's at 4-under, and just hit a bomb of a draw up on 9 for a chance to card a great score before we run out of daylight.
4:45 p.m.: Dylan Frittelli is making his presence at the 84th Masters. The talented South African has come the closest to making a hole-in-one at 16, with his ball taking the slope to the right and nearly rolling all the way to the hole. Still, he's at 4-under and firmly in the mix early on.
4:29 p.m.: Justin Thomas' hot start just lost a little momentum with an unforced error at the par-4 seventh hole. From just 117 yards out in the fairway, JT sailed the green with his approach into the back bunker, which is an impossible place with this back hole location. That leads to a bogey and a dropped shot, moving JT back to 3-under, currently tied for ninth.
4:15 p.m.: Another Englishman is well-placed on this early leader board: Matt Wallace cards an opening-round 69 to join the group at T-9 at 3-under. Wallace has popped in the majors before, finishing T-3 at the 2019 PGA Championship at Bethpage. He missed the cut in his only appearance at Augusta National (last year), but the four-time European Tour winner is in good position after Round 1.
Here was his biggest highlight of the day:
Another player at 3-under isn't necessarily a surprise to anyone paying attention to golf over the past year. Matthew Wolff is at 3-under as he plays his opening nine as he continues his torrid pace at the majors this year—a T-4 at the PGA and a runner-up at the U.S. Open. As stat guru Justin Ray points out, Wolff's historic run, finishing in the top four in his first-ever majors as a pro, is matched by only Ned Cosgrove in the 1880 and 1881 Open Championship. Wolff's not done making noise this year, it appears.
4:03 p.m.: You need to see this Justin Thomas putt ... one of the more improbable makes you'll see at the ultra-difficult par-4 fifth hole. JT just kind of bailed out to the front right of the green being out of position in the second cut. He never would've thought this putt had a chance ... but if you hit a perfect putt, sometimes they go in ...
3:46 p.m.: Paul Casey is the clubhouse leader after the first wave of golfers are finishing up their first rounds. The Englishman's 7-under 65 matches his best round ever at the Masters (final round of 2018, finished T-15). Casey, though, was reminded of a different round when interviewed by Tom Rinaldi after his round. Rinaldi opened the interview with a question about Casey's opening-round 81 at last year's Masters. Casey didn't exactly love that form of journalism ... but hey, Casey has the last laugh after that stellar round. That was with a par at the par-5 eighth hole, too, speaking to his incredible play.
3:39 p.m.: Tiger Woods completes a bogey-free opening round with a 68—a stellar round with four birdies and never really any bad shots. If you had to script up Tiger's title defense, this is exactly how he would've hoped it would go. Just stellar stuff all day from the five-time Masters champion, and though he hadn't played well (at all) before this Masters—maybe we should've given him more serious of consideration heading into this week.
3:31 p.m.: There's no hotter golfer on the course than Justin Thomas, who has birdied 1, 2 and 3 to start his round. JT's gotten better and better at Augusta National in every year, and obviously people expect him to contend this week—and so far he's showing why.
DJ had one of the shots of the day (not as good as Reed, see below), but he stuck his approach to the par-5 second hole to about seven feet ... and even looked mad after he hit his shot. But he nailed the eagle putt to get to 2-under.
3:25 p.m.: Tiger hits his first poor shot of the day on his third at the eighth, leaving him a mile-long putt for birdie. He scared the hole, but just missed, and he'll settle for par. Up at the ninth, Patrick Reed nearly holes out from the pine straw for eagle, setting up a tap-in birdie. Reed made eight birdies and four bogeys to open with 68.
3:12 p.m.: The Englishmen are coming! Lee Westwood cleans up a par at 18 to post 68, and Paul Casey needs par at No. 9 to finish off a seven-under 65. What a start for these two Brits.
Louis Oosthuizen, who played alongside Bryson DeChambeau and Jon Rahm, two of the favorites, beat them both with a first-round 68. Rahm posted 69, while DeChambeau fought back to shoot 70. Incredibly, that was enough to tie him with Larry Mize, who is giving away at least a football field off the tee to Bryson. Cue the "golf!" tweets.
At the par-5 eighth, Tiger Woods rips a 3-wood up the fairway and should have a good chance at birdie, which would get him to five under.
2:42 p.m.: Webb Simpson holes a long one to end the day without a bogey. He'll finish with a 5-under 67 and is the first player in the top five to finish their Thursday round. A birdie and eagle on his first two holes got him off to a great start and he'll be very happy with his performance today.
2:37 p.m.: To make things even more interesting, the afternoon starters are teeing off. Phil Mickelson and Collin Morikawa get their days started. The trios of Justin Thomas, Matthew Fitzpatrick, Brooks Koepka and Dustin Johnson, Patrick Cantlay, Rory McIlroy will be teeing off at 2:59 p.m. and 3:10 p.m. respectively.
2:28 p.m.: 208 yards from the pin on the fifth hole, Woods hits it over the green but luckily doesn't make it to the bunker. On the 7th, DeChambeau and Rahm find themselves hitting from just off the green. Bryson will finish with a bogey dropping him back to even for the day. That's his first bogey on the back-nine.
At the sixth hole, Paul Casey sinks a birdie on the par-3 sixth to take a two-stroke lead over Webb Simpson. Casey is 7-under for the day and has just three holes left.
Jon Rahm joins Bryson with a bogey of his own on the 7th hole to drop to T-6. He's currently 3-under.
2:19 p.m.: Both Casey and Westwood hit strong shots to get out of their respective predicaments. Also, Xander jumps up to T-3 after a birdie on the par-4 14th. That's a back-to-back birdie right there and three in his last four holes.
ESPN highlights the incredible tidbit that four players in the field have birthdays today: Glover, Reavie, Day and Pan. Not exactly sure what the odds are there, but seems pretty unlikely.
2:14 p.m.: Not sure what happened there. Lee Westwood hit it "miles" from the green on the par-5 15th. It hit the downhill and kept on rolling for what felt like decades. At T-3, this may be the first real stumble for Westwood today. Paul Casey, at the same time, hits it right in the center of the bunker on the fifth hole.
2:05 p.m.: Playing in his third Masters after a T-2 finish in 2019, Xander Schauffele is now at 3-under after a birdie on the par-5 four. That's his second birdie already on the back-nine and he's by himself in seventh place at the moment.
1:57 p.m.: After a brilliant drive, Bryson overshoots the green and ends up in a bunker. His third shot, however, gets right to the hole—nearly sinking in for a ridiculous birdie—and he'll get out of this topsy-turvy hole with a par. He's at 1-under for the day now, which isn't too bad considering the chaos that was his 13th hole. Rahm follows up Bryson's par with a birdie attempt from the edge of the green. Near the hole, but not in it. Jon Rahm will also par this hole and he sits at 4-under, tied with Woods, Westwood and Oosthuizen.
1:45 p.m.: As we just mentioned, Paul Casey in now atop the Augusta leader board at 6-under through 11. Starting on the back nine, Casey birdied four of his first nine holes and added another one on the par-5 second. He'll have a chance to get to 7-under on the third hole as well.
On the par-4 fifth, Bryson slingshotted the ball 330 yards through the air over the left-side bunkers. 141 yards from the hole. He's starting to hit the fairways now. Making a putt couldn't hurt.
1:38 p.m.: The Golf Digest Slack is going off and that can only mean one thing...Tiger's making birdies. Woods is now four under through 10 holes and is tied for third place behind only Paul Casey and Webb Simpson. He even brought out the fist pump.
1:27 p.m.: After bogeying two of his first three holes to fall to two over, Jon Rahm has roared back. One of the pre-tournament favorites, Rahm hooked his second on No. 2 around the trees to four feet to set up an easy eagle. Playing partner Bryson DeChambeau has rallied from a tough start as well. With a two-putt birdie on the same hole, the reigning U.S. Open champ is into red numbers for the first time.
1:23 p.m.: Tiger Woods pars No. 18, his ninth hole of the day, to shoot a three-under-par 33 on his first nine. Not. Too. Shabby. Especially for someone who has played so shabby in 2020. Since a T-9 at Torrey Pines in January, Woods' best finish was a T-37 at the PGA Championship. But obviously, he likes this place.
1:05 p.m.: Tiger can't quite make it a third straight birdie, but he'll take an easy par at No. 17. The defending champ remains at three under, two shots behind Lee Westwood and Webb Simpson, who just eagled the par-5 second. Can we talk about this scoring key on CBS, though?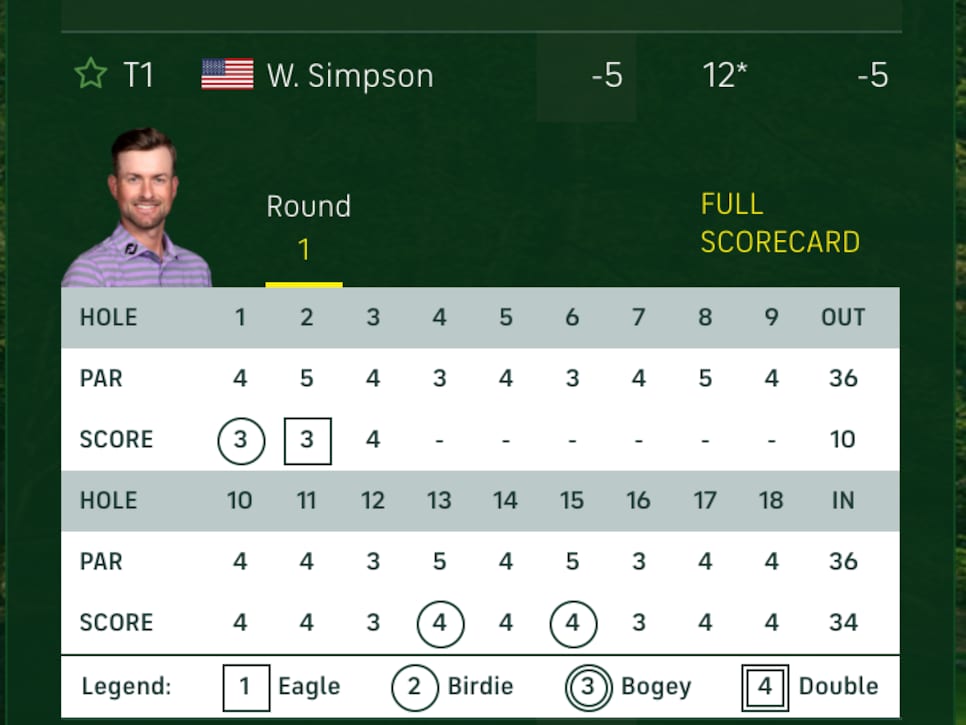 12:46 p.m.: OH, BABY, NOW WE'RE COOKING! Moments after making birdie on No. 15, Tiger Woods will have a kick-in on No. 16 after nearly spinning his tee shot back into the hole. He's got a decent track record on this hole, huh? With the birdie, Woods is now three under through seven holes. Wow.
12:41 p.m.: Don't look now, but a certain 50-to-1 longshot and defending champ has moved to two under. Woods birdies his second par 5 of the day, although, it wasn't quite as easy as he would have liked in needing to get up and down from behind the green by rolling in a 10-footer. Regardless, he's two under through six holes and two back of Lee Westwood and Paul Casey. ENGLAND in the house!
12:35 p.m.: Bryson absolutely butchers a wedge from 100 yards on No. 17 after a perfect drive, but he stays at even after a nice pitch to close range. And DeChambeau and everyone else is chasing Lee Westwood right now, who is four under through eight holes. The 47-year-old has three top-three finishes at Augusta, including two runner-ups.
12:20 p.m.: Bryson is BACK! DeChambeau curls in a 15-footer for birdie on No. 16 to claw back to even par. Behind him, Tiger pulls off an incredible lag putt to tap-in range on No. 14 to stay at one under. In other news, scores are low for the most part, but Sandy Lyle makes the turn at four over. Still, the 1987 Masters champ is already a winner for rocking these suspenders: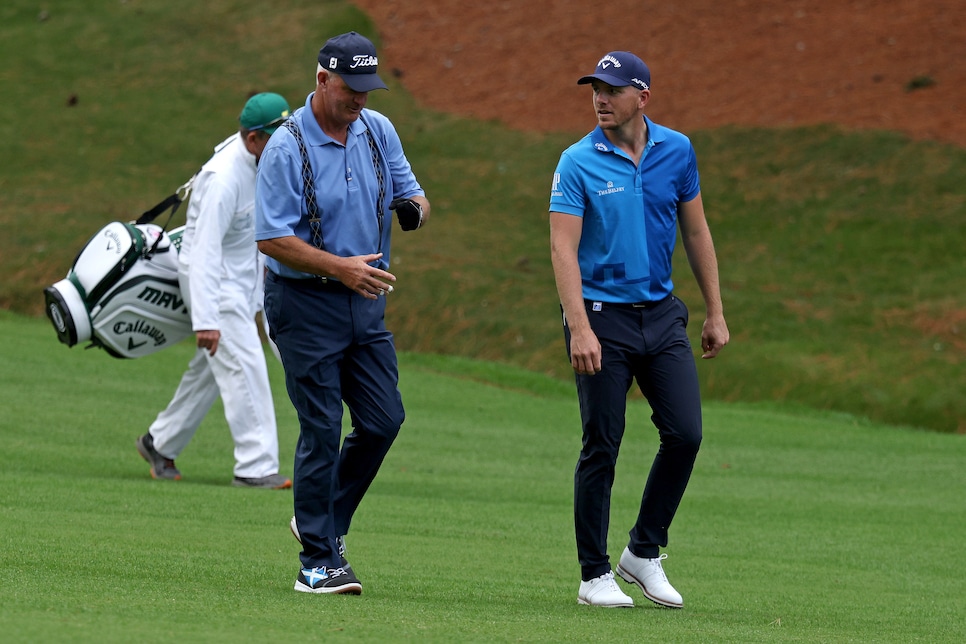 12:12 p.m.: Bryson is finally on the board with his first birdie of the week. Not surprisingly, it comes at a par 5, No. 15, in which he had a short iron for his approach. But after tugging his second to about 40 feet, he had to settle for a two-putt for birdie. After all that, DeChambeau is one over through six eventful holes. Playing partners Jon Rahm and Louis Oosthuizen also make birdie to move to even and two under, respectively.
12:05 p.m.: Tiger looked like he might provide some unwanted drama on 13 with his approach shot that flared right, but it found the front of the green. From there, he two-putted from 44 feet for his first birdie of the week to get into red numbers. Elsewhere, Scottie Scheffler and Lee Westwood are your current co-leaders at three under. You know, exactly who everyone was picking heading into the week.
11:48 a.m.: Remember Tiger Woods? You know, the 15-time major winner and defending champ? For once, it seems he's being overshawdowed thanks to Bryson, but Woods is off to a much more solid start. After a scrambling par on 10, stress-free pars on the difficult 11 and 12 bring him to 13. We're expecting a little less drama than what DeChambeau just provided there.
11:42 a.m.: OK, everybody, deep breaths. Deep. Breaths. Bryson DeChambeau has only played four holes thus far in the 2020 Masters, but boy, has it been a wild ride. After missing a 3-footer for birdie on 10, he survived 11 with a crazy par despite a provisional, and lipped out a birdie on 12 for another par. He was not as fortunate on No. 13, a hole he was supposed to turn into a pitch-and-putt. Instead, he walked away with a double bogey that included a drop and a complete chunk. NOT what he wanted on Augusta National's easiest hole. So much for this being a "Par 67". . .
11:26 a.m.: For months, the golf world has waited to see how Bryson DeChambeau would play a lot of the holes here at Augusta National—most especially the par-5 13th hole. Well, Bryson's tee shot didn't draw enough, and didn't go through the trees, so he'll be playing from the pine straw—just farther up from where Phil's iconic shot on Sunday at the 2010 Masters came from.
Bryson actually had a good look through the last two pines, but he took his hand off the club right away as he thinned it way over the green, and it appeared like it went into the bushes, so he dropped and hit a provisional—which went into the tributary of Rae's Creek. OH MY.
Tiger Woods back a couple holes at 11 behind nearly makes his birdie putt but settles for a good par to remain even-par through his first two.
11:23 a.m.: Tiger Woods carried most of the trees off the 11th tee and had a good look from the second cut into this difficult hole. He hits a great approach to about 22-25 feet for a rare birdie look at 11.
11:18 a.m.: Jon Rahm continues to leak oil around Amen Corner—he's 2-over through 3 after another bogey, this one at the par-3 12th hole after his tee shot found the front bunker, and his par bid came up short. Not the ideal start for the BMW champion and Memorial champion from this year.
11:13 a.m.: Who would've thought LARRY MIZE would be on top of the early leader board in 2020—33 years removed from his Masters title? Larry Legend actually has three birdies in a row after bogeying the opening hole! Mize is 2-under through 4 after birdieing 2, 3 and 4. LARRY LEGEND!
He's got company with 47-year-old Lee Westwood, also 2-under to start his round. Westy has had so many close calls in his major career—including many of them at the Masters. Wouldn't it be something if he was a factor on the weekend? He's played consistently well over in Europe through the past couple of months.
11:08 a.m.: Rahm's chip from just off the green runs past the hole, and he fails to get up and down to save par. After that tee shot, we think Rahm would've taken bogey ... so all in all not a nightmare. Bryson does save par from the trees after finding his tee shot and punching to the right.
Tiger hits a magnificent third shot to four feet below the hole and saves par—always a good score on the 10th hole. Shane Lowry missed his birdie from above the hole but saved par while Andy Ogletree missed his par bid.
11:01 a.m.: Tiger Woods' defense of his Masters title is officially underway. He hits the wide fairway at the first, but he hits a really poor second shot—going long and left of the green. He'll have a decent amount of green to work with but a really tough up and down to start.
Right after Tiger hit his approach, he looked up and said, 'God, look at that thing,' as it curved left. You wonder if he had mud on his ball on that approach ... or if it was just a poor strike.
10:57 a.m.: Bryson and Rahm both get fortunate bounces on their tee shots. They each find their initial tee shots in hopes of scrambling for par on the difficult par-4 11th.
Here's how it looked off the tee: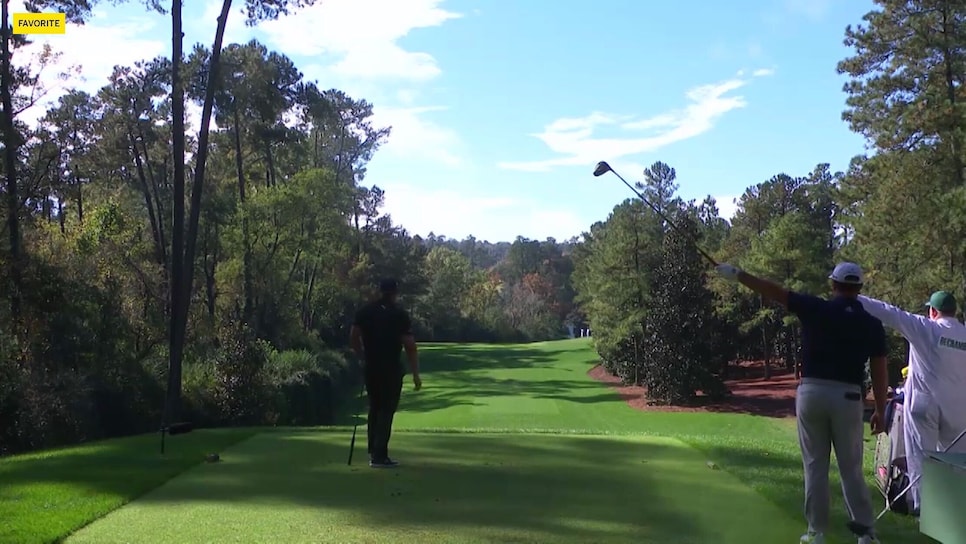 Rahm made a hilarious gesture after hitting his tee shot way left ... fortunate for him to kicked straight down off a tree into the second cut.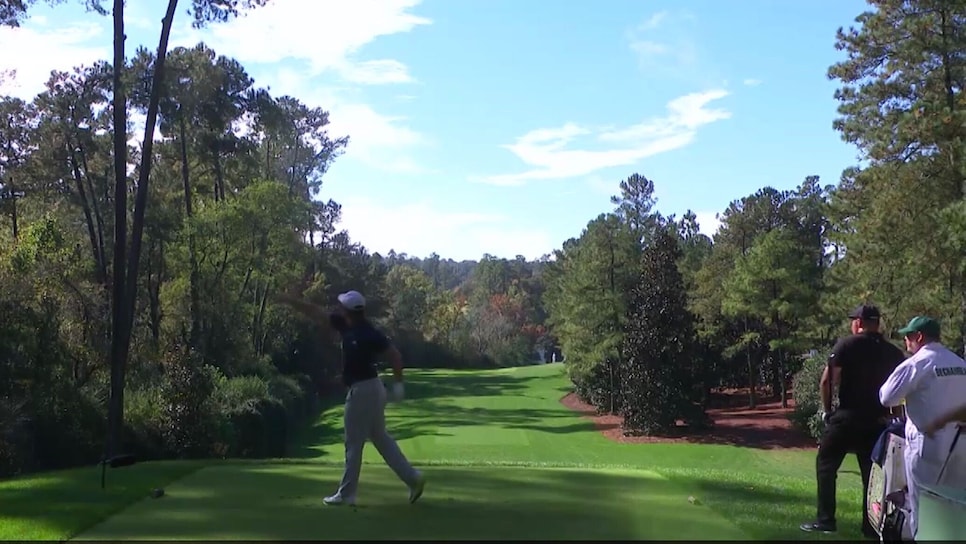 10:50 a.m.: The drama is already starting here at the 11th tee. Jon Rahm hit a bigggg snap hook left off the tee, and he made a hilarious jesture to his shot heading out near the boundary. Bryson DeChambeau's tee shot might have snapped even more left. They're both hitting provisionals here at the difficult 11th ... we'll see if they find their initial tee shots.
10:44 a.m.: Bryson mania has officially begun at Augusta National. Bryson started off the 10th hole and hit his approach to five feet above the hole for an opening birdie. But the slippery downhiller slides by on the low side, and he'll settle for par. As Peter Malnati once said, "All that ... for that?"
Jon Rahm, in the same group as Bryson, had a birdie look from just off the green, came up a good four feet short, but made the slippery second putt for his par. Same with Louis Oosthuizen.
10:38 a.m.: Jazz Janewattananond now has the outright lead with Corey Conners bogeying the short par-4 third hole, giving back his birdie from No. 2. Jazz, a debutant from Thailand, reached the par-5 second hole in two and two-putted for his birdie.
10:28 a.m.: We have our first player in red figures at the 84th Masters. Canadian Corey Conners hits a great third shot from the front of the green to two feet at the par-5 second hole. Conners is at 1-under through 2, giving hope to the first-round leader bets of myself and fellow "Be Right" podcast host Christopher Powers.
10:22 a.m.: The 84th Masters has officially resumed! Players are in position and resuming their first rounds.
Folks, the sun is out. Birds are chirping (at least we can hear them through the app). But we know they're here ... look at these real life bird photos from our photographers on-site this week!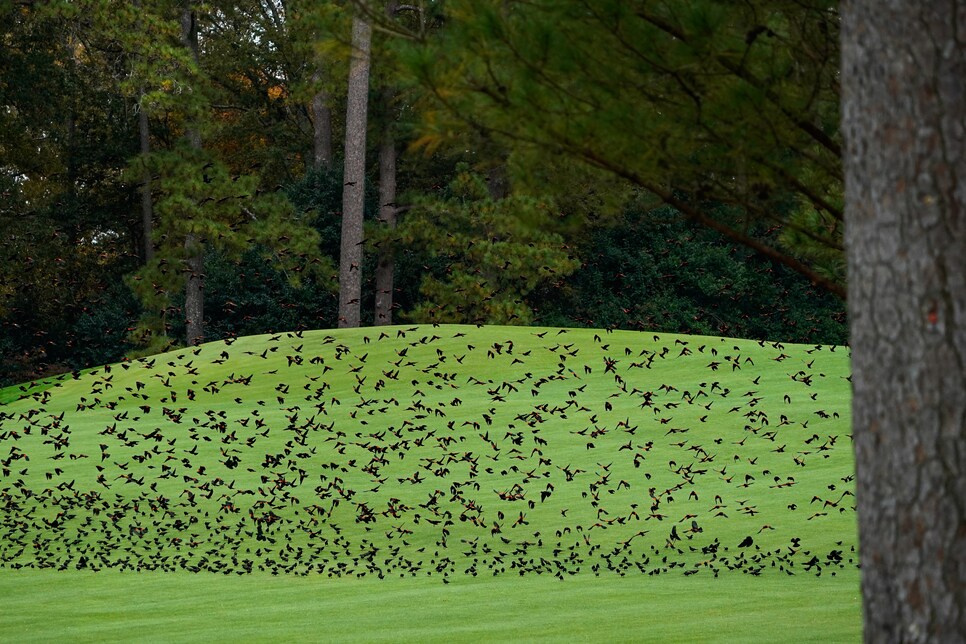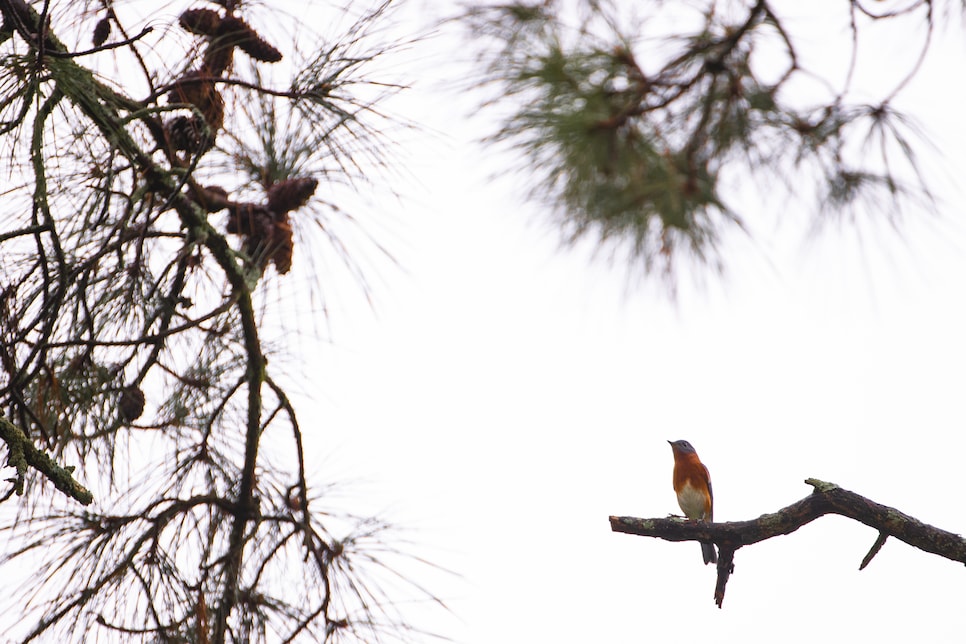 10:05 a.m.: OK we have official word: a 10:22 a.m. resumption of play. It's getting real.
There'll be some big names on the course right away—actually Webb Simpson, Hideki Matsuyama and Marc Leishman were playing the 10th hole when play was stopped. Bryson DeChambeau, Jon Rahm and Louis Oosthuizen will go off the 10th tee about two groups later (originally the 7:43 a.m. tee time). And of course Tiger Woods, along with Shane Lowry and 2019 U.S. Amateur champion Andy Ogletree, will tee off, also on No. 10, a few groups thereafter (originally the 8:05 a.m. time).
9:38 a.m.: Wooo! We have good news: Players and caddies have been told that play will resume at 10:30 a.m., and the tournament practice facility is now filled with golfers getting warmed up once again. Let's get it going!
8:15 a.m.: Play is still suspended with no word on when we'll restart. Reporters on-site say there's been thunder pretty close to the golf course, so we'll assume they're still a ways away from restarting. This will put their ability to have every group finish their opening rounds in doubt if they're delayed more than an hour and a half . . .
7:35 a.m.: Woof, the horn has already blown to suspend play at Augusta National. It's unclear how long it'll be, but the radar, like we posted below, does not look great. For those players who were undergoing their pre-round routine, that's a big disruption. Notah Begay III is talking about how this really hurts Tiger Woods' prep as he takes longer to get his body ready in his older age. Sigh ... 2020 can't give us any nice things, can it?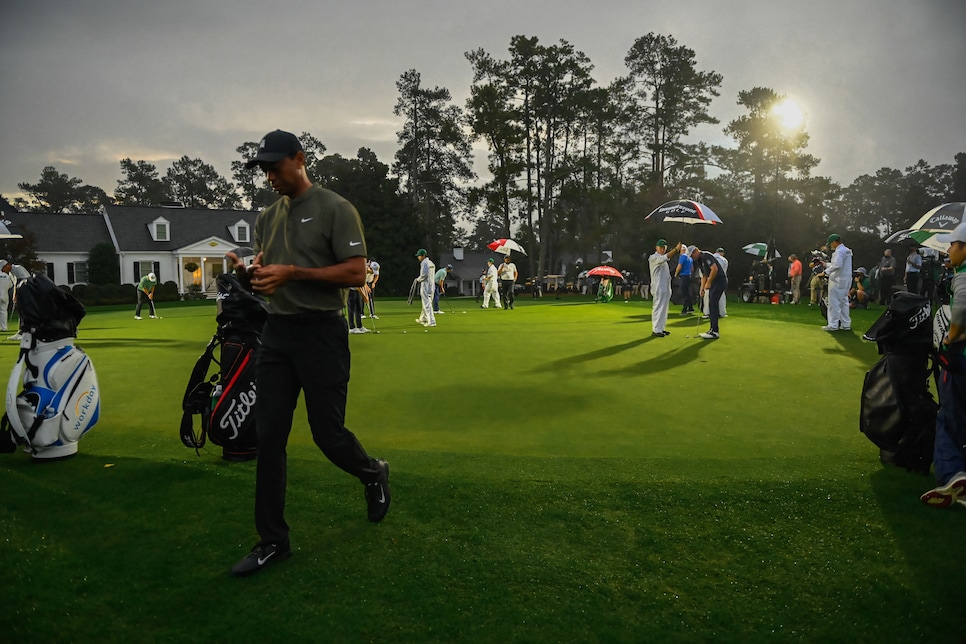 Gosh, Tiger looked ready to go . . . now they'll be a lot of sitting around.
Here's the leader board as it was when play was paused:

7:25 a.m.: We'll start to get featured groups on the course very quickly this morning with this split-tee start. Webb Simpson, Marc Leishman and Hideki Matsuyama are the next group off the 10th tee.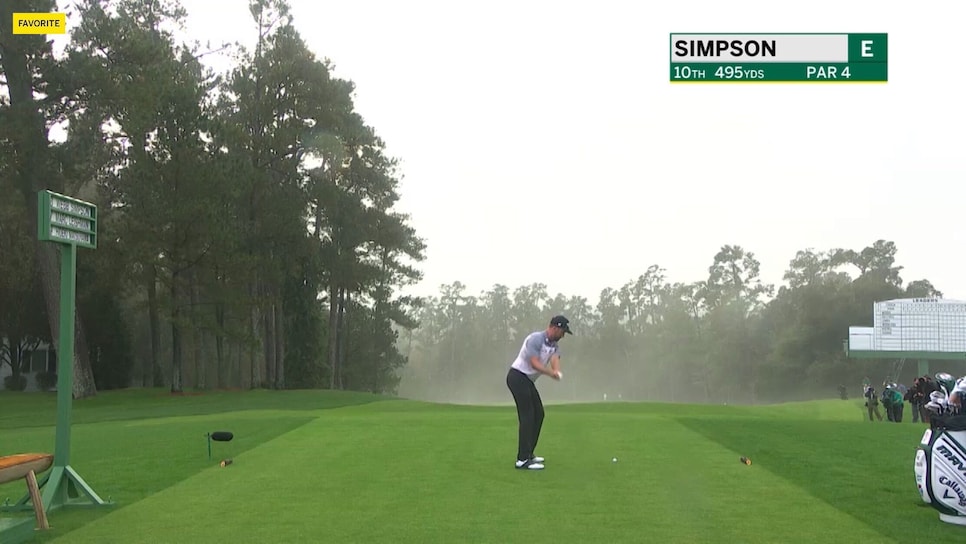 Charles Howell III, Jazz Janewattananond and Brandt Snedeker also got through the first hole—Snedeker made bogey as the other guys made par.
7:19 a.m.: All three players in the opening group off No. 1 (Lucas Glover, Corey Conners and C.T. Pan) found the fairway with their tee shots, and they all walk away with pars on the opening hole.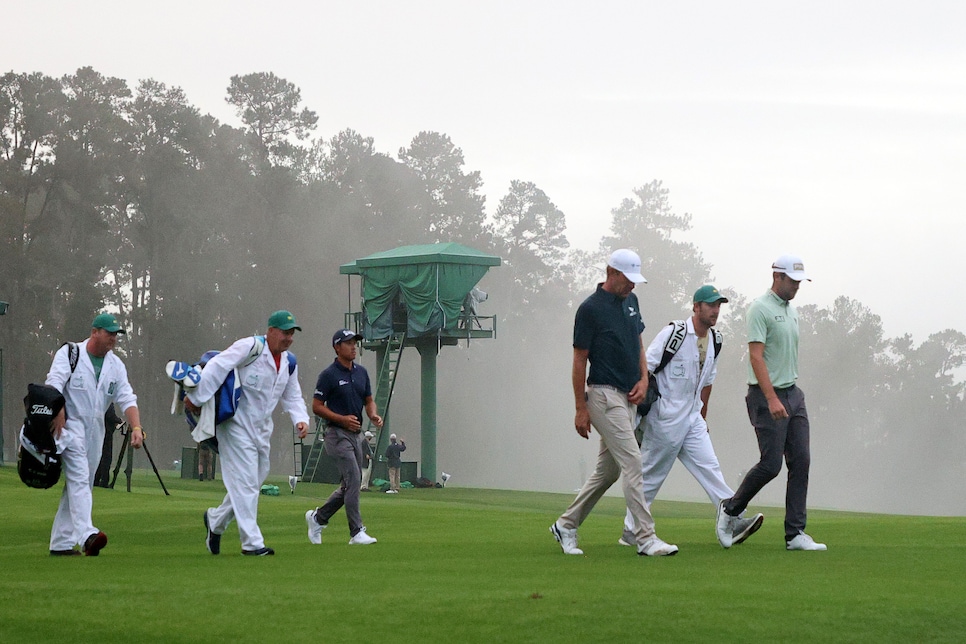 The group off No. 10 had a bit of a tougher time. Jimmy Walker, Sandy Lyle and Yuxin Lin are all over-par after playing 10. We'll see if that split-tee start continues to play tougher for the players off 10. It might be an easier tee shot with a wider fairway, but that approach to the 10th hole is TOUGH to start your day. Just ask Jimmy Walker, who found himself behind the green, somewhere where patrons would've normally been in years past, and he ended up with a bogey.
7:10 a.m.: The ceremonial first tee shots have been hit by Jack Nicklaus and Gary Player, and the 84th Masters is officially underway! Our dogged reporter Daniel Rapaport said Player striped his opening tee shot, while he couldn't see Jack's ball. It's still a little dark—and misty at Augusta—so we'll give Rapaport a pass. Here's an early look at the first-tee ceremony.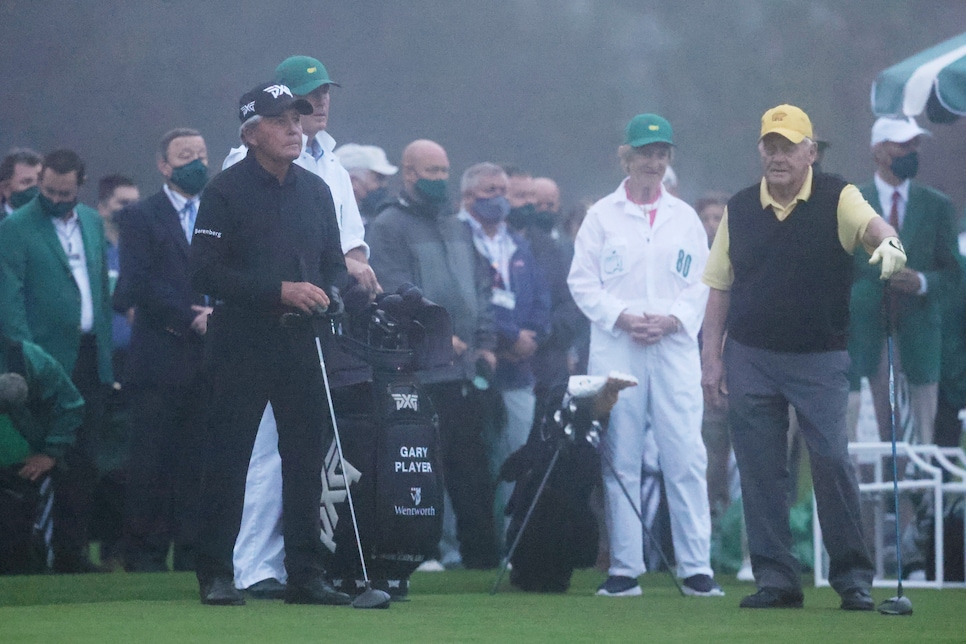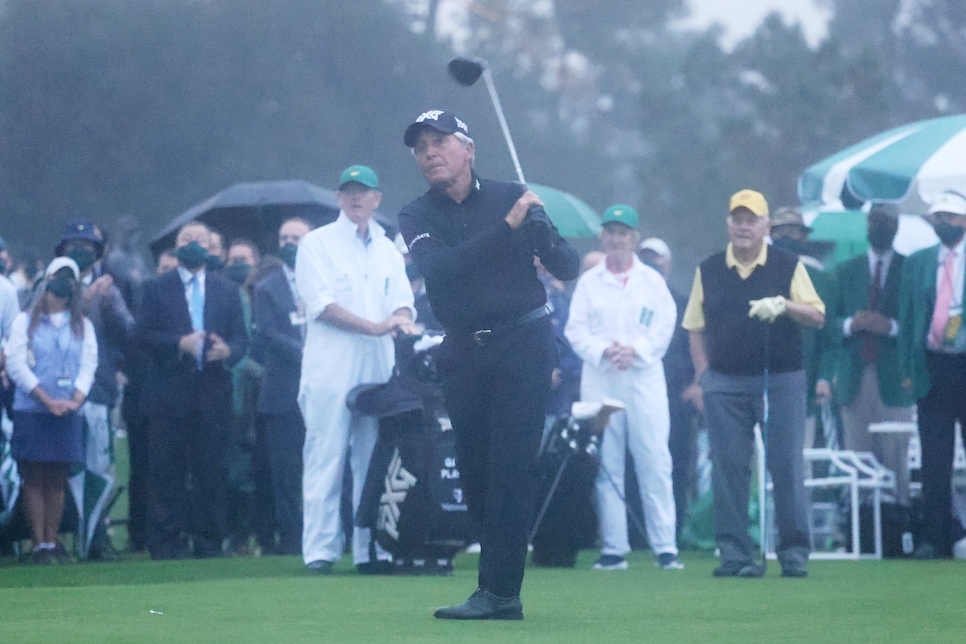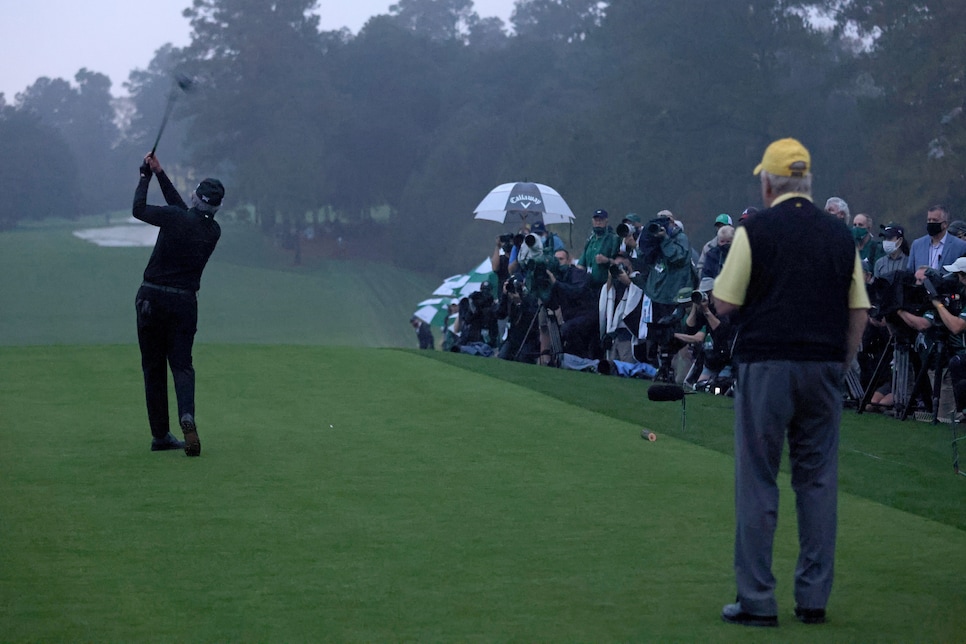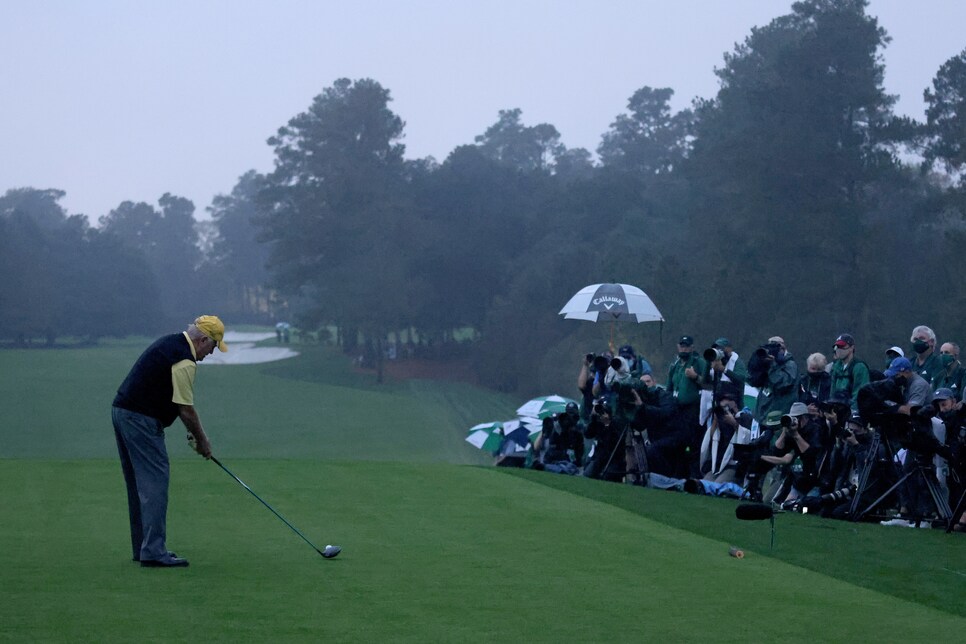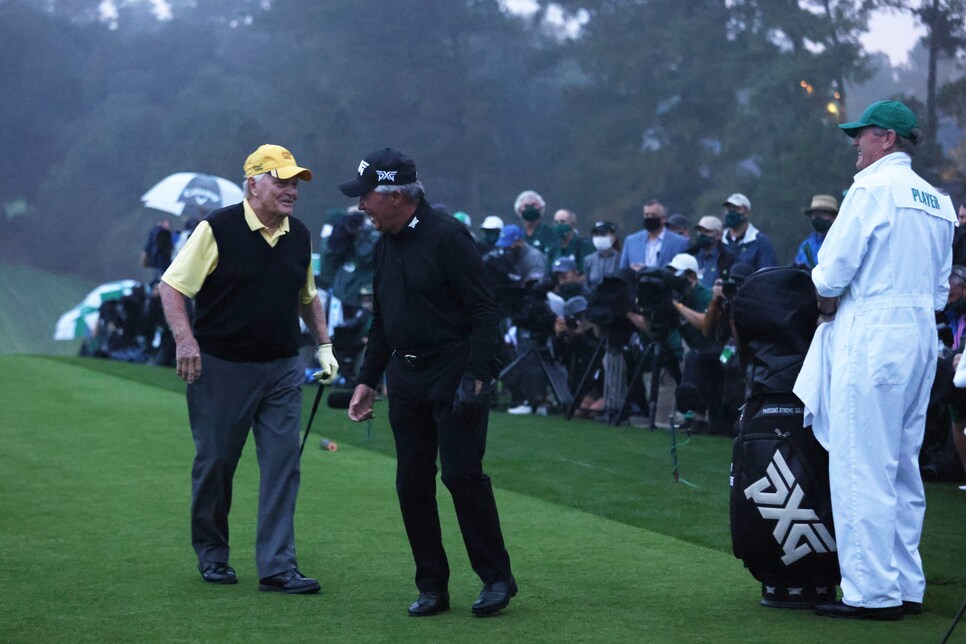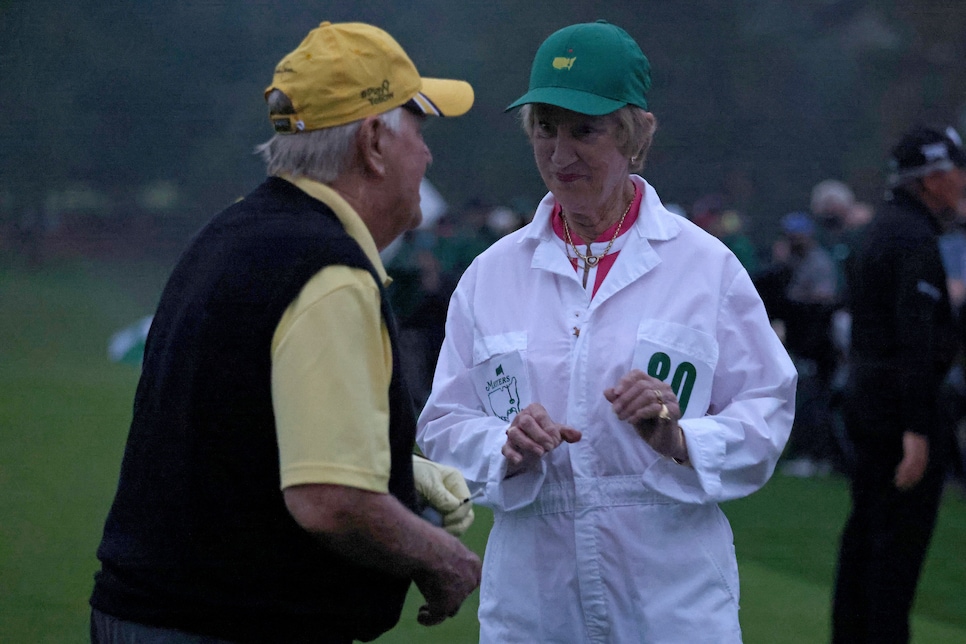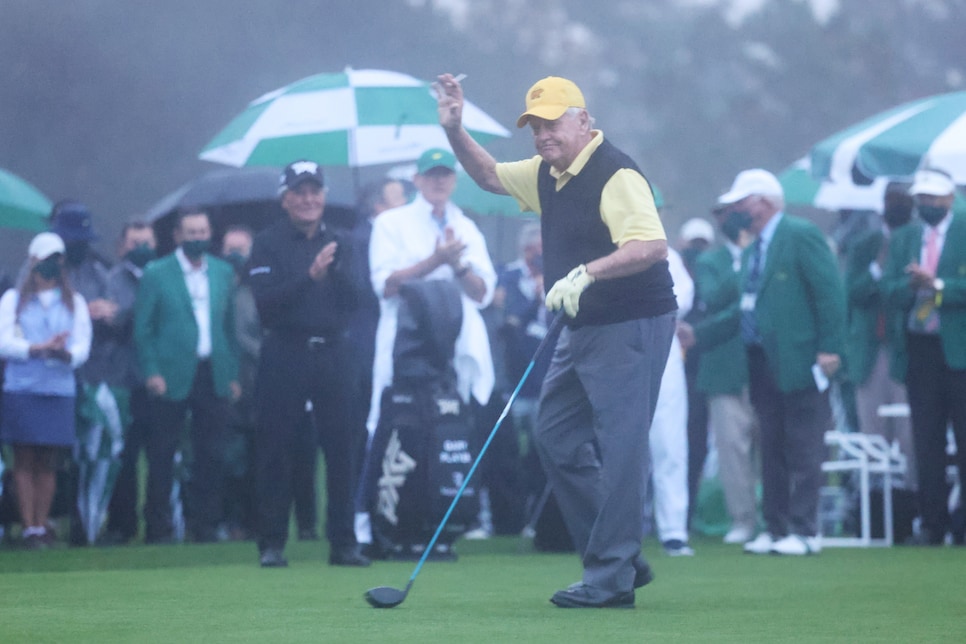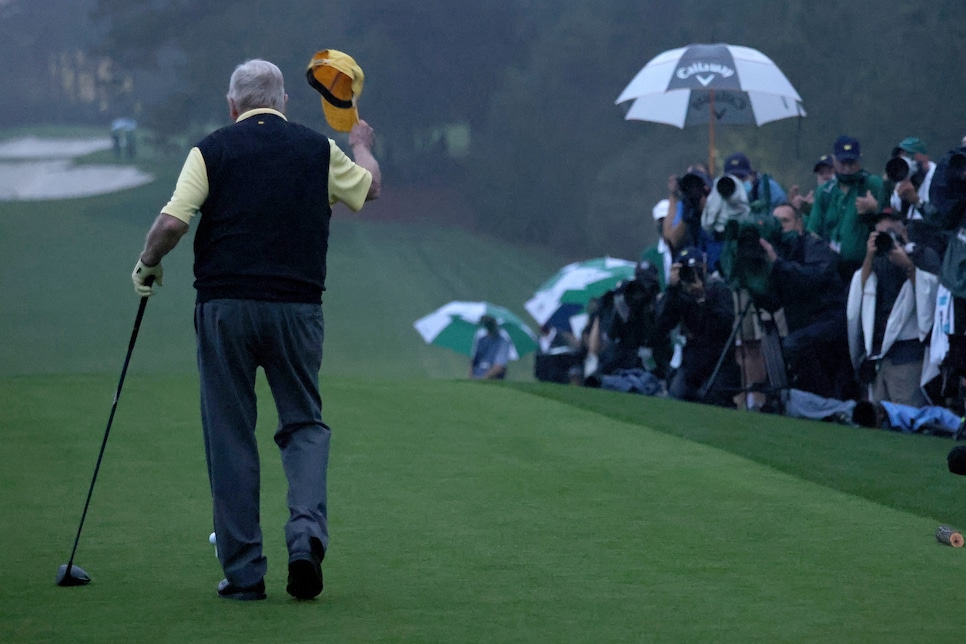 7 a.m.: There's a steady mist right now at Augusta National as legends Jack Nicklaus and Gary Player hit the ceremonial opening tee shots. The heavy stuff isn't expected just yet, but possible later on. Here's a not-so-pretty look at the current radar over Augusta, Ga.: