News
Masters 2020: Dustin Johnson is in command at Augusta, where the only person who stands in his way is himself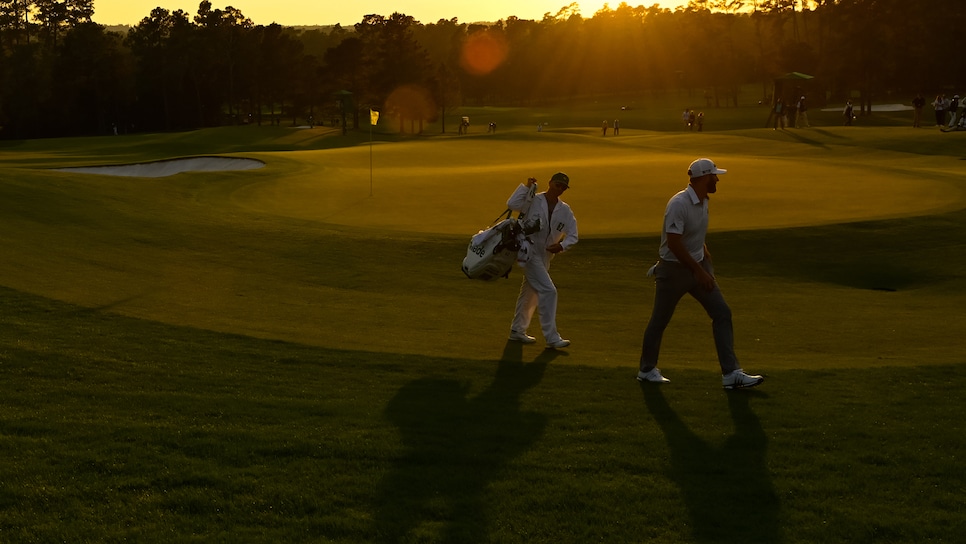 Completion of second round and third round of the 2020 Masters Tournament held in Augusta, GA at Augusta National Golf Club. Saturday - November 14, 2020.
JD Cuban
AUGUSTA, Ga. — There were too many to watch for the few on property to see. Five began Saturday afternoon tied for the lead, another five a stroke behind, three more two back. That didn't include the beefy man with the big drives who is a marvel to behold in person, score be damned. So the cadre of club members and WAGs and parents and media swung like a pendulum between the first and 10th tees as the third round commenced.
"Oh, DeeJay and Rahm and Cantlay are up. I'm walking with them."
"Wait, is that Bryson? He's going off the back? I haven't seen him this week."
"Hold on, hold on; JT is up next!"
It was a rarity at Augusta National, overwhelmed not by the scenery but by the tee sheet. No such problem will exist Sunday.
Dustin Johnson took this Masters and threw it in his backseat, grabbing control with a bogey-free, seven-under 65 for a four-shot lead Saturday evening.
"I know what it takes. I'm very comfortable with having the lead going into tomorrow," Johnson said. "I've been in this situation a lot of times. I'm looking forward to the challenge."
He came to Georgia with a win or runner-up in five of his past six starts, and the outlier wasn't too shabby either, a T-6 at the U.S. Open. Forever a blend of self-assurance and composure, Johnson was already known as a savant, displaying an ability to block out the things others couldn't. Yet, somehow, this Johnson is an improved Johnson, flaunting a command of his game and himself that has left competitors in awe.
"[He's playing] great, same as he's been playing the last few months," Rory McIlroy noted on Friday evening. "See ball, hit ball, see putt, hole putt, go to the next. He makes the game so simple or makes it look so simple at times, for sure.
"I think he's got one of the best attitudes toward the game of golf in the history of the game. I don't know if I can compare him to anyone else, but the way he approaches the game is awesome."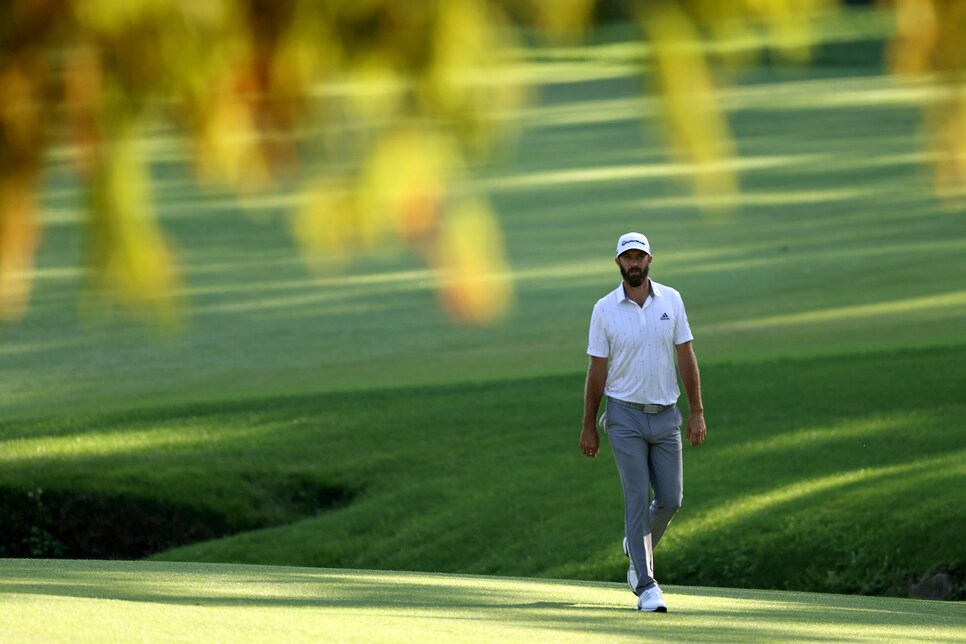 Dustin Johnson walks on the 13th hole during the third round of the Masters.
Rob Carr
To those on the grounds still paralyzed by who to follow, Johnson provided an answer, and early, at the 575-yard, par-5 second. Delivered it from 222 yards out. This year the folks at Augusta National have made every shot available to view on their mobile app. Problem is, video can only contain so much swagger. The cameras caught Johnson's swing from 222, cutting to the ball at rest two feet from the pin. What they failed to show was the ball lipping out. Johnson damn near made a double eagle. An almost Oosthuizen.
Down the hill came Johnson with his 6-foot-4 stature, stoic gait and icy stare that have often evoked the imagery of Dirty Harry. His only concern was how it didn't go in.
"I had a good number and came out exactly where I wanted to. Landed exactly in the right spot," Johnson said. "It's tough to get close to that hole location, but with the soft conditions I was able to hit a nice shot. I was actually trying to hit a little past the flag, and came up right on it."
That was a hole won by Johnson's length, using driver and 5-iron to get the work done. The next two victories came via putter. Johnson converted a slippery eight-footer for birdie at the third and proceeded to drain a 40-footer on the fourth. For those scoring at home, Johnson was four under through four. Another birdie came at the seventh, this of the tap-in variety, after Johnson made two pars on the tough fifth and sixth. He made the turn in 31.
Now, Johnson is most certainly a gunslinger, which at times has placed him in undesirable spots. Saturday, he was judicious when opening the chamber. He kept the aggressive temptations at bay at the 11th and 12th. Rather than go for hero shots at the par-5 13th and 15th he played to the safe parts of the green, forgoing eagle in favor of two-putt birdies. The few times he was in trouble—such as a wayward approach at the 18th—he bailed himself out with a short game that is perennially overlooked.
It wasn't the most colorful of golf, but you have to be a special type of good to make 65 at the Masters boring.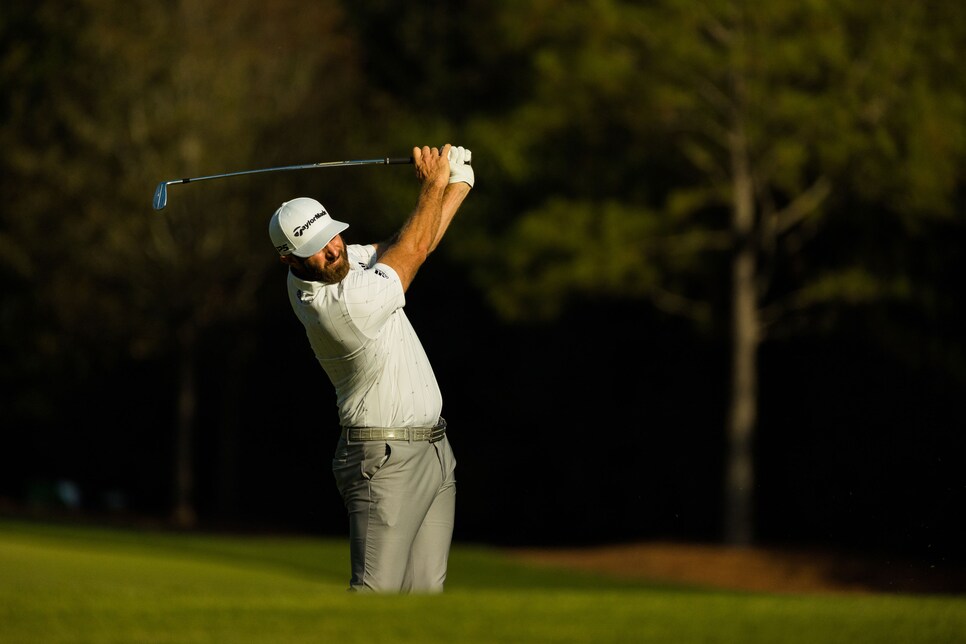 Dustin Johnson plays his tee shot on the 12th hole.
Ben Walton
"I would say the game is in really good form right now," Johnson said. "It's just very consistent. I feel like I've got a lot of control what I'm doing, controlling my distance well with my flight and my shape. I'm very comfortable standing over the golf ball right now, and obviously that's a really good feeling."
However, it's worth noting that as Johnson hit the gas pedal most of his competition could not shift into the proper gear. Jon Rahm's day was undone by a double at the eighth. Justin Thomas' five birdies were wiped out by four bogeys over his final seven holes. A double and three bogeys have Patrick Reed seven back. Patrick Cantlay and Hideki Matsuyama fell off the telecast.
Only three are within four shots: Cam Smith, Sungjae Im and Abraham Ancer, all at 12 under. Smith is sand-in-your-shoes tough; Im and Ancer have been marvelous in their tournament debuts. But we know what the Masters thinks of rookies, and though Smith did finish T-5 here in 2018, he also owns just one solo win in the States. Johnson's Sunday should not be spent staring in the rearview mirror.
Of course, this is Dustin Johnson, a player whose career is partially defined for not taking what was there to be had.
Yes, we are hard on Johnson because he can make this impossible game look impossibly easy. He also has 19 top 10s at majors against a lone U.S. Open title. He wasn't in contention in each of those events … yet he was in a good chunk of them, and a good chunk of them featured missteps, many in spectacular and self-inflicted fashion.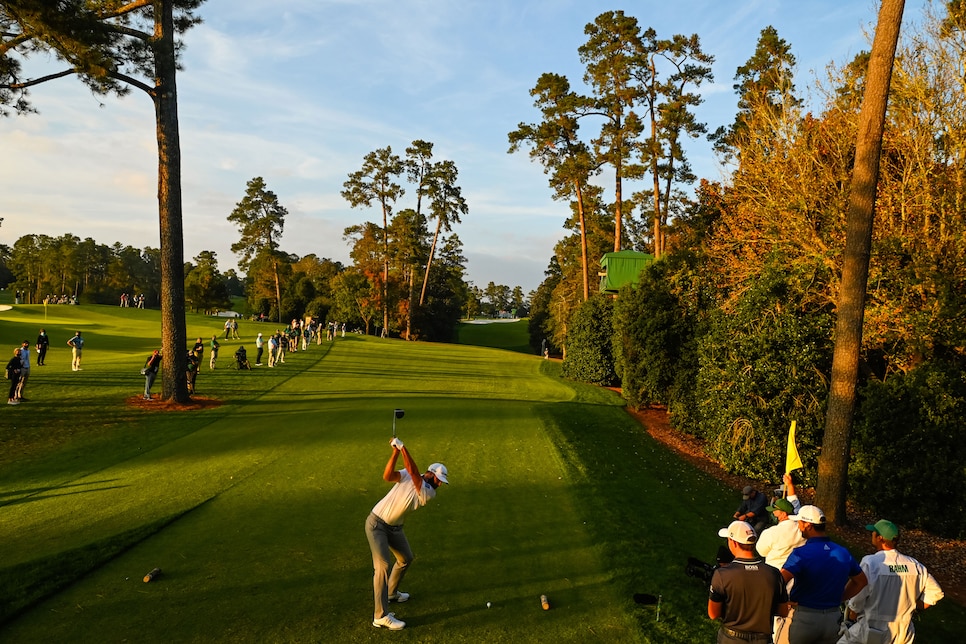 Dustin Johnson is seeking his first Masters win and second major title on Sunday.
JD Cuban
Which is why, in spite of Johnson's four-shot advantage Sunday, this is must-see theater. For there are two, and only two, incontrovertible outcomes: Johnson downs the whispers and what-ifs and stigma of "Should've Been" for good, enshrining himself among the legends of the sport. Or, he throws propane into the fire that surrounds his legacy.
What Johnson thinks about this, well, he has no appetite for such discourse. While most historically great players talk in reverential and intuitive and serious tones about their place in the game, Johnson talks about the game like it's a game. Nothing more. Same applies for tomorrow.
"It's just 18 holes of golf," Johnson said regarding a win changing his narrative. "I need to go out and play solid. I feel like I'm swinging really well. If I can just continue to give myself a lot of looks at birdie, I think I'll have a good day."
So be it. This much is clear. From too many to watch Saturday afternoon, one remains.