News
Masters 2020: The Bryson Reckoning did not come to Augusta National. Or did it?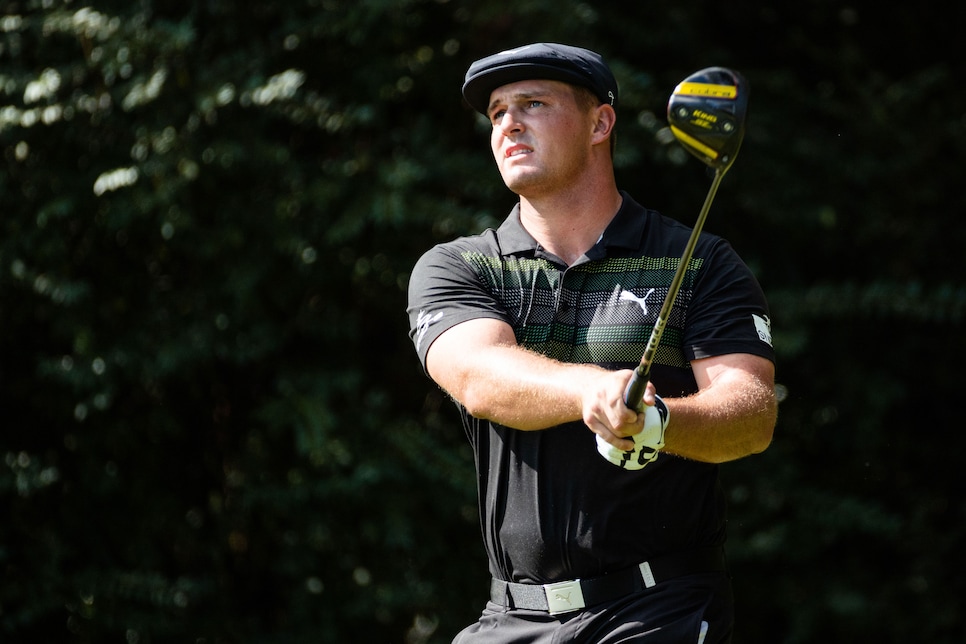 AUGUSTA, Ga. — The golf gods tried their damndest, dispatching a storm upon Augusta National to ward off a storm of another name. "Please," they seemed to say through thunder and rain and wind that led to a nearly three-hour suspension of play, "just a bit more time to enjoy what we have." In a sense, they succeeded. But theirs is a temporary victory, for you can only delay the inevitable.
Judging by the scoreboard—which is how most golf tournaments are measured—Bryson DeChambeau did not break Augusta National on Thursday. His two-under 70 was five shots behind the leader at the end of Thursday, Paul Casey.
"I tried to take on some risk today," DeChambeau said. "It didn't work out as well as I thought it would have, but at the end of the day I'm proud of myself, the way I handled myself and finished off."
However, there is more to the round than his score conveys. And to judge by score alone is missing the point.
Most of the few on property in this patron-less Masters surrounded DeChambeau on the 10th tee, his first hole of the day. The attention paid was so undivided that Peyton Manning anonymously strolled to the right of the tee box. Eventually a green jacket approached the future Hall of Fame quarterback, pointed to the golfer-turned-leviathan and said, "Bet you wish you had him blocking for you."
DeChambeau was grouped with Jon Rahm and Louis Oosthuizen. As they went around identifying their golf balls, Rahm—one of the longest players not named Bryson in professional golf—stopped DeChambeau mid-sentence. "Please," the Spainard said. "We won't be in the same zip code." And Rahm looked very much the soothsayer as DeChambeau's hybrid traveled 327 yards down the hill, causing one member to exclaim, "Holy ****."
Wedge in hand from 150 yards, DeChambeau's second came to rest five feet from the hole as the crowd nervously glanced at the green and each other. "Holy ****" was right. So what that he failed to convert the birdie; he had made the 10th, the second-hardest hole at last year's Masters, look pretty damn easy.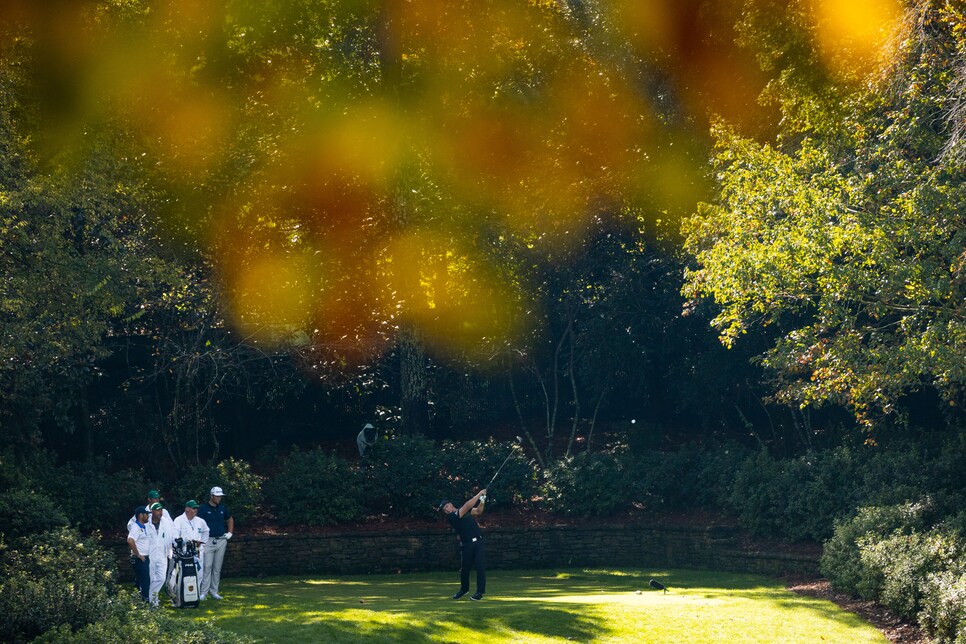 DeChambeau hits his drive on the par-5 13th hole.
Ben Walton
Here is the thing about golf, though. Even when the going is good—which it's been for DeChambeau in 2020—there is bad lurking around the corner. Which for Bryson, happened to be Amen Corner.
He navigated the toughest parts of the famous three-hole stretch. He saved par at the 11th after his tee shot found the woods, making a marvelous up-and-down from the 12th tee box. His approach at the 12th was dry, two putts giving him par. Now, we all thought, the show was about to begin.
It is the 13th, after all, that has been maligned. It's a hole whose inherent challenge has been muzzled by distance gains, to the point that Augusta National purchased adjacent property to possibly lengthen it beyond its current 510 yards. The hole Bryson asserted he could tame by driving his ball into the 14TH HOLE. Here was the tipping point.
Twenty minutes later, the 13th was still standing, staring down at a wounded DeChambeau.
His drive went right, caught by the loblolly pines and dropping into a pile of straw. There was a window, but it was tight. From 190 yards and the ball sitting slightly above his feet, punching out seemed like the choice. Instead, DeChambeau went the aggressive route and was punished, his shot knuckling hard and left and long, barreling into a bush above the green. He found his ball but was forced to take an unplayable, and he flubbed his fourth short of the green. The fifth wasn't much better and the sixth stayed out of the cup. On the easiest hole on the course, one that would have played under par if listed as a par 4.5 (4.474 scoring average last Masters), DeChambeau made double. It could have been worse; had they not found his ball, DeChambeau's provisional went in the water.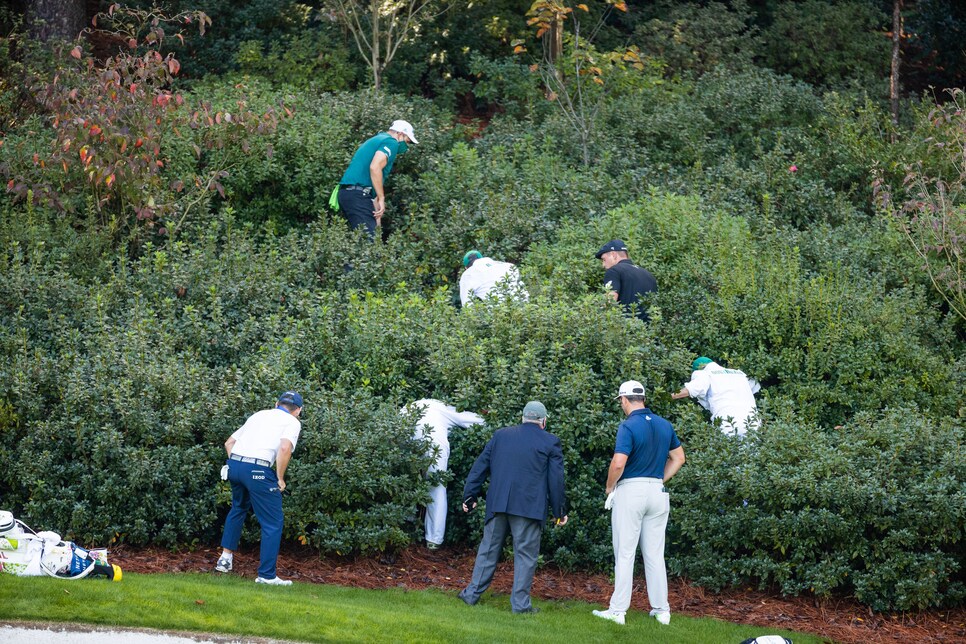 The search party looks for DeChambeau's wayward second shot on the 13th hole.
Ben Walton
"I just didn't draw it around the corner enough, and I got greedy," DeChambeau said. "This golf course, as much as I'm trying to attack it, it can bite back."
He found the pines again, this time at the 14th, his third wayward tee shot in four holes. His strut up 14 was hurried, his head shaking downward, unaccepting of the reality that was, in that moment, all too real. This disposition remained after he was forced to punch his second from the pines, leaving a hairy up-and-down.
It was at this point the crowd began to disperse. Maybe they wanted a little more time to fawn at the 13th. Perhaps they realized a certain 15-time major winner was playing to an empty coliseum two groups behind (and playing well). Or because the show they came to see had not shown up.
If DeChambeau noticed, he did not say. But give him this: When his round, his tournament was about to unravel, the U.S. Open champ got tough.
DeChambeau saved par at the 14th thanks to a nifty chip. At the 15th, off a 322-yard drive, he put his approach to the fat part of the green to walk away with a two-putt birdie. He followed with a birdie at the par-3 16th, rolling in a 20-footer for 2. Another up-and-down at the 17th after airmailing the green from 140 yards that drew a head-nod from NFL commissioner Roger Goodell, who was enjoying a stogie from the comforts of the 18th tee box. Two more pars at the 18th and first despite, you guessed it, poor drives.
"Not my best," DeChambeau said of his driving. "I got a little, I guess you could say tight. I wasn't comfortable with my golf swing. Normally when I'm really comfortable I can keep going faster and faster, and today I felt like I got a little tighter."
Now, even par through 10 holes at Augusta National when your driver isn't returning your phone calls is stone-cold grit. But DeChambeau showed zero signs of the style and length that could force Augusta National and the sport into an existential crisis. That question, it seemed, would come another day.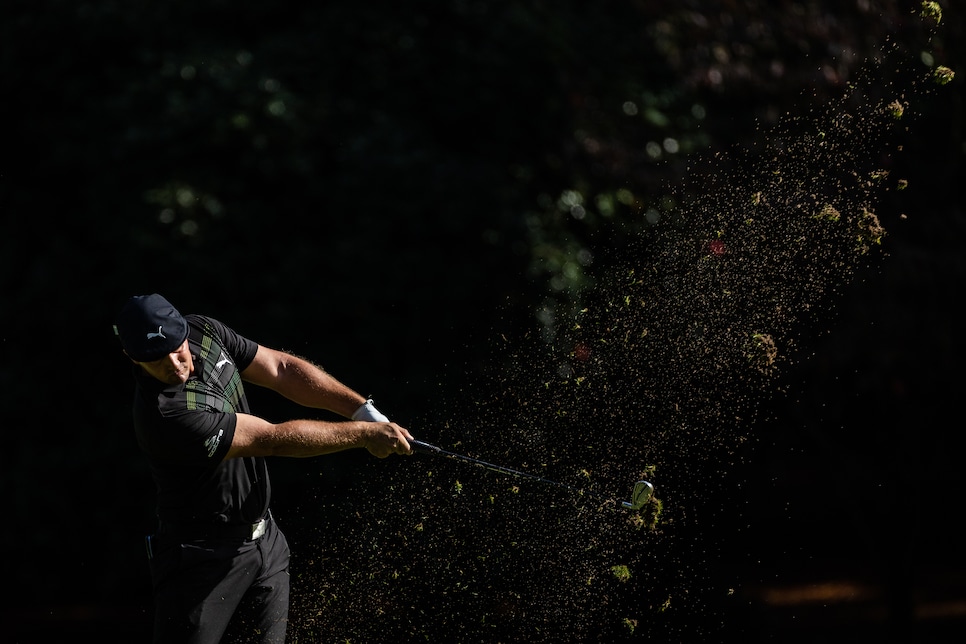 Only that question came on the next hole, DeChambeau cutting the corner on the 575-yard par-5 second that left a mere 195 yards in. Then again at the third, his drive at the 350-yard third, in the face of wind and heavy air, coming up just short of the green. And at the fifth … well, what Bryson did at the fifth was provide the answer.
The fifth weighs in at 495 yards. Already a brute, the club lengthened it by 40 yards last year to maintain the hole's integrity. The move worked; it was the hardest hole at least year's tournament by a fair margin. So it doesn't take too much imagination to wonder what the club was thinking when DeChambeau cleared the left-side bunkers—listed as 315 yards from the tee but because they're uphill are actually much longer—by a good 20 yards. The drive was just shy of 350. He was left with 140 yards. Bryson single-handedly tore down a defense whose paint had yet to dry.
"There was a couple of them that were reality checks," Rahm said of Bryson's drives. "He hit a good one at 15 and he wasn't that far ahead of us, but after the drive on 5 , because I hit mine good, and he was a good 20 yards past the bunkers, so that was one where we were like, okay, that was quite a bit. And then on 8, as well. He seemed to toe it, and I hit mine good, and he was still way ahead of me."
He played those holes in "just" one under. For posterity he would card on 34 on his second nine thanks to back-to-back birdies at the eighth and ninth, birdies fueled by long putts that found the hole. "I'm very happy with the patience I delivered to the course today," DeChambeau said. He made something out of nothing, although not the type of transformational performance his round was hyped to be.
Or was it? His driving was as underwhelming as it's been since he began this odyssey. He surrendered 2½ shots to the field on the 13th. He missed greens from painfully close distances. Yet he remains in contention because he took a handful of holes, turned them upside down and stole their lunch money.
"It's still Augusta National, and it's the Masters. It's an amazing test of golf no matter what way you play it," DeChambeau said.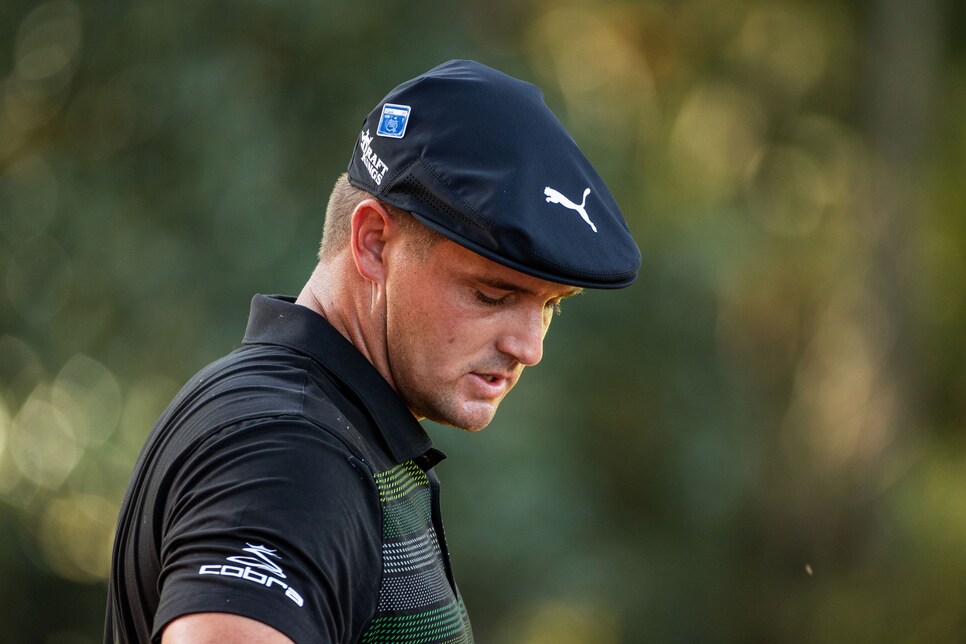 A 70 might have been disappointing at day's end for DeChambeau, but it keeps him in the mix.
Ben Walton
Bryson-vs.-Augusta is not the endgame. It is the beginning. DeChambeau will continue to get bigger and longer and faster, and his success has become undeniable to the point where others will follow suit. Augusta National chairman Fred Ridley warned the sport was at a "crossroads" with distance on Wednesday afternoon, and Ridley is not a man who deals in coincidences.
So no, Augusta National didn't get knocked out in its first round against the new Bryson. Three days remain before the bell rings.