The Loop
The time Dustin Johnson stayed with my family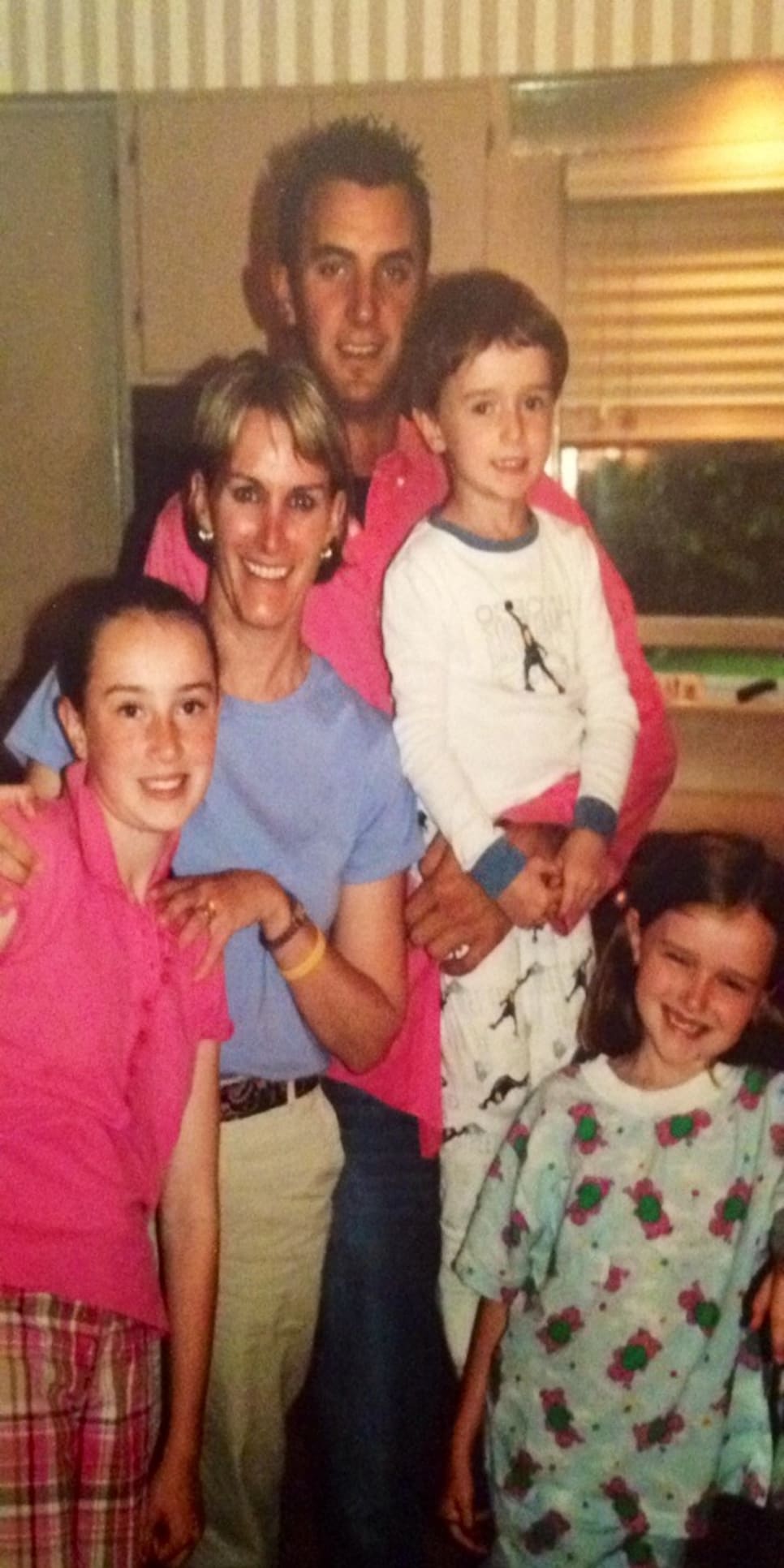 Editor's Note: This story first appeared in 2016. Claire Rogers is now a Golf Digest social media manager.
Every June, Wannamoisett Country Club in Rumford, R.I., hosts the Northeast Amateur Invitational Golf Tournament, an elite amateur event that brings future stars to our small town outside of Providence. Most members live in Rumford and will often host players, which is both fun for the family while helping the amateurs save some money and a commute.
In 2006, my family had just moved to a bigger house in Rumford and we were excited to finally host two players for the first time. With four kids between 5 and 14, my mom was a little uneasy about having two college kids stay with us for a week, but my dad got a call on Sunday morning that our first player had arrived at the course and was ready to be picked up. We drove to Wannamoisett and met Dustin Johnson in the parking lot. He was in workout clothes and flip flops, and looked more like a basketball player than a golfer. His hair was spiked up, which made him look even taller as he squeezed into the passenger seat of my dad's Volvo.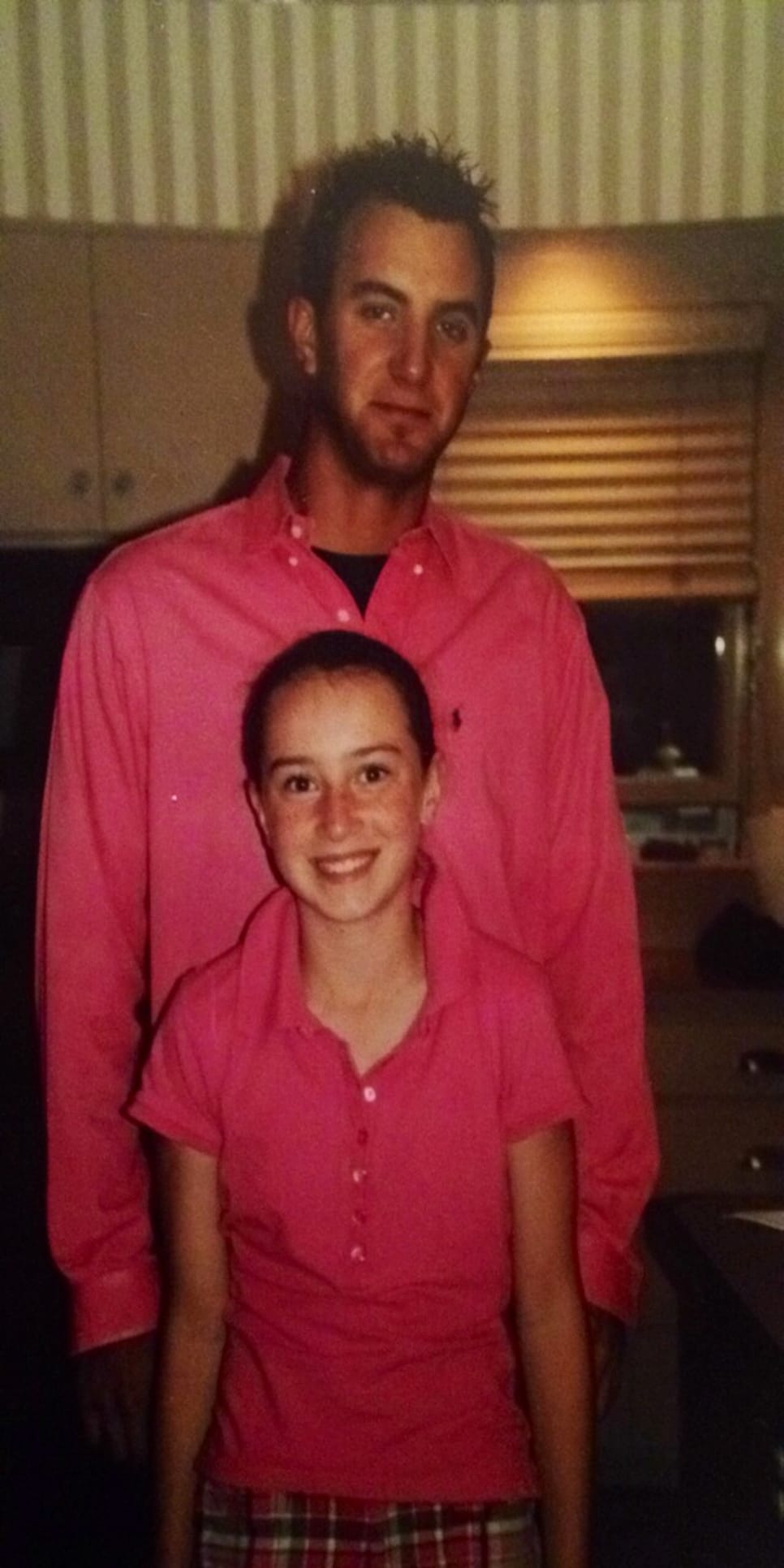 My mom was happy to hear that Dustin was willing to eat anything for dinner. We had pasta. Dustin mentioned that his dad was staying at a hotel in Worcester, Mass., which they thought was 10 minutes from the course. When we informed him that Worcester is almost an hour from Wannamoisett, Dustin called his dad to tell him that he should look for a closer hotel. We ended up hosting UCLA player Daniel Im, as well as Dustin and his father, Scott Johnson. I stayed in my sister's room for the week, and while I was tidying up for Scott, Dustin commented that I had the messiest room he had ever seen.
Dustin stuck out in the field that year even before hitting the course. He was taller, stronger and bigger than the rest of the guys. He walked with swagger and looked like he didn't have a care in the world. He could easily palm a basketball and could pick up my younger siblings Ellen and Brendan easily in each hand.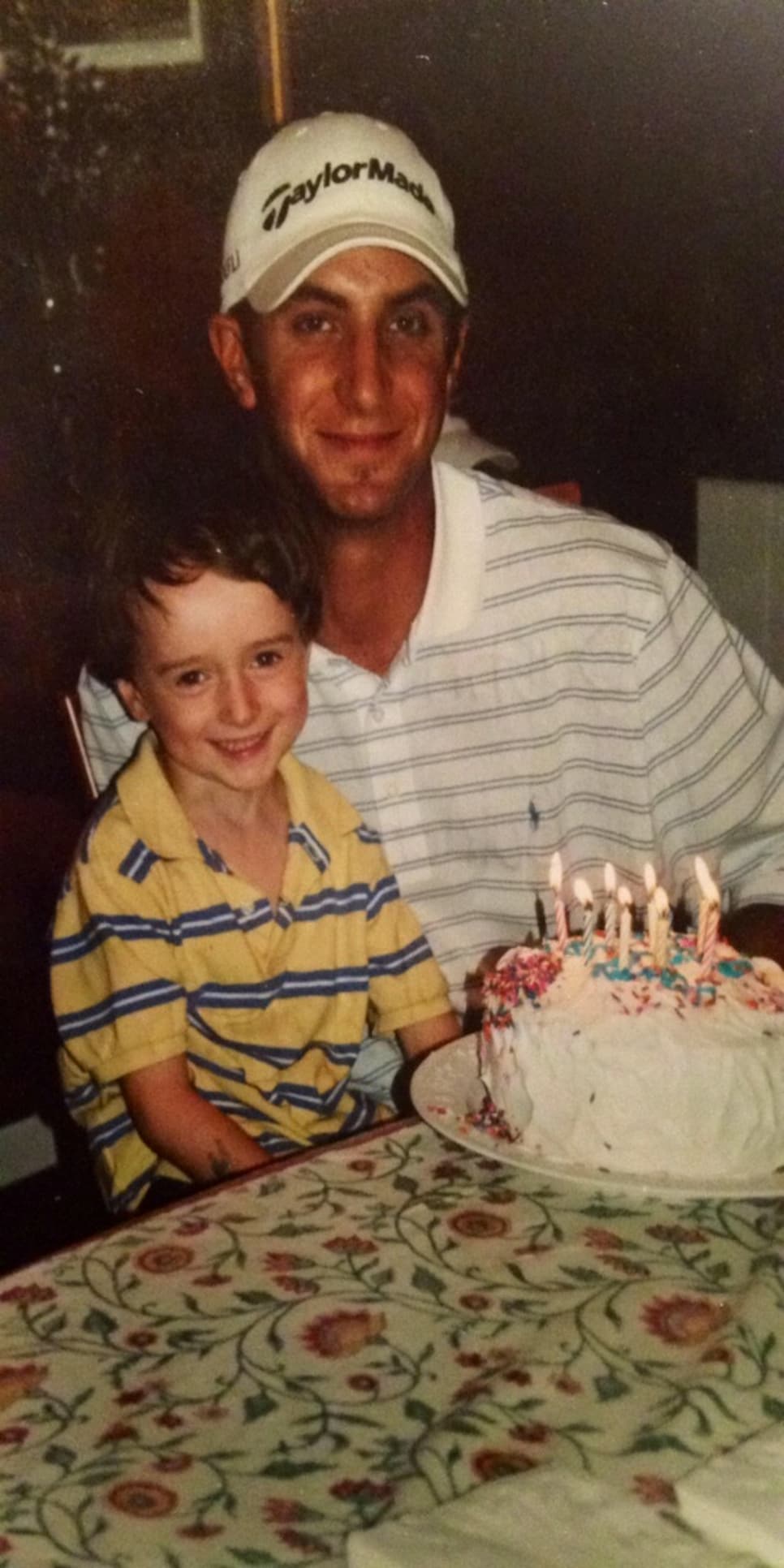 When Dustin learned that Brendan had a severe peanut allergy, he emptied out his entire bag to make sure there were no granola bars with nuts in it.
Tim, my older brother, was on Dustin's bag that week. He was 14 and often had to break into a jog in order to keep up with Dustin's long strides. Dustin had brought his clubs in a Sunday bag, so they decided to use Tim's bag instead. After the practice round, Dustin would return to our house and shoot hoops outside, performing a perfect slam dunk every so often. He'd hold up Brendan and Ellen so that they could hang on the rim. Dustin called Brendan "B", which is still a nickname to this day. My parents were mortified when my mom went upstairs to make sure Dustin was awake for his tee time and found Brendan sitting at the foot of his bed. Dustin had told B to wake him up each morning, and thought it was hilarious how seriously he took the job. There was so much rain that week that the tournament was shortened down to two rounds; it now has a Wednesday start to account for any bad weather. When Dustin learned that Brendan had a severe peanut allergy, he emptied out his entire bag to make sure there were no granola bars with nuts in it.
Thursday the 22nd was Dustin's 22nd birthday. My parents make a big deal out of "golden" birthdays—when you turn the age of the day you were born on. DJ said he didn't need a cake, but when we insisted, he asked if my mom could make a red velvet cake. Apparently his grandmother made it from scratch all the time. When we couldn't find any red velvet cake mix at the store, we went with vanilla, and DJ said he'd have his grandmother email us her recipe. That night, we all played basketball and had cake for dinner. Then he and Scott went to the casino, and I went to bed.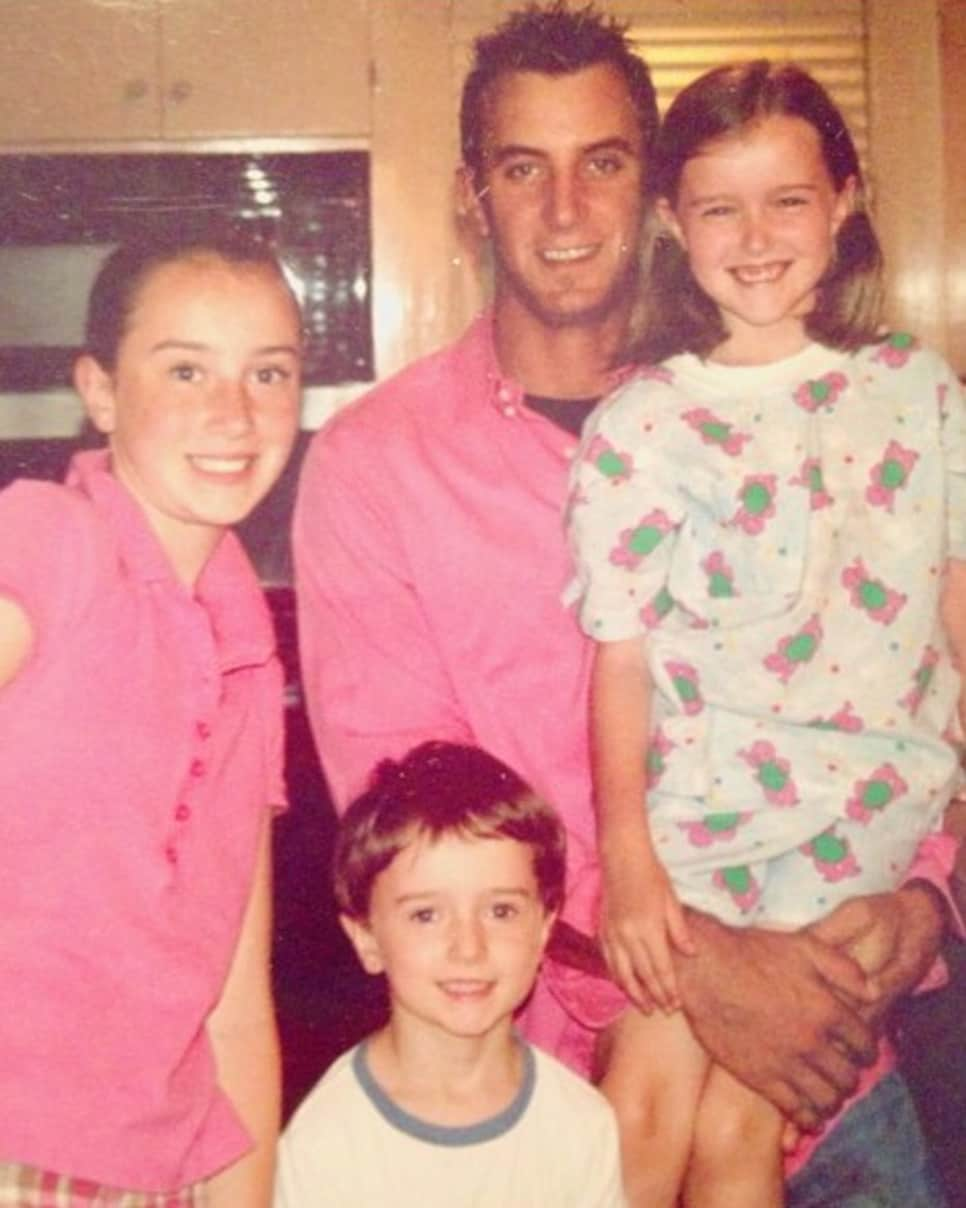 Wannamoisett is located on a small piece of land, so there isn't a full driving range at the course. Members can usually stick to long irons, but when the Northeast Amateur rolls around most players will warm up at a local public range. My mom brought Tim and Dustin to Atlantic golf range, and he talked to his girlfriend on the phone the whole way. Again, Dustin was wearing athletic clothes. Except for his height, no one batted an eye when he stepped up to the mats—until he started hitting. Tim remembers people gathering around them and watching Dustin swing. They had no idea who he was, but soon realized he was something special.
Friday was the long-drive contest. I had a Little League game and was bummed that I couldn't attend. People had been talking about how far Dustin could hit the ball all week, but I had been scoring by the par 3s so I hadn't witnessed it. Dustin met my family in the car wearing leather flip flops, jeans and a Tommy Bahama t-shirt. He wasn't too happy when my dad explained that denim isn't allowed at Wannamoisett. He reluctantly changed into plaid shorts. Because of his footwear, the assumption was Dustin wouldn't be competing in the long drive. We were wrong.
Most members sit under the patio behind the first tee during the long-drive contest and watch the players tee off. Dustin and Brendan were wrestling by the putting green. When they called his name, Dustin strolled up to the tee, set his Corona down next to him, teed it up and stunned everyone. The first drive was right down the middle, and the members cheered as our pro announced that Dustin's drive was well over 300 yards. Dustin had already kicked off his flip flops and was back hanging out with Brendan by the putting green when he was announced the winner and given pro-shop credit. From there, my family, joined by Dustin and Scott, came to my all-star softball game at Rumford Little League. We lost and the season was over. He patted me on the back and said, "There's always next year" on our way to get ice cream.
He left a thank-you note on his bed, as well as a 60-degree wedge with his initials stamped onto it. Brendan has that club in his bag today.
It poured that weekend. Most of the time was spent waiting under the patio for the torrential rain to pass, but it never did. I sat there and listened about how DJ had been playing well until he snapped a drive over the fence and into the street on 17, which took him a few shots off the lead. He took it as it was, and didn't seem at all phased by it. Play was cancelled, so he didn't get a chance to redeem himself that weekend. Dustin was eager to shop at the Providence Place Mall. These days Johnson says he has always been into fashion, but back then he didn't have the means to splurge. DJ got a pair of jeans and two shirts at the mall, which he was pretty excited about. Proving his potential as a future star, he returned to win the Northeast Amateur in 2007. He was the only player under par that week.
Before leaving Rhode Island, Dustin gave Tim some Coastal Carolina gear and spent most of his pro-shop credit buying Pro V1s to give to us. He left a thank-you note on his bed, as well as a 60-degree wedge with his initials stamped onto it. Brendan has that club in his bag today. Dustin gave Tim his grandmother's email, and for the next few years, she would send us recipes and Dustin's tournament results. Brendan, now 15, always goes to the Deutsche Bank at TPC Boston to see Dustin. I'm always surprised when he remembers "B" and asks him how school is. Dustin always offers to leave tickets for us at will call, and when Tim and my Dad went to the Masters in 2011, he saw them by the range and went over to catch up. Although we only got a glimpse into Dustin's life for a week when he was an amateur, we became huge DJ fans as a result of it. We couldn't be happier that Dustin has his first major under his belt.
MORE FROM THE 2020 MASTERS