The Grind
Jordan Spieth's death-defying shot, Harold Varner III's instant classic celebration and a casino legend hits the jackpot
Welcome to another edition of The Grind where we're just glad Jordan Spieth is still alive. Seriously, his death-defying shot on Saturday at Pebble Beach was one of the most dramatic moments in live TV history. I always thought Jim Nantz might have to do play-by-play of an athlete dying, but that it would happen on a football field and not on a golf course! Also, I get nervous hitting balls on the upper level of a driving range! Yet there was Spieth perched precariously on the edge of a steep cliff: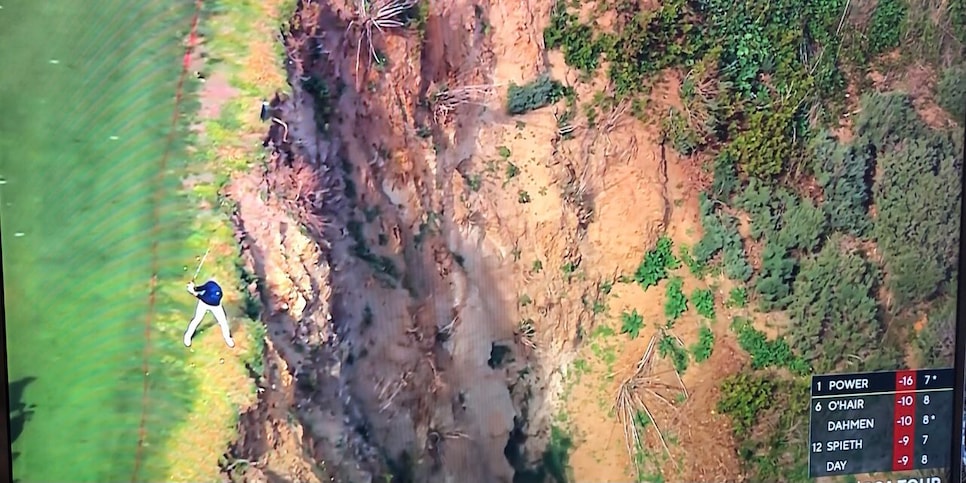 Just a wild scene. Of course, Spieth survived. And of course, he saved par. And, of course, he shot 63 and nearly pulled off an all-time comeback the next day. The guy loves taking golf fans on a roller-coaster ride, and we enjoy coming along. But let's just stay away from literal drops like that going forward. OK, now that we've all settled down, let's talk about what else is happening in the world of golf.
Tom Hoge: This was a stunner. Not only did Hoge win for the first time in his 203rd PGA Tour start, he did so by chasing down Jordan Spieth down the stretch at one of the most iconic spots in golf.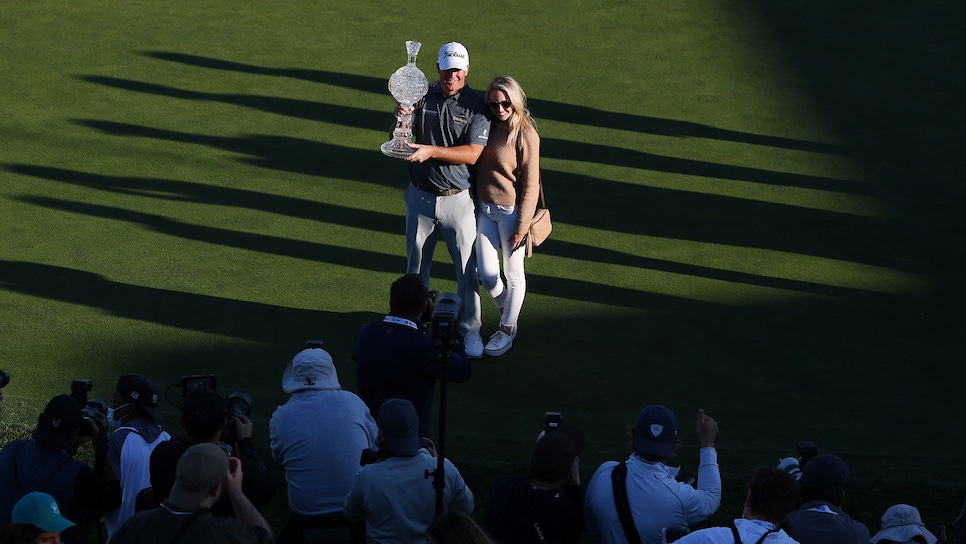 Pretty darn impressive. Just like his ability at the craps table apparently:
The Shotgun Start podcast doesn't call him "Tommy Tables" for nothing. Hopefully, he was able to take a little detour to Vegas on his way to Phoenix this week after taking down a $1.56 million jackpot. Hey, when you're hot, you gotta press.
Harold Varner III: This guy is still looking for his first PGA Tour title, but in the meantime he's now won two pretty big-time events around the world. The 2016 Australian PGA champ claimed the 2022 Saudi International in spectacular fashion, holing an eagle putt from almost 100 feet on the final hole that kicked off arguably the greatest celebration in golf history:
Amazing. Of course, it's also pretty funny because this crazy finish happened at a tournament so many people have mixed feelings about. The golf gods are a mischievous bunch, huh?
Leona Maguire: Surprisingly, Maguire became the first Irish winner on the LPGA Tour at the Drive On Championship. It's also surprising it took her this long to find the winner's circle.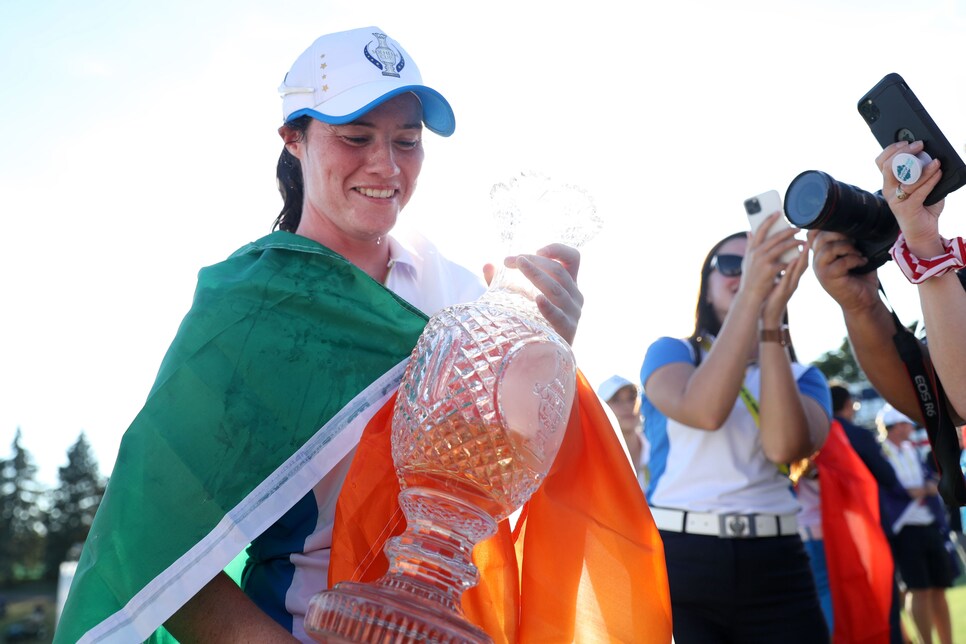 I mean, did you watch last year's Solheim Cup? She was downright dominant. She also spent nearly three years as the No. 1-ranked amateur in the world while at Duke. Anyway, now 27, Maguire is an LPGA winner, and she even got a shout-out from a world leader:
Yeah, she's kind of a big deal.
Nicolai Hojgaard: It took this guy a while to get going, too. Just kidding. He's not even 21 and he's now a two-time winner on the DP World Tour.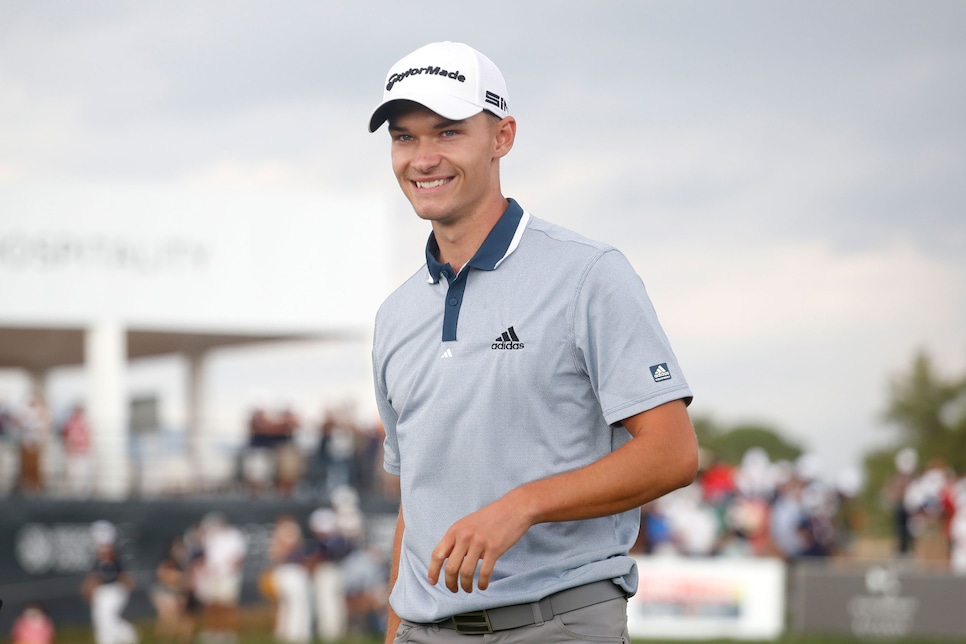 And if the name sounds familiar, that's because he's the twin brother of Rasmus. But after spotting his bro a three-win lead, Nicolai has cut the gap to one and has moved ahead in the Official World Golf Ranking at No. 67. This guy is so good that even when he tops a shot from 240 yards, it winds up 10 feet from the hole:
I need him to teach me that trick.
Phil's comments: Ooo boy, where do we begin. We love Phil Mickelson and are appreciative of the Content King, but he went a bit far in an interview with our John Huggan. The six-time major champ, fresh off winning an $8 million bonus/popularity contest from the PGA Tour, called out the tour multiple times for its "obnoxious greed." He also claimed the tour is holding $20 billion in digital assets from its players. That's BILLION with a "B." Phil might want to check his math there. And finally, in regards to his media-rights complaints, does he think LeBron James or Tom Brady own their highlights? Because they don't. Anyway, I'm not saying players—especially top players like Phil—can't be more fairly compensated, but this was a bit, um, rich.
Bryson's injuries: Another week, another disappointment for Bryson DeChambeau, who withdrew from the Saudi International with hip and hand injuries. Bryson blamed his latest injury on a "fall" earlier in the week and told people pointing to his workout regimen to "chill," but he failed to mention why he was also visibly in discomfort the previous week at Torrey Pines. Anyway, our Dan Rapaport has no chill, and he put together a pretty interesting piece examining whether Bryson's bulk project has really been that beneficial. If you don't feel like reading more, here's a helpful graphic instead:
That settles it. I'm not going to the gym today. Again.
Kevins: Check out this weird stat:
Yep, it was a tough week for Kevins out there. Not much more to say.
The PGA Tour heads to TPC Scottsdale for the Waste Management Phoenix Open, AKA the one that has that stadium par 3 and a lot of, um, rowdy fans:
Random tournament fact: Brooks Koepka beat Xander Schauffele and K.H. Lee by a shot last year, but prior to that, this event had gone to a playoff in four of five years. A playoff that cut into the Super Bowl. Again, those golf gods are a mischievous bunch.
RANDOM PROP BETS OF THE WEEK
—Someone will make a 100-foot putt to win at TPC Scottsdale: 1 MILLION-to-1 odds
—Someone will come out of the stands to attempt a 100-foot putt: Even odds
—Phil Mickelson was jealous of Jordan's cliff shot: LOCK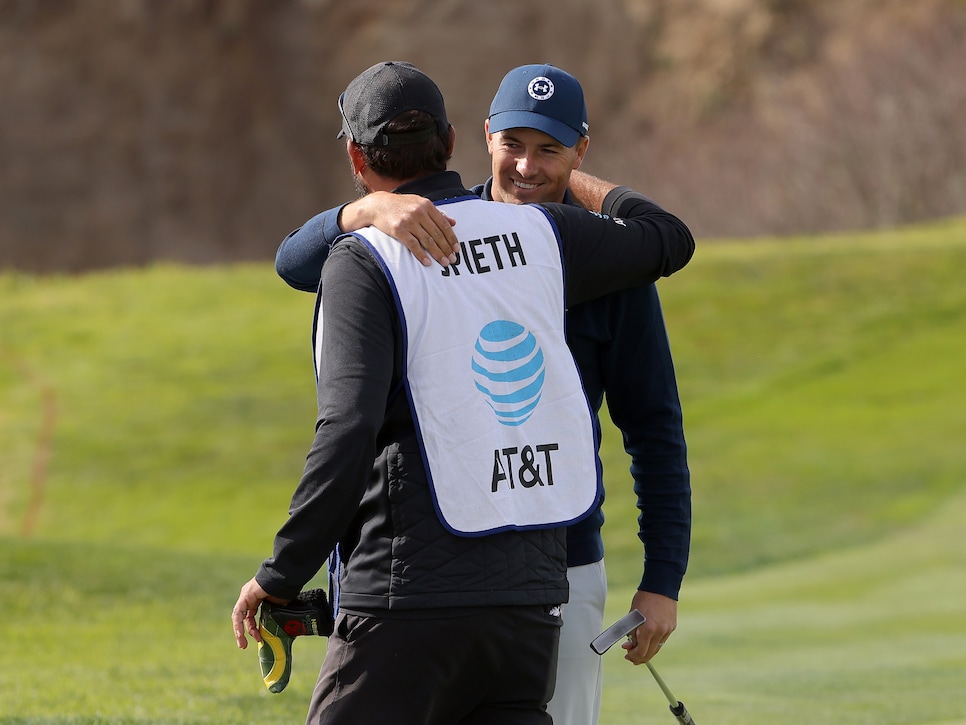 That's Jordan Spieth hugging caddie Michael Greller after saving par—and surviving—the eighth hole at Pebble Beach on Sunday. Of course, he probably should have just listened to Greller and not hit a shot from, you know, the edge of a freaking cliff.
Not surprisingly, this has a celebrity vibe. First, Canelo Alvarez nearly made an ace on No. 17:
And then Josh Allen showed off his arm:
Glad he looks to be in good spirits. I still can't believe the Bills lost that game to the Chiefs.
THIS WEEK IN PUBLIC DISPLAYS OF AFFECTION
How about Clay Feagler having his mom caddie for him in a Korn Ferry Tour event?
Awww. And he finished T-25! Go mom! And get yourself a friend who loves you as much as this dude loves Tom Hoge:
On a related note, that guy is me every time Tiger or Bill Haas is in contention.
"Yeah, I'm not really sure what's going to happen there. I just saw the blimp shot from overhead, and it really bothered me. So, I can't imagine while she was watching that live." —Jordan Spieth on explaining hitting that shot to his wife. Yeah, good luck with that, Jordan. Now that you're a father, you're supposed to have better PERSPECTIVE.
Former PGA Tour winner Mark Lye was let go from his hosting duties on SiriusXM PGA Tour Radio after making sexist comments on air. There's an easy way to avoid this type of situation: Don't make sexist comments. … Bryson DeChambeau was reportedly offered $135 million to be the face of the Saudi-backed Super Golf League. With each injury or fall he sustains, that kind of guaranteed money has to get more tempting. … Speaking of money, Joel Dahmen finished T-6 at Pebble to earn $293,000. That should help his caddie, Geno Bonnalie, afford his own hotel room this week in Phoenix. … And, finally, this casting for a 3-5 kids production of "The Wizard of Oz" was probably done completely at random, but let me be a proud dad for a moment: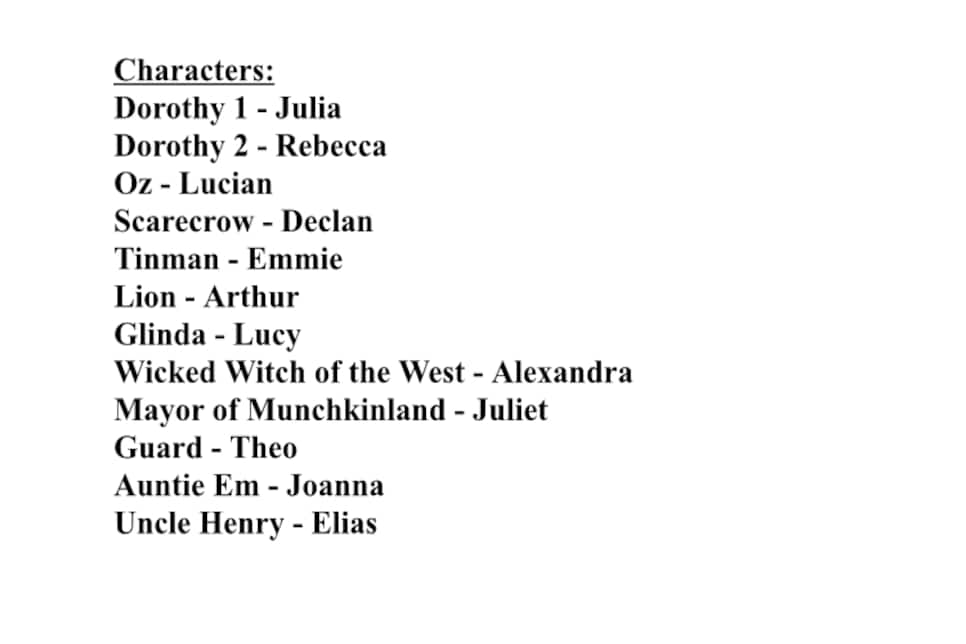 That's my Julia as Dorothy No. 1. Guess I'm a Stage Dad now.
RANDOM QUESTIONS TO PONDER
How much would the Saudis have offered peak Tiger?
Has anyone ever died playing No. 8 at Pebble Beach?
Is Michael Greller in Jordan Spieth's will?