Voices
Is Bryson DeChambeau's (aching) body trying to send his mind a message?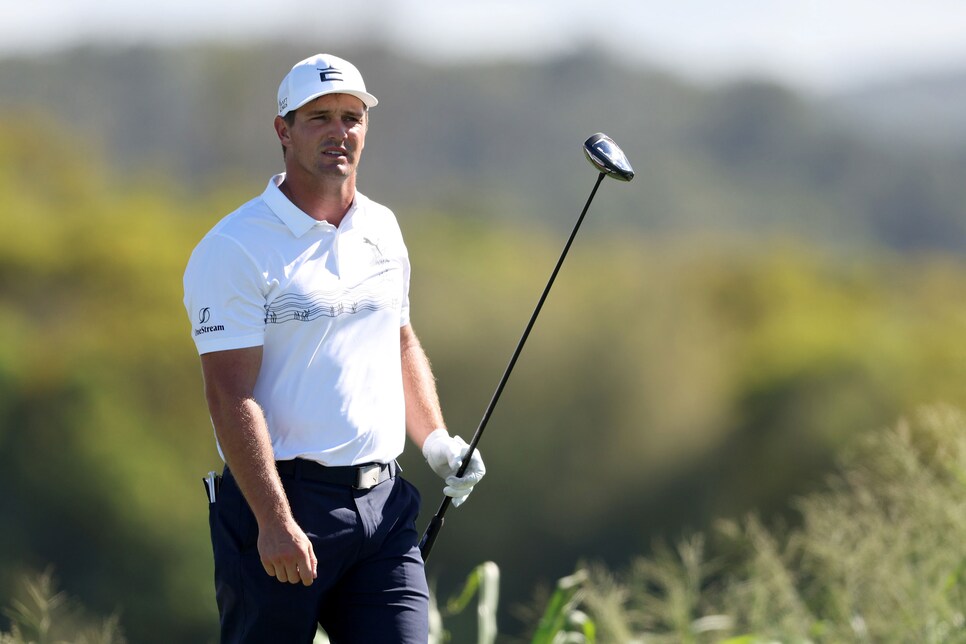 On Saturday, DeChambeau took to Instagram to say the injury was the result of an early week fall, not anything to do with his training. It is, however, curious that last month he also withdrew from the Sony Open in Hawaii before the tournament started and looked visibly hobbled at the Farmers before missing the cut by a shot. He cited his wrist as the problem at Sony, but he also seemed to be grabbing at his back at Torrey Pines. And as Woods often reminds us, the body is connected in a kinetic chain. It can only handle so much force. Just ask Tiger. Or Jason Day. We don't know if this is that moment for DeChambeau, but we also don't know for sure that this isn't that moment.
"It's almost like an experiment, because you don't know how the body will react," says Dr. Ara Suppiah, founder of the Functional Sports Medicine Institute and a Golf Digest contributor. "You do all the calculations, and you make all the assumptions about where you want to go, what swing you want to create. He thought about it the right way in terms of nutrition and training and working at overspeed and building strength. But this is the nature of testing the boundaries. Sometimes when you want to push the boundaries, the boundaries will push back."
DeChambeau has, however, spoken at length about his diet and workout regimen, how he views pushing himself to his limits as a way to transform his body. He's posted videos of speed sessions that make your back hurt just watching them. "I've been going pretty hard at the golf swing," he said in a recent YouTube video. "My core, my trunk rotation and flexion is something that's gone off on me and been really bad about four, five years ago. But I've been able to fix it and work through it the past few years I've learned a lot how to bandaid my back with [trainer Greg Roskopf]."
The golf swing isn't the only thing he's been going hard at. He's said he drinks seven protein shakes a day and consumes 6,000 calories a day. He's quasi claimed the far right corner of PGA Tour driving ranges as his, using preparation days to wallop away at driver after driver, surrounded by his traveling entourage, immediately checking his launch monitor for validation. The night before his U.S. Open victory—the peak week of post-Bulk Bryson—he closed down the range on Saturday night, flood lights and all, putting a hurt on those poor golf balls.
This isn't to knock the man's dedication to trying to get better, which truly is second to none. Ask any of his peers, and no matter how they feel about him personally, you'll get a similar response: I respect the hell out of his work ethic. It's not a new thing. Before he was Mr. Distance he was Mr. Science, constantly tinkering with equipment and weaponizing math to remove variables from an impossibly intricate game. But over the past two years, after he turned his putting from a weakness into a strength, DeChambeau has poured the majority of his ever-present effort down the distance rabbit hole. He has experimented with 48-inch and 4.5-degree drivers. He has grown close with Kyle Berkshire, the reigning Long Drive king. He has dreamed of days when he can cruise at 200 mile per hour ball speed in competition. Hell, he went straight from the Americans' Ryder Cup romp last September to the desert of Nevada to compete in the World Long Drive Competition.
"He didn't go into this blind—he didn't wake up one morning and decided he wanted to get shredded," Suppiah says. "If you look at Bryson, he's been on an extremely well thought-out training method. This wasn't reckless. He doesn't do anything half-ass. I can't fault him for that. When he's hitting it miles and everything is good, no one says anything. It's only when he runs into a hiccup that the naysayers come out."
He has been able to completely recreate his swing, from a one-plane metronome to a lift-the-left-leg-on-the-backswing, load and explode, often unable to hold his balance on the finish. In that regard—the distance regard—the Bryson experiment cannot be considered anything but a smashing success. In 2018-19, the last full year before he hit the weight room and started slamming protein shakes, DeChambeau averaged 302.5 yards off the tee. He ranked 34th in driving distance and 24th in strokes gained/off the tee. In 2019-20, he averaged 322.1 yards, ranked first in distance and first in strokes gained/off the tee. In 2020-21, his first full season with his new body, DeChambeau set a new PGA Tour record by averaging 323.6 yards off the tee and again led the tour in strokes gained/off the tee. He deserves immense credit for accomplishing his goal of becoming the longest hitter on the PGA Tour, and he has managed to continue hitting it remarkably straight given his speeds.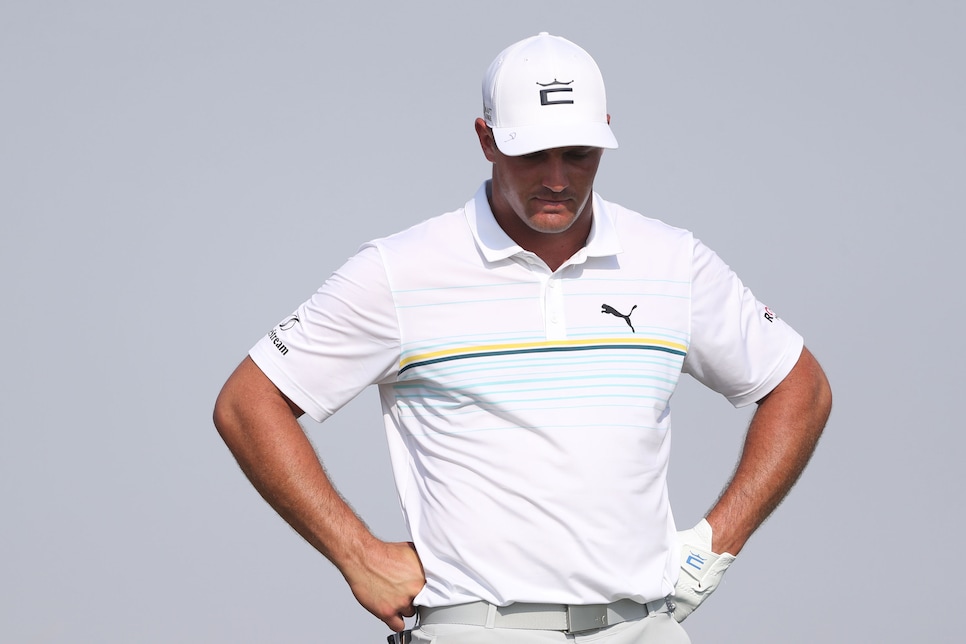 After a three-over 73 in the first round of the Saudi Invitational, Bryson DeChambeau withdrew from the tournament, citing an injured left hand and hip.
Oisin Keniry
His body transformation has also coincided with him becoming a true superstar, albeit a controversial one. Multiple sources have told Golf Digest that DeChambeau comfortably made the top 10 in last year's Player Impact Program ranking. He has 852,000 followers on Instagram and 246,000 YouTube subscribers. And since Tiger's absence, no one on tour draws a bigger gallery at events. The fans dig the long ball. So do sponsors, and he's certainly earning way more money than he did in his skinnier days. Financially speaking, it's been a huge net positive.
But golf-wise? Actual score, and actual finishes? It's a compelling comparison. Bryson's bulk-up began in earnest in October 2019, when, after finishing T-4 in the Shriners Hospitals for Childrens Open, he told media that he was "going to come back a different person." His first tournament with his new body was the Abu Dhabi HSBC Championship in January 2020. Including that week, he has played 42 events as the bomber. In those 42, he has amassed three wins, including the U.S. Open, and 17 top-10 finishes. In the 42 events before his bulk up, he amassed five wins and 13 top-10 finishes. Post-bulk Bryson peaked at No. 4 in the World Ranking; pre-Bulk Bryson got as high as No. 5. Post-bulk Bryson made the Ryder Cup team; so did pre-Bulk Bryson.
Majors are the currency of elite professional golf, and DeChambeau never contended for one, let alone won, before he hit the gym. At the time, his U.S. Open bludgeoning at Winged Foot looked like a seismic shift in real-time. Bryson's length would reign supreme.
"What DeChambeau has done, how he has done it and where the game goes from here—Bryson said he's moving to a 48-inch driver that could rain 370-yard drives—well, that is a matter for a different day," my colleague, Joel Beall, wrote that Sunday in Mamaroneck. "This day belongs to the revolution, and the man who brought it."
It simply hasn't materialized. At least not yet. DeChambeau has won exactly once since, at last March's Arnold Palmer Invitational. And with his body looking increasingly fed up with the beating it has taken, at least watching from the outside, one cannot help but wonder how sustainable his approach is—if, of course, winning golf tournaments is his goal. The man himself seems completely unfazed by this inauspicious start to the year. "Thank you for your concerns!," he wrote, "and keep hitting bombs!! I will be back."