Saudi International
Bryson DeChambeau WDs from Saudi International with hand and hip injuries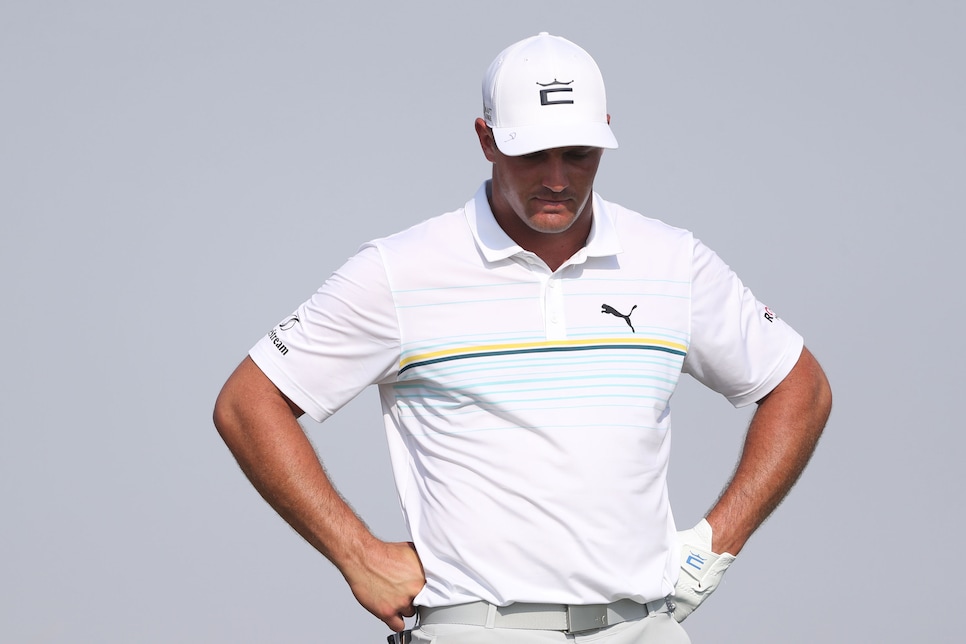 A dejected Bryson DeChambeau waits on the 14th hole during his first round of the 2022 Saudi International. After shooting a opening three-over 73, he would withdraw due to injury before the second round.
Oisin Keniry
AL MUROOJ, Saudi Arabia — As Bryson DeChambeau made his way from the 18th green to the scoring tent at the conclusion of his three-over-par 73 in Thursday's opening round of the Saudi International at the Royal Greens Golf & Country Club, it was obvious from his pronounced limp that he was having problems. That the former U.S. Open champion had nothing to say to the waiting media was far from unusual, of course. His response to the official request for his time was typically short and to the point: "no," But the wince on his face as he left the scoring area left onlookers in no doubt that he was feeling some considerable discomfort.
So it was that, the following morning, news of DeChambeau's premature departure from the $5 million event—the richest-ever on the Asian Tour—came as no surprise. The official statement read as follows:
"Bryson DeChambeau has withdrawn ahead of the second round of the PIF Saudi International powered by SoftBank Investment Advisers with a left hand and left hip injury."
How much those aches and pains affected the World No. 9's play is, at least for now, a mystery. But it is perhaps safe to assume they were at least a contributing factor in a generally desultory performance by the PGA Tour's longest-hitter. While a birdie at the opening hole promised much, it was soon enough followed by a dropped shot on the par-4 sixth and a triple-bogey on the seventh. Two birdies and two bogeys thereafter maintained DeChambeau's three-over-par status to the close and that clearly excruciating final walk.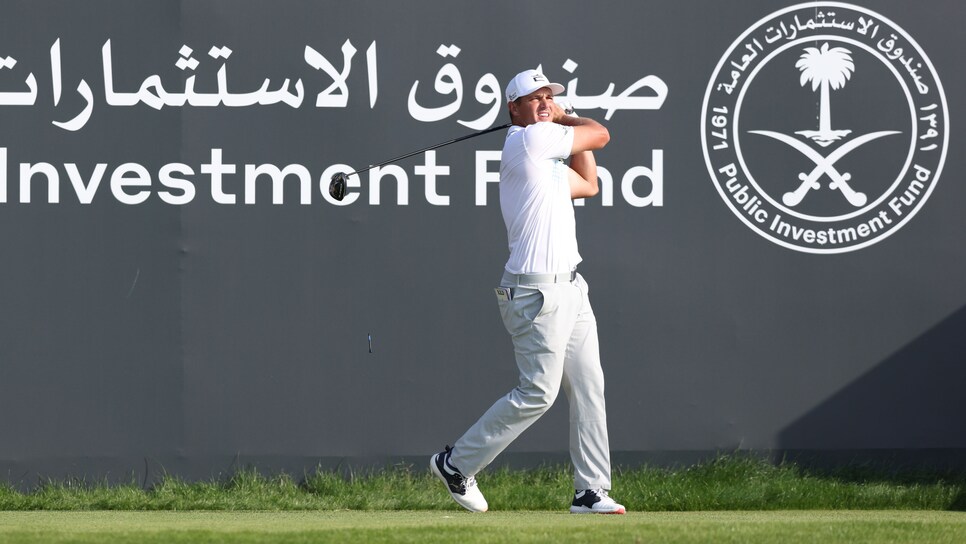 DeChambeau's swing looked awkward at times during the first round at Royal Greens, as was the case a week earlier when he played at Torrey Pines during the Farmers Insurance Open.
Luke Walker/WME IMG
Meanwhile, in Janaury, DeChambeau was forced to withdraw from the Sony Open just two days after entering the event, also citing the issue with his wrist

Simultaneous to DeChambeau's on-course battle with his body has come an off-course scramble surrounding his potential alignment with officials behind the proposed Super Golf League. A report on Thursday stated that DeChambeau had been offered $130 million to compete on the yet-to-be launched tour. DeChambeau did not speak to the press after his first round but did post on his Instagram account that the report was "wrong," offering no further details however.