HAVEN, Wis. — He did what the crowd wanted and what the crowd had wished, and they responded with the love he has so desperately craved, so he soaked the moment for all it was worth. Bryson DeChambeau raised his club to the sky in his trek between the tee and green, which he just drove in front of tens of thousands of fans at the opening hole at Whistling Straits, and the only sounds louder than what greeted Bryson on this walk were those that came after he converted the ensuing eagle putt. It was a beautiful sight, and a beautiful paradox. A man who had been vexed and tight and confined was now happy and loose and free. The paradox was the setting. DeChambeau, whose zealous devotion to a strict diet and physical transformation that beget a performance that challenged the limits of this game … finding redemption in the land of beer and brats and cheese.
On second thought maybe it's fitting, for behind the big golfer's shoulders sat Lake Michigan. Any port in the storm, indeed. Proverbs can be clichéd, but they are often clichéd because they are true. Which is how Bryson Dechambeau, coming off a summer from hell, was rescued by the Ryder Cup.
"I'll tell you, this is possibly way better than any tournament I've won in my entire life," DeChambeau said Sunday night. "The group of people, the collective game of golf, it's so much bigger than just a singular tournament. It's about people coming together and doing something special for the game of golf."
DeChambeau was not the player of the match; that honor belongs to Dustin Johnson, he of the perfect 5-0-0 record. DeChambeau did not seal the clinching point; that piece of trivia goes to Collin Morikawa. He was not the team's leader or spiritual guide. But DeChambeau unquestionably, and emphatically, won the week at the 43rd Ryder Cup, and to suggest otherwise is to be oblivious to what transpired on the shores of Lake Michigan.
Let's rewind the clock a year, Sept. 20, 2020 to be exact, when DeChambeau captured the U.S. Open at Winged Foot. It was seen not just as a triumph but a paradigm shifter, what he did and how he did it raising the question of where the sport was going that left the game at large in dazed resignation. Those whispers, while temporarily quieted at an autumn Masters, grew louder in the spring of 2021 with a victory at Bay Hill (highlighted by a jaw-dropping drive over a lake to a par-5 green) and a run at TPC Sawgrass, and with another shot to "break" Augusta National, it was very, very much DeChambeau's world.
Augusta, as it's wont to do, did not abide, and for the second time in this superseason, DeChambeau left Georgia dumbfounded. A month later he entered the final round at PGA Championship with a puncher's chance for the Wanamaker, but it was the Ocean Course at Kiawah that delivered the blows, a Sunday 77 pushing him to a T-38 finish. Unfortunately, that score was the least of his woes.
That was when the eyeroll seen 'round the world was leaked. The eyeroller, Brooks Koepka, leaned into its viral response, and when DeChambeau tried to counter that he was "Living rent-free" in Koepka's head, the Internet clapped back with a clip of DeChambeau kicking out a fan at the PGA for a pro-Brooks comment. Those yells expanded in number and strengthened in voice at the Memorial. Two weeks later. DeChambeau was nine holes away from defending his U.S. Open crowd, only to stumble home with a back-nine 44. His caddie quit on the eve of the Rocket Mortgage Classic. Bryson ripped his equipment at the Open Championship and his equipment manufacturer ripped him back. He had to withdraw from the Olympics after a COVID-positive test, made a misinformed statement about vaccination and began a media protest after his statement was ridiculed. At the WGC-FedEx St. Jude Classic, the "Brooksy" catcalls began to visibly take their toll and did the same in a playoff loss to Patrick Cantlay at the BMW Championship.
In short the paradigm-breaker seemed close to a breaking point of another sort.
So despite finishing third in automatic qualifying for Team USA, no American had more question marks entering the Ryder Cup than DeChambeau: Would his feud with Brooks Koepka be a distraction? Did training for a long-drive competition wreck his swing? Was his game and approach so singular that he was a liability?
By Sunday evening, DeChambeau answered those wonders, and answered with vigor.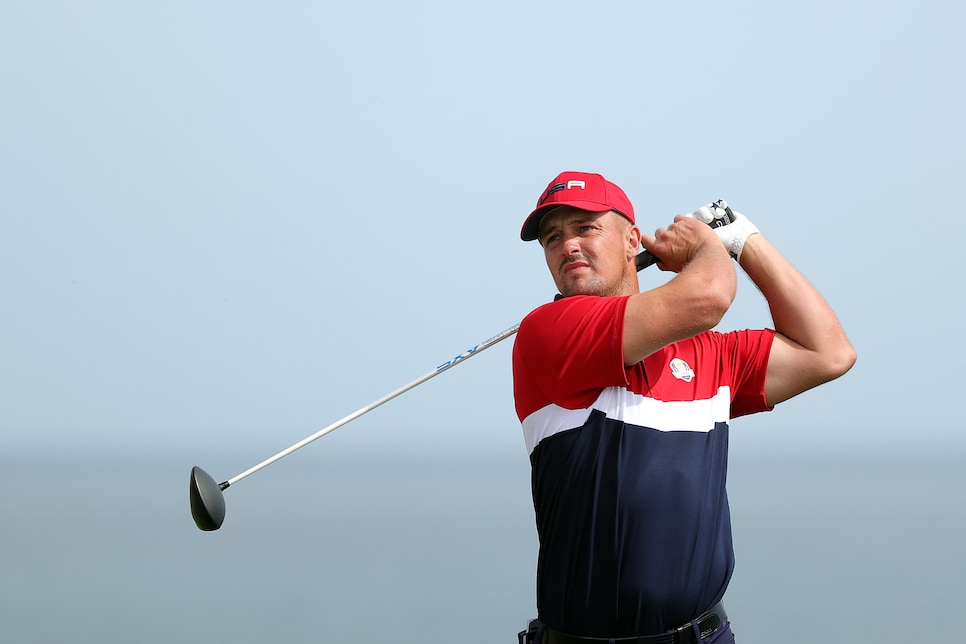 Those questions, while warranted, did not take into account this simple yet important truth: The Ryder Cup is a spectacle, and no player embodies spectacle like Bryson DeChambeau.
From the moment he stepped foot on property, DeChambeau took comfort in the notion that this is not a golf tournament but a sporting event and must be treated as such. The notoriously inward-facing DeChambeau, whose track record at previous team events is spotty at best, opened himself to the team dynamic. He accepted his role as a four-ball player while cheering on his counterparts during the morning sessions. He contributed 1½ points in his first two matches—with his afternoon win with Scottie Scheffler putting the Cup on ice—and turned in the highlight of the first two days with a 417-yard drive on an absurd line at the par-5 sixth that led to an eagle.
Just as crucial, he played to the galleries, acknowledging their passion and egging them on to give more. Every tied hole prompted a fist pump, every win elicited raised hands to entice more noise. He went out of his way to talk with fans and volunteers and did his best to accommodate every picture request. When he launched a drive, which was often, he added a little sauce by pantomiming a tomahawk toss. Was it cheesy? Yes, it was cheesy. But this is Wisconsin, where people wear cheese on their head with pride.
Because of the American's massive advantage heading into singles, it was mostly pride that was on the line for DeChambeau. That didn't make his match against Sergio Garcia any less arresting. Besides, with the cup all but locked up, the idea of competition and exhibition were fully intertwined, and DeChambeau obliged with a show.
There was what happened on No. 1, yes. Then there was No. 2, where he hit an approach off a cart path from 250 yards that buzzed the spectators watching from the hill and ended just off the green, leading to his second win in as many holes. He atoned for dumping a shot in the water at the fifth with a 2 at the par-3 seventh to regain a 2-up advantage and added to it with a birdie at the ninth.
Wherever he went the crowd welcomed him like a Packer walking into an Oshkosh bar, and DeChambeau responded with nods and thumbs-up and cap-tips and shouts of "Let's go!" On the sixth, when the crowd began to boo when he grabbed his 3-wood, Bryson loudly proclaimed, "Guys, I'm still going for the green, calm down," which dialed the cheers back to 10. Spectacle recognizes spectacle, after all. On this afternoon, one would have had a hell of a time explaining to an outsider that he was the most divisive guy in golf.
And boy, did he bring it. He matched Garcia's birdie at the 10th, got up-and-down at the 11th, flubbed a chip at the 12th but quickly forgot it by nearly jarring his approach at the 13th. Garcia, who has been nothing short of a dynamo this week, came back with a birdie of his own at the 14th to cut DeChambeau's advantage to 2 up with four to play. But Bryson responded with another approach so good he did not need to putt, officially closing out the 41-year-old Spaniard with a par on the 16th. The two men embraced, and then Bryson turned to the gallery, which was cheering his name, took his cap off and pumped his arms in stoic triumph.
"I knew today was going to be a tough fight and I had to go out and make a lot of birdies," DeChambeau said to the cameras. "This golf course does suit me pretty well …"
DeChambeau! DeChambeau! DeChambeau!
"... but I was fortunate to hit a couple great wedge shots and a couple good bombs out there, especially a great start on 1, that was a great start that pumped me up for the rest of the round …"
DeChambeau! DeChambeau! DeChambeau!
" … I fed off every single shot," DeChambeau said of the fans as they continued to roar. "They were electric. It's an atmosphere you don't get very often but one that you can feed off when you do."
DECHAMBEAU! DECHAMBEAU! DECHAMBEAU!
Bryson hugged his mom, hugged his brother, hugged his friends, then turned again to the fans and nodded. The crowd, all week, never showered him with snide remarks or smart-aleck comments or calls of "Brooksy." They just said his name, and said it with warmth and respect.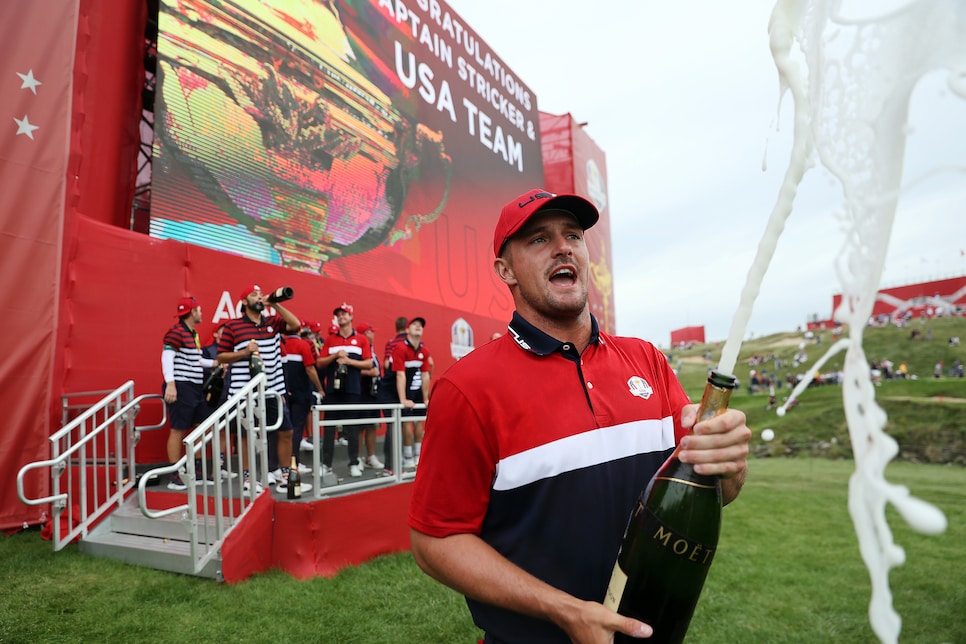 It was not a flawless week. DeChambeau caused a minor stir Saturday afternoon with an inside-the-leather gesture, upset he was not conceded a putt. He said something about having a "brass chest" against criticism, which sent etymologists scrambling to decipher what exactly that means. But this is golf. There is no thing as perfection. You can only do your best and strive to be better tomorrow.
As for tomorrow, it should be noted not all salvation is eternal. This may be a spectacle, as is the long-drive competition he will compete in next week, but the PGA Tour is certainly not. This was a partisan crowd at Whistling Straits, staking their loyalty not to the players but the flag that adorned their shirt sleeves. Though his feud with Koepka was paused—let it be known the two exchanged a hug on the victory dais—only a fool would think the fires are doused. What happened this week does not erase the oddities and eccentricities and controversies that seem to engulf him at all times. That is part of his story.
But it is a story that is still being written, and this week allowed Bryson to begin the next chapter, hopefully realizing that, despite what he may think about what's written and said about him, only he is the author of his tale. Where he wants the journey to go is up to him.
Perhaps it's apropos that this is the week he turns a page. Autumn technically began on Thursday. But watching DeChambeau run down the 17th rope line after his victory, yelling and smacking hands with the many fans who reached out theirs, it was clear he needed this week for his summer to end.