Brooks vs. Bryson
Brooks Koepka discusses viral Bryson DeChambeau video, says feud is "good for the game"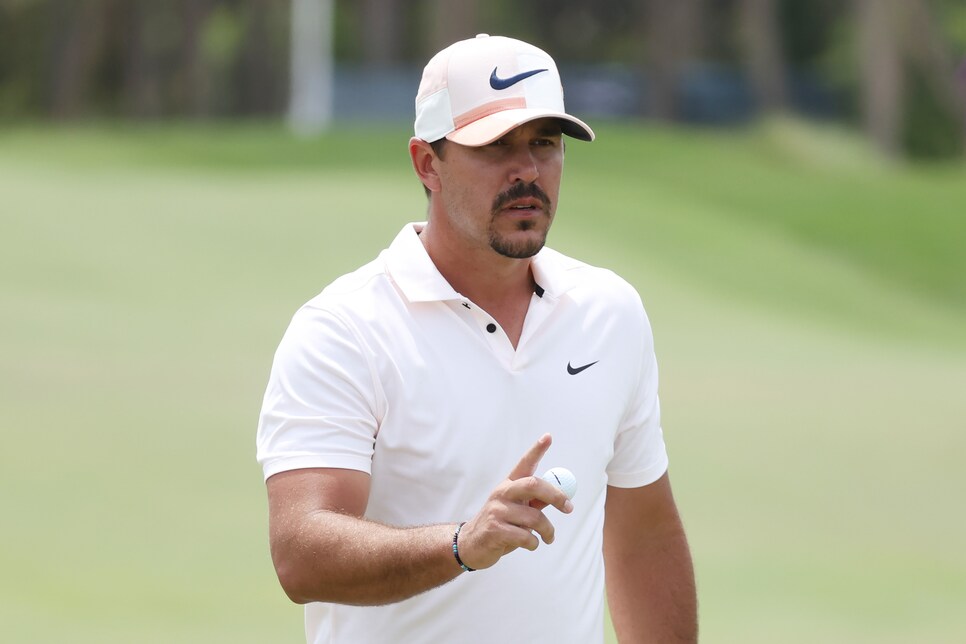 Brooks Koepka suggested his ongoing feud with Bryson DeChambeau is "good for the game" and provided some context around the viral video that escalated an already dicey relationship.
Speaking with reporters Wednesday ahead of the Palmetto Championship at Congaree, Koepka's first start since finishing tied for second at last month's PGA Championship, the four-time major winner was asked a number of questions about golf's most high-profile kerfuffle.
"I think it's good for the game. I really do," Koepka said. "The fact that golf's on pretty much every news outlet for about two weeks pretty consistently, I think that's a good thing. It's growing the game. You know, the younger generation … I get the traditionalists who don't agree with it. I understand that. But I think to grow the game you've got to reach out to the younger generation, and I think that's what—I don't want to say that's what this is, but it's reaching out to a whole bunch of people. It's getting golf in front of people. I think it's good for the game."
The latest round of back-and-forth between two of the game's biggest stars began the week after the PGA, when a video surfaced on social media showing Koepka rolling his eyes as DeChambeau walked behind him during an interview with Golf Channel's Todd Lewis. After losing his train of thought, Koepka cuts his answer off to bemoan "that bulls---." DeChambeau responded by tweeting that he's "living rent-free" in Koepka's head.
"As far as what [the video] was, he didn't say anything to me. He wasn't speaking to me. He was, I guess, either signing his scorecard or wherever he was, and I was just to the right of the media tent, or I guess right in front of the microphones where you guys all were, and I don't want to say he was like screaming—he was saying something about how he hit a perfect shot and it shouldn't have been there, and it was just very, very loud.
"I don't think the mics picked up on that, but it felt like just so that the fans could hear. With the media right there, you kind of know—hey, look, we're all kind of in this area, just tone it down, and it was just so loud. Then I think he realized that he had gotten right behind me, and he toned it down a little bit, but it was still—and I just lost train of thought, which I think was pretty obvious."
The feud loomed large at last week's Memorial Tournament despite Koepka not playing in the event. Fans at Muirfield Village constantly referred to DeChambeau as "Brooksy," and on-site security officials reportedly removed some fans. In response, Koepka posted a video to social media offering free beer to anyone who had their day "cut short" at the golf course.
DeChambeau said he did not ask for anyone to be removed and called the call-outs "flattering," and has since tried to downplay the situation.
"I think that's something that the tour needs to handle. It's something I can't control," DeChambeau said on Saturday of the Memorial. "I tried to take the high road numerous times, and I think that, from my perspective, I'll continue to keep doing so and people are going to do what they want to do."
The two major champions have something of a history. It dates back to 2019, when Koepka called out DeChambeau's pace of play. Then, during a Twitch live-stream last year, DeChambeau poked fun at Koepka's appearance in ESPN's Body Issue by saying the 31-year-old has "no abs." Koepka responded by posting a picture of his four major championship trophies, which he says leaves him "two short of a six pack."
Koepka suggested on Wednesday that his personal relationship with DeChambeau should not affect team chemistry at the upcoming Ryder Cup, where both players will almost certainly be among the American side.
"Let's say I don't play with Bryson or Bryson doesn't play with me—he takes care of his match, and I would take care of my match, and I don't know how that has any effect. What you do off the golf course doesn't have any effect on the golf course."