MEMPHIS, Tenn. — It was one of the most dismal nine-hole stretches you could see on the PGA Tour. On the one hand, you had one of the nicest players around get caught under a handful of (justified) slow-play warnings, rush through the back nine in staggering humidity and swirling wind, and lose a lead that looked as close as a lead can come to unassailable. On the other, you had his playing partner, the most controversial player on tour and someone who does himself no favors, enduring what amounts to four-plus hours of bullying that has been openly encouraged by his rival. It was an ugly scene: poor displays of golf, worse displays of behavior, and two contenders who didn't collapse as much as they imploded.
This is the story of Harris English and Bryson DeChambeau, who entered the back nine on Sunday at the WGC-FedEx St. Jude Invitational at 20 under and 18 under, respectively, well clear of the other contenders, the best of whom sat at 16 under and would stay there the rest of the round. A classic match-play duel had unfolded, and it was obvious to anyone watching that the eventual winner would come from this final duo.
That story began to crumble for good on the 11th hole, a par 3 guarded on three sides by water, but it was precipitated by slow-play warnings that started on the sixth hole. That's where DeChambeau found himself in an odd situation with a ball lodged beneath a fence, half inbounds and half out, that required precious minutes to resolve. They were on the clock a hole later, and that would take its toll on English, who afterward felt that rushing his routine cost him the tournament.
"We were warned on the front nine," he said, "kind of got behind, felt like we were running pretty much the whole round and that really caught up. So you're having to run between the green and the tee and it's hard for me to slow down."
All of which led to the 11th hole, when English's tee shot landed miles short of the green, dunking it in the water. He made double bogey. With a huge window of opportunity now open, DeChambeau responded, however, by launching his tee shot over the green, into the water. He hit his third shot from the drop zone, only for the ball to land in a front bunker, leading to an eventual triple bogey.
Needless to say, this didn't help the pace of play. It compounded their need to rush, and though English still held a two-shot lead as he walked to the 12th tee, he found the water again on the next par-3, the 14th, with what is likely one of the worst shots he's hit this season—a weak, inexplicable fade that started right of the green, got worse, and never had a chance to avoid the pond that is, unlike 11, eminently avoidable. English showed his first visible bout of frustration when he hammered his wood into the tee box after an errant drive on 17, but his lead had been so big that he still had a shot to make the playoff later won by Abraham Ancer on 18. After pulling off an aggressive approach into the 18th green, he failed to read enough break on his birdie putt and came up one shot short. His back nine total: 40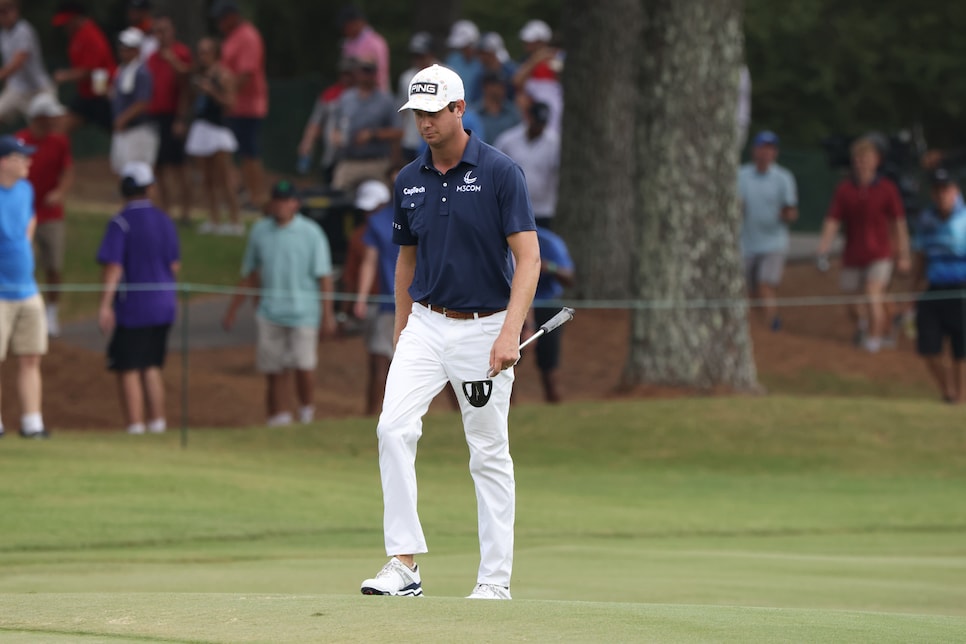 DeChambeau, somehow, fared worse. By the time his back-nine nightmare was over, he had posted 41, and when he met his caddie and manager behind the 18th green, he lamented his round in language that was, to put it mildly, colorful.
Let's talk about bullying. It's no secret that a feature of DeChambeau's PGA Tour life these days is being called "Brooksy" or "Brooks" by fans in the gallery. It's an odd development of his feud with Brooks Koepka, and when the harassment started at the Memorial with fans shouting Koepka's name at DeChambeau, and at least some of those fans were ejected, Koepka ramped up the tension with a video online subtly offering free beer to anyone who partook of the odd ritual.
Since then, it has evolved into fans calling DeChambeau various forms of Koepka's name, with "Brooksy" being a favorite. On the surface, this may sound ridiculous, minor, and even funny. In reality, when you follow DeChambeau for even half a round, and you see the faces of the people taunting him for a mean little thrill, it looks crueler and more intense than would come across on TV or in written reports. It clearly makes DeChambeau miserable, but he's locked into an unwinnable position where if he reacts, he looks thin-skinned and inevitably makes the abuse worse. Yet staying silent doesn't help, either. After staring down several fans throughout the course of play on Sunday—a long glare, accomplishing nothing, before he marched away—he finally broke down on the 17th tee when a female fan shouted, yet again, "Brooksy!"
"Good one!" he shouted back, but he looked bitter, and tired, and defeated, and the only thing you could feel for him in that moment was pity.
DeChambeau is not a figure who elicits much sympathy, especially from his detractors, and incidentally I tend to agree with a lot of the reasoned criticism directed his way, particularly on the recent subject of vaccinations. Nevertheless, there is a marked difference between disagreeing with someone, perhaps even disliking him, and supporting the kind of psychological abuse that he now endures in every single round he plays, which is effective in that it's nearly impossible to police (DeChambeau and his caddie even approached the literal police walking with their group on Sunday to complain) and which shows no signs of abating.
"It's not real fair for them to call him 'Brooksy' a lot," English said, having witnessed the shouts all day. "It kind of sucks, and obviously he hears it and it affects him a little bit. He doesn't like it, and I think that causes them to do it more. It just sucks that that's out here right now, that they're trying to irk people like that. It's just unfortunate."
DeChambeau, of course, has to pretend that none of it bothers him, and even if he was talking to the assembled golf writers this week—which he did not after any of his four competition rounds—it's unlikely much of an admission would be coming. That's the playbook he's chosen, but as English noticed, and as everyone with eyes can notice, he's bothered.
A single bead of water, dropped on your forehead, isn't much of an imposition. But when the drip-drip-drip is ongoing, and endless, it can drive you crazy, especially when it's coming from those who wish you harm. It was depressing to watch that sadistic impulse play out in Memphis, and it was depressing to know that a powerful rival of DeChambeau's had helped encourage it. Whatever you think of DeChambeau, and there is certainly plenty of room for criticism, his words and actions do not justify the abuse he's facing each time he steps out on the course. And if you fail to draw a critical distinction here, which is that personal dislike should not lead to supporting a harassment campaign that is clearly taking a toll on its victim, it may be time to check your own humanity.
Between the fan behavior and English's unfortunate collapse, it was one of the ugliest nine holes you can witness on the PGA Tour. The bad play is a temporary spectacle, it happens to the best, and life goes on. The bullying is outrageous and unforgivable, and it might be past the point where anyone can control it. But it would be nice if someone—someone like Brooks Koepka—would try.