The Ancer Man
Abraham Ancer pulls off an unlikely win in Memphis. Just don't call him an unlikely PGA Tour winner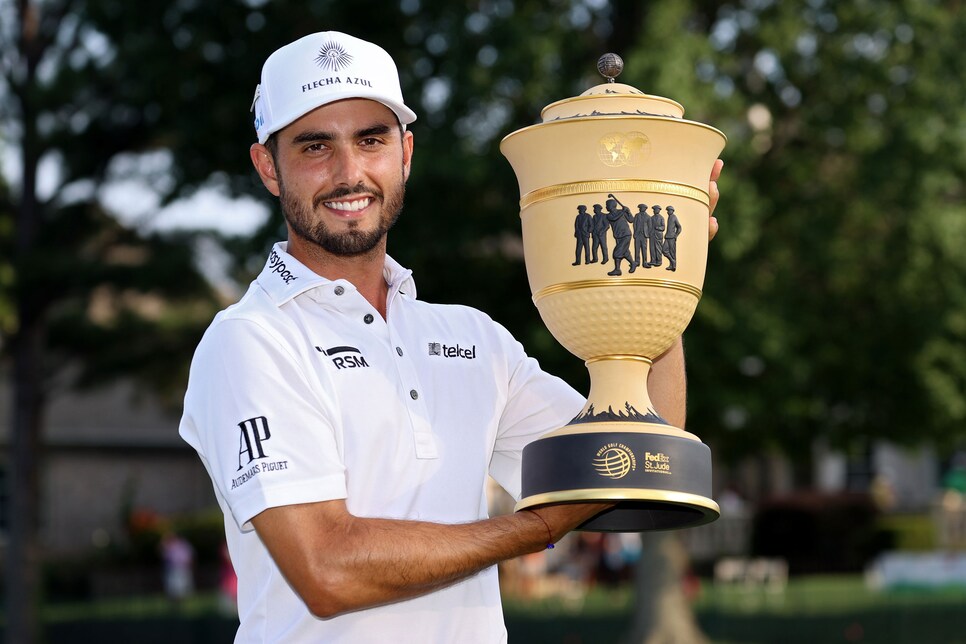 MEMPHIS, Tenn. — One of the strangest final rounds on the PGA Tour in 2021 had to end the way it did, with the anticlimax of a missed short putt. After all the chaos and carnage in the final moments of the WGC-FedEx St. Jude Invitational, it was Abraham Ancer standing astride the ashes, claiming his first tour win in a way that is easier to accept as accomplished fact rather than trying to retrace the narrative nuts and bolts of how it actually happened.
Put it this way: Ancer deserved this win. He's been in contention time and time again only to succumb to bad luck and some untimely mistakes. On Sunday, he came through a three-man playoff by showing true grit when it mattered. His pinpoint approach to five feet on the second playoff hole (a return to the par-4 18th at TPC Southwind) set him up for a birdie, and he was unfazed when Sam Burns one-upped him with an even better second shot. Ancer rolled in his birdie putt in classic match-play fashion, shifting all the pressure to Burns, who could not convert. When that final attempt lipped out, the tournament, at last, had a winner.
And said winner was a satisfying champion, too, charismatic and personable and somebody who will make the sport more fun as he assumes a prominent role nearer the top of the tour's pecking order. (Not to mention the fact that he and Carlos Ortiz have broken a 42-year PGA Tour drought for Mexican players this year.) Ancer is the kind of player who will say things like this:
"I tell you what, I'm flying straight home and there's going to be a lot of Flecha Azul [tequila] flowing tonight, for sure."
The latest videos from Golf Digest
And yet, it's also true that Sunday will be defined by the collapse on the back nine of both Harris English and Bryson DeChambeau, the former seemingly having the tournament wrapped up as he made the turn at 20 under—four shots better than the eventual winning score. The whole thing was like watching a medieval drama whose story centered around which member of a royal house would become the new king, and at the end, due to a series of pitfalls and accidents and chronic mismanagement, it's a second cousin from a neighboring fiefdom who doesn't even have a speaking line until the end. And if that sounds like a confusing analogy, well ... welcome to Sunday in Memphis.
How did we get here? It's a messy, messy question.
Ancer did his part. He shot a competent two-under 68—not the day's best round, but certainly not its worst—to advance from 14 under to 16 under. Around, say, 3 p.m., it would have been very difficult for anyone to imagine a scenario where this was good enough to win the tournament, if anyone had bothered. Ancer made exactly one birdie on the back nine, couldn't quite mount a charge worthy of catching the leaders and seemed destined to add a column to his list of close calls: fourth at the Travelers, second at Wells Fargo, fifth at the Valspar, T-5 at The American Express, fourth at the Shriners last fall, a pair of seconds in 2020, another in 2019, and on and on. His most recent near-miss at the Travelers, in fact, was won by … Harris English, who as mentioned rounded the turn at Southwind at 20 under, clear of almost everyone except Bryson DeChambeau.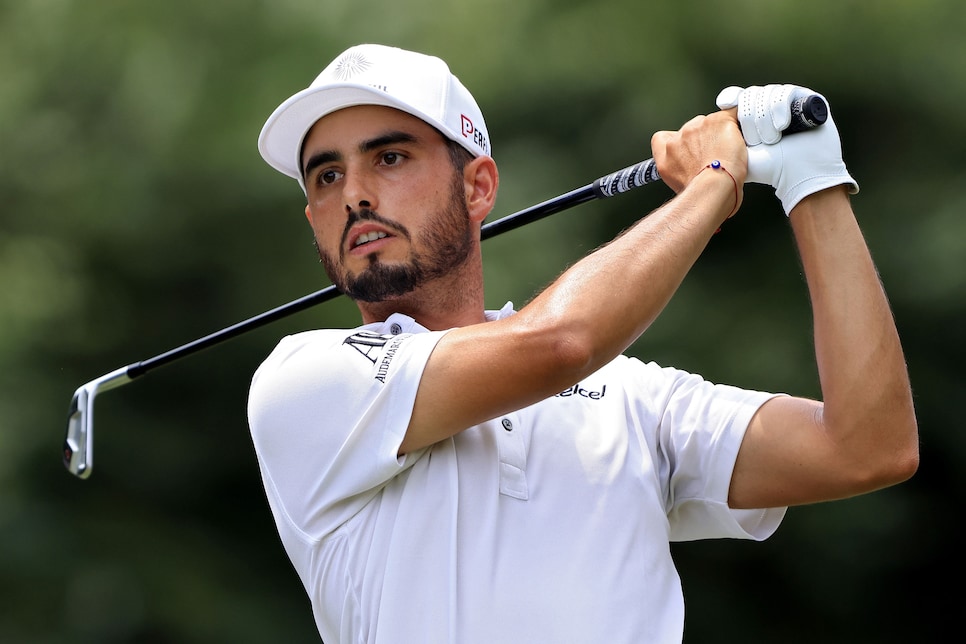 Ancer's iron game was solid at TPC Southwind as he ranked T-5 in greens in regulation, fifth in strokes gained/approach-the-green and fourth in strokes gained/tee-to-green.
Sam Greenwood
Then, disaster. English and DeChambeau had been warned for slow play as early as the seventh hole, just after a bizarre rules imbroglio with DeChambeau brought them to a standstill. From there, they had to rush to keep up, couldn't quite get back on track and endured more warnings early in the back nine. It did them no favors, and English especially rued the hurried pace.
"You definitely start the day in one rhythm and then you kind of get out of that having to walk faster, having to do everything a little faster because you don't want to get a bad time," he said. "It was tough, the wind was swirling obviously coming down the stretch, there was some very important shots in there."
Those important shots became critical blunders, as he found the water on both back-nine par 3s, 11 and 14, en route to a pair of double bogeys. DeChambeau followed him into the water on 11, making a triple, and started his own spiral. By the time their nightmares had unfolded, DeChambeau was missing a final par putt on 18, and English was failing to sink a birdie on the last that would have gotten him into the playoff. English went out in 40, DeChambeau in 41, and the sinking stone nature of their dual collapses meant that a startled spectator would have to look around in a near-panic to see who would fill the vacuum.
Enter Ancer. His birdie putt on 18 in regulation, which would have won the tournament outright, came agonizingly close to going in. Then, what looked like a four-man playoff became three when Ancer's playing partner, Cam Smith, made a mess of the final hole, somehow managing to hit a ball into someone's backyard on his second shot (that backyard being out of bounds). A double-bogey 6 eliminated him from contention, and Ancer was faced with two other unlikely contenders: Burns and Hideki Matsuyama. They all made par on 18 for the first playoff hole, and played it again, Ancer made his birdie, Burns missed the response, Matsuyama was out of the equation.
And the distant second cousin, deserving but unlikely, hoisted the colorful trophy. "I thought I was going to cry, dude," Ancer said, to somebody off camera as his championship presser began. "Didn't cry."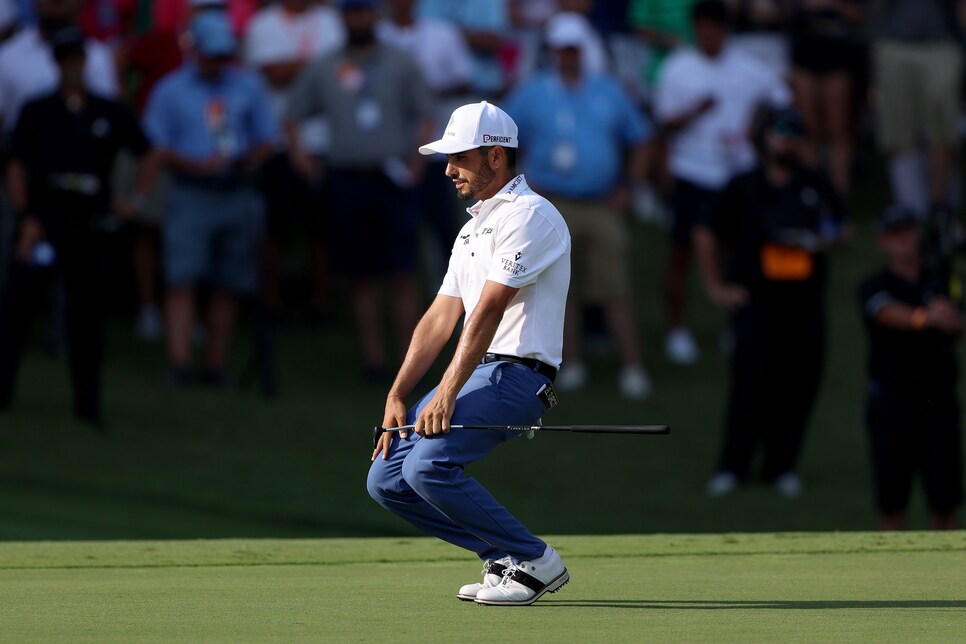 Abraham Ancer reacts after missing a putt on the 18th green during the first playoff hole, fearful that he was about to record his fifth career runner-up finish but no victory.
Sam Greenwood
The lack of tears may have been the result of how quickly it all happened, which surprised Ancer as much as it surprised everyone else.
"At one point I saw Harris," he said, "I think he was 20 under and I was like, 'Man, he's running away with it, I've got to make some birdies.' Putts weren't dropping. I was hitting some good shots, but I wasn't really getting much out of them, and I was getting a little bit frustrated out there. I keep looking, I was like, 'Man, they just came back two strokes.' Another two, [and] I'm tied for the lead? Walking off 16, I couldn't believe I was tied for the lead there. I felt like I was maybe four strokes behind. You just don't know what can happen out here, man. It's crazy."
Nor did he believe it was going to happen—throughout the round, as he hit a series of strong shots but failed to convert birdies, the thought that he was in the midst of another "almost" round kept poking its way into his brain.
"That thought wanted to slip in my head a little bit," Ancer said, "and I just, said, 'Hey, what are you doing? You worked your ass off to be here, this is the time that you're going to go and get it. You're going to make birdie and you're going to win this tournament.' That's what I kept telling myself."
When the opportunity presented itself, he was ready with his best approach of the day:
Burns somehow managed to hit one closer, but Ancer relished the opportunity to put pressure on him in what had become a match-play scenario.
"I like to putt first," he said, "especially if the putts are really close and kind of in the same neighborhood. I mean, I just knew what the putt was doing, I felt like I had a great read and I just thought about aiming my putter perfectly, and then after that just putting the best stroke I can put on that ball. Thankfully it came in right online and went in with good speed."
In the last hours of daylight in Memphis, he spoke of his childhood in Reynosa, Mexico, and of how his father Abraham Sr. would do everything he could to cobble together enough money to give his son the opportunities he needed to succeed. Abraham Sr. died of a heart attack just as Ancer's career in America was taking off, and the sone thought of his father in the aftermath of his win.
Ancer hugs his girlfriend Nicole Curtright after pulling out the victory on the 18th green.
Sam Greenwood
"He literally just did everything he could just to take me to a tournament," Ancer said. "Now that I know what traveling costs and all that stuff, I was like, 'Man, I don't know how he did it.' … It's not easy obviously growing up in Reynosa and making it to the PGA Tour, the chances are very slim, but I give all of that to my dad because he busted his ass to get me out here. And I wish he was out here to celebrate."
Once again, not tears. Only a satisfied smile.