Ryder Cup
Phil Mickelson is giving Steve Stricker an out not to take him as a Ryder Cup captain's pick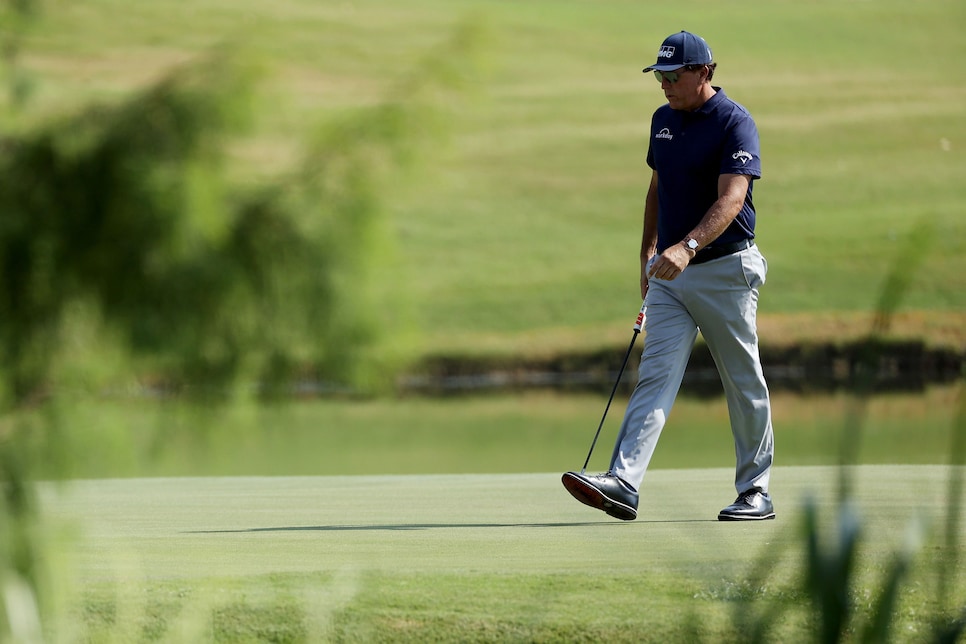 Phil Mickelson said that regarding his record this year, "You can't take somebody that is that inconsistent" with a Ryder Cup captain's pick.
Dylan Buell
If you're an American and you win a major championship the same year as the Ryder Cup, particularly the PGA of America's beloved PGA Championship, presumably you don't need to sweat out making the U.S. team. If somehow you fail to qualify on points, your captain will surely take you for the lineup with one of his picks, right.
Suffice to say, Phil Mickelson is going to cause Steve Stricker to put this theory to the test in the coming weeks. Mickelson's victory at the PGA in May was one of the biggest golf stories of 2021, the then 50-year-old becoming the oldest winner in major championship history. But the Kiawah win is the only top-10 finish Mickelson has had in the last 12 months and the only top-20 finish in 2021. Since the victory, Lefty has missed two cuts in his next five starts with his best finish in the other three being a T-61 in the Travelers Championship.
This week at the WGC-FedEx St. Jude Invitational was a bit of an improvement for Mickelson, who shot a closing 68 to finish at seven under for the tournament and secure a top-20 finish. But it's unlikely to help him in the points race. Coming into the week at TPC Southwind, Mickelson was 17th in the standings with only the top six players qualifying.
In other words, unless Mickelson can somehow win an event between now and the end of qualifying at the BMW Championship in three weeks, he'll have to rely on Stricker's generosity to make his 13th straight Ryder Cup team dating back to 1995.
Of course, Mickelson's history in the event makes him no ordinary Ryder Cup candidate, not to mention the fact he's an influential voice among tour pros. But if his game is not on, taking him is a risky decision. One Mickelson himself isn't sure Stricker should make.
Indeed, if Stricker is looking for an out, Mickelson might have provided him with one this weekend.
"I haven't had a top-10 outside of the PGA," Mickelson told ESPN on Saturday after his third round in Memphis. "You can't take somebody that is that inconsistent. I have three events, here and the two playoff events. And if I finish high in those events and move up on the list, you never know. But you have to have a little bit more consistency and momentum I think."
While the qualifying period ends after the BMW Championship, Stricker doesn't make his six captain's picks until a week later after the conclusion of the Tour Championship. Mickelson right now is 58th in the FedEx Cup standings, meaning he has work to do just to get into the Tour Championship and provide Stricker that extra start to make his decision. Unless he gets that done, Mickelson would seemingly understand if Stricker passed up on him.
"I need a couple of good finishes and then it would be easy to justify. But I think with no top-10s it would be tough to justify."