News
U.S. Open 2020: Winged Foot members can embrace Bryson DeChambeau's place in history more than they can the player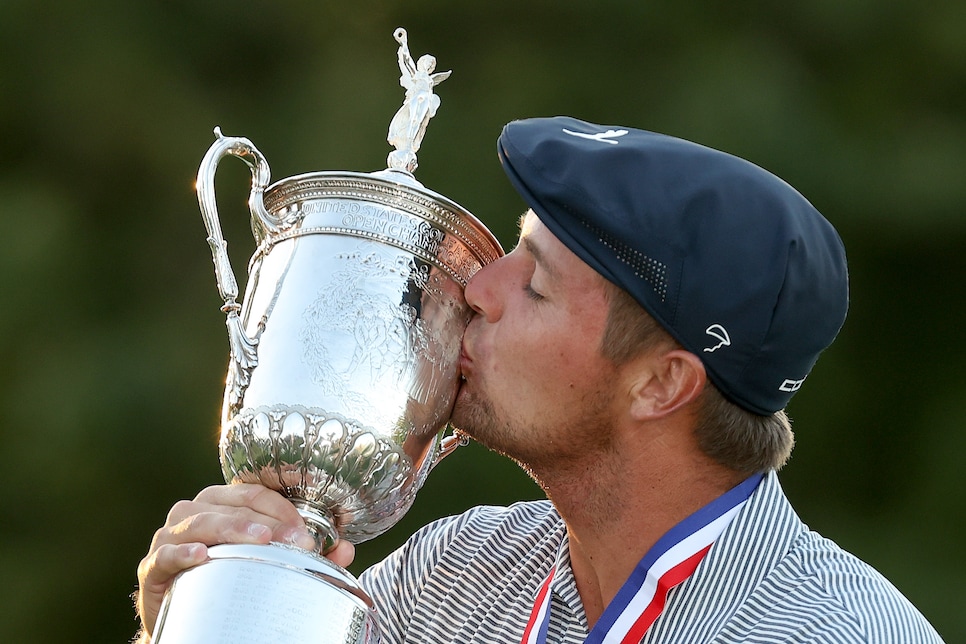 "You don't win the U.S. Open, it wins you," are the famous words first spoken by Cary Middlecoff, which also apply to host clubs and the golfer whose image will be affixed to their history and maybe a wall in their locker room.
When Bryson DeChambeau sank the final putt to win the U.S. Open, there was polite applause. Matthew Wolff got about the same when he tapped in for solo second. Hidden behind the masks of the couple hundred people surrounding the 18th green—most of them Winged Foot members who volunteered to do things like spot balls in the rough, score, operate laser trackers and other rote tasks in order to witness the sixth chapter of their club's U.S. Open history—were their true feelings.
The USGA controlled the rough height and what time the bar opened, two things where it's impossible to please everybody. Had the rough been mown an inch higher, DeChambeau probably would've won by more than six. Tall grass doesn't bother a wedge like it does the poor sap standing back there with a 7-iron, because even short hitters miss a lot of fairways at Winged Foot. The dogleg turns of the club's beloved Tillinghast holes were rendered irrelevant and similar by DeChambeau's moonshot tee balls that averaged 325 yards. If the greens weren't insulted by his rigidly unorthodox putting stance, they were when a hot mic caught his opinion of them ("These greens suck.") during Round 1. Never mind that several other players voiced quite the opposite view of the course and conditioning. Tiger Woods grouped Winged Foot with Oakmont and Carnoustie when saying, "I think those three golf courses can host major championships without ever doing anything to them."
The most important victory was that a U.S. Open had been contested at all, the many complex challenges posed by postponement and the pandemic overcome, with glorious weather to boot. The popularity of any winner was secondary. In response to the first question asked of him after raising the trophy, he thanked his sponsors.
DeChambeau made his first impression on Winged Foot during the summer of 2016. Seeing some hacker guests duff their tee shots on the first hole, he decided he couldn't suffer playing behind them and left his group as a three-ball. Shortly after in the grill room, a former club champion made small talk and inquired if he might like to get a game the next day. DeChambeau didn't. "I don't play golf," he said. "I practice golf."
That he did this week of his first major win, late into the cold pitch black requiring the folks working the range to switch on the floodlights. After one such session, an assistant let him into the shop to check his clubs on the lie/loft machine.
Recreational golfers can have trouble appreciating the humorless dedication of an unremitting professional. Bryson is not the story-telling, high-fiving, grill room-hanging Phil Mickelson the club once thought it was getting as its champion before everyone got sucker-punched.
DeChambeau's performance was impressive, a monumental validation of the new path he is forging in the game, everything from the single-length irons, jumbo grips, Homer Kelley calculations and endless protein-shakes. But before recoiling at the brutishness of his playing style, remember what Bobby Jones said upon first seeing Jack Nicklaus: "He plays a game with which I am not familiar." When Nicklaus won his first major, the 1962 U.S. Open at Oakmont Country Club, the members there were not enthused about the beefy and brash youngster who had defeated their local hero, Arnold Palmer. Of course, the player and person Nicklaus became changed that feeling.
This isn't the first time golf has witnessed a new level of power, but in all that came before Bryson—John Daly, Vijay Singh, Tiger Woods, Dustin Johnson, Rory McIlroy—there was grace and a sort of classic athleticism familiar to traditional golf. What Bryson has figured out is something new entirely, and it's taken remarkable strength of character to go his own way in an often conformist game.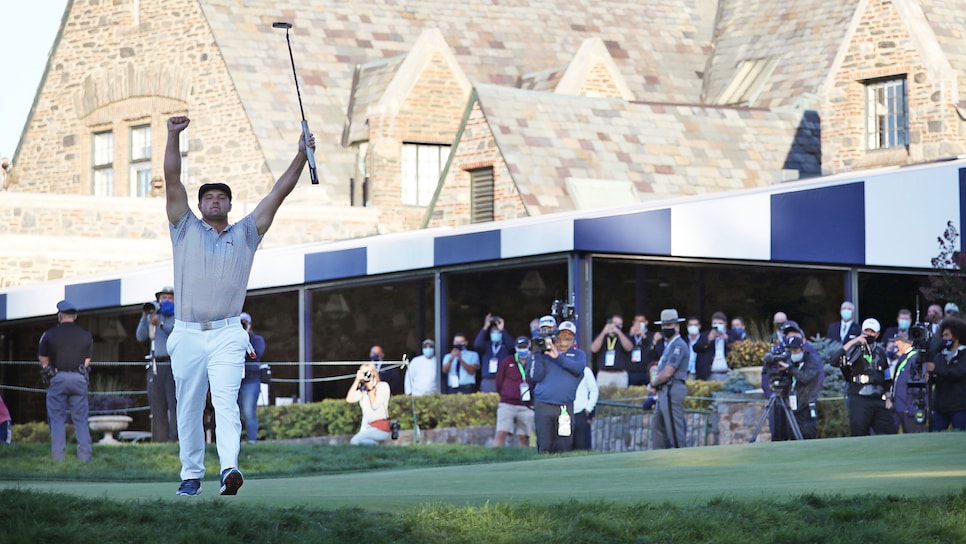 No one likes to hear another golfer say they've figured out the riddle of the game. That doesn't fly in the grill room at Winged Foot, which might explain why that applause on 18 was restrained even by no-fans-during-a-pandemic standards. The club seemed to be echoing the sentiments of NBC's Roger Maltbie, who Saturday night confided, "Every part of me wants to not like this," before allowing, "but this is impressive."
Whether a new generation adopts DeChambeau's playing remains to be seen. He's still only 27, and we might expect even more self-reinventions from this confident and special soul. What's veritably certain is that Bryson DeChambeau will become a significant figure in the game's history. For that reason, having his name forever connected to Winged Foot Golf Club serves both right.