PEBBLE BEACH — Two weeks ago at The American Express, Tom Hoge was playing so well he thought there was almost no way he could lose. After eight holes on Sunday at the AT&T Pebble Beach Pro-Am, he thought he was making too many mistakes to have a chance to win—especially when he was trying to chase down Jordan Spieth, who seemed to have destiny on his side.
Such is the world of tournament golf, not to mention the world spinning inside a player's head, that the outcome is rarely predictable, the narrative constantly in flux. Up is down. Tables turn. A player whose last win was something called the Bobcat North Dakota Open breaks through for his first PGA Tour title on one of the game's most iconic venues, and all it took was that lesson in losing and nine impeccable holes coming home.
While everyone else on a bunched leader board spun their wheels, Hoge surged, converting birdies on three of his final five holes for a two-stroke victory over Spieth and three over Beau Hossler. In a career-defining final 90 minutes, the 32-year-old made up four shots with a series of solid shots and clutch putts. It was as impressive as it was unexpected.
"It feels pretty good, almost in shock," said Hoge after closing with a four-under 68 at Pebble Beach Golf Links and posting 19-under 268 to break through in his 203rd tour start. "It was a grind. But I hung in there really well."
Just the third player from North Dakota to win a tour event, Hoge also carded 68 in the final round in Palm Springs but finished second by two shots as Hudson Swafford put on a furious rally. Hoge learned something from that experience. And he has learned from other recent experiences, too, having finished fourth or better in his last five starts.
For starters, being in contention helps.
"I would say that was probably the hardest night of sleep I had at Palm Springs, because I felt like I was playing great golf and I felt like it was my tournament to win," said Hoge, who began that final round one stroke off the lead. "And I was very nervous on the first tee there, I felt great today. I felt very calm today. So it was a good day for me."
It didn't appear that a good day was developing when Hoge misjudged the wind at the short par-3 fifth hole, found the front bunker and chopped it around for a double bogey. He birdied Nos. 6 and 7, but another bogey at the eighth was felt like a crusher.
'I was very nervous on the first tee there, I felt great today. I felt very calm today. So it was a good day for me.'
—Hoge on the difference between contending at the AmEx and at Pebble
"I missed some makeable putts on 1 and 2 right out of the gates," said Hoge, who began this final round tied for the lead with Hossler and Andrew Putnam. "I birdied 6 and 7, I followed it up real well. But you play the first seven holes here at one under par you know you're losing ground to the rest of the field. So, I felt like I was still a ways back at that point.
"And then the bogey on eight really kind of got to me again," he continued. "So that's where I felt like I just made too many mistakes early on to really be in the mix. And I was surprised, looking up, I think the first board that we saw there was walking down nine fairway over by 14 tee box. And I think there were four guys tied at 16 under, one shot ahead of me. So that was kind of a big boost for me to know that I was still right there in the mix with some hard holes to play ahead."
At one point, seven players had at least a share of the lead on a day that was long and slow-moving but offered one more blast of glorious sun-splashed weather. The finish was all about the spotlight on Hoge—the one he stole from Spieth—who was attempting to convert his Saturday theatrics into his second victory on the Monterey Peninsula.
Winner here in 2017, Spieth broke from the pack with consecutive birdies on 12 and 13, and after his 63 on Saturday and the harrowing stroke he played at the eighth that he converted into a miracle par, the three-time major winner seemed poised for his 13th tour win. But he, too, stalled coming home.
"I'll look back and kick myself for not winning this tournament just having the lead," said Spieth, who closed with a 69, making bogey on the 17th and stumble home with a par on the 18th. "Looking back at where the pins were on the last four holes and say, you know, there's one or two under there. … So that's where I'll be, but certainly if you told me I would have the lead on Sunday on the last Thursday I would have said I'll take that."
Hoge was simply unstoppable, though, hitting all nine greens in regulation on the back nine and finally getting putts to drop on 14 from 17 feet and on the 17th from 22 feet that put him two in front. The shot of the day came at 16, when he nearly holed out with a wedge he drew in from 142 yards—reminiscent of the Spieth's hole-out on the same hole a year ago in the third round. Hoge's stopped nine inches from the cup.
Hoge remembered that Spieth shot. He'll remember his more, of course.
The victory was worth $1.566 million. Hoge won $10,000 for his Dakota title that he won on his home course, Fargo Country Club. Now Pebble Beach, where he is the first player to claim his maiden tour win here in 11 years, is becoming something of a home away from home after finishing 12th a year ago. He enjoyed it so much that he brought his family to Pebble Beach on vacation last summer. Paid the full greens fee of $575. He made out OK in the balance.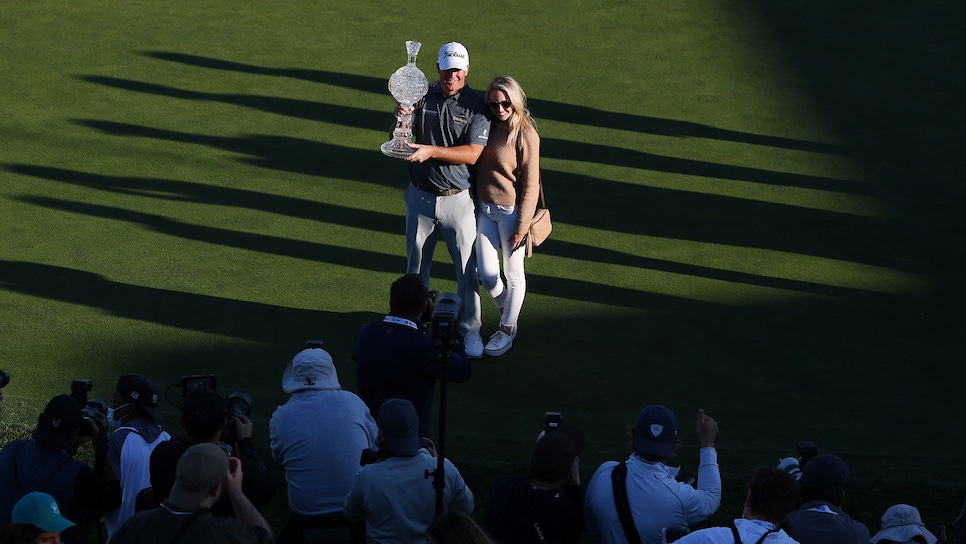 Tom Hoge celebrates with his wife Kelly after winning his first PGA Tour title in his 203rd tour start.
Orlando Ramirez
Hoge had been playing as much as possible of late to move into the top 50 in the world in time to earn a Masters exemption. Now he is 39th in the world but has an automatic invite thank to the victory. After 11 years of grinding as a pro, and eight seasons on tour, he is discovering himself and still making discoveries on the golf course, still digesting how "weird" things tend to work out.
"I think as I'm getting older now just, that's golf, you know? Whether it's the double bogey on 5 or making some of those nice putts, that there's so many tough golf shots out here ahead," he said wistfully. "Still, just keep your head down and keep going and you never know where you're going to end up."