AT&T Pebble Beach Pro-Am
Jordan Spieth finds solace with second at Pebble despite late stumble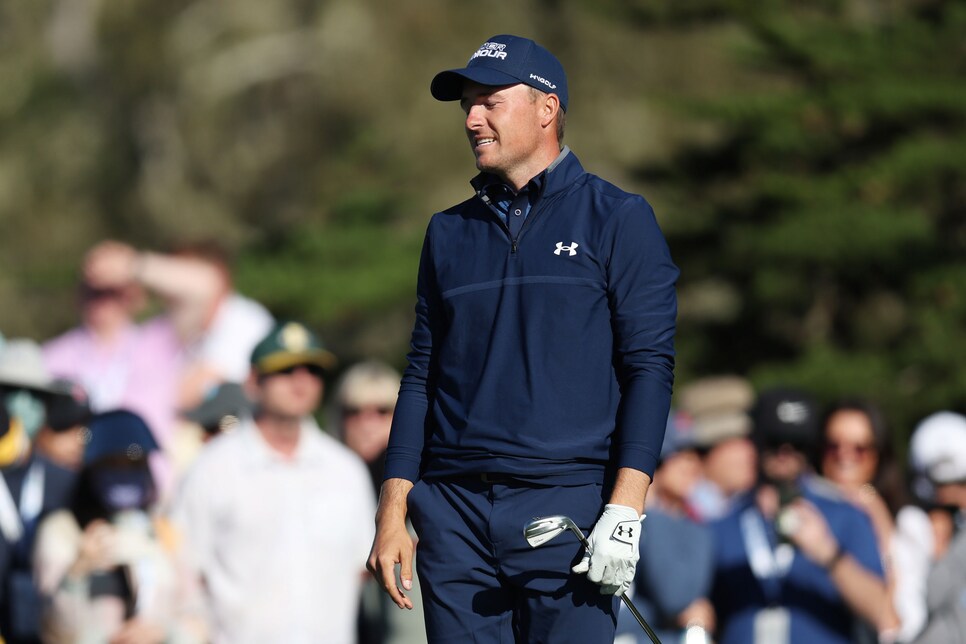 Jordan Spieth reacts on the 17th after his tee shot found the front greenside bunker.
Jed Jacobsohn
PEBBLE BEACH — Jordan Spieth made things interesting Sunday at Pebble Beach Golf Links. Doesn't he always make things interesting?
One day after giving the world a collective anxiety attack by playing a shot at the precipice of a sheer cliff at the end of the eighth fairway, Spieth eschewed any feats of derring-do and went around the famed course in more routine fashion. But it hardly lacked for entertainment value.
For the second straight year, the popular Texan had a chance to win this event for a second time. Despite flirting too often with the edge of the cup—missing several favorable birdie looks—instead of a cliff, Spieth still managed to work his way into the lead on the back nine. However, he left the door open for someone to rally past him. Sure enough, Tom Hoge turned a two-shot deficit into a two-shot lead in a four-hole stretch and relegated Spieth to solo second place.
Hoge finished strong, with birdies on three of his last five holes, while Spieth assisted with a bogey from the front bunker at the par-3 17th. His three-under 69 gave him a 17-under 270 total, two strokes better than his T-3 finish a year ago.
Attempting to rally from an 11-shot deficit after 36 holes—which would have been a tournament record and the third-largest comeback in the last 50 years on the PGA Tour in a 72-hole event—Spieth couldn't quite conjure the same scoring magic that yielded a 63 on Saturday and got him in the hunt.
"I'll look back and kick myself for not winning this tournament," said Spieth, who moved up two spots to 13th in the world with his 16th career runner-up finish.
Spieth's finishes in his 10 starts at Pebble Beach, beginning in 2013, are: T-22, T-4, T-7, T-21, Win, T-20, T-45, T-9, T-3, 2. That's nine top-25s, six top-10s and four finishes in the top four.
"Certainly, if you told me I would have the lead on Sunday on the last Thursday, I would have said I'll take that," he agreed.
Spieth looked more like himself, especially the final two rounds, playing solidly and gaining confidence as the week progressed. He led the field in the two measured rounds at Pebble Beach in strokes gained/tee to green, approach the green and proximity to the hole.
His biggest challenge came Saturday night when he talked to his family about the high-risk second shot he played on the eighth hole. Sounds like it went OK, sort of, given how serious the circumstances truly were. His wife Annie gave him the "it's just golf," speech, and he couldn't disagree.
"They were just asking questions about it because it was maybe hard to tell how stable it was," Spieth, 28, said. "And they didn't like what I had to say, I don't think. But like I was just saying I think it was more of a relief feeling, and I was asking where they were and they were like my mom and Annie couldn't watch and my dad was just like, what's going on.
"Looking back, I just never had a situation where it was like a life-and-death scenario on the golf course, so I think it was just kind of weird in that setting. But I don't expect to have any more of those any time soon."
Spieth is entered in next week's WM Phoenix Open, where he contended last year before finishing T-4, a result that set him on a path to a notable rebound, including a victory at the Valero Texas Open. He still speaks of making "progressions" in his game and having a chance to win helps him trust the process of improving his swing.
Close calls are never satisfying, but at the same time, he knows that the elements to winning golf are there. The 8-iron that found the bunker off the tee at the par-3 17th was his best swing of the week, he said. Such is golf.
"Looking back to last Friday and my second round at Farmers, this was certainly a nice turnaround here," Spieth said. "Solid week. Obviously, any time you're tied for the lead or in the lead on the back nine on Sunday and you don't win, it's disappointing. I felt like I hit a lot of shots where I wanted to. A couple of yards here or there, a couple of inches here or there on the greens … so I don't feel like I have to change anything. Just keep doing what I'm doing."
Well, some things he should not do anymore. He knows.