AT&T Pebble Beach
At Pebble Beach, Jordan Spieth talks about the intestinal bug he's been battling and his friendship with Tom Brady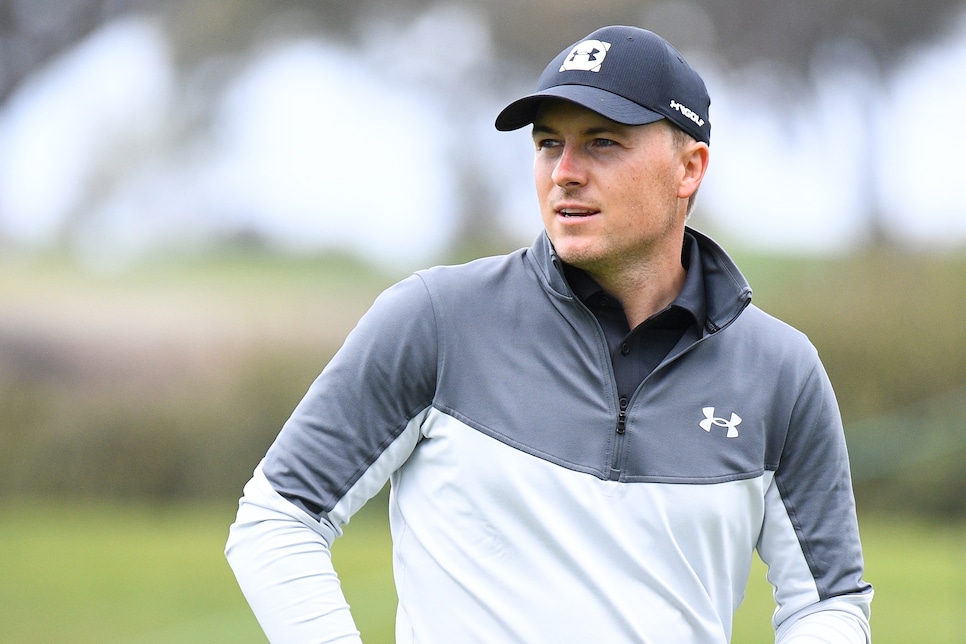 Jordan Spieth looks on during the second round of the Farmers Insurance Open.
Icon Sportswire
PEBBLE BEACH — There was a part of Jordan Spieth that wasn't unhappy to see his PGA Tour-leading cut streak come to an end last week at the Farmers Insurance Open. It's a largely unmentionable part. Suffice it to say that Spieth wasn't all there at Torrey Pines, but he should look more like himself when the AT&T Pebble Beach Pro-Am begins on Thursday.
Spieth made 20 straight cuts until being dismissed in San Diego, which happens to be the spot where he last had the weekend off. But last week he was battling an intestinal infection that sent him to the hospital Wednesday night between the first and second rounds. He was truly running on empty.
"I hate missing weekends. I wish that there were no cuts ever," said the three-time major winner, who, at 28, is a long way from senior golf and its largely no-cut schedule. "But it was a little bit of a different circumstance because, yes, I played poorly and it's not to say that I would have made the cut if I was 100 percent. I told Michael [Greller, his caddie] when I got done, I was almost like relieved … because I felt pretty bad and didn't have anything in the system, and I was just hoping that maybe something actually was wrong, so this wasn't like normal, in a weird way."
Spieth actually has been sick for a number of weeks. He contracted a sinus infection that his doctor treated with antibiotics, which, in turn, had an adverse effect on his digestive system. He thought it would run its course, but he was still battling it at Torrey. He found out after Thursday's second round, in which he struggled to a six-over 78 on the South Course at Torrey Pines, that tests from the hospital showed he had Clostridium difficile, a form of colitis. It didn't affect his strength or the feel of his swing, but the walk was spoiled.
"I was walking differently," he said with a chuckle, "and very much not involved in a lot of the holes that I played. … I mean my parents even, they were like, 'Yeah, you just did not look like yourself.'"
He still isn't back to full health, but he's close, he said. The venue—and a surprisingly pleasant weather forecast on the Monterey Peninsula—should perk him up. Spieth returns to the event where his comeback from a prolonged slump, one that saw the former World No. 1 sink to 92nd, took a significant turn. An AT&T ambassador, Spieth held the 54-hole lead for the second straight week before Daniel Berger overtook him.
Yes, he shot a third-round 61 the week prior at the Waste Management Phoenix Open, causing quite a stir that he said he didn't quite understand. "All of a sudden I was back. And I'm sitting there going, 'I shot one good round,'" said Spieth, who finished T-4.
It was important to build on that finish, though, and he did that with a T-3 at Pebble Beach. And he kept it going from there, culminating in his first win in almost four years at the Valero Texas Open. He went on to post five top-three finishes, including second to Collin Morikawa in the Open Championship, and returned to the upper reaches of the World Ranking and the FedEx Cup.
"It's just such a process, and I just started to gain a bit of confidence in what I was working on and it helped push the agenda more and more and more," said the Dallas native, who comes in ranked 15th in the world.
Of course, the agenda this week is to add a second win here to his 2017 victory. Country music artist Jake Owen returns as his amateur partner after the 2021 event eliminated amateurs. Spectators are back, too.
Not that he needs additional motivation, but Spieth is in the middle of re-reading Tom Brady's book, "The TB-12 Method." The star quarterback for the Tampa Bay Buccaneers announced his retirement Tuesday after 22 NFL seasons and seven Super Bowl victories. Like Spieth, Brady is sponsored by Under Armour, and they have struck up a friendship that has become meaningful to the young golfer.
"Well, he plays a real sport," Spieth began, drawing laughs, "but I think, I was actually a bit surprised just because of the level that he's still playing at. And just the limited, but quality time I've spent with him, we've played a couple rounds at Augusta National, we've done some things through Under Armour, California to Baltimore, and then over the phone just keeping in touch.
"He's not only somebody who has helped when things have been going really well for me, helped kind of boost that and give advice on how to continue to kind of push yourself forward when things are going really well," Spieth added. "But he's also one of a few phone calls I've gotten when things are really bad to be able to be somebody that can relate to the ups and downs of a career and kind of what he went through and giving his perspective."
Then there's Brady's book. Spieth hopes he can draw some inspiration or a more competitive mindset from its contents by going over key parts of it again. Anything to get better, keep that momentum going.
"I'm in the middle of it right now, reading it each night, just kind of going through it again mainly just to kind of look into what he's done," Spieth said. "I think he changed the way that athletes should not only prepare but also recover. … I mean he's totally reshaped the game of football.
"But I think in a sport like golf where longevity is key, there's a lot to learn from him as well."
Longevity sure is key in golf. Spieth has 22 years until he turns 50 and can play in events without cuts.