PGA Tour
Jordan Spieth lives to tell about 'the most nerve-wracking shot I've ever hit' on Pebble Beach cliff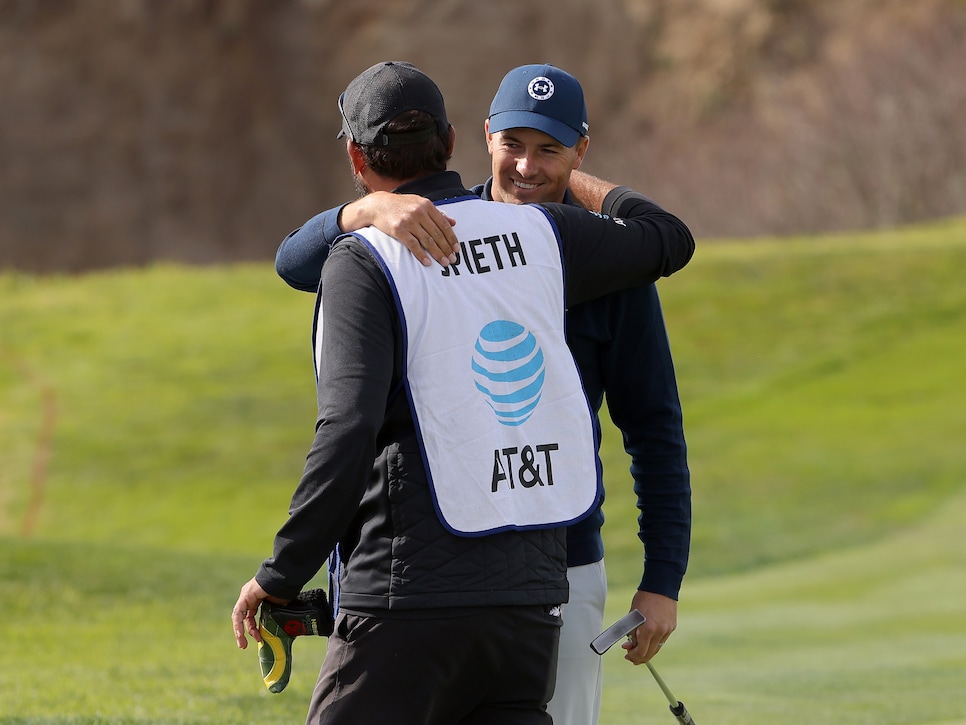 Jordan Spieth and caddie Michael Greller hug after Spieth made a par putt on the eighth green atter trying a dangerous shot from the cliff for his approach.
Jamie Squire
PEBBLE BEACH, Calif. — Some professional golfers might be inclined to say that the game isn't life and death; it's more important than that. Jordan Spieth validated the adage on Saturday at Pebble Beach Golf Links when he elected to play a shot at the edge of a cliff that had anyone watching, whether in person or on television, genuinely concerned for his well-being.
"Looking back now, it was not smart. I wish I hadn't done it. In fact, I regret doing it," Spieth said with genuine remorse after putting together a scintillating nine-under-par 63 that featured eight birdies, one eagle, one bogey and one of the gutsiest, craziest, most dangerous (take your pick) passes at a golf ball ever captured on live television.
The stroke that will have people most assuredly talking for years came at the par-4 eighth, one of the most famous holes in golf. Spieth hit what he called "a missile" off the tee and thought he had pured it through the fairway and off the bluff overlooking Stillwater Cove. The ball came to rest in the hazard—beyond the red line—but stopped just short of the precipice, no more than two feet. After cautiously tiptoeing to his ball and then testing the ground to ensure he could take a stance, he asked caddie Michael Greller for a 7-iron, two clubs more than he would usually hit for a shot of 155 yards.
Spieth said that Greller three times asked him to reconsider hitting the shot. Greller declined a request for comment.
"He [Greller] said, 'I just don't see the point, stuff like that," Spieth confirmed. "He said that next time, if that were to happen again, he'll walk up, grab my ball and throw it in the water, so that I can't hit it. He said, 'I just didn't know what to do myself.'"
In truth, Spieth wasn't sure what he was doing, either.
"The footing was solid, but I didn't have much room past where my left foot was, and the problem was it's down-sloped," he explained. "Like, if it was flat, it's no issue at all. It's the downslope that worries you because you're getting more forward to your left side on a downslope in order to get the strike, right? You want your weight with the slope. I didn't want my weight with the slope that time."
But he couldn't reverse-pivot to his right side too aggressively for fear of thinning the shot into the ocean. He aimed left to ensure just a sliver more safety, delivered the club to the ball, and immediately jogged backwards away from the edge. "There was no reason to stay up there," he said, grinning slightly.
The ball went long and left into the rough, and after gathering his emotions, Spieth chopped out to 12 feet and then somehow rolled in the par save.
"It was probably the most nerve-wracking shot I ever hit," Spieth, 28, admitted, not yet realizing it was likely the most nerve-wracking shot ever executed on the PGA Tour, considering that it could have ended tragically if he'd fallen to the rocks roughly 100 feet below. "When I got to the green, I had almost an anxiety attack. I was almost crying, thinking to myself, 'what am I doing?' I was l just glad I saved par and made it all worth it."
He didn't know what he was going to say later to his wife, Annie, or to his parents, who were in attendance. It's the first tournament in which Annie brought their son, Sammy, who was born in November.
"Yeah, I'm not really sure what's going to happen there," he said of the coming explanation he owed his high school sweetheart. "I just saw the blimp shot from overhead, and it really bothered me. So, I can't imagine while she was watching that live."
Other observers were equally troubled as the drama unfolded.
"I couldn't believe he hit it," said fellow Texan Colt Knost, working for CBS Sports. "I went over there and tried to take a stance and thought, 'no way could I hit a shot.' He could take a stance, but you don't know what that left foot is going to do throughout the swing. It could slip out, who knows? I was genuinely concerned for him."
"I'm still not right," Jay Danzi, Spieth's agent, said with a tight grin as he stood behind the 18th green.
"I actually couldn't see how close he got to the edge, but I knew he was close enough, and I let him hear about it when we got to the green," said Ryan Palmer, his professional playing partner. "I was like, 'You know, this is just a tournament.'"
It's a tournament that Spieth has won before, in 2017, and was poised to win last year when he led after 54 holes before Daniel Berger rallied past him. And he certainly has an outstanding opportunity to win it again because of his performance on the other 17 holes Saturday. At 14-under 201, the three-time major winner finds himself one stroke behind a trio of leaders—Beau Hossler, Andrew Putnam and Tom Hoge after beginning the round 11 shots behind Seamus Power. Reigning FedEx Cup champion and player of the year Patrick Cantlay and Joel Dahmen also came in at 14 under par.
Still battling an intestinal infection that plagued him through two rounds of last week's Farmers Insurance Open, where he missed the cut, Spieth played brilliantly, finding 10 fairways and 15 greens in regulation. He ranked first in proximity to the hole on his approaches with an average of 18 feet, 7 inches and first in strokes gained/total at 7.096.
And yet, he left some shots out there, he said, missing several early birdie looks. He made up for that, however, with the shot of the day—regular variety—at the par-5 sixth when a 7-iron from 200 yards that bounded up the hill and curled to within three feet of the cup for an easy eagle. "I was sort of off and running from there," he said.
His irons were so precise that twice, on the 11th and 17th holes, he hit the flag with approaches, and on the second, it prevented his ball from bounding into the rough behind the green. Of course, he made the most of that break, too, rolling in the eight-foot birdie.
The only thing left to do now is to take advantage of his breathtaking threatrics and win the tournament.
"I think I just kind of learned a little from last year," he said of his closing 70 that left him tied for third. "Last year I went in with the lead, and I was a little tentative early, and Berger came out firing, I think went like birdie, eagle to start. I think not being in the final group, I just kind of approach it like today where I feel like sometimes it can be a little easier not in the final group [and] to go ahead and fire away. You almost just set a goal for a number for the day and pretend you got to get there in order to win."
Spieth has set the bar on firing away. And he lived to tell about it.