Saudi International
As Harold Varner III seeks a signature win, DJ, Fleetwood and Smith continue to lurk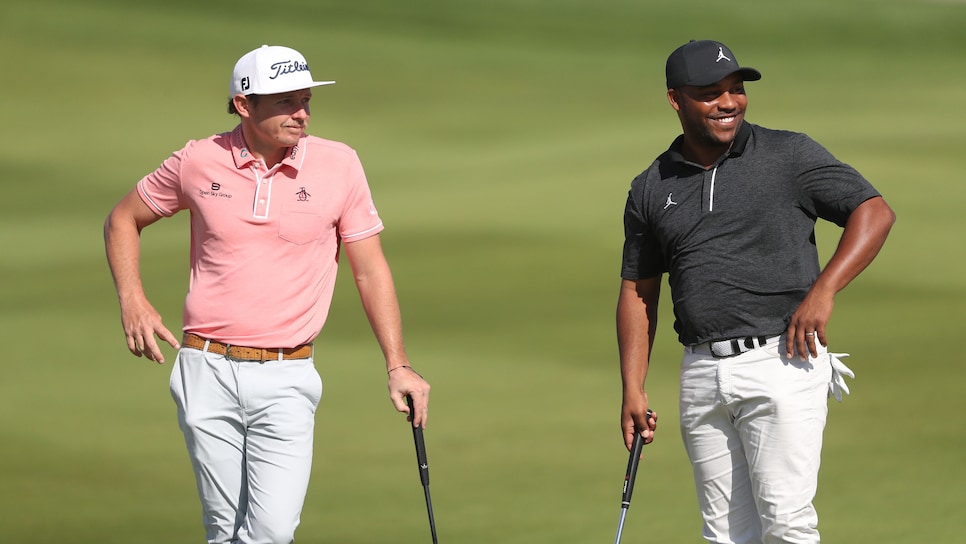 Harold Varner III and Cameron Smith on the 13th green during Saturday's third round of the Saudi International.
Oisin Keniry
AL MUROOJ, Saudi Arabia — How hard was Royal Greens Golf & Country Club playing on Saturday at the Saudi International? Of the 74 competitors who teed-up, only 24 broke the par of 70. Which is more than can be said for some of the more notable names in the field. Many were those in the 71-75 range. Consider the following:
Matthew Wolff – 73
Marc Leishman – 72
Jason Kokrak – 73
Lee Westwood – 71
Matteo Manassero (first-round leader) – 74
Tyrrell Hatton – 75
Sergio Garcia – 71
Patrick Reed – 73
Phil Mickelson - 71
There were exceptions to that pretty dismal rule, of course. Paul Casey's outstanding 64 was the best of the day, closely followed by Jhonattan Vegas' 65. Gavin Green, Justin Harding and Ptachara Khingwatmai all got round in 66. But all went low beyond the place where pressure is a significant factor. None are going to take away the $1 million first prize.
Indeed, the only men who made any kind of significant progress towards the sharp end of the leader board were Dustin Johnson, a two-time champ here, and Tommy Fleetwood. In conditions best described as "blustery," Johnson ambled round as only he can in 67 blows (dropping only one shot), a score matched by the hirsute Englishman.
But work remains for both high-profile pursuers. At seven under par, Johnson is five shots behind the leader, Harold Varner III, and four behind Adri Arnaus. Fleetwood is three closer than Johnson at 10 under. Should they play as they did on Saturday—a big "if" in conditions where potential disaster lurks on many holes—it is difficult to see anyone outside the leading trio ending up holding the trophy.
Fleetwood summed up the prevailing mood when he pronounced himself, "very happy to be done" at the end of a round that began with an inauspicious and possibly discouraging bogey. Six birdies followed though, more than enough to offset two more dropped shots. All in all, huge encouragement for a man who has gone more than two years without a victory. Well used to strong winds blowing off the Irish Sea towards his native Merseyside, the 31-year-old reveled in the opportunity to find the correct shots through instinctive feel rather than pure technique.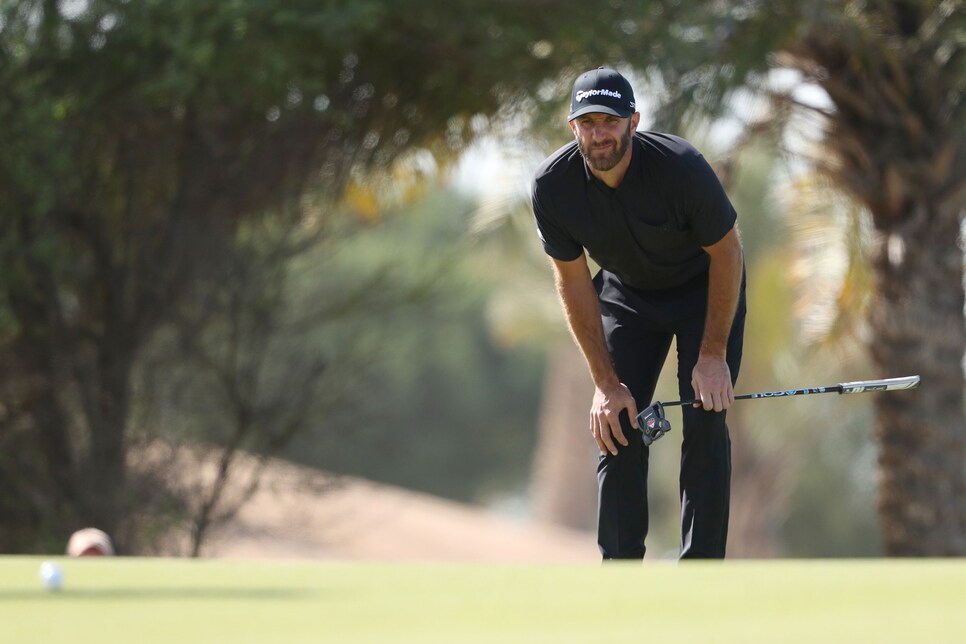 Dustin Johnson, a two-time Saudi winner, is five off the lead of Harold Varner III entering Sunday's final round.
Oisin Keniry
"I holed a long putt for birdie on four that got the day going," he said. "And I hit some cracking iron shots. So many of them were really good. My control was good, even in the strong crosswinds we had to deal with. I always felt comfortable with the shots I was trying to hit. On a day like today that is so important. The swing itself doesn't really matter that much; it's all about creating shots. That's the key when the ball never flies straight and never goes the distance you might normally expect.
"The biggest thing for me is that today is just another sign that I am playing good golf and getting my game back to where I want to be," he continued. "I was in the last group last week [in Dubai] and I'll be in the last group again here. So there are a lot of positives. I just have to enjoy the progress I have been making. Tomorrow may or may not be my day, but I'll enjoy the challenge. I've spent 18 months not even being close, so it's nice to be putting myself in position to win."
A similar mood of optimism was emanating from a clearly content Varner. Five years on from winning the Australian PGA Championship on a last day that was similarly "super windy," the 31-year-old American was one of the more buoyant figures at the close of a physically and mentally taxing round of 68.
"It was so tough out there," said Varner, 99th in the World Ranking. "It was just a grind. But I did a good job of hanging in there. The toughest thing for me was slowing down. I tend to rush. So the ruling I got on the 15th (his ball in tire rut) was actually good for me, even though I didn't get a drop. That didn't bother me. I've got a great opportunity tomorrow and I'm looking forward to it. I enjoy the challenge. Life is hard; this is easy."
As they say in Scotland, "aye right Harold."