Golf Digest Insider
The real reasons golf is getting younger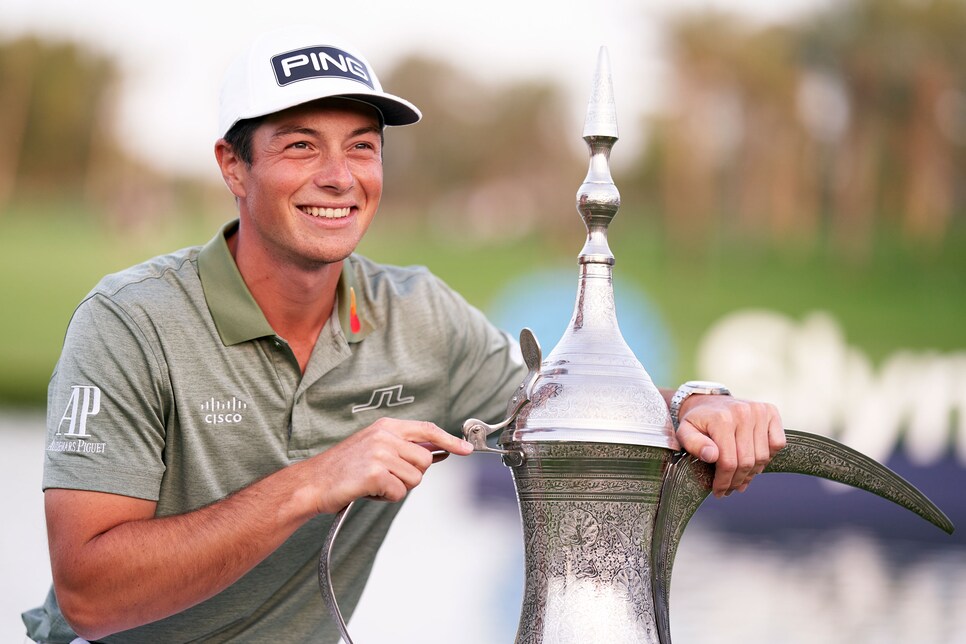 Editor's Note: This article originally appeared as a newsletter to Golf Digest+ subscribers. To subscribe to Golf Digest+ for exclusive content and more, click here.​​
Your golf-hating friends might think of the sport as the domain of wealthy retirees, but at the elite level, It's really a young man's game. That's never been more true than now. With Viktor Hovland's victory in Dubai, the top three players in the World Ranking are, in order, a fiery 27-year-old Spaniard; a precocious 24-year-old American; and a smiley 24-year-old Norwegian.
The youth takeover extends beyond just the tip-top of the 1 percent. As of Monday morning, the average age of the top 16 players in the World Ranking is 28.69, and 13 of those 16 are in their 20s (Dustin Johnson, Rory McIlroy and Louis Oosthuizen are the lone geezers in the bunch, all in their 30s). Ten years ago this week, the average age of the top 16 was 31.75, and that included seven guys older than 30 and three older than 40. Twenty years ago it was 32.87, and all but three had already turned 30. For a cross-sport comparison, the average age of the 10 men starting the NBA All-Star game is 28.6—which means the best golfers in the world right now are essentially the same age as the best basketball players in the world.
So what's behind this? It's a multi-layered answer. The first, and perhaps most obvious, is the Tiger Effect. Woods' emergence in the late 1990s coincided with a significant rise in participation. This, then, is the natural result of a deeper pool of better athletes choosing golf. Only it's a bit more complicated than that. A massive reason for the kids' success is the cauldron of college golf. Both Jon Rahm (No. 1) and Collin Morikawa (No. 2) stayed in school for the full four years. Viktor Hovland went three, and each of the top 10 Americans spent at least some time on a college campus. The collegiate game has grown so sophisticated and so competitive that it's essentially a developmental circuit for the big tour. The top programs fly around the country, often privately, to play events on major-championship-caliber courses. And now, with Golf Channel's increased investment in college golf, these events are getting TV time. It's still quite a jump to the PGA Tour, but the contrast is not nearly as stark as it was, say, 20 years ago.
Younger players are also smarter than ever. The proliferation of course-management systems has given 20-somethings the type of wisdom that used to come only after a number of years on tour. Before Google Earth, a young player would need time to learn tour courses. He'd have to see the places to know start lines, where to miss, what holes to attack and where to play conservatively. But with satellite imagery, modern yardage books and math-based strategy guides, guys can do their homework before ever laying eyes on the actual course. They can know, with impressive certainty, what lines to take off tees, the scoring averages from different parts of the fairway and which parts of a green to avoid. More information leads to better-informed, mathematically optimized decisions.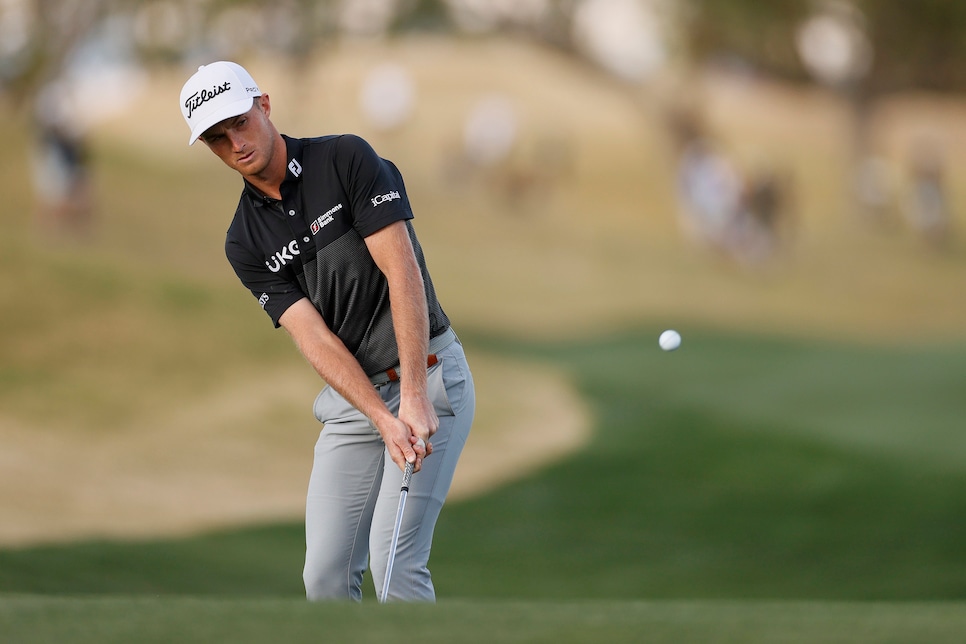 Young players also have more information about their own games. This is the TrackMan generation; these guys grew up hitting balls on launch monitors, and just as the top pros know their numbers, the top college players know what their spin rates and attack angles should look like. Moreover, they know how to fix a problem when one arises. "I think there's more information for these young guys than we've ever had," Webb Simpson said last year. "You have DECADE golf from Scott Fawcett, you have TrackMan, you have Foresight, all these tools and technology to help these high schoolers and college players get better, hit it further. We know in golf why shots go left and right or left to right and right to left more than we've ever known."
Another explainer is the speed revolution. Mark Broadie's creation of the strokes-gained statistic has taught us more about why good players score well, and the numbers tell a clear story: distance is a massive advantage. The improvements in club technology—balls that spin less, drivers with bigger and more forgiving faces—incentivize players to wallop away off the tee whenever possible. And while guys like DJ and Rory and even 51-year-old Phil Mickelson can still move it with the kids, as a general rule: the younger, the faster.
It has all combined to produce a group of fearless—but not foolish—20-somethings who are staking their claim over a sport that used to favor age over youth.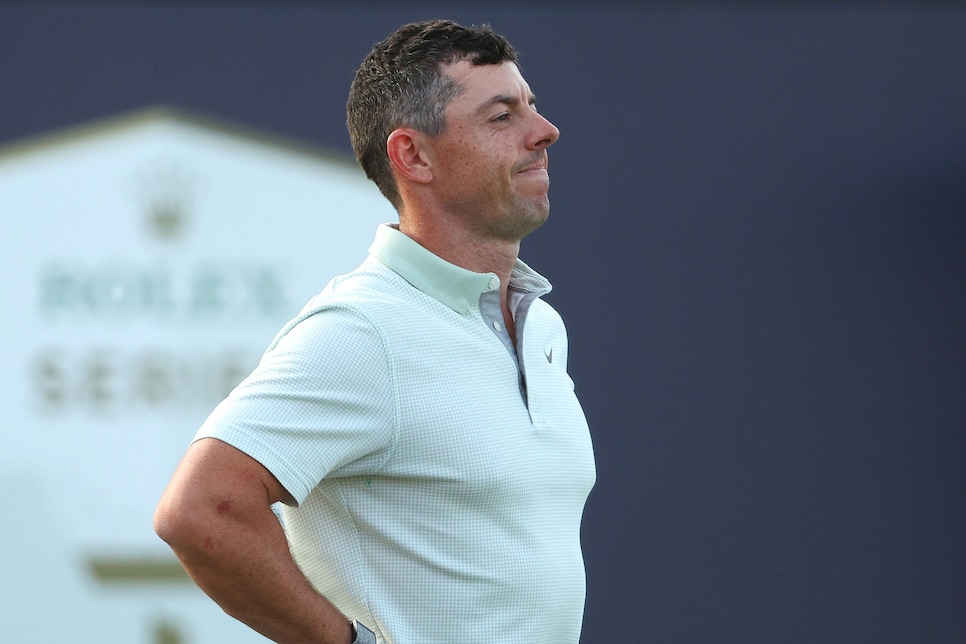 —Viktor Hovland has developed into a Sunday killer, and he stole last week's Slync.io Dubai Desert Classic right from Rory McIlroy's grasp. Hovland played his final three holes in four under par, including an eagle 2 on the driveable par-4 17th. He then birdied the par-5 18th to post 12 under for the week and was asked shortly thereafter if he thought it might be enough. No, he said, for McIlroy was also at 12 under and still had 17 and 18 to play. Whereas Hovland made magic, McIlroy made a mess, pulling his drive way left on 17 and scrambling for par, then dumping his second on 18 into the water and failing to get up-and-down to get a spot in the playoff with Hovland and Richard Brand. It's the second time in three months that McIlroy failed to close a tournament in Dubai—he also stumbled down the stretch of the DP World Tour Championship in November. He did, however, climb a few spots in the World Ranking and now sits No. 6, and can be generally encouraged by his form with the Masters just two months away.
—On Saturday night, the list of potential winners and potential storylines at the Farmers Insurance Open would've excited even the crankiest editor. There was World No. 1 Jon Rahm looking to write the next chapter in his long love story with Torrey Pines. Justin Thomas and caddie Jim "Bones" Mackay were contending for their first win as a permanent duo. Jason Day found himself in position for a comeback win out of nowhere. Will Zalatoris had a chance to bury his putting demons and pick up a much-anticipated first PGA Tour victory. So, of course, Luke List ended up winning. In all fairness the 37-year-old delivered a solid narrative of his own, winning on the PGA Tour for the first time in 206 starts. The Augusta, Ga., resident will now return to the Masters for the first time since 2005, when he played after finishing runner-up to Ryan Moore in the previous year's U.S. Amateur.
—Jason Day flashed some encouraging form this week—both for him and for Trevor Immelman, who faces the unenviable task of putting an International team together to combat the American behemoth at this year's Presidents Cup. Assuming Day continues to play well, Captain Immelman's pool of candidates is probably deeper than any International crop in recent years. If the cutoff were today, and the team were decided solely by World Ranking, this would be the squad at Quail Hollow: Hideki Matsuyama, Louis Oosthuizen, Cameron Smith, Abraham Ancer, Sungjae Im, Joaquin Niemann, Marc Leishman, Corey Conners, Adam Scott, Lucas Herbert, Mackenzie Hughes and Min Woo Lee.
—The Farmer's Wednesday-Saturday schedule went off without a hitch. Fans were treated to a highly compelling show in prime time on the East Coast on Saturday then had no football conflicts on Sunday afternoon. Perhaps this will serve as a template for other fall-early winter events moving forward. Competing with the NFL is never a good idea. Only it's not that simple: Viewership tends to be higher on weekends than weekdays, and finishing fall tournaments on Saturdays just means the final round is competing with college football rather than professional. Much for the powers that be at Ponte Vedra to consider.
—Lydia Ko held off Danielle Kang to win the Gainbridge LPGA at Boca Rio. Because Ko has been around for what feels like forever, it's hard to believe that she is still just 24 years old. And because she went through some seriously barren times a few years ago, it's easy to lose sight of the fact that she now has 17 LPGA Tour wins before her 25th birthday. This latest renaissance comes after serious work on her swing and her mindset with Sean Foley. She's now all the way up to World No. 3, behind only Jin Young Ko and Nelly Korda.
—The controversial Saudi International is this week, and the Asian Tour—buoyed by millions in investment from the Greg Norman-fronted LIV Golf Investments—has successfully lured a number of the game's top stars to the desert with massive appearance fees, including Phil Mickelson, Bryson DeChambeau, Dustin Johnson, Xander Schauffele, Tony Finau and Matthew Wolff. The PGA Tour decided to grant these players conflicting-event releases to play in the event, and Norman and Co. will surely use the spotlight to take a victory lap and suggest that this is but the first of many international events that will draw stronger fields than the coinciding PGA Tour event. Time will tell. Meanwhile, the AT&T Pebble Beach Pro-Am managed to cobble together a stronger field than last year, with defending champion Daniel Berger, Patrick Cantlay, Jordan Spieth, and Matt Fitzpatrick all competing.