Farmers Insurance Open
It was a shot in the dark, and Luke List hit the bullseye in Farmers Open win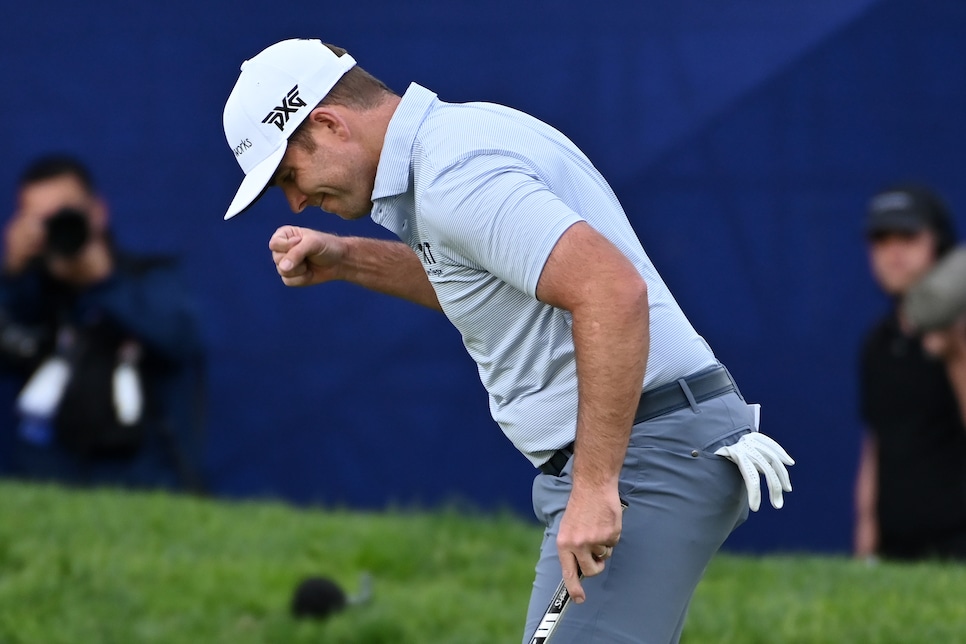 Luke List reacts after a birdie on the 18th hole in regulation during the final round of the Farmers Insurance Open.
Donald Miralle
SAN DIEGO — It was early in the evening on the California coast, the sun having already dipped in a spectacular canvas of burnt orange and blue. Luke List peered into the near-darkness and up in front of him, about a football field away, he could barely make out the stick with a yellow flag atop it.
The 37-year-old would have been excused for pondering how difficult this would be to play a precise shot in light better meant for moon gazing. He could have had the ready excuse of a nearly two-hour wait after finishing his final round at the Farmers Insurance Open to be in this position, in a playoff against Will Zalatoris. He could have let the mental scar tissue of 205 winless pro starts on the PGA Tour overcome him.
Instead, in that moment, List drew on the mantra he repeated to himself before he arrived on the extra hole: "I told myself if I was going to be in a playoff, I was going to birdie the hole," he said.
He pulled that off, in the most memorable way possible. On the 18th hole of the Torrey Pines South Course that has seen as much taut drama as most places on tour, List launched a wedge that flew past the flag, slowly spun back and caught the ridge. The ball trickled and trickled and nearly made it to the cup. ShotLink put the distance at eight inches, and no matter how dark it was by the time List eventually reached his ball, it didn't matter. He could have putted it backhanded wearing a blindfold.
"For it to be six inches or whatever the number was, was incredible," List said. "Obviously that's the dream, to have a kick-in that you don't have to putt, but I was ready to have a putt to win anyway."
When Zalatoris, the hang-loose-looking 25-year-old who had become a clear favorite among the fans in his native California, rolled a too-soft birdie try from 16 feet below the cup and came up short, List let out a guttural yell, racing to hug his wife and their two young children as a PGA Tour winner, finally.
"Still a lot of emotions going through my head, but to get that first win is definitely a relief," List said. "But I was just really happy with how positive I stayed."
Neither player seemed to be bothered by how dark it was by the time they returned for the playoff. List had spent some time with his family and practiced some—even saying he thought he "found something" on the range. Zalatoris quickly signed his scorecard and hustled out. Both said there was no discussion about leaving things to Sunday morning.
"Will's a pretty confident guy anyway, the way he walks and carries himself, so I didn't notice anything. We definitely wanted to play," List said.
Added Zalatoris: "We were fine. I thought, you know, it really got dark fast. I really had to rely on past history on the playoff hole. I really couldn't see much in terms of the read, but I'm not even that disappointed with that part. I made three pars on 18 this week and that's just not going to get it done."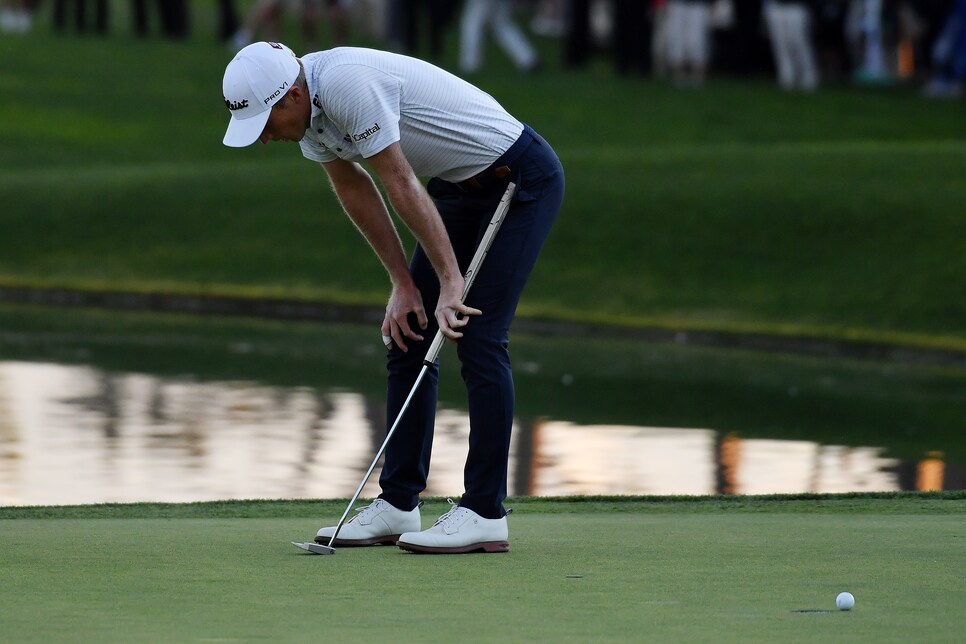 Will Zalatoris reacts to a missed putt on the 18th hole during the final round of the Farmers Insurance Open.
Donald Miralle
A year ago, List rallied with a Sunday six-under-par 66 on Torrey South to finish tied for 10th. This time, he shot 66 to get to a 15-under total in a cauldron with some of the game's most accomplished players. Major champions and past Farmers Open winners Jon Rahm, Jason Day and Justin Rose all were within striking distance over the final holes. Rahm, who shot 72-71 on the weekend, and Day, with bogeys on two of the last three holes for 72, missed the playoff by one, as did Cameron Tringale (70). Rose (68) finished earlier and was in position to tie List's clubhouse lead, but found the pond at 18 with his 5-wood approach and bogeyed.
Of the top five finishers, only List shot in the 60s in a final round. Zalatoris scored 71 and parred 13 consecutive holes, including the playoff, after taking the solo lead with back-to-back birdies at the fourth and fifth.
And while List hit a 108-yard wedge approach from the rough to 13 feet in making birdie on the 72nd hole, Zalatoris missed an eight-foot putt that would have given the reigning Rookie of the Year his first tour victory.
"I thought the putt I hit on the 72nd hole, I thought I made it. I just needed a hair more speed," Zalatoris said. "I've seen enough putts through the years coming down that hill to know that that putt just doesn't go left, and it happened to go left."
After the playoff, Zalatoris walked through a tunnel behind the green looking dazed, but he was clear-eyed and resolute in recounting the disappointment.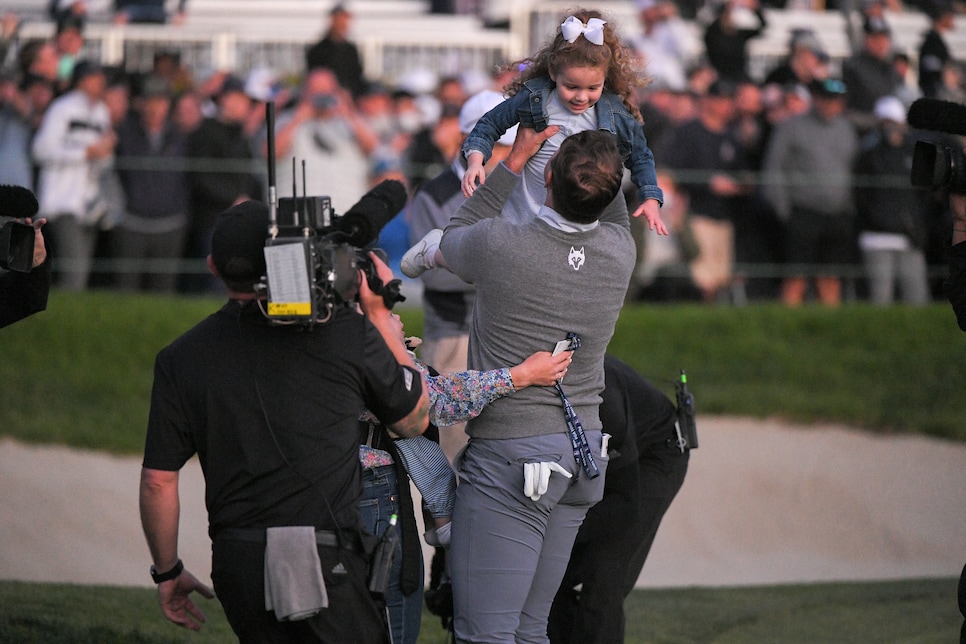 Luke List raises his daughter on the 18th green after winning the playoff hole during the final round of the Farmers Insurance Open.
Ben Jared
"I want to go get next week, it's pretty simple," he said. "I've got no regrets today at all. Like I said, I thought I battled like hell all day and handled myself really well. I had my chances, for sure, but that's just the nature of this game. It's hard to win out here, there's no question about that."
List had played seven-plus years on the tour without a win. In all of his starts, he'd posted two seconds and two thirds. He had a breakthrough victory on the now-Korn Ferry Tour in 2012, and in 2020, in the first pro golf event back after the COVID-19 pandemic break, he won the Korn Ferry Challenge at TPC Sawgrass. It wasn't necessarily a popular triumph, with some resentment by the KFT regulars about a guy coming down temporarily from the big tour to beat them.
Putting has been List's weakness—he was 185th in strokes gained on the greens this season and outside the top 150 in the category the previous three years. In the offseason, he said he hired Stephen Sweeney, who is based in Florida, as his putting coach. "He opened my eyes to the proper technique, and I worked my butt off," List said. "I think I was strokes-gained No. 1 on Thursday, which I have never been … in a single round. It just snowballed from there and my confidence grew."
Considering how long he'd worked for his first win, List seemed more enthralled than emotional. That is, until the subject of the Masters came up. He's played in the tournament one time, in 2005 after finishing runner-up to Ryan Moore in the U.S. Amateur the previous August. Now he'll be going back, and it won't be a long trip. Four years ago, he and wife Chloe moved the family to Augusta, Ga., to be closer to her parents. He can't help but think about it every time he's on Washington Road.
"I can't tell you how much this means to me. That is a special place, and I might get emotional," List said. "You know, just that's why you work hard, that's why you do these things every day, that's why you travel away from your family at times. To tee it up in April in Augusta will be a lot of hard work, but just really special to have my family. And sleeping in my own bed will be really cool. I'm just over the moon about that. That's going to be really fun because that's a place that I feel I can really play well and I'm looking forward to getting back."
There was one more reward for List. His daughter, 3-year-old Ryann, has been asking for years to bring home a trophy. He promised that when he did, it'd be filled with candy. Besides a surfboard, the Farmers awards a trophy sculptured in the shape of a Torrey pine.
"This," List said, putting his hand on the trophy, "doesn't look like any candy can fit in here, but she was happy. She said, 'Oh, flower,' so she's happy with it."