DP World Tour
Viktor Hovland keeps piling up wins after taking Dubai title with a wild Sunday charge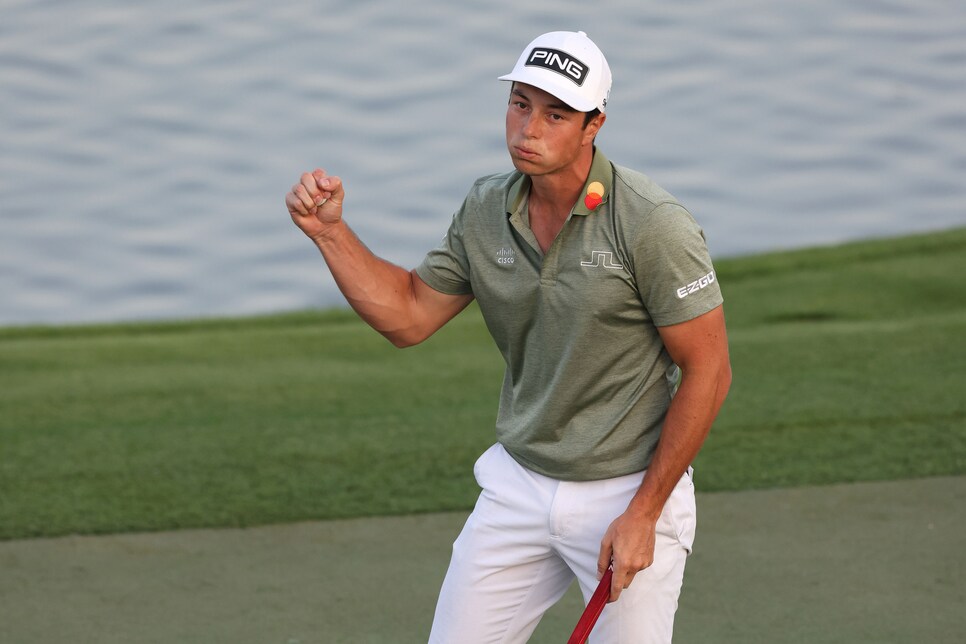 Dubai winner Viktor Hovland rolled in a birdie putt to beat Richard Bland on the first playoff hole for his fourth tournament victory since June.
Luke Walker
DUBAI — There's an old golf proverb, penned by the legendary Herbert Longhurst Darwin, that says the Slync.io Dubai Desert Classic doesn't really begin until the 10th tee on Sunday. OK, not really. But on the evidence of this epic event, it would be difficult to come up with a more apt description of a race to the finish that produced a seemingly endless run of ups, downs and everything in-between over the closing nine holes. Old Willie Shakespeare himself would have been hard-pressed to come up with a more dramatic scenario than that which played out at the Emirates Club.
Three men were involved before Rory McIlroy launched his 3-wood approach into the water fronting the 18th green en route to a ruinous bogey. Then two in a playoff in which Viktor Hovland defeated Richard Bland with a birdie at the first extra hole. But those barest of facts conceal an afternoon like no other in the 33-year history of the longest-standing member of DP World Tour's "Middle East Swing."
Consider this. Standing on that fateful 10th tee, long-time leader Justin Harding was tied with McIlroy on 11 under par. A host of players were piled up behind, just about the least obtrusive being Hovland. At that stage the fifth-ranked player in the world (he's now two places higher) was eight under. Only three shots back and clearly not out of contention. But it's safe to say few if any in the large crowd were paying the Norwegian any attention.
Hold on though. Things were about to happen. While McIlroy's 6 at the par-5 10th was bad enough, when Harding made the same score on the par-3 11th all hell suddenly broke loose. And when McIlroy followed up that fine putt on 10 with two more for birdies on the 11th and the 13th, it looked for all the world as if the Northern Irishman was cruising to his third victory in this event.
Then he wasn't. Up ahead, Hovland followed a seemingly ambition-ending three-putts for bogey on the short 15th with an inspired burst of play he would later call the best of his life "in the circumstances."
A "bomb" of a putt for birdie at the 16th disappeared below ground before a "great drive" on the penultimate hole found the putting surface on the 359-yard par 4. In went the eagle putt from 10 yards. Suddenly, Hovland was thinking "win" rather than "high finish."
"I didn't even know how far 17 was playing," he said. "But I knew that it was playing downwind and that I had to give it all that I had. I hit a little high toe on the face, which was pretty nice, and just launched a little higher, knuckled a little bit. I don't know where it pitched but probably just short of the green and released to 30 feet.
"I knew standing over the putt that it was to tie the lead," he continued. "But I also knew that the guys behind still had the [reachable par-5] 13 and some easier holes to make birdie on. So I knew I probably had to birdie the last as well to get them thinking a little bit."
He was right in that assessment. And he did make the birdie on 18 that saw him land on 12 under par after a Sunday 66 and set what was still a formidable target.
Playing the 14th, McIlroy knew he needed to play the last five in one under to pip Hovland. And, as it turned out, Bland.
Almost unobtrusively, the unassuming Englishman—an unlikely first-time winner of last year's British Masters in what was his 478th European Tour event—was picking his way through the back nine. Birdies on 10 and 11 were followed by a string of pars before a third dip below par took him to 11 under. A birdie on the 18th would tie Hovland and maybe increase the pressure, if only a little, on McIlroy.
Unable to reach the distant green in two, Bland laid-up short of the pond and wedged to roughly 25 feet. Knowing he had to hole it, the 48-year-old Englishman (who led last year's U.S. Open at the halfway point) rolled it in for a closing 68. Bland had his tie with Hovland and when McIlroy made a water-strewn bogey on the final hole, the playoff was set.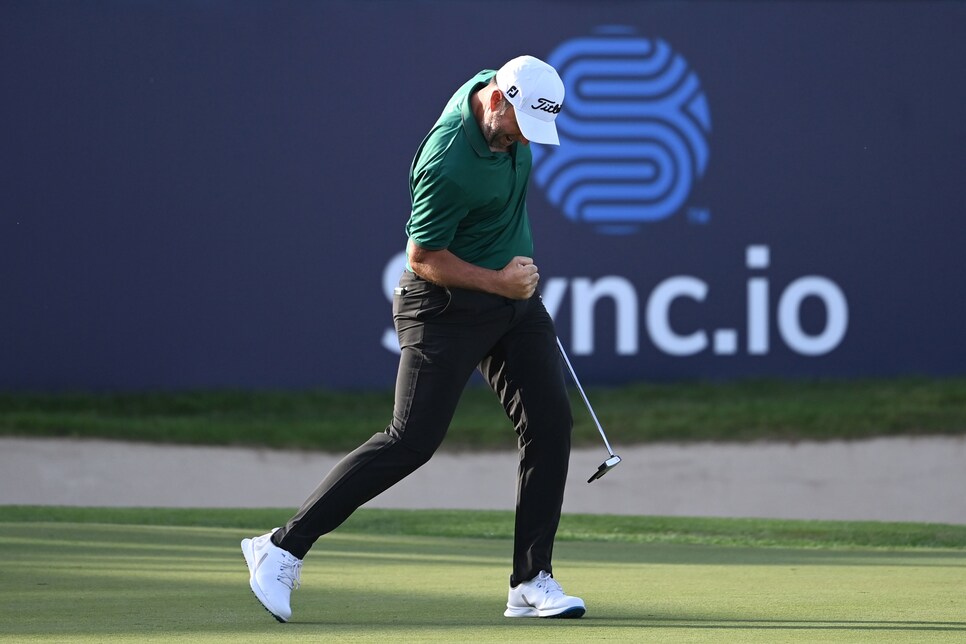 A 25-footer for birdie on the 18th hole put an excited Richard Bland into the playoff in Dubai.
Ross Kinnaird
One more hole was all it took, Hovland's two-putt birdie enough to clinch his sixth career victory, his second on the DP World Tour and the $1,360,000 first prize.
"I didn't really think this was possible going into today," was Hovland's understandable reaction. "I knew I had to shoot a really low number, but a lot of things had to go my way and thankfully they did."
Yes, yes. But was this really the best finish of his life? On second thoughts, maybe not.
"I do distinctly remember a little match that I had in college," Hovland said. "We used to do a little Ryder Cup thing, me and Kristopher Ventura against Zach Bauchou and Sam Stevens. We were basically playing for dinner in stroke play best-ball. It was kind of getting dark and pretty feisty. We all didn't want to lose, believe me. Anyway, we were down three strokes with three to go, and I finished birdie, birdie and then eagle on the last to beat them by a shot. They were so mad, and it just brought me so much joy. So I will always remember that one. It was pretty satisfying."
But not nearly as lucrative.