LPGA Drive On Championship
Leona Maguire's inaugural LPGA victory also a breakthrough for Irish golf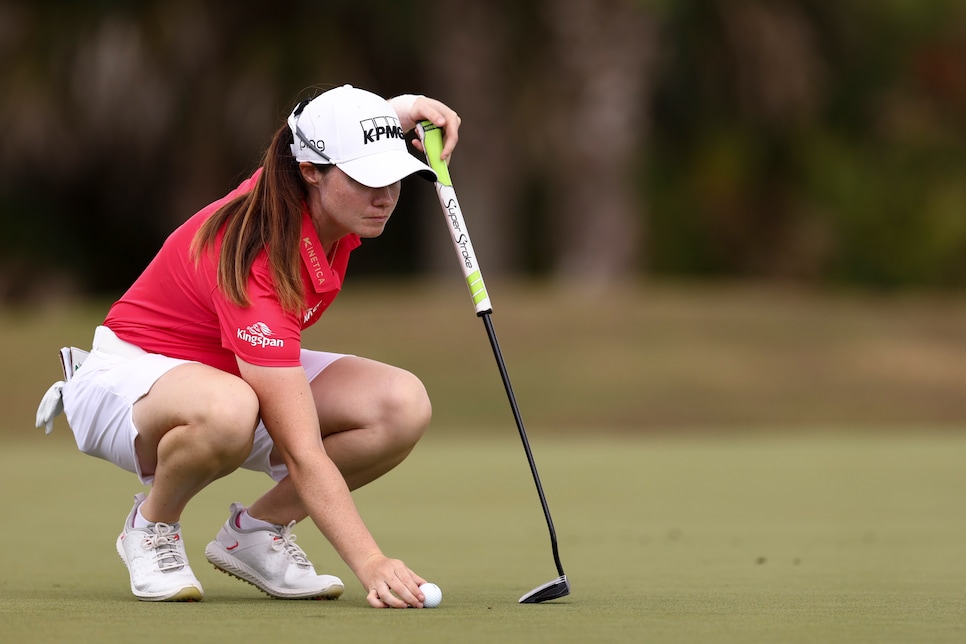 Inevitability finally gave way to reality for Leona Maguire of Ireland on Saturday, when she won the LPGA Drive On Championship for the first victory of her LPGA career and likely not her last.
Maguire, for whom professional stardom was expected following a remarkable college career at Duke, entered the final round at Crown Colony G&CC in Fort Myers, Fla., tied for the lead, then pulled away from the field on the back nine, leading by five at one point, before winning by three. It was not only her maiden victory, it was also the first LPGA victory by an Irish player.
"It's been a long-time coming," she said. "I suppose you don't know it's going to happen until it actually does. I tried to stay really patient today. Didn't get ahead of myself. Wanted to go out and just shoot a number. I didn't want anybody to have to hand it to me. I wanted to win it myself, to earn it.
"Relief is one of the big emotions right now."
She posted a five-under par 67 to complete 54 holes in 18-under par 198. Lexi Thompson, who closed with a seven-under 65, finished second, while Sarah Schmelzel, with an eight-under 64, was third, the best finish of her brief career.
Maguire won 10 times in four years at Duke, twice was ANNIKA Award National Player of the Year and was an All-American four times. She also was No. 1 in the World Amateur Golf Ranking for 135 weeks.
She joined the LPGA in 2019, but only had moderate success until her breakout performance in the Solheim Cup last September, when she went 4-0-1 to lead the Europeans to a 15-13 victory over the U.S.
"I know a lot of people probably thought I was going to win maybe before this," she said. "I was maybe getting a little impatient last year. Obviously, Solheim Cup was a massive confidence booster. But the Solheim Cup is one thing, to do it in an individual event when it's just you out there, by yourself, that's a different ball game."
Maguire began the final round sharing the lead with Marina Alex, who was pursuing her second LPGA victory. Alex briefly held the solo lead on the front nine, but was never a threat on the back. She shot an even-par 72 and slipped to a tie for fourth.
Meanwhile, Maguire was making five birdies in a seven-hole stretch to distance herself from the field and coasted in to the winner's circle.
Among those paying close attention was Niall Horan, a renowned Irish singer and songwriter. and an avid golfer who founded Modest Golf Management that represents Maguire. After she putted out for victory, Horan Tweeted to his 41.3 million followers, "Yesssssssss!!! First Irish woman to win on @LPGA. Couldn't be prouder of you Leona. Incredible performance."