Solheim Cup
Solheim Cup 2021: Ireland's Leona Maguire announces her arrival by going undefeated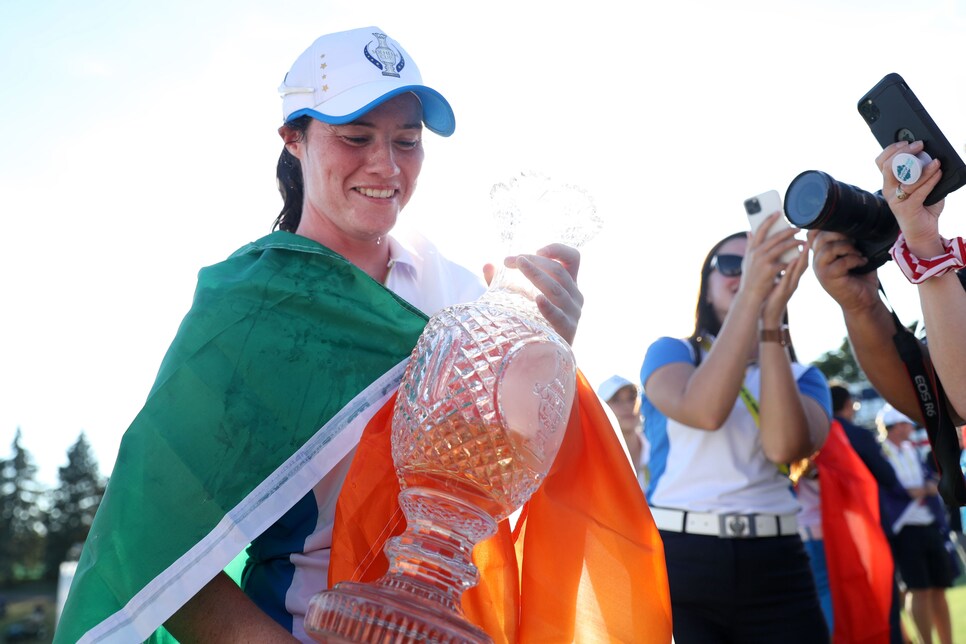 Leona Maguire celebrates with the Solheim Cup after going 4-0-1 in her debut for Europe at Inverness Club.
Maddie Meyer
Consider the Solheim Cup Leona Maguire's unofficial official arrival to professional golf. If you haven't met the 26-year-old Irishwoman, the Solheim Cup certainly introduced you. If you've been following amateur golf, however, you've known about Maguire for years and were likely guessing it was only a matter of time before she had a moment like she did at Inverness Club for Team Europe.
Maguire, who as a Solheim rookie went unbeaten in Europe's 15-13 upset win, had a decorated career at Duke University and spent a total of 135 weeks as the No. 1-ranked amateur in the world, breaking Lydia Ko's record for the woman to hold the top ranking the longest. Her abilities as an amateur golfer could never be questioned. But Maguire's transition onto the LPGA Tour wasn't immediately successful. She had to find her way there through the smaller tours first.
She turned professional in June 2018 after graduating from Duke. Maguire played Symetra Tour events, and in the fall a failed attempt at LPGA Q-School kept her from getting her LPGA Tour card. She played on the Symetra Tour and Ladies European Tour in 2019, and her top-10 spot on the Symetra Tour season money list got her card for the LPGA Tour's 2020 season.
Obviously, 2020 was not an easy season to have be your rookie year. But Maguire finished in the top 20 three times during that season, quietly getting her reps in as a pro.
In 2021, she came out stronger. She finished T-16 in her first event, the Gainbridge LPGA—a tournament in which she missed the cut at the season before. She went on to finish in the top 15 nine times in 2021, including a T-6 at the Amundi Evian Championship. Her final-round 61 in that event tied the record for the lowest round shot in an LPGA major.
That round is where Maguire started to make a name for herself—going that low in a major is going to garner you some attention. But Maguire, despite all of her results in 2021, has been able to fly a bit under the radar. Maybe it's because she's not loud or flashy. She's focused and quietly intense on the golf course. Often, her eyes are hidden behind sunglasses, so it can be hard to tell what she's really thinking or feeling.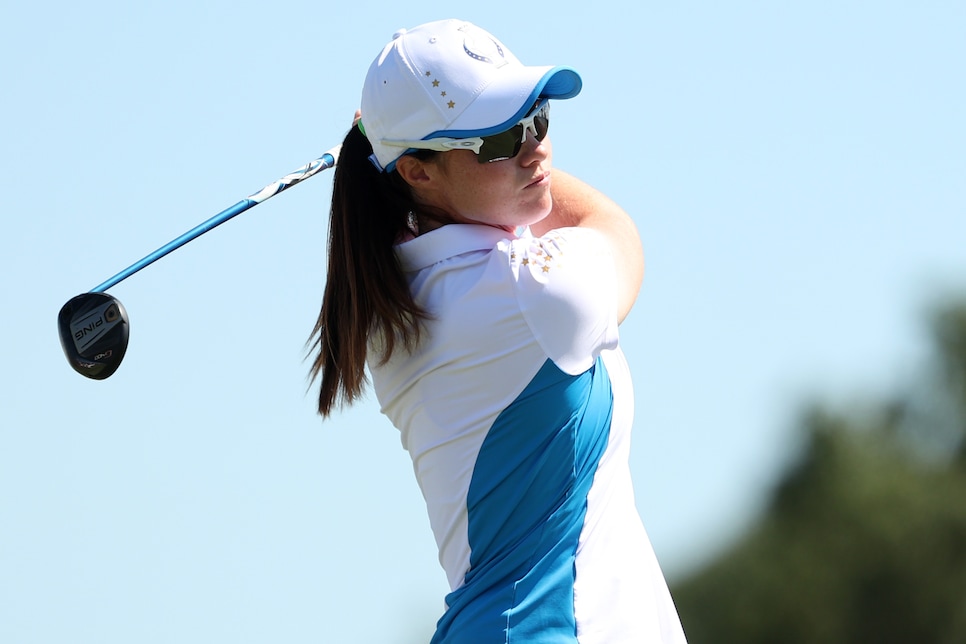 Leona Maguire plays her shot from the third tee during her singles match in the Solheim Cup.
Maddie Meyer
But at the Solheim Cup at Inverness, there was no denying Maguire. She has arrived.
The 5-foot-6 Irishwoman, the first player from her country to compete in the Solheim, had a huge presence in Ohio, going 4-0-1 while being the only golfer on either team to play in all five sessions. She won her first match in foursomes with Mel Reid over the Korda sisters, who who had been undefeated in the format. Maguire combined with Reid twice more, winning in Saturday morning foursomes and earning a halve in the afternoon in fourball. Maguire also earned a full point with Georgia Hall in the Saturday four-ball, and on Monday she birdied four of the first seven holes en route to beating Jennifer Kupcho, 5 and 4.
"I just tried to get off to a really good start, and then that eagle on 2, that's a pretty good start, and I hit it really solid. Made birdie on 6, which was a hole I hadn't played well on all week. Yeah, just wanted to put pressure on Jen from the get-go," Maguire said after the match. "She's a phenomenal player; we've played many times before, and I knew I'd have to have my 'A' game today, and luckily there was still some energy left in my legs and I was able to get it done."
"She's good," U.S. captain Pat Hurst said after the matches on Monday. "She's going to be around for a long time. She's the one we're going to have to fear, like I said, for a long time. She played at Duke and she was good there, and I think this is only going to elevate her game even that much more."
While some fans may have met Maguire for the first time this week at Inverness and been surprised by her breakout stardom, Team Europe's captain Catriona Matthew knew what she was getting when she selected Maguire as a captain's pick. She knew she could shine.
"Obviously, she was the world No. 1 amateur for a couple of years, and it's maybe just taken her two or three years longer than perhaps other to get settled I think as a pro," Matthew said before the competition, when she announced Maguire as a captain's pick. "I think she's got that real grittiness. I think she's a really good match player, has a great record from the Curtis Cup and played well in the match play in Vegas. I think she'll be a solid, one of these never-give-up-type players."
Never give up, indeed. An exhausted Maguire gave Matthew exactly what she expected: Everything she had.
"The goal was to get my point," Maguire said after her match with Kupcho. "That's all I can do. I've given it my absolute all this week. I couldn't have given it anything more."