Amundi Evian Championship
Leona Maguire ties a major record with a closing 61, keeps impressive 2021 season rolling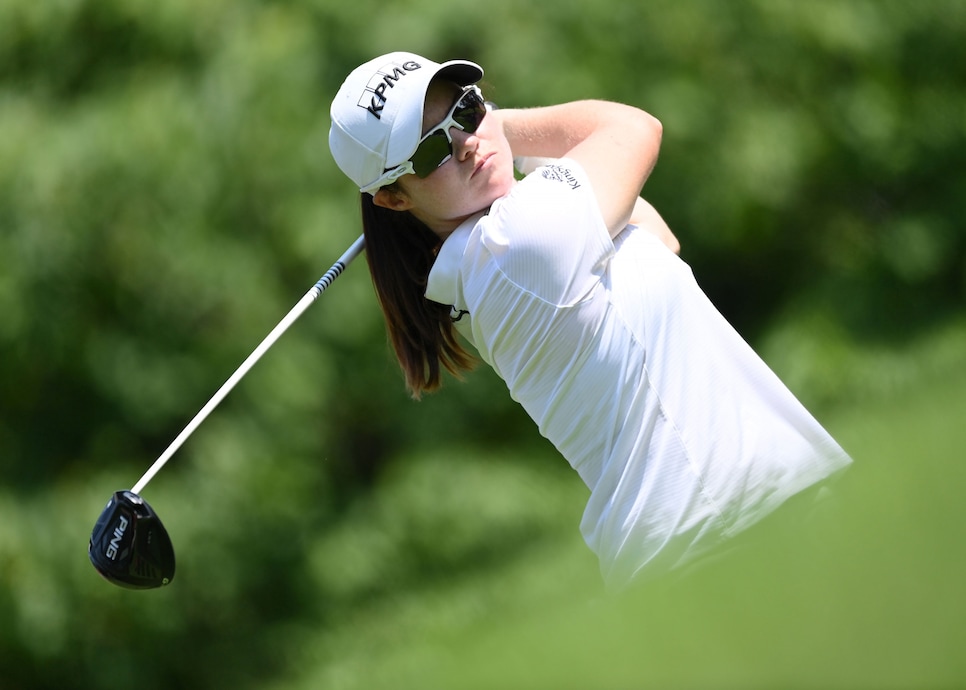 When her Sunday tee time at the Amundi Evian Championship was pushed back 40 minutes due to a weather delay, Leona Maguire was nervous it might be an ominous sign for the day ahead. The LPGA rookie from Ireland was out of contention for the title, sitting at three under, 15 shots back of the leader in a tie for 32nd place, but hoping to use the final round as a momentum builder ahead of playing in the Tokyo Olympics in two weeks.
"When we were in the middle of that rain delay this morning before I tee'd off," Maguire said, "I thought today was going to be quite a tough day."
Turns out, that couldn't have been farther from the truth. Once the round got going, Maguire played flawless golf, shooting a 10-under 61 to match the all-time 18-hole scoring record in a major shot by Jeongeun Lee6 on Friday and of 61 and first set by Hyo Joo Kim at the 2014 Evian. The historic round adds to the best year of her nascent career. It was a new career-best round for the 26-year-old, topping a 64 at the Meijer LPGA Classic just over a month ago.
Maguire credited work with her coach Shane O'Grady on shaping shots off sloped lies before her second career appearance at the Evian, her first since 2015. They emphasized picking her spots and playing smart, a fundamental approach at hilly Evian Resort Golf Course where even the smallest of missed lines gets punished. Her ball-striking gave her chance after chance to birdie that Maguire believed she finally capitalized on Sunday.
"There really wasn't a whole a lot of difference between the 61 and 71 yesterday," Maguire said. "I came off the course yesterday feeling like I played great and just didn't hole any putts, and today they went in."
Maguire's 10 Sunday birdies came in bunches. She opened with three straight to start her round, then made three of four from the seventh through the 10th, and closed birdieing the last four holes. On the par-5 18th, Maguire had a 35-foot eagle try with her putter from off the green left of the hole that could have given her a major-record 60, but the putt got hung up in the fringe, and she had to settle for a eight-foot birdie putt for 61.
Asked if she left any chances out there, Maguire was succinct. "Not many. I think I got my fair share."
The 61 jumped Maguire into the top 10 on the leader board, the best major finish of her career is the centerpiece of Maguire's soaring 2021 season. Maguire has four of her five career LPGA top-10s this year, including a pair of runner-up finishes at the Meijer LPGA Classic and the Lotte Championship, displaying the talent she showed in her amateur days when she held the No. 1 ranking for a record 135 weeks. Her consistent strong play points towards Maguire playing well in the Olympics again. Maguire finished T-21 in Rio as an amateur with a second-round 65.
"Representing your country at the Olympic Games is the biggest honor you can have," Maguire said. "Really excited for that."