A look ahead to 2022
Europe's next breakout stars are 20-year-old twins from Denmark. Meet the Hojgaards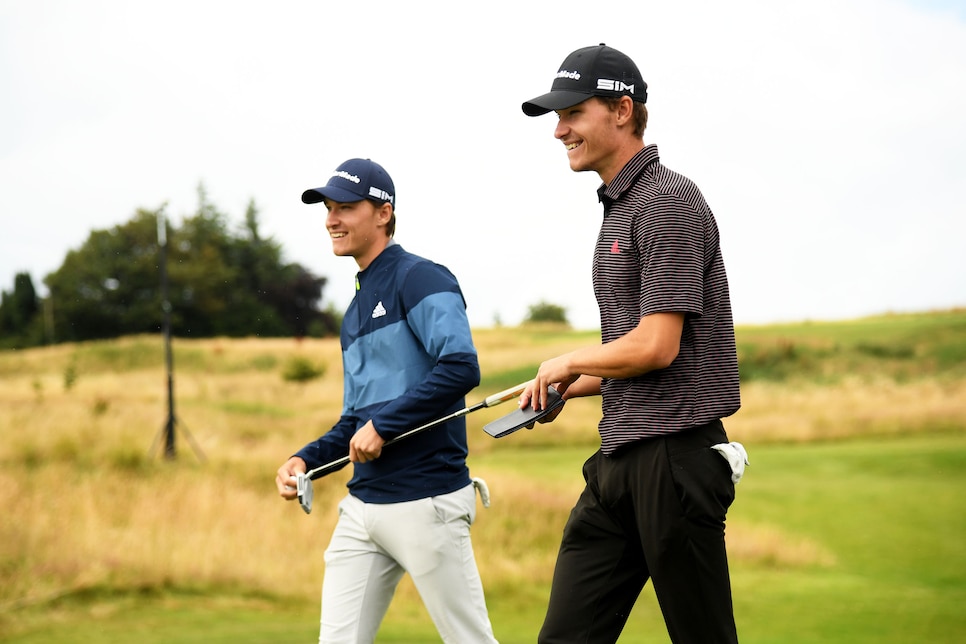 The last time Ole Hojgaard played golf with his identical twin sons at their home course of Gyttegaard in Denmark, they both gave their father eight shots. A typical parent-child arrangement, the lads hoped to bequeath their old man at least a fighting chance of ultimate victory.
Ole played to his 1-handicap over the par-70 layout that day—and ended up losing both bets. One twin nipped round in nine under par with no bogeys; the other shot the same score making 10 birdies and one bogey.
No surprise there, of course. At the precocious age of 20, Nicolai—"I'm the older by a few minutes"—and Rasmus are already winners on DP World (formerly European) Tour. In August, the brothers Hojgaard ("Hoy-gor" is a close approximation of the Danish pronunciation) performed the historic feat of finishing first in consecutive weeks. Seven days after Rasmus picked up his third title at the European Masters in Switzerland, Nicolai became the Italian Open champion. Little wonder that many knowledgeable observers confidently predict the twins will form one-sixth of the Old World's next Ryder Cup side when the match goes to Italy in 2023.
"In life and in your career, you sometimes stumble across people who are a bit different," says Thomas Bjorn, a 15-time European Tour winner and the best golfer to come out of Denmark. "The twins fall into that category, both of them."
That is quite a statement when one considers how well Danish golf is doing these days. Two Danes, Nanna Koerstz Madsen and Emily Kristine Pedersen, were part of the European team that won the Solheim Cup in September at Inverness Club. Christoffer Bring is the reigning European Amateur champion. Marcus Helligkilde topped the European Challenge Tour rankings. And JB Hansen and Jeff Winther won on the DP World Tour in 2021.
But still the twins stand out.
"They are not blown away by the speed at which they have progressed," agrees Soren Kjelden, another Dane on the DP World Tour. "They seem to take it all in their stride. Money and fame can be difficult, but not for them. They don't seem to need a lot of attention or noise around them to be happy. They are too busy trying to improve."
All in all then, Dad didn't have much chance. Ole, who plays a bit of golf as his obvious proficiency indicates, spends a lot more time piloting corporate airplanes for a living.
The games at Gyttegaard, just five minutes from the family home, began when the twins were "around 3 or 4 years old." Sharing one little bag and three clubs, the pair showed an almost immediate aptitude, unlike their older brother, Anders, who has "no interest" in any sport, never mind golf. Only when the twins turned 8 did they get their own bags and clubs. And by 10, according to Rasmus, they were "just about living on the golf course."
"That was the turning point," he said. "We could see by then that we were above average."
Oh, come now, better than that. Competing in the Danish national championship for those aged 10-and-younger, the brothers came first and second in memorable circumstances (at least for one of them) that live on in their minds today.
"I four-putted the 18th green to lose by one to Rasmus," says Nicolai, through still gritted teeth. "The car journey home was a bit tense. But that was the first time we had gone up against each other. Before that, we had always been a team. We had been angry at each other on the handball court, but in that we were still a team. We sat down around a table with our parents and had a talk when we got home. We asked how we should prepare ourselves for all the ups and downs ahead of us."
"What was difficult for our parents was staying neutral," Rasmus says. "On one hand, they had to congratulate one of us, while consoling the other. That was tough for them. And for us. It took us a few years to learn exactly how we need to be with each other. It is much less of an issue now that we are professionals. This is a different world, with a tournament event each week. As amateurs it was tricky though."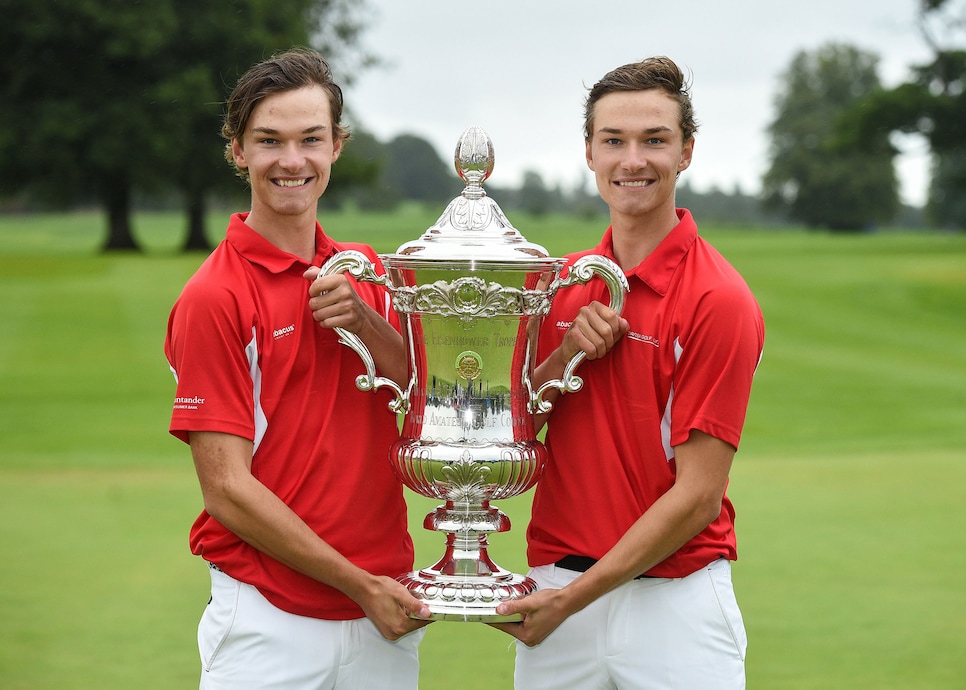 Nicolai, left, and Rasmus, hold the Eisenhower Trophy after helping lead Denmark to victory at the World Amateur Team Championship in 2018.
Matt Browne
So far at least, the ups for both have far outnumbered the downs. Intriguingly, though, those inevitable swings in golf fortune have hardly ever come along at the same time. In 2016, it was Rasmus who won the Danish Amateur Championship. Two years later, Nicolai was the European Amateur champion.
Only in team events have the pair shared great play together. Members of the Danish side that won the European Boys Team Championship in 2017, both competed for Europe in the 2018 Junior Ryder Cup. Most notably, the twins were two-thirds of the side that won the 2018 World Amateur Team Championship in Ireland, beating the United States team of Collin Morikawa, Cole Hammer and Justin Suh by a shot. By then it was obvious the twins could really play. Individually, Nicolai tied for sixth alongside the current Scottish Open champion, Min Woo Lee. Rasmus, meanwhile, shot one stroke more and was T-8 with, amongst others, Viktor Hovland and Morikawa.
"It has always been the case that they have never really played great at the same time," Ole says. "In the amateur days, Rasmus had a crazy year in 2016. Nicolai didn't play well and almost gave up on golf at the end of that year. But in 2017, he had an OK year, as Rasmus played very well again. But in 2018 it was Nicolai; he won almost everything. And it has been the same in the pros. Rasmus had success almost immediately, his first win came in only his fifth European Tour event. But Nicolai has been better this year."
The obvious conclusion is that motivation for one stems from the achievement of the other. It is, says Ole, "as if they are looking into a mirror and taking things from the other guy."
Speaking of which, the closeness of their physical similarity is something both are reminded of daily. Inevitably, too, they have used it to have some fun. At school they once sat in the other's class, the teachers blissfully unaware of the deception, much to the glee of the other pupils.
"When we stand next to each other, it is easy to understand why people have trouble telling the difference," Rasmus says. "If we were to see a picture of us as kids, I think even we would struggle to tell which was which."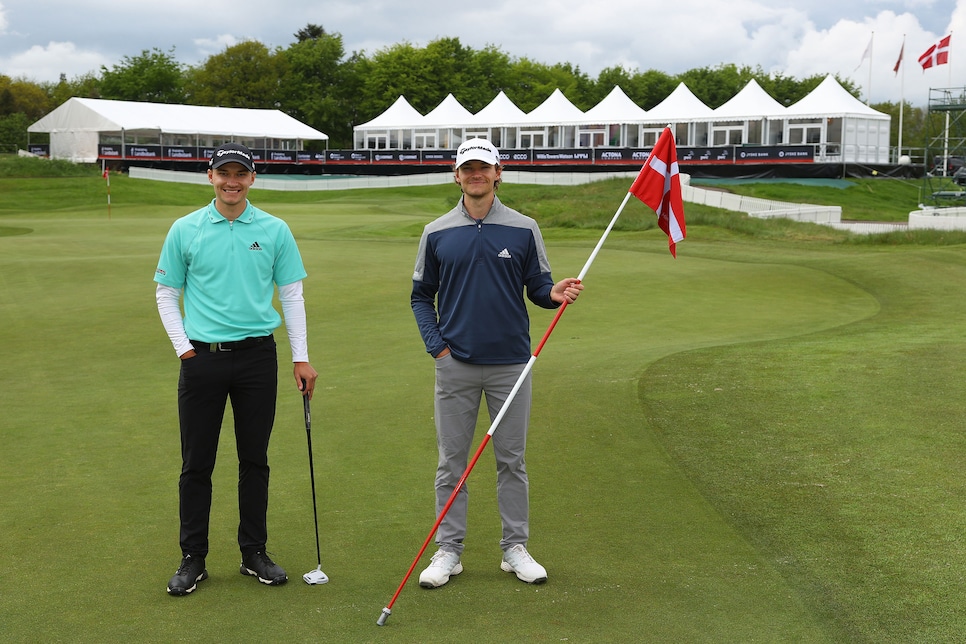 Rasmus (right) and Nicolai pose ahead of playing the DP World Tour's Made in Denmark event in May.
Andrew Redington
"When we stand next to each other, it is easy to understand why people have trouble telling the difference. If we were to see a picture of us as kids, I think even we would struggle to tell which was which."
—Rasmus Hojgaard
So there is no escape. As former U.S. Open champion Curtis Strange and his brother, Alan, discovered from an early age, identical twins are forever a curiosity.
"I've never felt being a twin was a negative," Strange says. "I always had someone to play with and compete against when I was young. I always had a friend. And we became closer as we got older. It was always good. Other than my mother dressing us alike until maybe the fifth grade, the only downside is that now we have the same aches and pains."
Still, while Nicolai is quick to acknowledge the "corporate and business" advantages of their novelty value, he and his brother are well aware that they are forever going to be measured against each other. And yes, there are times when each wants to be himself rather than "half of two."
"Sometimes it gets tricky when I want to see myself as just me and he wants to see himself as Rasmus," Nicolai says. "Our whole lives we have been compared. Our looks. Our weight. Our height. Driving distance. Whatever it might be. It can get tiresome, but we are used to it. Although it is true that sometimes we want to be seen as individuals. We can't always be 'the twins.'"
Distinguishing between the two gets easier when the subject veers into swing technique. Where Rasmus' action is relatively long and languid, Nicolai is more compact and faster. And longer yardage-wise, which is an on-going source of some angst for the shorter of the two.
"I would like Nicolai's distance," Rasmus says, who finished the 2021 Euro Tour season with a 308.12-yard driving average (22nd on tour) compared to Nicolai's 314.80 (fourth). "I don't like to admit it. But that is how it is. He has a bit more power than me. His long irons are a big asset. He hits them long and high. But then again, he only needs them on par 5s. I need them on par 4s."
It works both ways, of course.
"I would like Rasmus' ability to keep playing well when he gets a chance to win," Nicolai concedes. "When he is in contention, he just keeps going. I want that. It is more mental than technical. When he scents blood, he goes for it. I do too, but he has had more success in those situations."
That concession stems from Nicolai's greater propensity for negative post-shot emotion, something his brother was smilingly quick to confirm.
"Both of us used to be very angry on the course," Rasmus says. "We would throw clubs and break clubs, normal teenage behavior really. Now, we are both better. But I can sit here and say that Nicolai is a bit more temperamental on the course than I am."
Given all of the above, it is perhaps not surprising that the pair have different coaches. Thomas Larsson has worked with Nicolai since 2019; Martin Kold has been with Rasmus three years longer.
"Rasmus' strength is definitely driving," Kold says. "He can hit what we call 'pace drivers' where he takes off some speed. It's a really productive tool. He has more than the 'full out' shot. He has many different shots with that club. His long irons are in a good place, too. Wedge shots is where we are working hardest. He had two weeks in the States this year and it was clear he needs to hit the ball higher and with more spin. On the PGA Tour, the players do not kid around when they get a wedge in their hands."
Driving is also high on the agenda for Larsson/Nicolai. But that extra distance has clearly come at a cost along the way.
"Nicolai's driving has always been a little bit erratic," Larsson says. "He's lost a few balls along the way. His misses have tended to be big. That has been a focus for us technique-wise. He doesn't have the longest arc in his swing. He doesn't quite get to parallel at the top. But his rotation, both in his upper and lower body, is sufficient. It is all about building blocks or adding layers to his game. Each day we try to put a new layer on what was there before. It might be technical. It might be his attitude. And we are seeing results. He is living by those rules, putting a little layer on each day. We look at the quality of what he is doing rather than just the results."
In the big picture, both twins are well aware that improvement is still required in almost every area of the game if they are to fulfill their obvious potential. Even in moments of success, they have been reminded of that fact. In the immediate aftermath of the 2018 WATC victory, Larsson was quick to remind them "guys you still have to get a lot better if you want to compete on tour or in majors."
The first part of that equation has been achieved. In the majors, not so much. Nicolai has played in one, the 2018 Open Championship, and missed the cut. Rasmus's two appearances have produced an MC at the 2020 U.S. Open and a 79th-place finish at PGA Championship in May. None of which has deflected the twins from their long-term goal: the PGA Tour.
"The way to America for us is through making the top-50 in the World Ranking," says Nicolai, who is ended 2021 ranked 93rd, three places higher than his brother. "So we have to get better as fast as possible. We have a bit to go, but it can happen fast. You can do it in a month, or at least with a good run over two or three months. It's never far away. It's all about sticking to the process."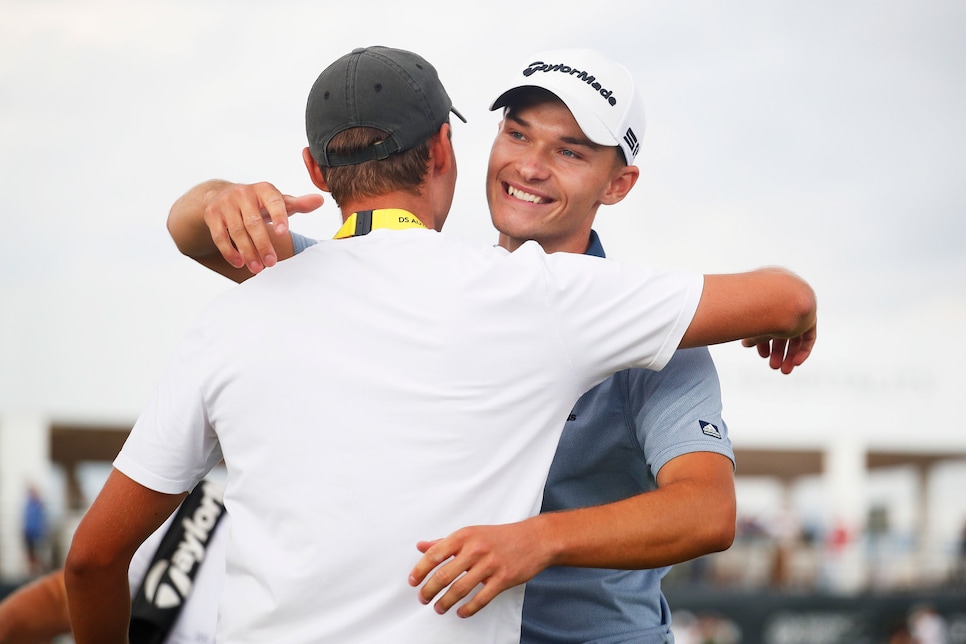 Rasmus (white shirt) was the first to greet Nicolai after his victory at the Italian Open in September.
Luke Walker
Still, first things first. There is one thing the twins would like to do sooner rather than later. The fun and games of their school days haven't quite worn off.
"When the day comes that we are in the final group in the final round we are going to wear exactly the same clothes," Rasmus says with a smile. "That would make the television commentators s*$& themselves."
More seriously, it is the prospect of a Ryder Cup debut that provokes the most animated discussions between the twins, who turn 21 in March.
"The next Ryder Cup is one of our biggest goals," Rasmus says. "And we want to do it together. We both love watching the Ryder Cup. It's our favorite event. We so want to play that morning foursome together. First out, leading the way would be even better. That is one of our biggest dreams."
"I know statistics are used a lot to make partnerships, but we would always find a way to combine well," chimes in Nicolai. "We have played together a lot in foursomes as amateurs. We always had the same game plan. Rasmus took most of the drives; he hits more fairways. And he had most of the putts. I had most of the approach shots. And the par 3s."
Off the course things are happening, too. Leaving home, for example. Both twins are moving to the city of Aarhus with their girlfriends, something that has provoked mixed emotions in their parents.
"My wife is not particularly happy," says Ole, who is keen to partner with his sons in future Dunhill Links Championships. "She thinks she might get lonely. But I'm looking forward to it. We have so much stuff in the house here. It will be nice to get rid of some of that. It is healthy for the twins though. When they get home now, they just leave the suitcases and my wife takes care of the washing. And she feeds them every day. They have nothing to do. It is time for them to take more responsibility and move on with their lives."
Separately, but together, of course. No matter what, that will never change.