AL MUROOJ, Saudi Arabia — The putt to win the Saudi International was 92-feet long. The first bit was relatively flat. The middle part went up over a hump in the middle of the 18th green at the Royal Greens Golf & Country Club. And the conclusion was treacherous, down a steepish slope toward the pin and, a few yards on, a waiting water hazard. The last thought through the head of Chris Rice, Harold Varner III's caddie, was that his boss better be careful. "He could easily have putted into the pond," he said.
Judging the pace and line perfectly, Varner made what is surely the unlikeliest winning putt of his life to reach 13 under par, claim the title and the $1 million first prize. Bubba Watson, who ran from the scorer's hut to congratulate his close friend with a warm hug, was the unlucky victim of the new champion's brilliance. But the two-time Masters winner has no need to berate himself. Like Varner, Watson finished birdie-eagle, posting a six-under 64 to seeming pull out an unlikely Sunday win. Really, he could do no more.
Typically, Watson was also effusive in his praise for Varner, the 31-year-old North Carolina native's biggest win before this coming at the 2016 Australian PGA Championship. The pair had eaten every lunch and dinner together over the course of the week, as well as pairing up for a Tuesday practice round and the opening 36 holes.
"Harold is a dear friend of mine," Watson said. "He's a guy I truly love. He's a guy that I want to help. It took me five years to win my first [tournament]. So this is a guy that's just starting to play better and better each year. We see his name a little bit more. He's getting comfortable. This is the best field in the world this week, the highest points. For me to pull out the shots that I pulled out under pressure and then for him to do it, too? This is what you want. This is what golf's all about. I'm not mad at him for beating me. I'm happy for him. I applaud him. I cheer for him."
All of which was but a prelude for a rollicking Varner press conference that was long on smiles, exuberance and, one unfortunate but surely forgivable 'F-bomb.' More than five years on from that win Down Under, Varner was in a mood to celebrate. As were his friends and family apparently. Having already fielded a call from his mother, Varner's chat with the assembled media was interrupted by a phone call from his wife, who was watching his winning putt "over and over." A later call from coach Butch Harmon had to wait, but Mrs. Varner got a response.
Clearly emotions were running high back in Charlotte. The brief call ended with Varner telling his wife "don't cry, it'll be OK," before signing off.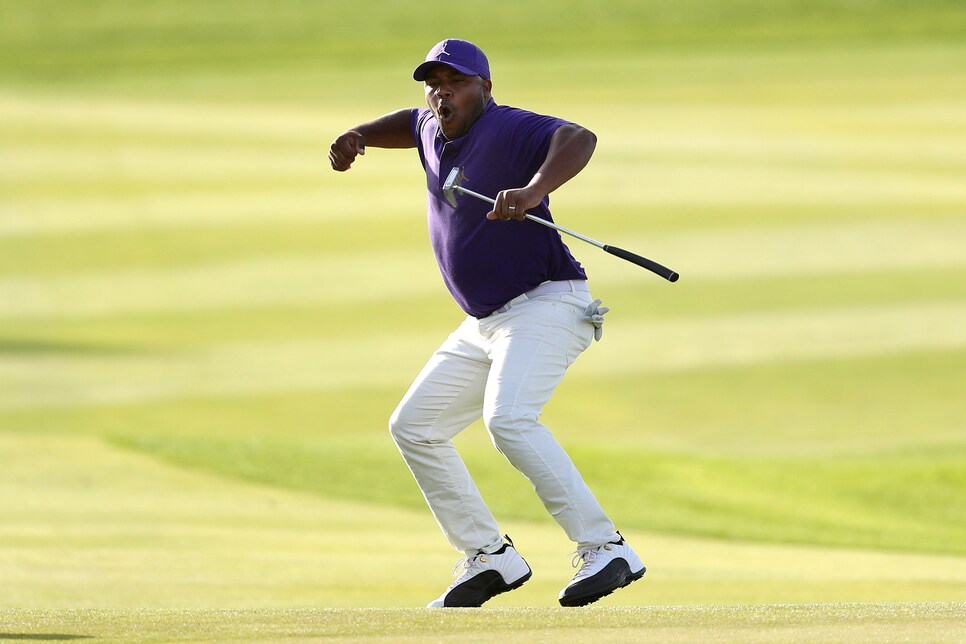 Another view or Varner's celebration after holing the winning eagle putt.
Oisin Keniry
"It's been pretty crazy since it [the putt] happened," he confirmed. "I'm just trying to take it in. Winning just never gets old. I know that there's been times when it just didn't go my way, and today it did. I'm super thrilled not just for myself, but everyone that's either on my team or in my corner. They know who they are, so I don't have to thank them. They know who they are.
"I just never doubted myself," he continued in reference to the knowledge that, standing on the 17th tee, he was suddenly two shots behind after starting the final round in the lead but making a double bogey on the 14th hole and bogey on the 16th. "I've never questioned my ability. I don't march to anyone else's beat. I do what I'm supposed to do, and things come. And today I never questioned that, hey, we can't win this. I think that's what the greats do. A couple of years ago I would have had a hard time taking that in. But today it was 'just play golf, do your job.' That's what I'm supposed to do."
"It was awesome," said Varner, who, open-mouthed, had hopped, skipped and jumped in loud and animated celebration when the ball eventually disappeared below ground. "Obviously, that it went in kind of helped. When it was coming down the hill, I knew the worst-case scenario, we'll go to a playoff and I'd get him there [big smile]. And then it went in, and emotions came out. I love that. When I play with my boys, that's the emotion I want to see. That's why you play. Competition, it's the greatest thing in the world."
Well, apart from the news that Varner will be one of the top 50 in the World Ranking first time Monday morning.
"That's the goal, man," he said. "That gets me in the things that I haven't played in. I've played in some big events here and there. I was on the cusp of it after Hilton Head last year and didn't execute. That's all I wanted to know when I was sitting out there."
Amidst the concluding madness, there was inevitable disappointment a little lower on the leader board. Cam Smith, who tied for fourth alongside Englishman Steve Lewton, moaned about "struggling" on the greens, a conclusion echoed by Matthew Wolff. The American pulled up in a tie for sixth feeling like his putting had "pulled him down."
Fair enough. But, windy as it was, getting the ball from just about any distance to the middle of the hole wasn't impossible. Harold Varner III proved that.