Golf's greatest villain gets arrested, a high schooler gets robbed of a trophy, and players dress up for Halloween
Welcome to another edition of The Grind, where we're sad to report the end of an undefeated streak. Never had this sleep mask I got from a JetBlue flight a few years back failed to produce some extra shuteye in times when I needed it -- until I turned to it in Las Vegas and … no dice.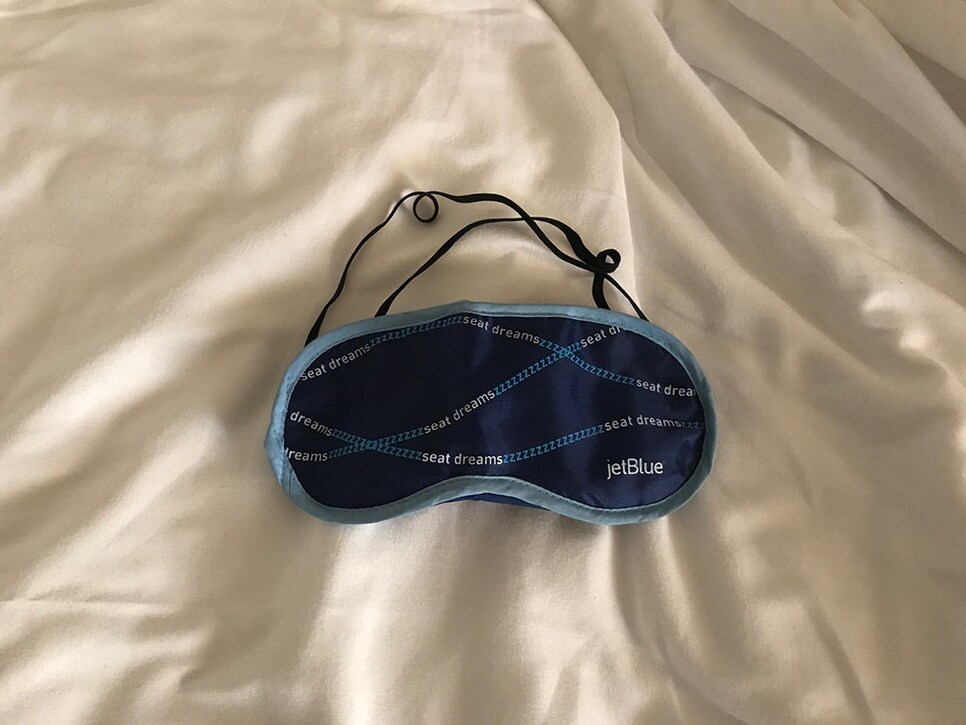 The house always wins here in the battle over your well-being, but it was still a successful trip to the Vegas Strip to cover the inaugural Major Series of Putting. And it was a relaxing week with plenty of down time to recover, because it's not like much else happened on the golf front. Oh, wait. EVERYTHING happened. From Tiger Woods' big announcement to a big injustice in high school golf to golf's greatest villain getting arrested, let's (try to) discuss it all.
Tiger Woods: He's back! Again! Woods announced he will return to competitive golf at the Hero World Challenge on Nov. 30. This is not that surprising considering the onslaught of social media swing videos posted recently. Nor does it mean anything considering he came back at this event last year, and, well, look what wound up happening. Still, we'd be lying if we said our current mood was anything other than this:
Justin Rose: Like Woods, the Brit was plagued by a bad back for much of this past year, but after finishing in the top 10 in all four FedEx Cup Playoff events, a win was just a matter of time. That being said, we're pretty sure even Rose didn't expect it to come on Sunday in Shanghai when he entered the final round trailing the World No. 1 by 10 shots. But he picked up PGA Tour title No. 8 at the WGC-HSBC Champions to move back inside the top 10 of the Official World Golf Ranking. Even better, he'll get to participate in next year's pre-tournament photo shoot!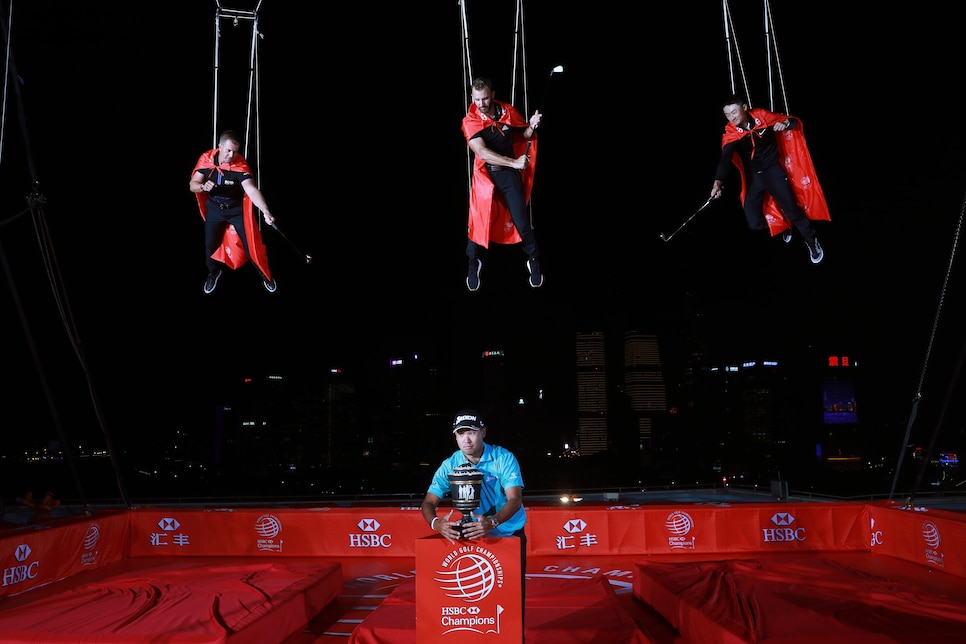 Major Series of Putting: This inaugural event in Vegas appears here to stay after drawing rave reviews from those who participated. The eclectic mix of tour pros, pro putt-putt players and amateurs playing for big bucks made the tournament intriguing. And the setting, including a large scoreboard providing instant scoring and stats that rival the PGA Tour, gave the event an exciting feel: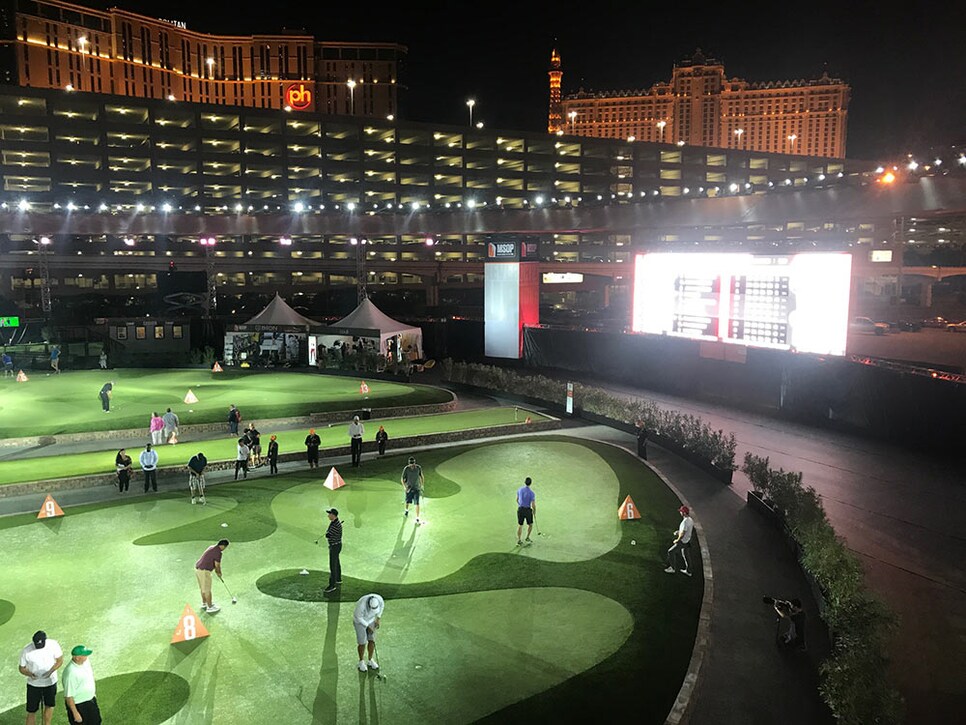 I'm also buying the putting ability of former UNLV golfers after seeing Taylor Montgomery win the MSOP's main event on Sunday for $75,000 and then watching his ex-teammate, Redford Bobbitt win a different tournament on the same night for $15,000. Not bad for a day's work -- especially when that "work" consists of playing in a big putting contest.
Barack Obama's trash talk: Jordan Spieth shared some details from his round with the former President of the United States, including Obama pulling his leg (we think/hope) about getting to see aliens. Obama backed up his trash talk with some clutch putting by sinking the winning putt in their match. Maybe President Obama should enter next year's Major Series of Putting.
Dustin Johnson's Sunday: DJ tied the record for the biggest blown lead in a final round (six shots) in PGA Tour history. On the bright side, he still won two WGC events in 2017. And this doesn't come close to cracking his top-three list of heartbreaking defeats, so he'll be over it in no time.
Emily Nash getting robbed: The high school junior became a national story after winning her district tournament by four shots, but not getting the first-place trophy because she's a girl. Before it started, Emily was made aware she couldn't officially win the individual event because of a state rule (her score only counted for her team score), but still, this is ridiculous. If Emily was allowed to tee it up, then she should be allowed to win. Simple. At least, she got plenty of support, including this cool video from the LPGA:
John Daly's knee injury: It's rare to see a golfer sustain an injury so bad that he needs to be helped off the course, but that's exactly what happened to JD on Saturday at the PowerShares QQQ Championship when his arthritis and bone spurs acted up. We'd mention he was in contention, but unless your name is Bernhard Langer, no one is really in contention on the PGA Tour Champions these days. Langer won for a second consecutive week and a seventh time this season. Anyway, feel better, John.
Matt Kuchar's ping-pong prowess: Kuchar's table tennis reign of terror was ended by 20-year-old PGA Tour rookie Zecheng "Marty" Dou on the eve of the WGC-HSBC Champions:
Zecheng's upset is an inspiration to ping-pong players around the world. In fact, even I want a crack at Kuchar now. And in the meantime, I've got some valuable game film to study.
The PGA Tour returns from Asia to Las Vegas for the Shriners Hospitals for Children Open. And I will be returning home from Las Vegas just as that event starts. Why? Because spending more than three days in Sin City is not healthy.
Random tournament fact: Vegas resident Charley Hoffman announced he'll donate all of this week's earnings to the victims of the Vegas shooting. Let's hope he pulls a Stacy Lewis.
RANDOM PROP BETS OF THE WEEK
-- Charley Hoffman will win in Vegas: 30-to-1 odds (Actual odds)
-- Someone will blow a six-shot lead in the final round: 100-to-1 odds
-- Someone will blow their winnings at the blackjack tables: LOCK
Check out this "historical" marker from a Colorado golf course: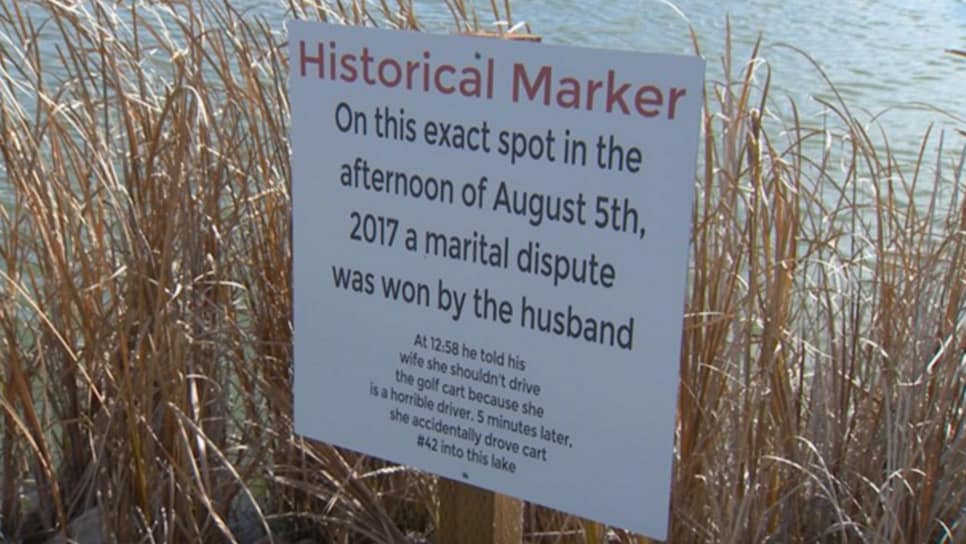 PHOTO OF THE WEEK (MUGSHOT DIVISION)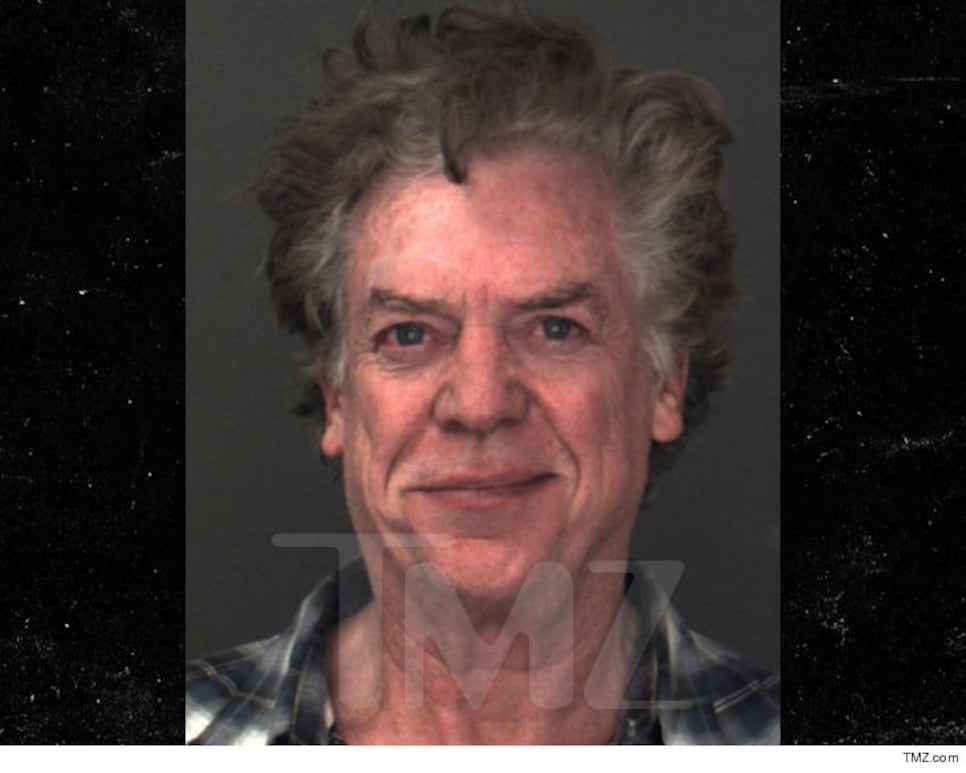 A portion of this document contains content that is copyright GettyImages 2016.
PHOTO OF THE WEEK (COURTHOUSE DIVISION)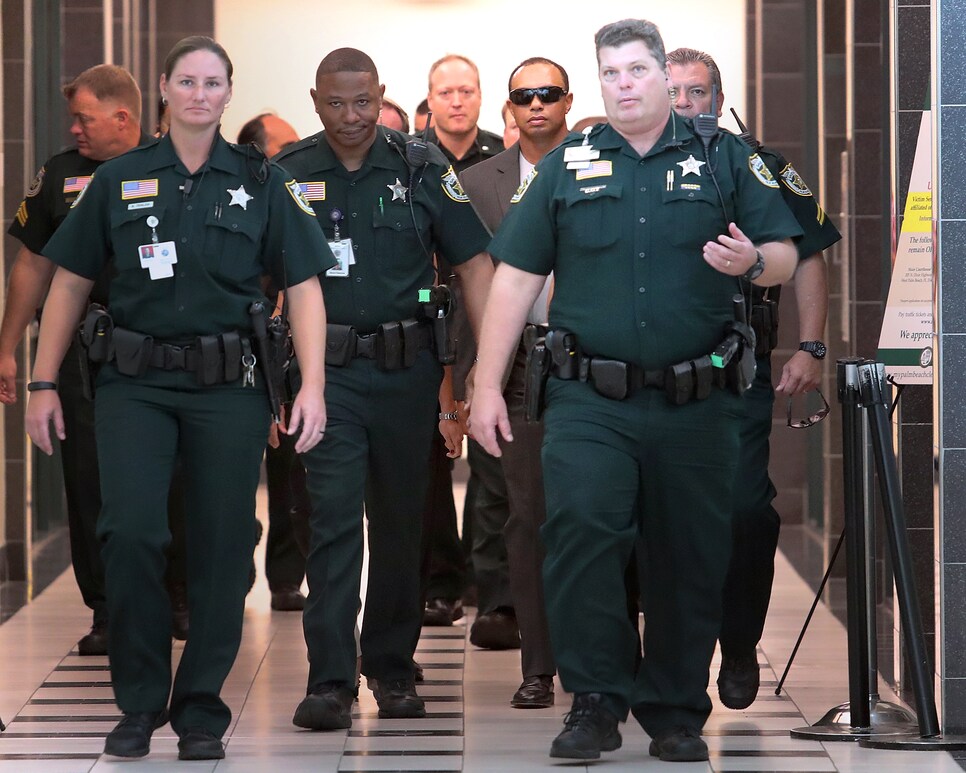 Yes, that's Tiger Woods flanked by enough police to protect a small country after settling his own DUI arrest by pleading guilty to reckless driving. Tiger is lucky he avoided a reckless dressing charges as well with that outfit.
VIRAL VIDEO(S) OF THE WEEK (OUTDOOR TRICK SHOT DIVISION)
Who says playing in the rain has to be difficult?
VIRAL VIDEO(S) OF THE WEEK (INDOOR TRICK SHOT DIVISION)
This also qualifies for the "Do NOT try this at home division":
That might be the most impressive indoor shot since Tin Cup knocked that pelican off of its perch from the bar.
"I'm tearing up, I'm not going to lie. There were some lean times. I thought about quitting, but my wife wouldn't let me. Thank God. Love her. It goes back to have faith in what you do. You know, if you believe in something, go do it and work hard at it and have fun doing it." – Ryan Armour. We are buying Armour winning his first PGA Tour event in his 105th try at age 41 as well. We apologize to Armour for only mentioning his maiden victory now, but again, it was a busy week.
THIS WEEK IN DUSTIN JOHNSON-PAULINA GRETZKY JUSTIN THOMAS-JILLIAN WISNIEWSKI PUBLIC DISPLAYS OF AFFECTION
Adorable photo, guys, but are you going to dress up for Halloween? Speaking of …
THIS YEAR IN GOLFERS (AND WAGS) HALLOWEEN COSTUMES
Peter Uihlein and Chelsea Gates dressed up as Teenage Mutant Ninja Turtles:
Rickie Fowler and Allison Stokke were a stick figure(?) and a unicorn:
The Donalds put forth their usual stellar effort:
USC's Muni He went as Lara Croft: Tomb Raider:
Paulina Gretzky also went Lara Croft? We think?
And golf/fitness/fashion blogger Nikki B managed to reenact Paulina, DJ and Tatum after Dustin Johnson's 2016 U.S. Open win at Oakmont.
If Nikki doesn't win a costume contest, then she got robbed as badly as Emily Nash.
Cristie Kerr became the first 40-year-old to win on the LPGA Tour since 2011. Kerr is so old she could—on second thought, it's probably best to not talk about her age so much. . . . Lin Yuxin won the Asia-Pacific Amateur. That means Linsanity 2.0 is coming to next year's Masters and British Open. … Paul Casey has rejoined the European Tour, which means he'll be Ryder Cup eligible in 2018. This is not good news for Team USA. … Aspiring tour pro Matt Moroz recently made three holes-in-one in an eight-day span, two of which came on par 4s measuring more than 320 yards. As someone who remains aceless—unless you count the couple putts I sunk on the MSOP course—I give up. … And finally, a PSA: Do NOT putt for money against someone who shows up to the green like this: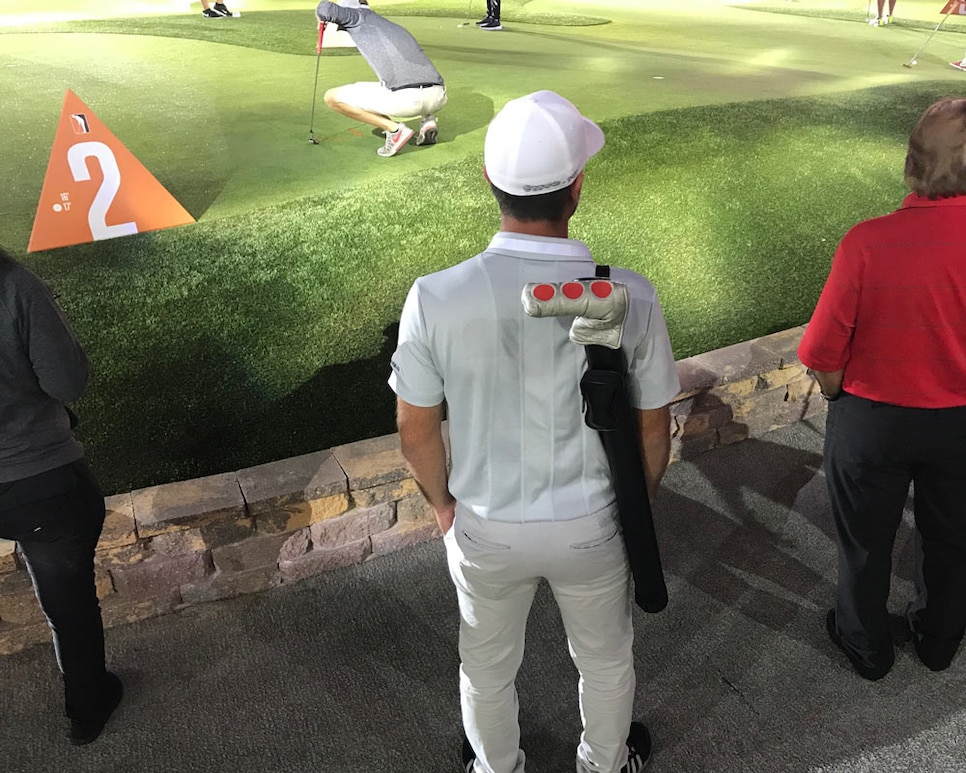 RANDOM QUESTIONS TO PONDER
Should I try to qualify for next year's Major Series of Putting?
What's the most money you've ever putted for?
Can Marty Dou teach me his topspin forehand?